At the Union Square Greenmarket on New Year's Eve, I noticed a clear shift from even the week before. Freezing temperatures have finally settled on the region and the Greenmarket offerings have accordingly dwindled. The dark leafy greens, the last of the herbs, and the rainbow array of carrots are all gone. Instead, on display were the last of the Brussels sprouts; the hardier root vegetables like beets, rutabagas, parsnips, and turnips; potatoes; apples; onions; and cabbage. And that, my friends, is it. Until March.
But our approach to seasonal eating has never been strict. We still visit the markets weekly, and look to other staples like dried beans, grains, farm fresh eggs, meats, and citrus from warmer regions to get us through to the start of the next growing season. And for now at least, the limited offerings are a welcome change of pace. We've been eating simple sides like braised cabbage, mashed potatoes, vegetable slaws, and roasted root vegetables.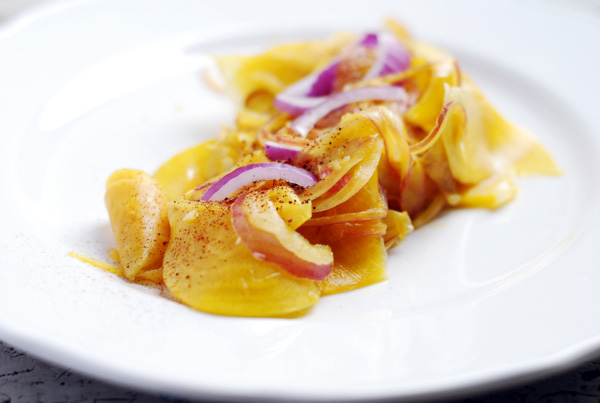 That's where these golden beets come in. To say the are "in season" is odd because they really are only out of season during the spring. They grow in the New York region from June to November, and are available as a storage food through February. Blessedly, beets bring color, crunch, and brightness to this dark time of year. They're also brimming with nutrients like folate, potassium, manganese and fiber. I transformed these golden beets by slicing them paper thin and tossing them with red onion, chili powder, and a simple vinaigrette. It was an interesting combination–a little sweet and little sour, but not quite recipe-worthy. I'll keep tinkering and get back to you. Last summer we made this kale salad with roasted golden beets, and it would make a lovely wintertime salad too.