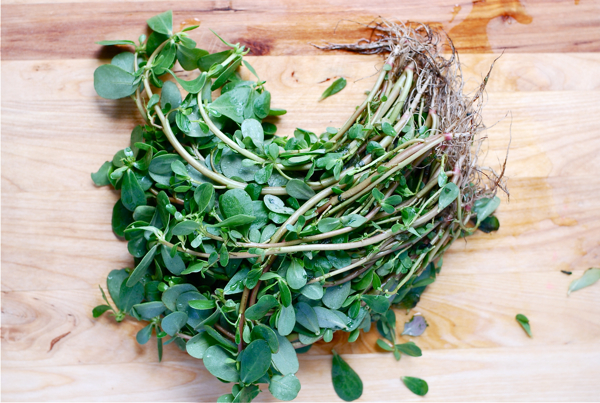 Purslane is a funny thing. Eating it feels a lot like munching the ground cover out of a southern California yard, and with good reason–purslane is a succulent. It's also a weed, and rivals mint in its ability to take over a garden. Once you know what to look for, you'll notice the stuff growing in cracks and crevices all over the urban landscape. And in spite of its strange genus and ubiquitous nature, purslane is sought-after for its light, lemony tang, and robust, nearly meaty, leaves (which happen to be an ideal vehicle for weightier summer favorites like tomatoes or stone fruits). It's is the perfect base for a satisfying summer salad, and the hearty leaves can handle plenty of vinegar, salt, garlic, and even a quick saute or pickle.
And, this stuff is good for you. Like, really good for you. Purslane has more Omega-3 fatty acids than any other vegetable, and also has lots of Vitamin A, not to mention vitamin C, and other beneficial minerals.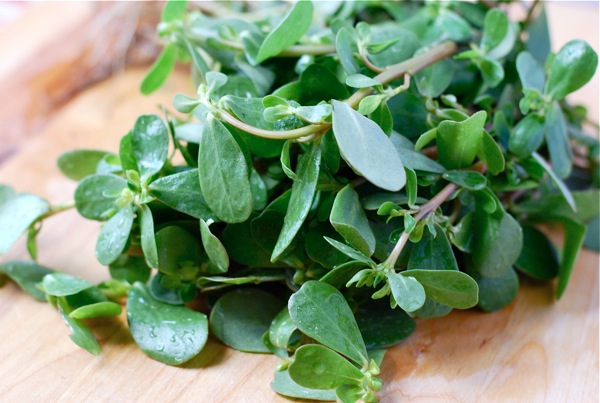 Though you'll find it growing in all sorts of places, opt for the kind you get from a farmer (I needn't elaborate on the various indignities a city or suburban sidewalk is subject to). There are many varieties, some with smaller and more tender leaves, and others with big, almost juicy, leaves. Once home, your purslane will keep best with the roots immersed in water. To make a salad, wash, trim the roots, and pile on your most zesty dressing and your favorite summer fruits. We are fond of this purslane salad with cherries and peaches, and this one with cherry tomatoes. Or, try giving your purslane a quick pickle.