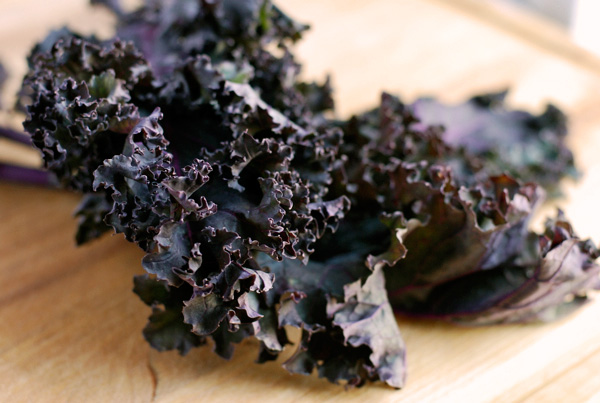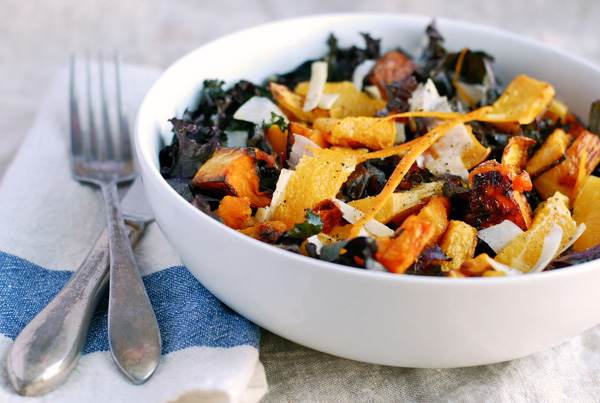 Our last CSA share of the year featured a bunch of Redbor kale. I loved its deep purple and green hues and stashed it for a weekday salad–my favorite use for kale. A few days later, I roasted a butternut squash (one of seven to pass through my kitchen in the past month), and supremed an orange to go with it. 
I'd never had Redbor kale, and when I tasted a bit while preparing my salad, I was really taken aback. Instead of the clean, grassy flavors of green kale, I found the Redbor to be intensely earthy, and maybe not in a good way. This kale was going to need a different approach. So I made a batch of tangy vinaigrette with fresh squeezed orange juice to to go with my salad. It turned out that the bright, sweet orange juice was the perfect counterpoint to the earthiness of the kale. The squash, browned on the edges and slightly sweet, took on a lovely tang and with a bit of creamy Asiago, made for a warm and satisfying fall salad.
In the northeast, kale is at its peak, and you'll find young, tender, and slightly sweet kale at the markets right now. Hurry and get some–winter is coming.
Redbor Kale Salad with Butternut Squash and Orange
2 cups butternut squash, peeled, and cut into 1″ cubes
1 bunch Redbor kale, washed, dried, and chopped
1 orange, supremed
juice of half a large orange
1/4 cup olive oil
1/2 teaspoon sea salt
3″ segment of orange zest
1 1/2 fresh oranges, divided into segments
1/3 cup shaved Asiago
3 twists fresh ground pepper
Preheat the oven to 425 degrees. Prepare the squash, spread out on a rimmed baking sheet with a drizzle of olive oil and a pinch of salt, and bake for 25 minutes, or until the squash is cooked through and the edges are golden brown.
Prepare the kale and orange zest and segments. Slice the zest into thin strips.
Juice the orange half. Whisk the orange juice into the olive oil, and add the salt.
When the squash is ready, toss the orange segments and squash with the kale, add a generous drizzle of the vinaigrette, and garnish with slices of zest, Asiago, and pepper.