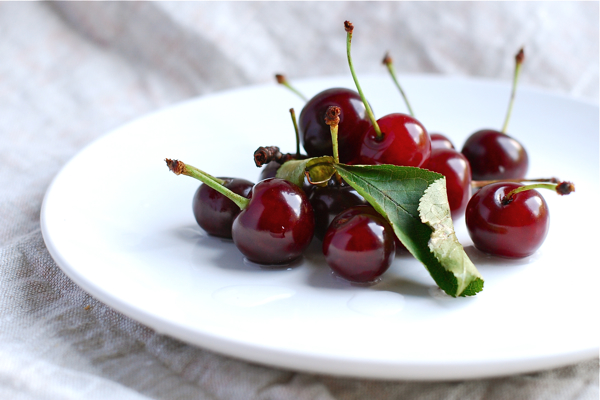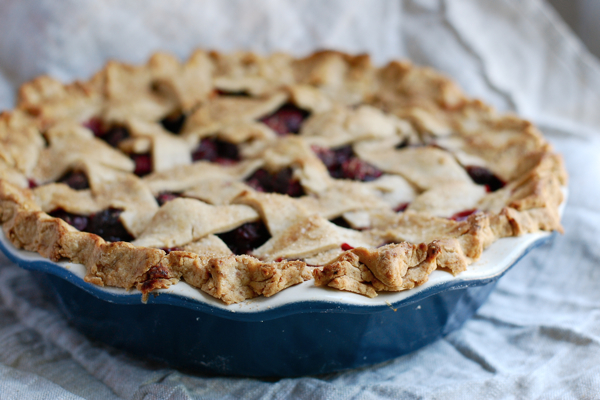 On the first anniversary of my relationship with Brian (commemorating our first make-out sesh, really) we were sitting at our kitchen table in the evening drinking a couple of Coronas that we'd literally scrounged change to buy, when I said, "Oh shit. It's our anniversary." We sighed, shrugged, and cheersed, made out a little, and then went back to drinking our beers. Which is to say, we're bad at anniversaries. Since then, we've upped our game, but not by much. So it shouldn't come as a surprise when you learn that last year we missed the three year anniversary of Brooklyn Supper altogether (though we had a decent excuse), and this year it slipped by on Saturday without the slightest fanfare. But yesterday, I finally got around to rectifying the situation and made a celebratory summertime-perfect sour cherry pie.
On June 23, 2008 we began Brooklyn Supper. The first post was about roast chicken and strawberry shortcake. The second was about pancakes. The third, cherry pie. (Clearly, photographically speaking, we've come a long way since then.) So it seemed fitting that, when we ran across sour cherries at an upstate farm stand earlier in the week, we should celebrate four years of Brooklyn Supper with a sour cherry pie (and maybe a couple of Coronas).
The warm spring has thrown off the timing of many of our seasonal favorites, and a few are popping up surprisingly soon. Sour cherries are most often used in pies or jam since their tangy flavor is nicely concentrated with cooking and a little added sugar. If you do pick up sour cherries keep in mind that they have thin skins and delicate flesh. If you cannot use the cherries right away, keep them covered in the fridge for no more than one or two days. Otherwise, you may want to pit and freeze the cherries for future use. Sour cherries are only around for a few weeks, so I highly recommend you seize the day.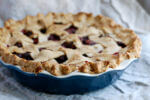 Sour Cherry and Lime Pie
A classic lattice-top sour cherry pie recipe.
Ingredients
for the crust

2 1/2

cups

unbleached all-purpose flour

I used a locally milled flour and it was…rustic–go for the regular stuff if you're new to DIY dough.

1

teaspoon

salt

2

tablespoons

sugar

16

tablespoons

cold unsalted butter

rough chopped

8-10

tablespoons

ice water

or more if needed

egg white

optional

2

teaspoons

sugar

optional

for the filling

2

quarts

of fresh sour cherries

rinsed and pitted

1/4

cup

sugar

3

heaping tablespoons of pulverized instant tapioca

I make mine in the coffee grinder

zest of 3 limes

1/4

teaspoon

fresh grated cinnamon
Instructions
To make the crust, process flour, salt, and sugar together in a food processor until combined, about 3 seconds. Add butter and pulse until mixture is sandy and the butter is well-combined, or about ten 1 second pulses. Drizzle in water and pulse, just until absorbed. Turn dough out onto a lightly floured work surface. Divide dough into 2 balls and flatten each into a flat disc; wrap each round in plastic and refrigerate for at least 30 minutes before rolling.

Meanwhile, make the filling by washing and pitting the sour cherries (I use a cherry pitter and trust me, it's worth every penny). Gently combine all of the remaining ingredients with the cherries, and set aside.

Adjust oven rack to center position and heat oven to 450 degrees F. Place a rimmed cookie sheet into oven for preheating (this helps to crisp the bottom crust before the fruit juices penetrate). Remove one dough round from the refrigerator and roll on a on a lightly floured surface or a large piece of parchment paper into a 13-inch circle. Gently fold dough in quarters, then place dough point in center of a deep dish pie pan. Unfold dough and gently press into the sides of the pan leaving the overhanging dough in tact. Freeze the shell while while you prepare the top crust, at least 20 minutes.

Roll out other dough round and cut into strips. Turn fruit mixture into chilled pie shell and mound slightly in center. Weave lattice over filling. Flute edges or press with fork tines to seal. At this point you can also brush the lattice with egg whites and sprinkle with sugar.

Place pie in oven onto preheated cookie sheet. Bake for 10 minutes at 450 degrees, and then turn down to 350 and cook for an additional 35 - 40 minutes until lattice is just golden, and the filling is bubbling. Allow pie to cool for at least 3 hours before serving.