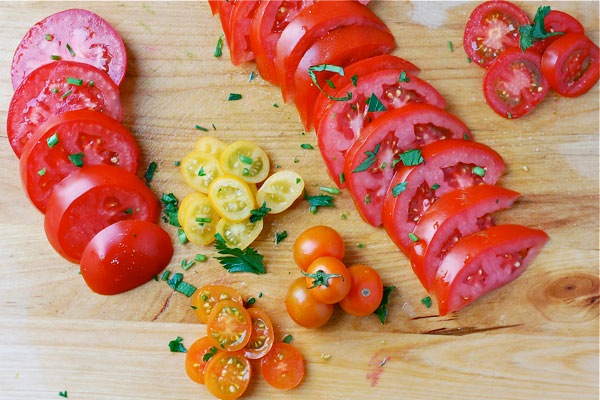 I spent most of my childhood in suburban Virginia and I have a lot of vague and dreamy memories of my backyard–a strawberry patch, a plastic horse on springs, a crabapple tree, sweet plums, a swingset, and tomatoes. I don't remember the tomato plants but I remember the tomatoes themselves–big red beauties, sliced and served with a pinch of salt at dinner. Perfect peak flavor, homegrown and picked at just the right moment; this was summer.
Life went on, we moved, tomatoes were bought at the store, and as the years passed the flavor of real tomatoes became a distant memory. Until some bite, somewhere along the way, jarred me out of my complacency and I realized that those red orbs masquerading as ripe tomatoes were most definitely impostors. With that realization I swore off the facsimile, and waited each year for the real deal, grown with love by a farmer or out on my roof. Which brings me here, to this cutting board covered with the very best of the season. There are sweet orange cherry tomatoes, larger red cherry tomatoes, tiny yellow cherries just picked from my garden, and big red Jersey tomatoes.  This is summer.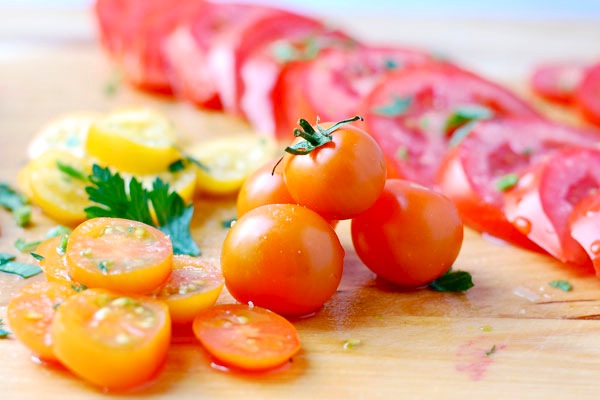 And though ripe tomatoes are at their very best served simply, they are a luxurious addition so many summer dishes. Here, there were chopped into a simple tabbouleh, and, for two days, my lunch was perfect. My version here is exactly suited to my tastes–lemony and with lots of parsley. I left off cucumbers because I didn't have any, and tossed everything with an intensely lemony vinaigrette. The recipe could be abbreviated to: make some bulgar, add salt, olive oil and lemon, and anything else from the garden that your heart desires.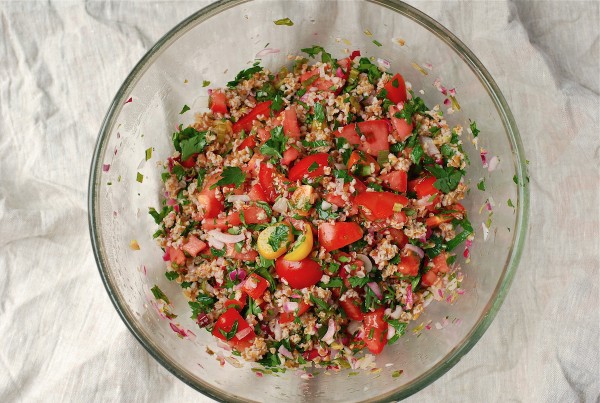 For other tomato-y recipes, try canned crushed tomatoes, tomato and cherry panzanella, homemade bloody Marys, roasted tomato salsa, or gazpacho. And speaking of simple summer dishes, over on Babble.com, we're sharing 20 recipes that are best served cold. Heat wave schmeat wave, we've totally got you covered.
Simple Tabbouleh
4 cloves crisp summer garlic, smashed and minced
2 red salad onions with green tops, minced
1/2 teaspoon sea salt plus another big pinch
3 tablespoons fresh squeezed lemon juice
3 tablespoons olive oil
1 cup bulgar
1 1/2 cups water
3 cups tomatoes, rough chopped
1 cup parsley, minced
In a small bowl, whisk together the lemon juice, olive oil, and a big pinch of sea salt. Place the onion and garlic in a large bowl, toss with the vinaigrette, and set aside while you prepare the bulgar.
Bring the water to a boil. Add in the bulgur and 1/2 teaspoon salt, remove from heat, and cover. Let the bulgur stand for 20 minutes. Drain off any excess water.
Toss the bulgar with the prepared onion and garlic, fold in the tomatoes and parsley, check salt levels, and serve.