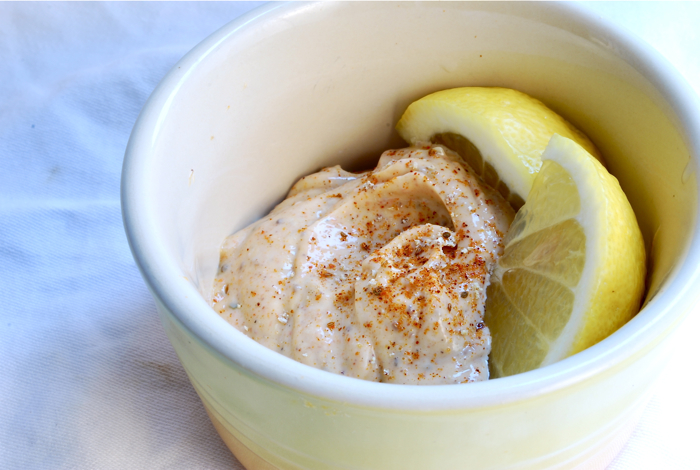 I feel kind of funny sharing a mayonnaise recipe–can you even call it a recipe? But the thing is, a simple upgrade to your condiments can bring something new and wonderful to tried-and-true burgers or sandwiches. That's how it was with this Old Bay mayo. We had it on pork burgers and it livened them up, brightened them, and heightened the flavor. It's easy for seasonal foods to get intertwined with nostalgia, and that makes it hard to taste the actual food. Instead, I often find myself tasting the memory of the food. But with new and exciting condiments, you can trick you palate into being in the here and now. When I started writing this post, I certainly didn't expect it to take a turn for the Baba Ram Das, but I guess that's what really good mayo can do to you.
Old Bay lends a bit of spice, complexity, and tang to ordinary mayo. For more condiment inspiration, check out this roasted garlic avocado aioli or these quick pickled red onions.
A note on mayo. The best option is to make your own. It's easy to do. However, we don't always have that kind of time, and/or are unwilling to wash extra dishes, which is why we keep Duke's on hand. Duke's is classic mayonnaise. Unfortunately, it's only widely available south of the Mason Dixon. Have you hugged a southerner lately? Give them a big squeeze and ask them to bring you some the next time they head south.
Old Bay Mayo (adapted from Gourmet)
1/2 cup mayonnaise
1 tablespoon fresh squeezed lemon juice
1/2 teaspoon lemon zest
2 tablespoons Old Bay seasoning
Combine the ingredients in a large jar, with a well-fitting lid. Taste the mayo and adjust the seasoning and acid levels. Serve immediately. Store leftover mayo in a sealed jar in the fridge for up to a week.