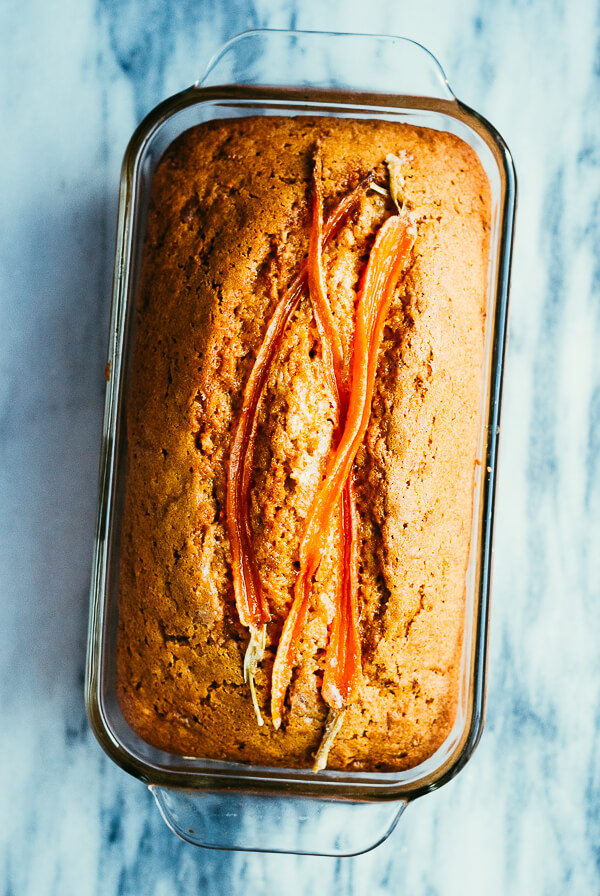 Olive oil carrot quick bread with a tender crumb and topped with candied carrots. Jump to recipe.
Over dinner, she asks, "If you could be anyone, who would it be?" Before she and her sister were born, I might have entertained the idea, but now, I wouldn't change a thing. Understanding the improbability of it all, she says that I can have them and Brian and still be someone else. I say, "Someone rich, I guess." But then I can't think of anyone rich or brilliant I'd really want to be. I can't think of another life I'd trade for my stressful, messy, chaotic one. (Surely, some more intensive thought might turn up the ideal life – if only based on location; in the moment, though, this is how is was.)
We make such big decisions, and don't even realize we've made them.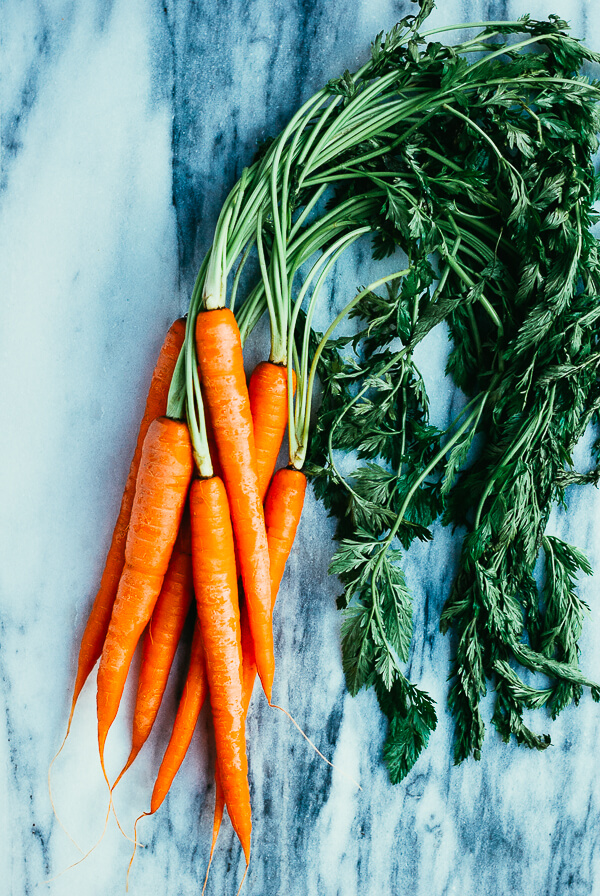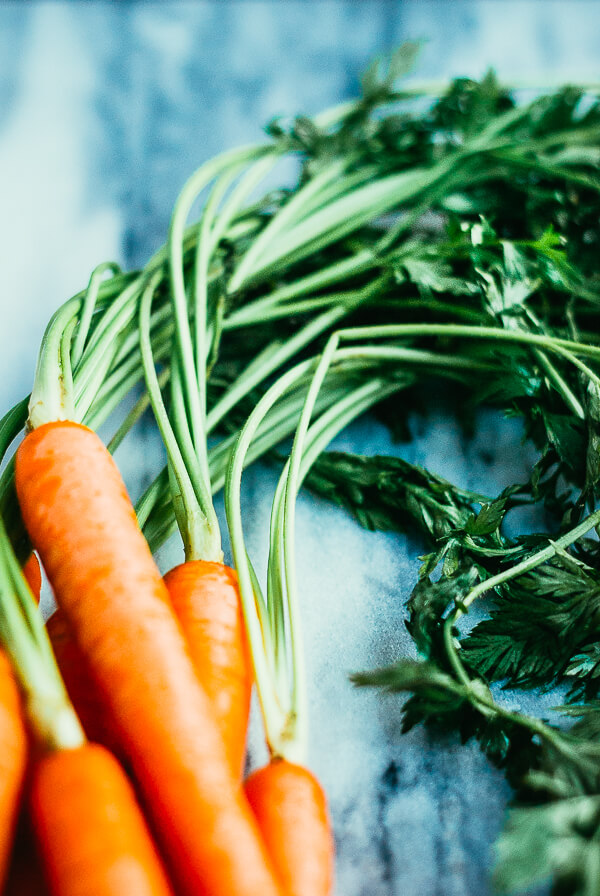 Later, I checked on my sleeping daughters, the dinner conversation still fresh in my head, and thought of how much chance there was in all this. These sweet faces could have just as easily not been. In September of 2001, I'd just moved to NYC, Master's Degree (in painting) in hand. Twenty-odd days in, the towers went down, the city was thrown into a profound mourning, and most of the few people I knew in town lost their tentative-anyway jobs; after 4 months of unemployment, spent wandering the northern half of Central Park and neighborhoods near my Harlem sublet, I bailed on New York, stuffed my two ficus trees into my coupe, and got the fuck out. I still remember driving over the GW Bridge with open windows, my delicate plants blowing in the wind. I landed in Charlottesville and met Brian a month later. We didn't hit it off right away – our story would unfold more slowly. Still, I think of all these ifs and buts that made these two tiny people sleeping in this house, and realize that we're all just here because of a flip of the coin. All of us barely made it, and yet, here we are.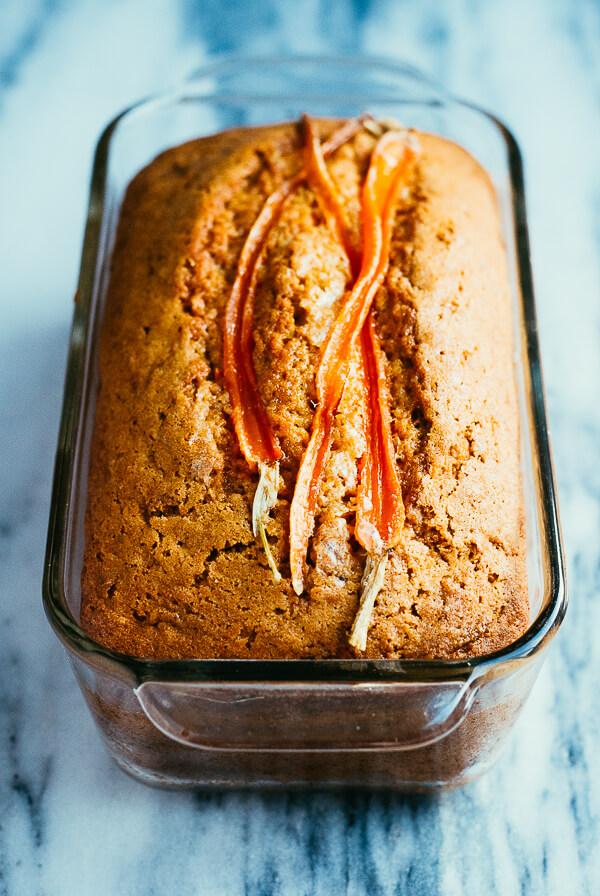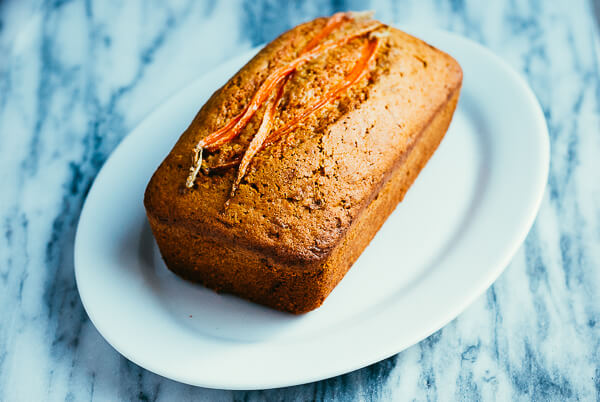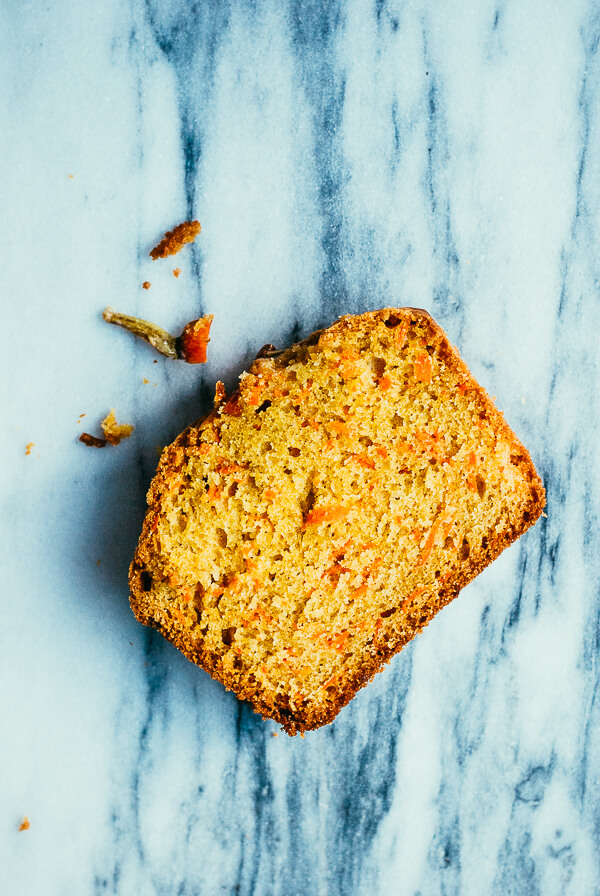 That may seem like a lot for an intro to a carrot bread recipe, and maybe it is, but cooking and eating bring us together in way that few other things do. Sitting down to a slice, after a busy day in which I'd hardly seen the girls and just before Brian went out the door for a hockey game, was one of those moments of tranquility and warmth that make the rest of our hectic life worthwhile. I hope it is for you, too.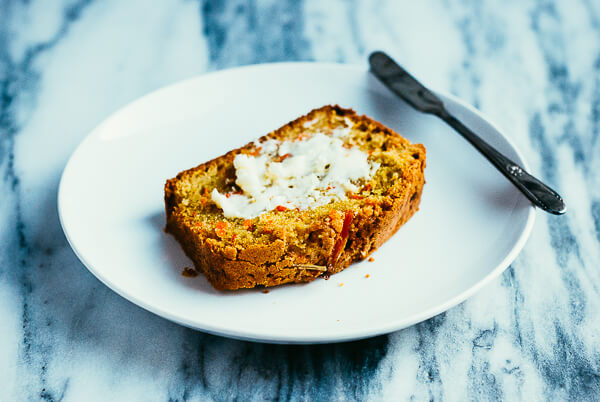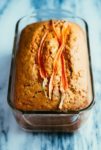 Olive Oil Carrot Quick Bread with Candied Carrots
An olive oil carrot quick bread recipe topped with candied carrots.
Ingredients
For the Candied Carrots
4

young carrots

(I like the look of a little spray of greens, but they're not necessary)

1

cup

sugar

1

cup

water
For the Olive Oil Carrot Bread
1

cup

all-purpose flour

1

cup

whole wheat pastry flour

1

teaspoon

baking powder

1/2

teaspoon

baking soda

1

teaspoon

sea salt

1/2

teaspoon

freshly grated nutmeg

1/2

teaspoon

ground ginger

3

eggs

1 1/4

cups

sugar

2

cups

grated carrots

1

tablespoon

lemon zest

1

teaspoon

vanilla extract

1

cup

extra virgin olive oil
Instructions
For the Candied Carrots
If needed, trim all but 1/2-inch of the carrot greens. Peel and halve carrots.

In a wide sauce pan, heat the sugar and water over medium heat. When sugar has dissolved, add the carrots and turn heat down so that mixture bubbles ever so gently. Cook, swirling pan occasionally, for 20 minutes or until thinnest part of carrot is translucent.

For the Olive Oil Carrot Bread
Preheat oven to 350 degrees F. Liberally butter a 9 x 5 inch loaf pan. (Note that my pan was 8 1/2 x 4 1/2-inches; I poured the extra batter into 2 buttered ramekins and baked those for 50 minutes.)

In a small bowl, combine the flours, baking powder and soda, sea salt, and spices.

In a large bowl, or the bowl of a stand mixer fitted with the paddle attachment, beat eggs and sugar on low speed. Add grated carrots, zest, and vanilla. With mixer still on low, fold in half the flour, all of the olive oil, and then the remaining flour. Mix just until everything is well combined.

Spoon into prepared loaf pan, and slide into oven. Set a timer for 40 minutes. Pull bread from oven and carefully lay 3 or 4 candied carrot halves across the top; spoon 2 tablespoons of the syrup over the top. (The idea here is for the carrots to sink into the top ever so slightly.) Slide back into the oven, and bake 20 – 30 minutes more or until a toothpick inserted in the center comes out with just a few crumbs attached.

Cool 20 minutes, then flip out onto a platter or rack to cool completely. Slice and serve with a generous smear of salted butter.

This carrot bread is best the day of, but will keep nicely wrapped in foil, at room temperature for a few days.