A rustic spelt and olive oil lemon bundt cake with lots of bright lemon flavor and a tender, springy crumb.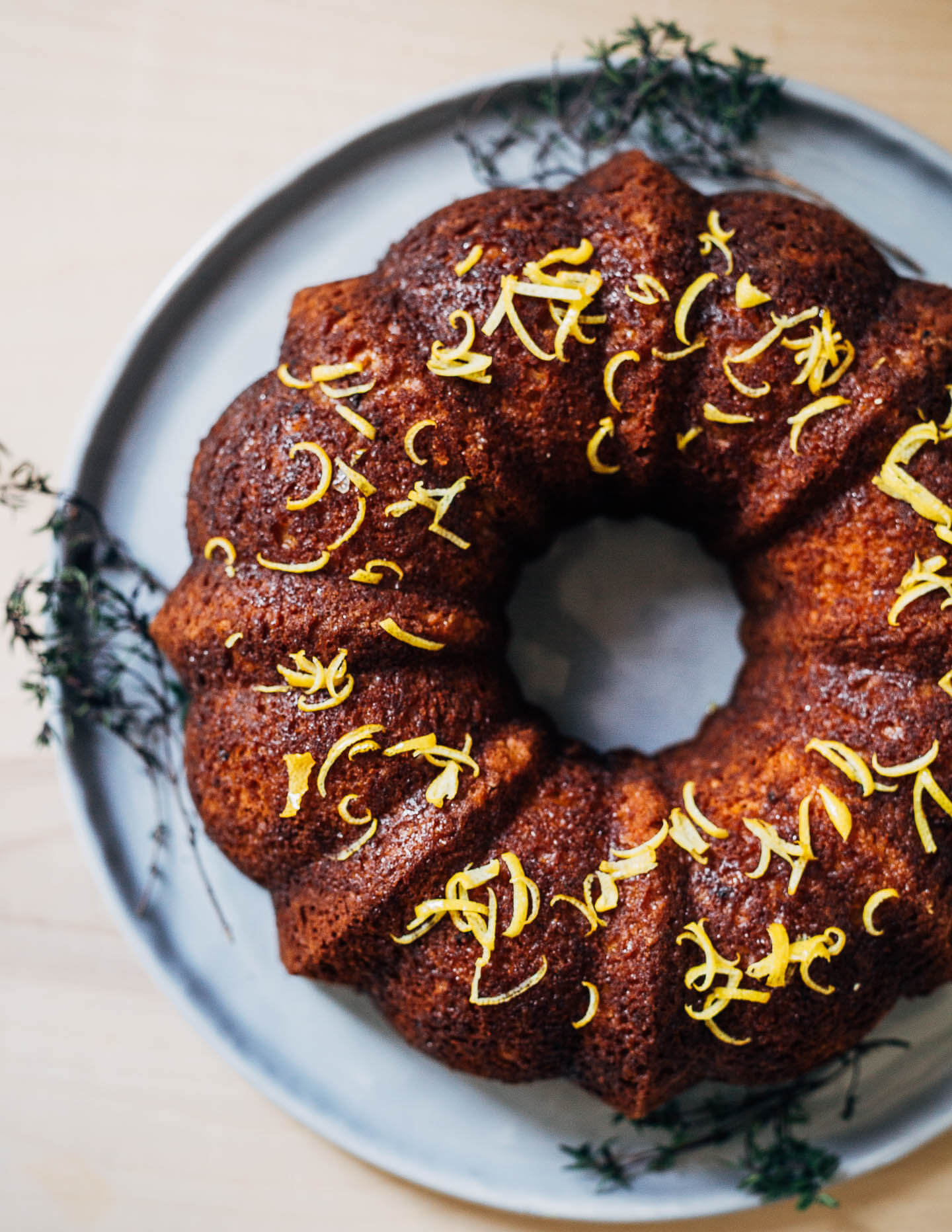 If you've been reading this blog for a while, you'll know that I'm a huge fan of olive oil cakes. Olive oil imparts savory undertones and makes for a more pronounced crumb with a pleasing texture. Pillowy, silky-crumbed cakes have their place, too, but given the choice, I'll pick rustic and toothsome nearly every time.
This olive oil lemon bundt cake, made with a mix of spelt and all-purpose flours, and no less than four lemons, strikes a nice balance of homespun flavor and a pretty, deep golden outer crumb that feels fancy enough for, say, Valentine's Day or a special meal.
As far as flavor goes, this cake is very lemony. Not quite enough to make you pucker, but certainly enough to imbue each bite with intense brightness. It's a sunny antidote to a long stretch of bitterly cold winter days.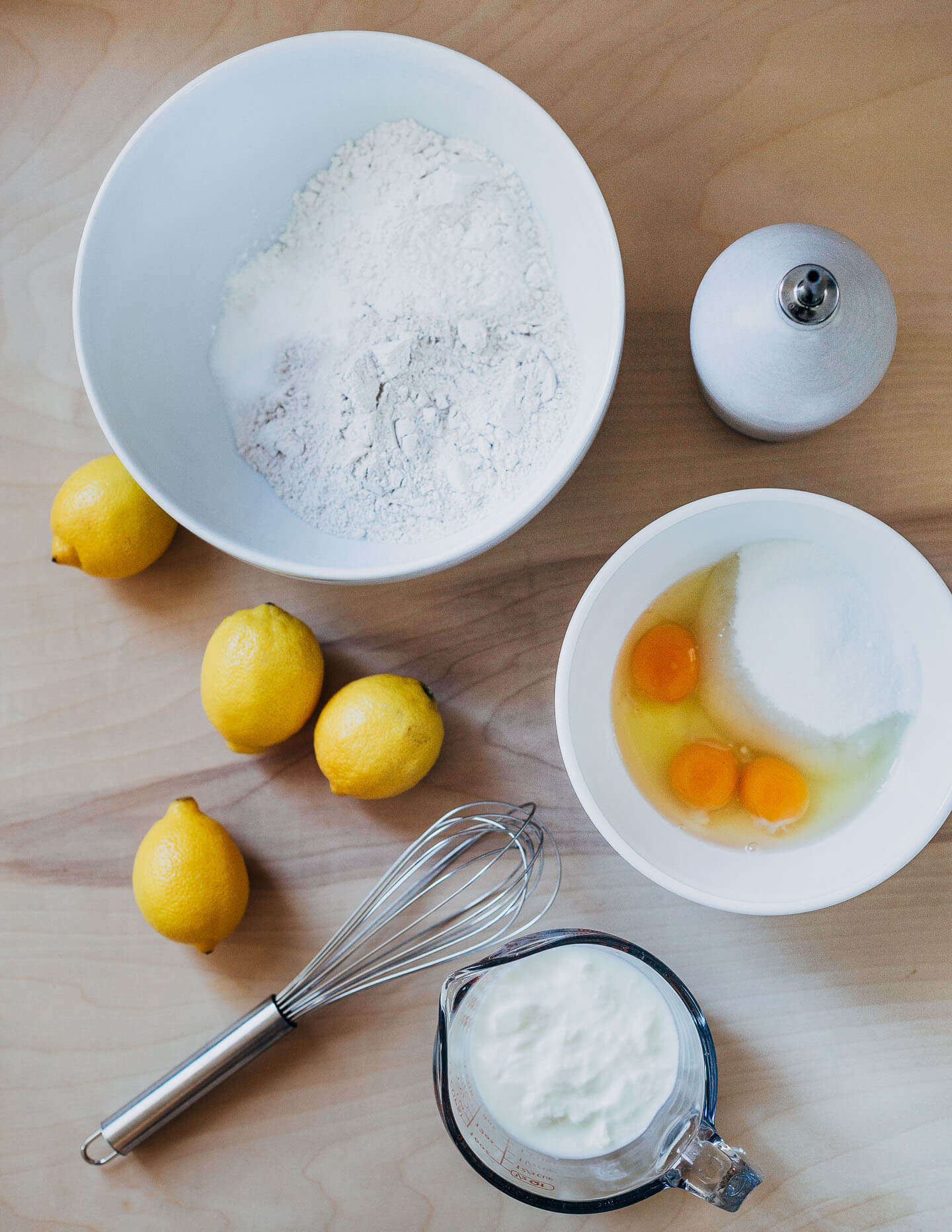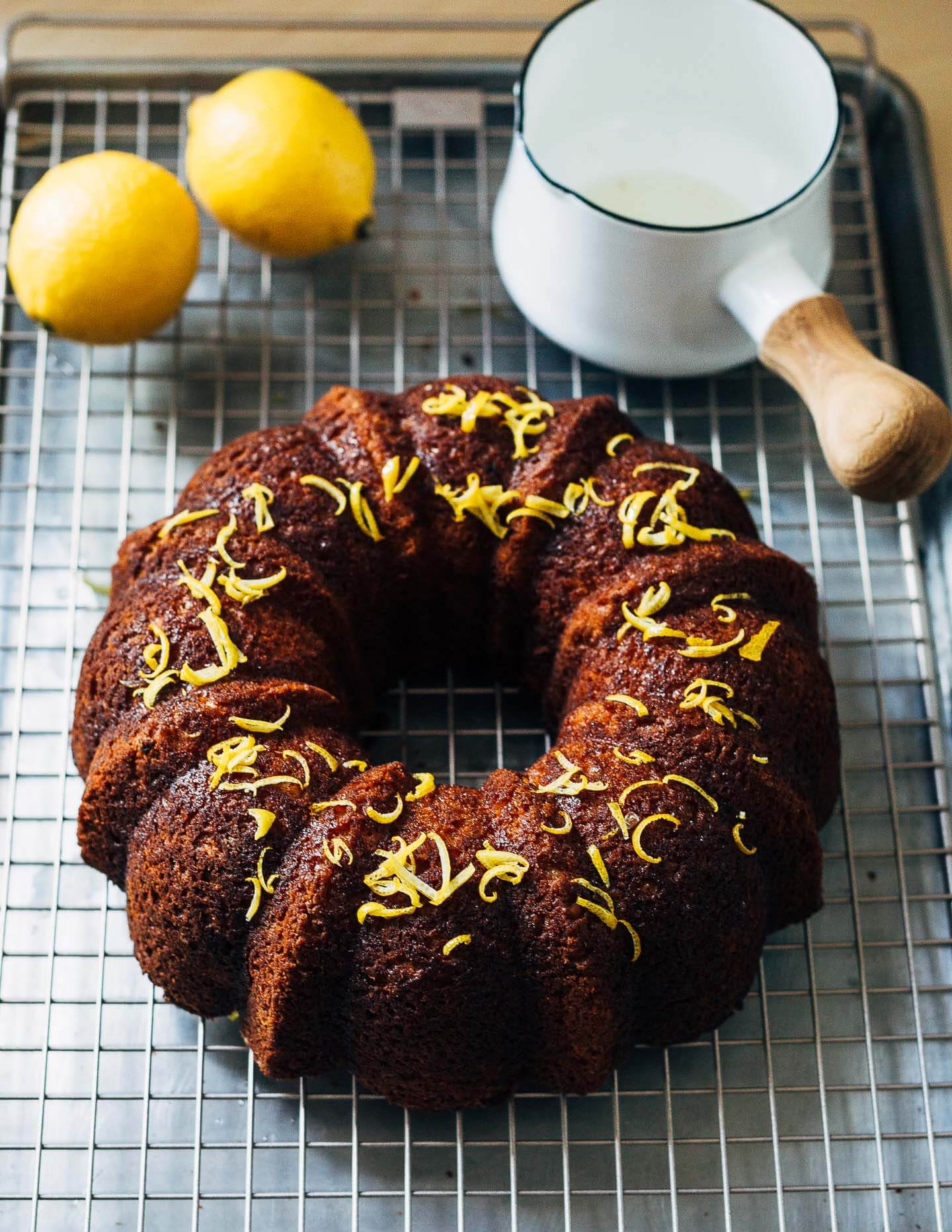 On Spelt Flour
Spelt flour is milled from an ancient grain related to wheat and has a sweet, faintly nutty flavor. Spelt is high in fiber and other beneficial nutrients, and can be swapped out for half the all-purpose flour in most recipes. I made a version of the cake using only spelt flour, and while the flavor was wonderful, the spelt seemed a bit heavy and really dampened the rise. This version is made with a mix of all-purpose and spelt flours, resulting in a tender, but springy crumb.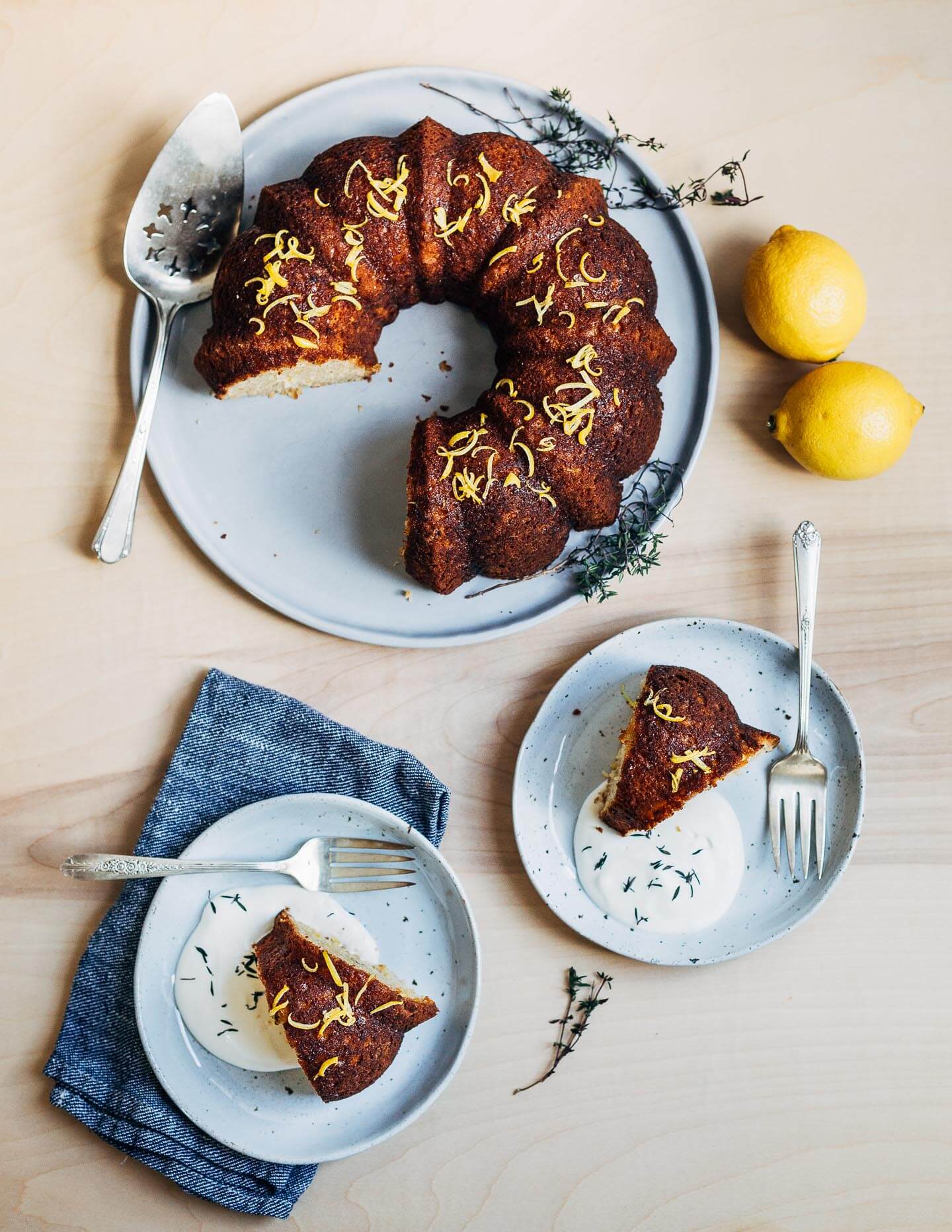 Olive Oil Lemon Bundt Cake: No Mixer Needed!
Like many olive oil cakes, this olive oil lemon bundt is a cinch to mix up. All you'll need is a few bowls and a whisk. After about 45 minutes in the oven, the cake just needs to be cooled briefly, topped with the lemon and sugar glaze, and then it's ready to serve. 

It's served with a dollop of tangy whipped cream and topped with fresh thyme. They're simple additions, but go a long way to making the cake feel special and celebratory. Feel free to sub in other herbs – rosemary, tarragon, or lemon balm (or a mix!) would all be lovely.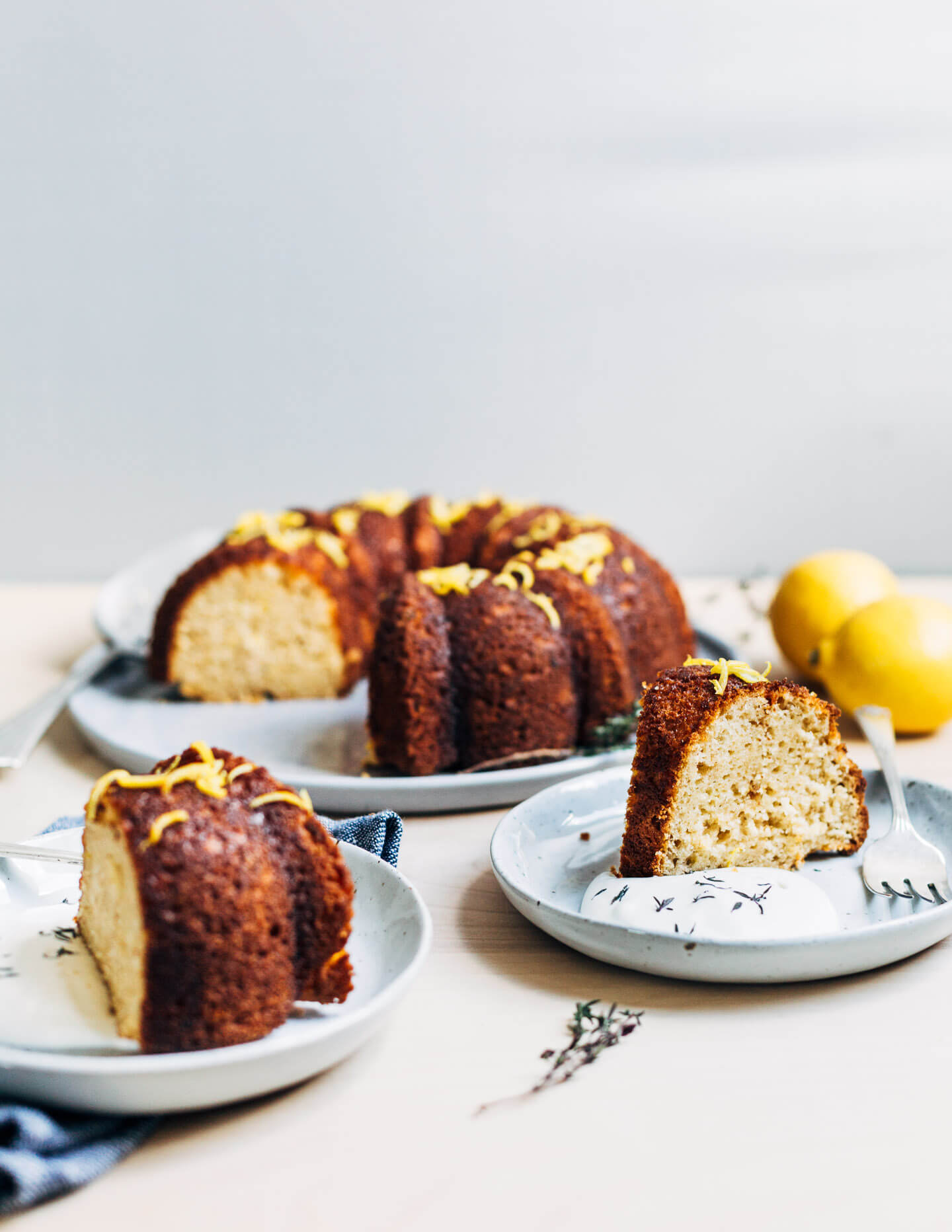 A note on bundt cakes: This cake is pretty forgiving so there's no need to dread the un-molding process. However, I always have a can of this baking spray on hand, and it makes things much simpler with zero stress. If you don't have baking spray on hand, use cooking spray or brush the cake pan completely, and evenly, with oil and then lightly flour it.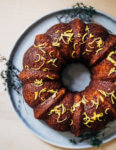 Spelt and Olive Oil Lemon Bundt Cake
A rustic spelt and olive oil lemon bundt cake with lots of bright lemon flavor and a tender, springy cake crumb.
Keyword:
olive oil lemon bundt cake
Ingredients
Cake
1

cup

spelt flour

1

cup

all-purpose flour

1

teaspoon

baking powder

1/2

teaspoon

baking soda

1/2

teaspoon

sea salt

1

cup

sugar plus 1/4 cup for glaze,

divided

3

eggs

1

cup

yogurt

2

heaping tablespoons lemon zest,

from about 2 lemons

Zest of 1 lemon,

peeled off in strips and sliced into 1/2-inch slivers


1/3

cup

plus 1/4 cup freshly squeezed lemon juice, divided

1

teaspoon

vanilla extract

1/2

cup

extra virgin olive oil

use an olive oil that tastes good right out of the bottle
To serve
1

cup

heavy whipping cream

¼

cup

sour cream

2

teaspoons

sugar

2

teaspoons

fresh thyme leaves plus 4 sprigs for garnish
Instructions
Preheat the oven to 350 degrees F. Use either a baking spray with flour to prep a 9-inch bundt pan. Or, brush lightly with oil all over, add 2 - 3 tablespoons flour, rotating the pan until it's evenly covered with flour, and then tap out any excess flour over the sink.

In a large mixing bowl, whisk to combine flours, baking powder and soda, and sea salt. In a medium bowl, vigorously whisk the eggs and 1 cup sugar for 2 minutes. Whisk in the yogurt, 2 tablespoons lemon zest, 1/3 cup lemon juice, and the vanilla. Fold half the wet ingredients into the dry, add all of the olive oil, and the remaining wet ingredients. Mix just until combined. 

Carefully pour batter into the prepared bundt, slide into the oven, and bake for 45 - 55 minutes, or until a wooden skewer comes out with just a few crumbs attached and the cake is just starting to pull away from the sides. 

(Note: The cake edges may seem quite dark in the bundt pan.) Cool cake in the bundt for 10 minutes, then flip out onto a baking sheet fitted with a wire rack.

Combine the slivers of lemon zest, 1/4 lemon juice, and 1/4 cup sugar in a small saucepan and set over medium heat. Warm just until the sugar has dissolved. Use a fork to fish out the zest slivers and arrange them on top of the cake. Then pour the warm syrup evenly over the cake. Set aside to cool for at least 20 minutes.

When ready to serve, whip cream until it's pillowy and just starting to hold its shape, add sour cream, sugar, and thyme leaves, and whip just until soft peaks form.

Serve cake over a big dollop of whipped cream. Garnish with thyme sprigs.