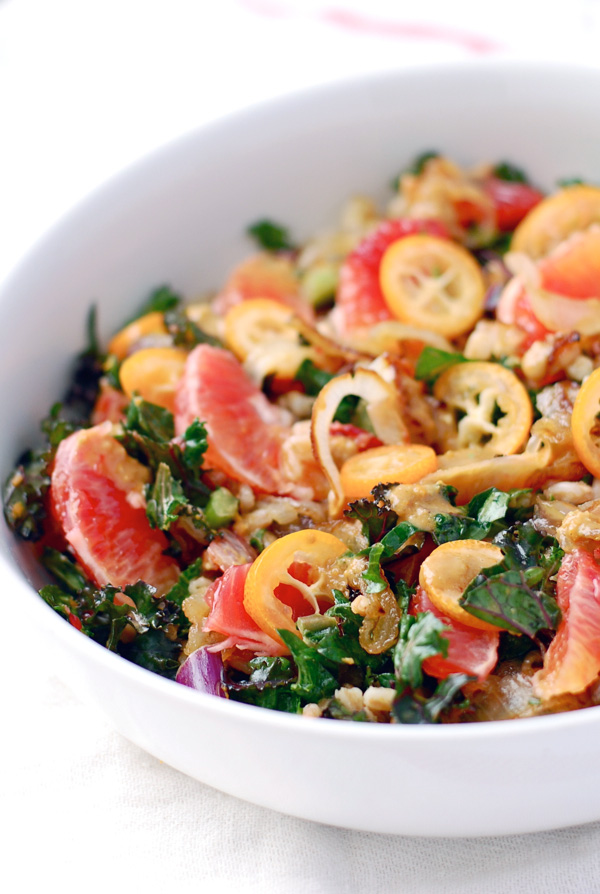 Blood orange and kumquat add bright, bracing notes of citrus to an otherwise earthy kale and farro salad. Jump to recipe.
I had a startling experience at Alt Summit when I joined the Go Mighty Life List workshop on the last day. I went in wanting to support my friends but feeling like a total pro; after all, I'd already spent a weekend last fall contemplating my happiness and goals. But, as I stared at the blank screen on my tablet and prepared to write a list of things I wanted to accomplish, things that would make me happy, I realized how far away I'd gotten from many of the things that were important to me, and how much time I'm giving to things that don't matter to me.
It was a sudden and intense realization that left me feeling overwhelmed and a little misty.  And actually, it was the second time in a month that I've had this powerful feeling. Both times, I was trying to tell myself something.
While my wonderful husband and darling, sweet children make me incredibly happy and I'm lucky to have a cozy home, good food, and warm clothes, something is missing. When I came home from the conference, Brian and I talked about it and both felt the same way. So we've made a pretty big decision to set our lives on a new course. We're still in the planning phase, so I'm not quite ready to make any announcements, but the bottom line is, this year will have big changes.
Life is busy, and it can be hard to reflect, but it's essential and I'm going to make time for it. I'm also going to make more time for the things I love; among them, making myself a nice lunch in the middle of a weekday. And that's where this lovely salad comes in. Consider it the first step on my journey towards real and lasting happiness.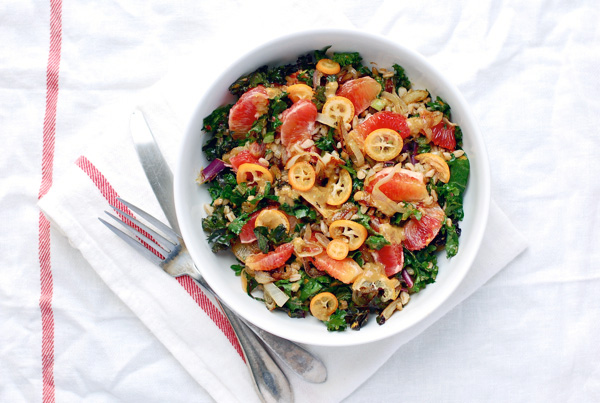 Blood oranges and kumquats add bright, bracing notes of citrus to an otherwise earthy salad. Under the blanket of acid and salt, the somewhat tough leaves of wintertime kale become supple and delicious. The farro lends bite and texture, and melds wonderfully with the slightly sweet sauteed shallots.
I had a packet of Trader Joe's quick-cooking farro on hand. I combined 1 cup of farro, 2 cups water, and a good 1/2 teaspoon or so of sea salt in a medium sauce pan, brought everything to a boil, and then covered and simmered for 12 minutes. The resulting farro was just as nutty and toothsome as the slower-cooking sort, and definitely gets my stamp of approval.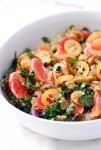 Kale and Farro Salad with Kumquat and Blood Orange
Blood orange and kumquat add bright, bracing notes of citrus to an otherwise earthy kale and farro salad.
Ingredients
Kumquat Dressing
1/2

cup

whole kumquats

1/4

cup

extra virgin olive oil

2

tablespoons

balsamic vinegar

drizzle of water

generous pinch of sea salt
Salad
3

cups

mixed kale

, cut into thin ribbons

sea salt

2

tablespoons

extra virgin olive oil

2

large shallots

, peeled and sliced into thin rounds

1

cup

farro

, cooked

3

blood oranges

, supremed

1/4

cup

sliced kumquats

, seeded
Instructions
To make dressing, combine dressing ingredients in a blender, pureeing until smooth. Add water and salt as needed.

Place kale ribbons on a large serving bowl. Drizzle with half the dressing, add a pinch of sea salt, turn leaves to coat, and set aside.

In a small frying pan, heat olive oil over medium-high heat. Add shallot slices and a pinch sea salt. Sauté, stirring occasionally, 10 minutes or until shallots are browned on the edges and translucent.

Gently toss remaining ingredients with kale, adding a few more slugs of dressing and adjusting salt levels as needed. Set aside for a few minutes while flavors commingle, and serve.
SaveSaveSaveSave
SaveSave