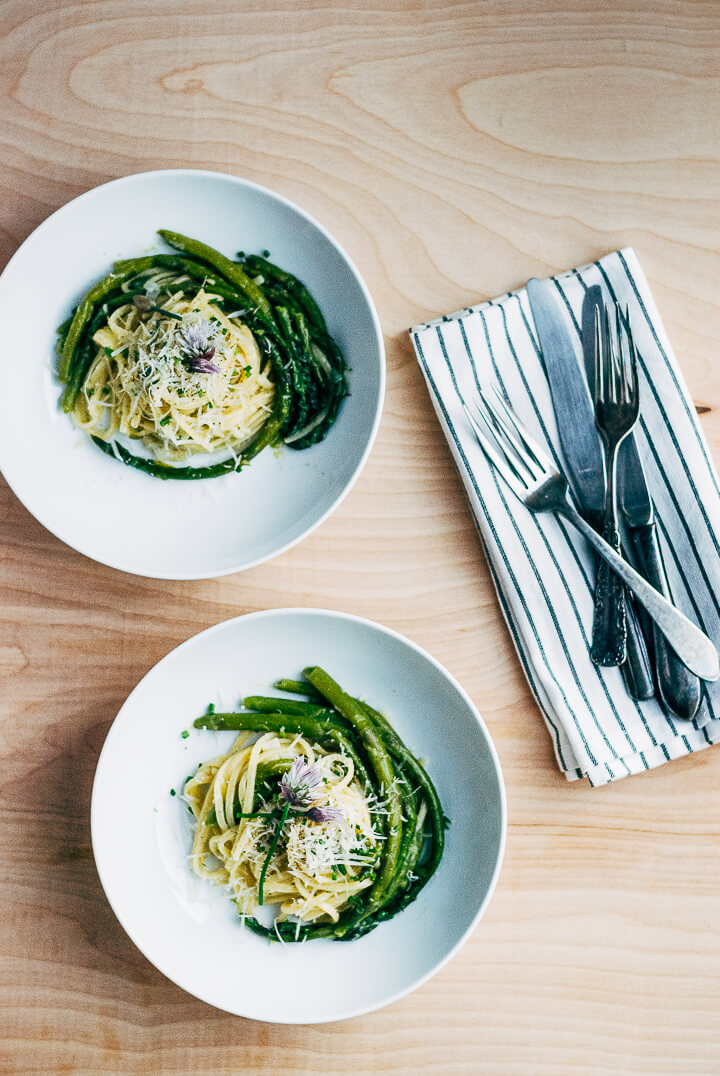 An incredibly simple and delicious recipe for one-pot pasta primavera, made with asparagus, ramps, and chives. Jump to recipe.
When you've got a baby in the works, you start getting lots of advice. And horror stories. Parenthood begins to seem more like a constant state of terror than the joyous formation of a new little family. It's frightening.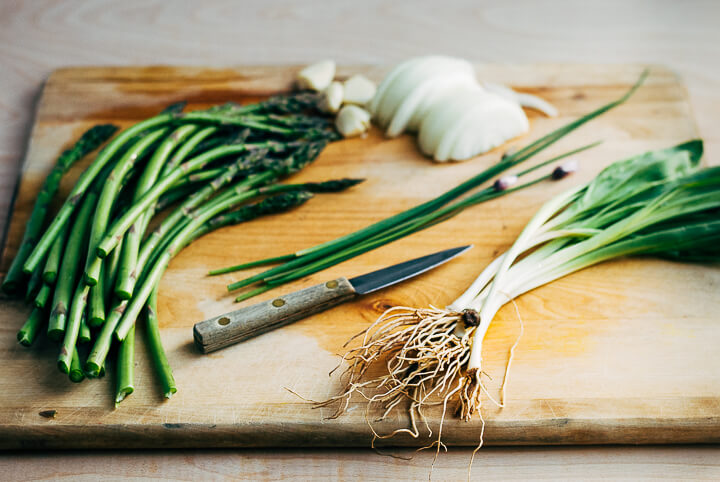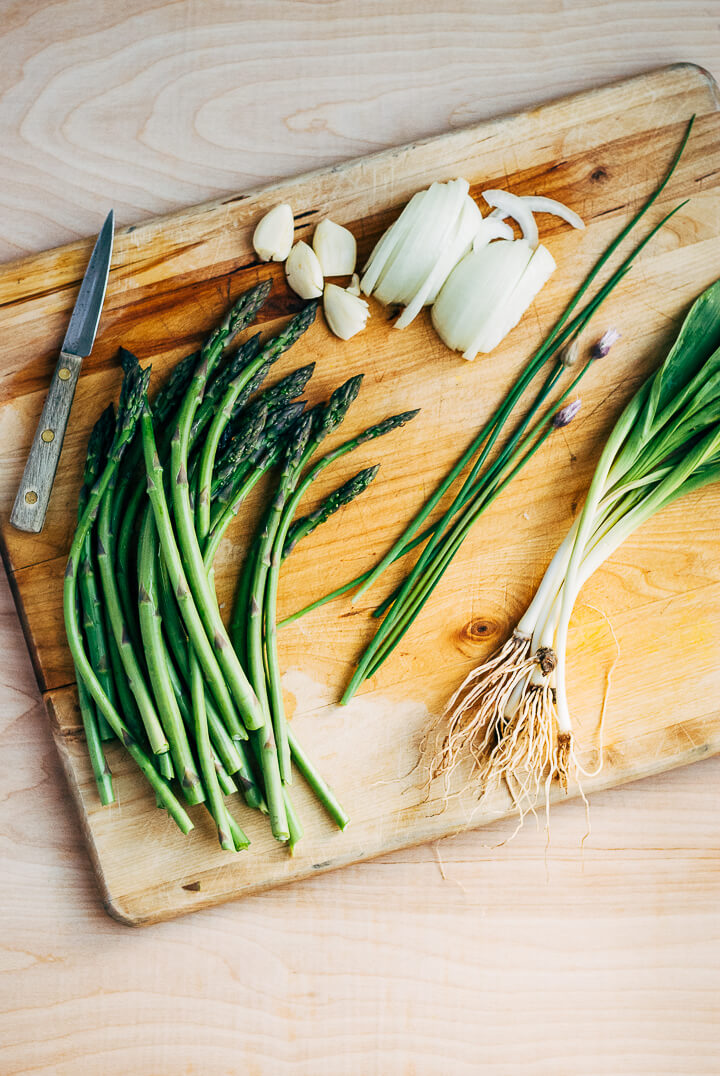 But right now, as my friend Erin gets ready to make the leap into motherhood, I want to share my own advice that I hope will counterbalance some of the scary stuff. Know that you're going to have your baby, and you'll know and love that baby better than anyone. Always remember that you know what's up. Your kid is yours, and your instincts should be heeded. Also, try not to sweat the tiny details. You can drive yourself mad wondering if this car seat or that one is going to keep your kid safer or if you're putting your two year-old at a disadvantage by not signing up for Mandarin classes. In the end, these tiny details don't really matter. It's a long road, and saintliness only gets you so far. Hire a sitter or head out with the baby, and make time to do the things that you love most.
As you prepare to enter into this wonderful, crazy world, Erin, I wish you the very, very best. Eat well, enjoy the moment, and take care of yourself as you heal and adjust. You're going to be great!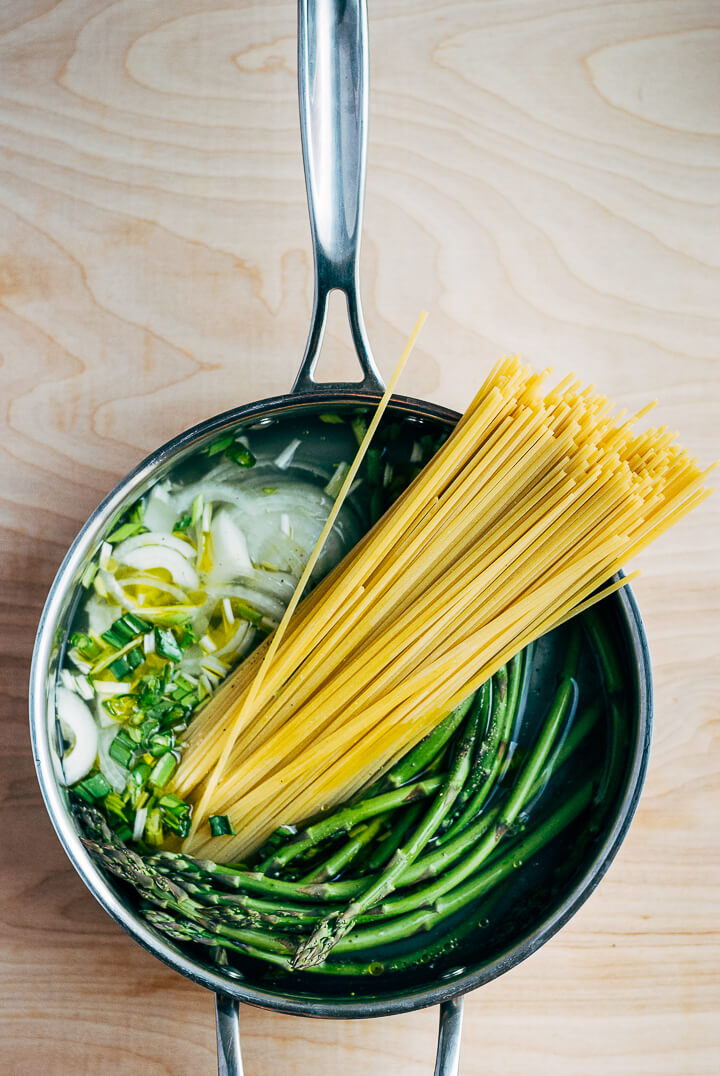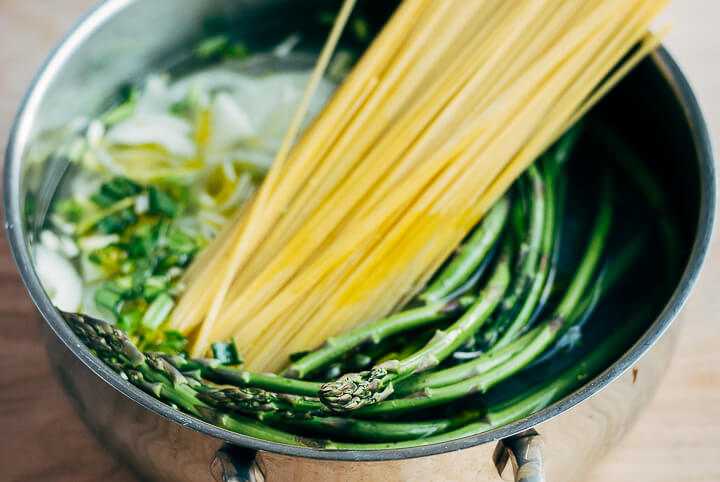 To celebrate Erin and her new baby, a stellar lineup of food bloggers have prepared over a dozen fast, simple vegetarian recipes. And don't forget head over to Naturally Ella and give Erin some love!
(P.S. Check out Erin's beautiful, useful new book, The Easy Vegetarian Kitchen, too!)
The Fauxmartha // A Pasta Dish for Busy Hands
A Couple Cooks // Breakfast Parfait with Roasted Strawberries
Edible Perspective // Avocado Pesto Chickpea Salad Sandwiches
Eat This Poem // Penne with Cherry Tomatoes and Arugula
Cookie and Kate // Brussels Sprouts Pizza
FoodieCrush // Beet, Avocado and Fried Goat Cheese Salad
The Bojon Gourmet // Tempeh BLTs with Avocado + Chipotle Mayonnaise
Girl Versus Dough // Spiced Lentils with Poached Eggs
Dolly and Oatmeal // Chickpea Bean Bowl with Toasted Bread Crumbs and Dill Tahini
Food Loves Writing // Erin's Veggie Burgers
With Food + Love // Creamy Polenta with Crispy Beets
London Bakes // Ricotta Gnocchi with Wild Garlic and Pistachio Pesto
Flourishing Foodie // Glazed Tofu with Ramen
This Homemade Life // Chickpea Greek Salad
My Name is Yeh // Creamed Spinach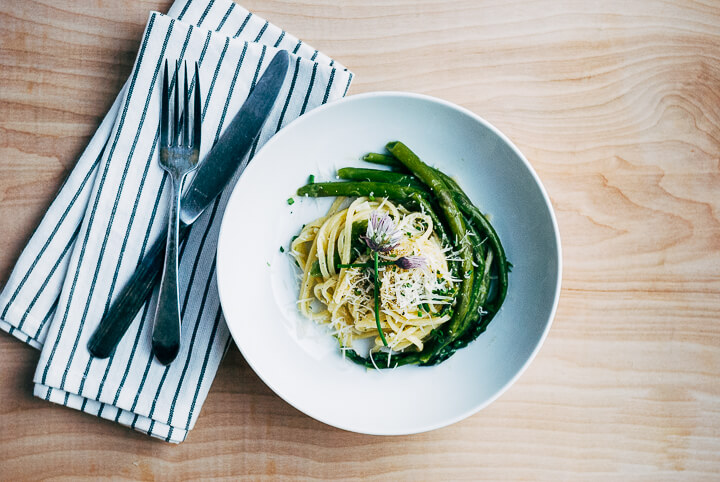 This one-pot pasta primavera is simple and fast, and comes together in minutes. It's perfect for new parents, but also anyone (read: everyone) who needs a fast dinner option that also happens to be delicious. It features the very first bunches of farmer's market asparagus, plus ramps, chives, and chive blossoms. I've also tried the dish with long spears of broccoli, and have to imagine it would be great with any number of spring vegetables, cut long and thin to mimic the thickness of asparagus. Same with the alliums – leeks, scapes, green garlic, or spring onions will all be great.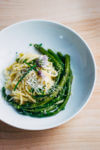 One-Pot Pasta Primavera
An incredibly simple and delicious recipe for one-pot pasta primavera, made with asparagus, ramps, and chives.
Ingredients
12

ounces

linguine

(select a variety that cooks for 9 - 11 minutes)

12

ounces

asparagus

(thin to medium spears), rinsed well with woody ends snapped off

1

yellow onion

, trimmed and thinly sliced

4

ramps

, trimmed and thinly sliced

4

cloves

garlic

, smashed and thinly sliced

4 1/2

cups

water

2

tablespoons

extra virgin olive oil

1 - 2

teaspoons

sea salt

black pepper to taste

1/2

cup

grated Parmesan

2

tablespoons

minced chives and flowers

zest of 1 lemon

, plus lemon juice as needed
Instructions
This recipe is best made with a deep, wide, straight-sided skillet that accommodates the full length of linguine, but it's just fine if it doesn't.

In your biggest deep, wide, straight-sided skillet, combine the linguine, asparagus, onion, ramps, garlic, water, and sea salt, over high heat and bring water to a rapid boil. (If your linguine doesn't fit, just wait until it's softened a bit and gently push it down.) Cook, turning ingredients frequently, for 9 - 11 minutes, or until pasta is al dente. (There will be a surprising amount of liquid up until the very end – stay strong.)

Toss cooked pasta with lemon zest and a squeeze or two of lemon, plus lots of Parmesan. Adjust salt as needed. Finish with chives, chive flowers, and plenty of pepper.
Recipe Notes
A few notes: you'll want to use tongs to turn and flip the ingredients often as they cook. The water will seem like a little too much right up until the end of cook time, but then, like magic, it's just right.
Select a linguine (or other kind of long pasta) that cooks in 9 - 11 minutes; anything shorter may overcook.