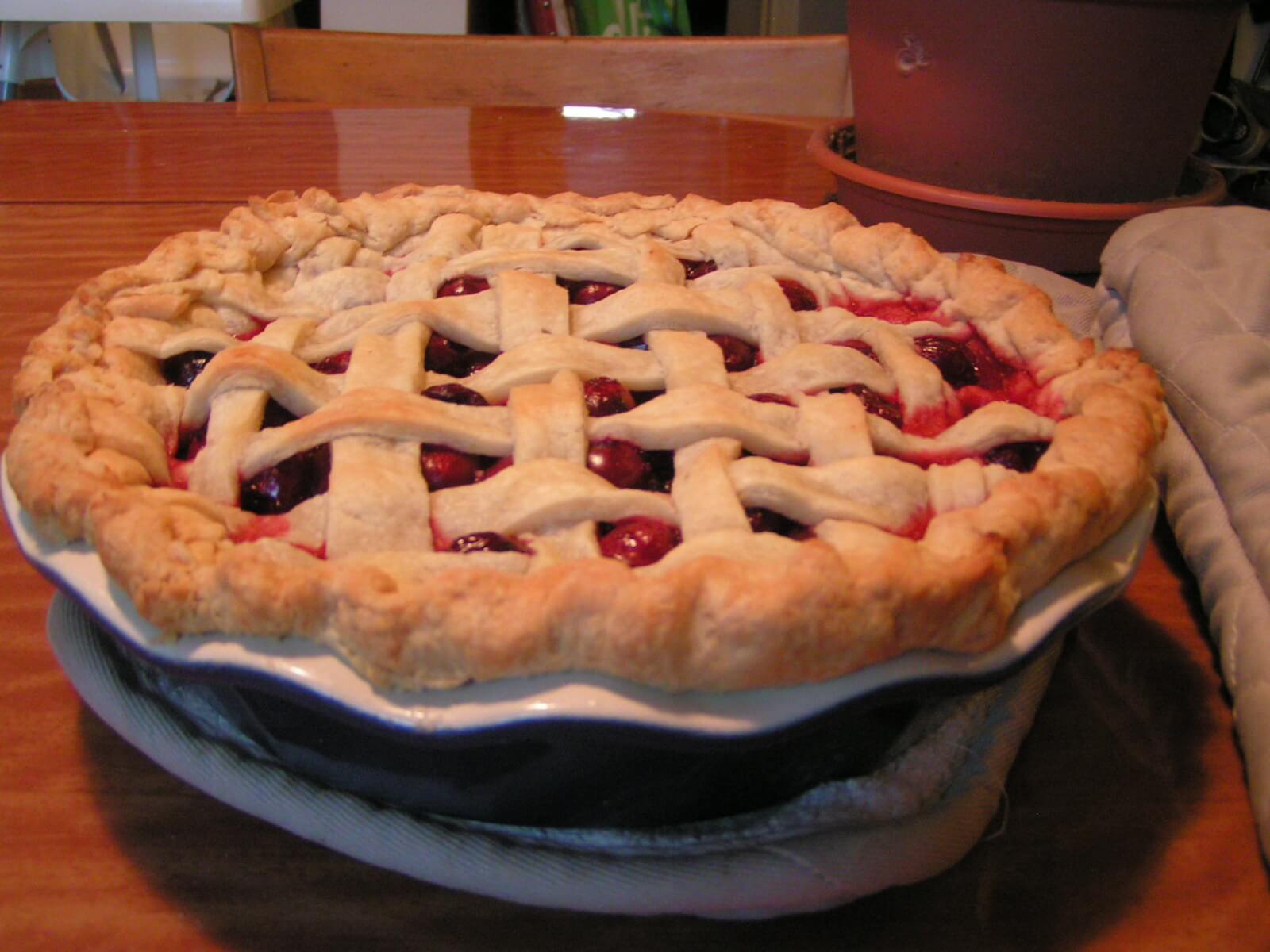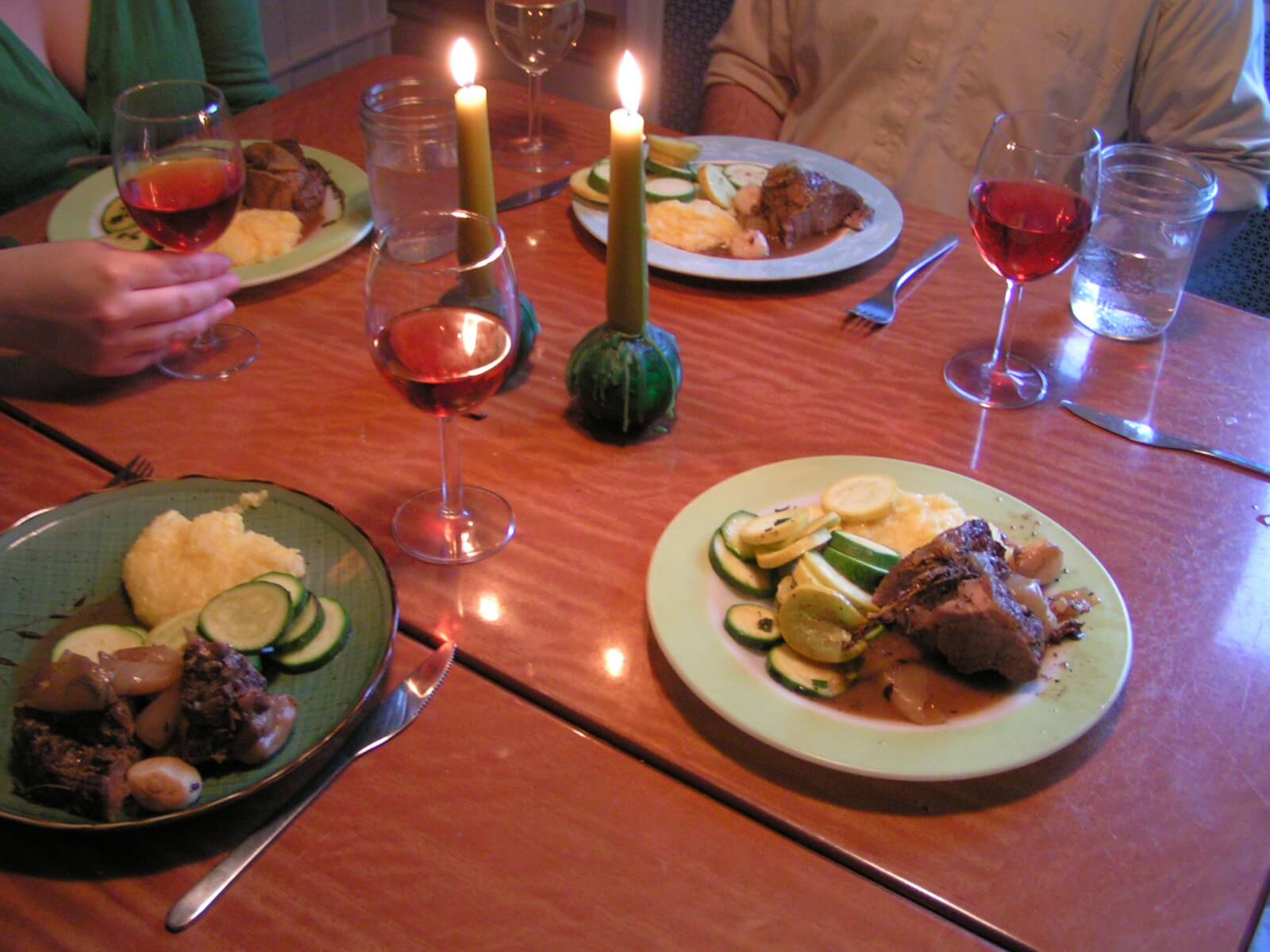 On the menu: braised pork roast on a bed of polenta, sautéed summer squash and zucchini (again), a salad with fresh farmer's market feta, plenty of rosé, and sour cherry pie. Brian made the main course and I made the salad and the pie.
I have a long history of making pies, and thanks to the Enid's Apple Pie Contest I even have a couple to trophies to show for it. Apple is my specialty, but cherry has a dear place in my heart especially because cherries are the first fruit of my pie season. Some of you must be wondering, what about strawberry-rubharb pie? This is the pie that many kick off pie season with. I am allergic to rhubarb, and never liked the idea of a strawberry pie. So, back to the cherries; every year we enjoy the sweet cherries as they arrive at the market, and then a few weeks later sour pie cherries arrive and pie season begins.
This being the first pie of the season, there were a few kinks. I plan on making sour cherry pie round two soon so stay tuned to see if proposed improvements are successful.
Sour Cherry Pie
(adapted from Mark Bittman's How to Cook Everything)
updated July 16, 2008
for the crust
2 1/2 cups unbleached all-purpose flour (King Arthur is the best)
1 teaspoon salt
2 tablespoons sugar
16 tablespoons unsalted butter (2 sticks), cold, cut into 1/2-inch cubes
8-10 tablespoons ice water, or more if needed
for the filling
2+ quarts fresh sour cherries
1/2 cup sugar (more if you like things on the sweet side)
3 heaping tablespoons of pulverized instant tapioca (I make mine in the coffee grinder)
dash cinnamon
dash nutmeg
Process flour, salt, and sugar together in food processor until combined, about 3 seconds. Add butter and pulse until butter is size of large peas, about ten 1-second pulses.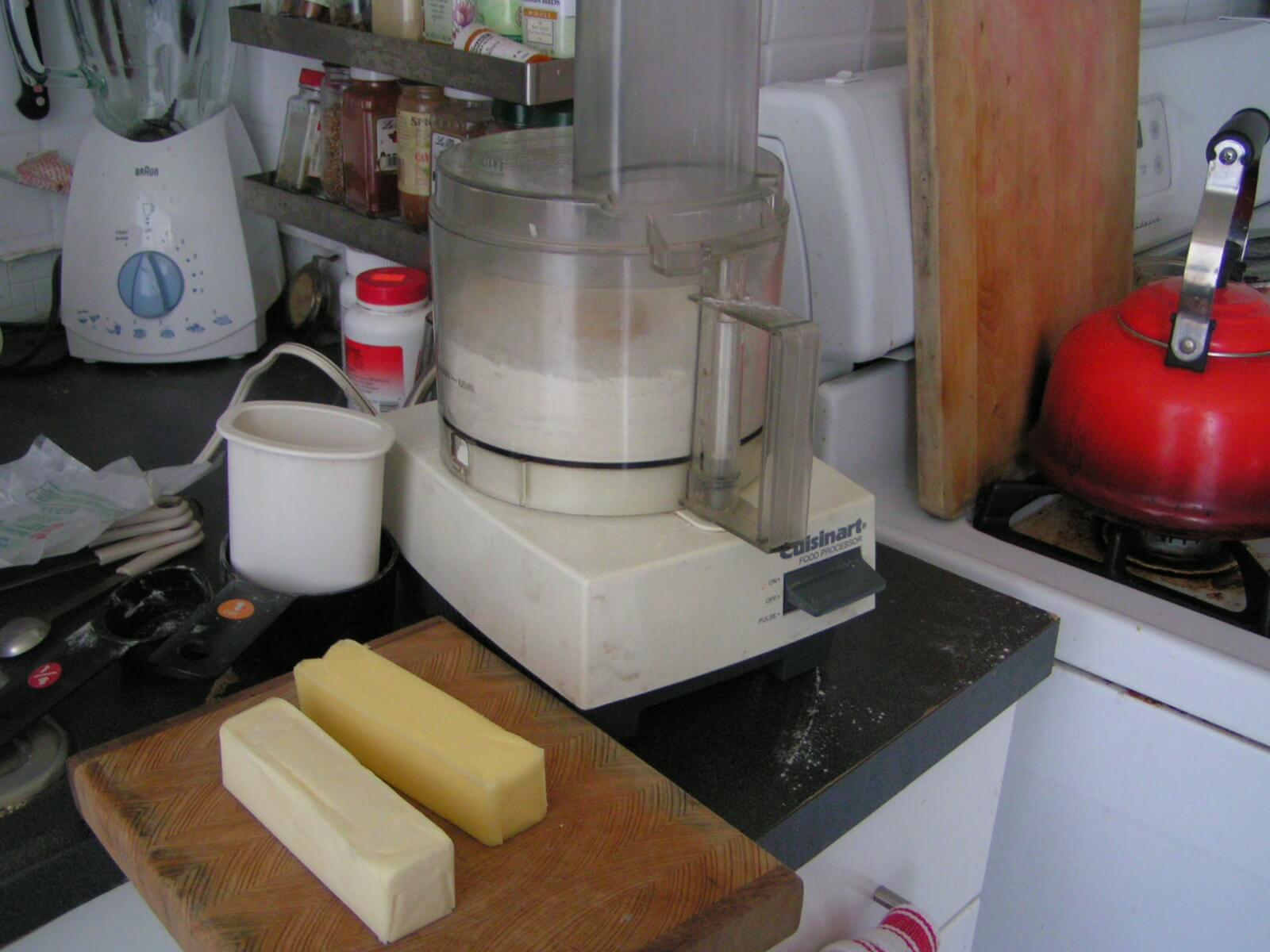 Add water and pulse carefully, just until absorbed. Turn dough out onto work surface. Divide dough into 2 balls and flatten each into a 4-inch round; wrap each round in plastic and refrigerate 1 to 2 hours, before rolling. Wash and pit slightly more than two quarts cherries, add the sugar, cinnamon, nutmeg, and 3 heaping tablespoons pulverized tapioca and let sit while you prepare the crust.
*This is where I ran into trouble with this pie. The finished product was too juicy, so next time around I will prepare the filling maybe an hour ahead of time, give the tapioca time to expand and absorb the cherry juice, and then before adding the filling to the pie shell I will set aside a good amount of the liquid. The pie I made on Sunday was very watery and the whole bottom crust was turned to (delicious, bright red, buttery) mush. Update: The addition of the extra tapioca (from 2 to 3 tablespoons) really cut down on the amount of liquid in the pie, if you do have a good deal of cherry juice in your bowl, I would advise adding it sparingly to the actual pie.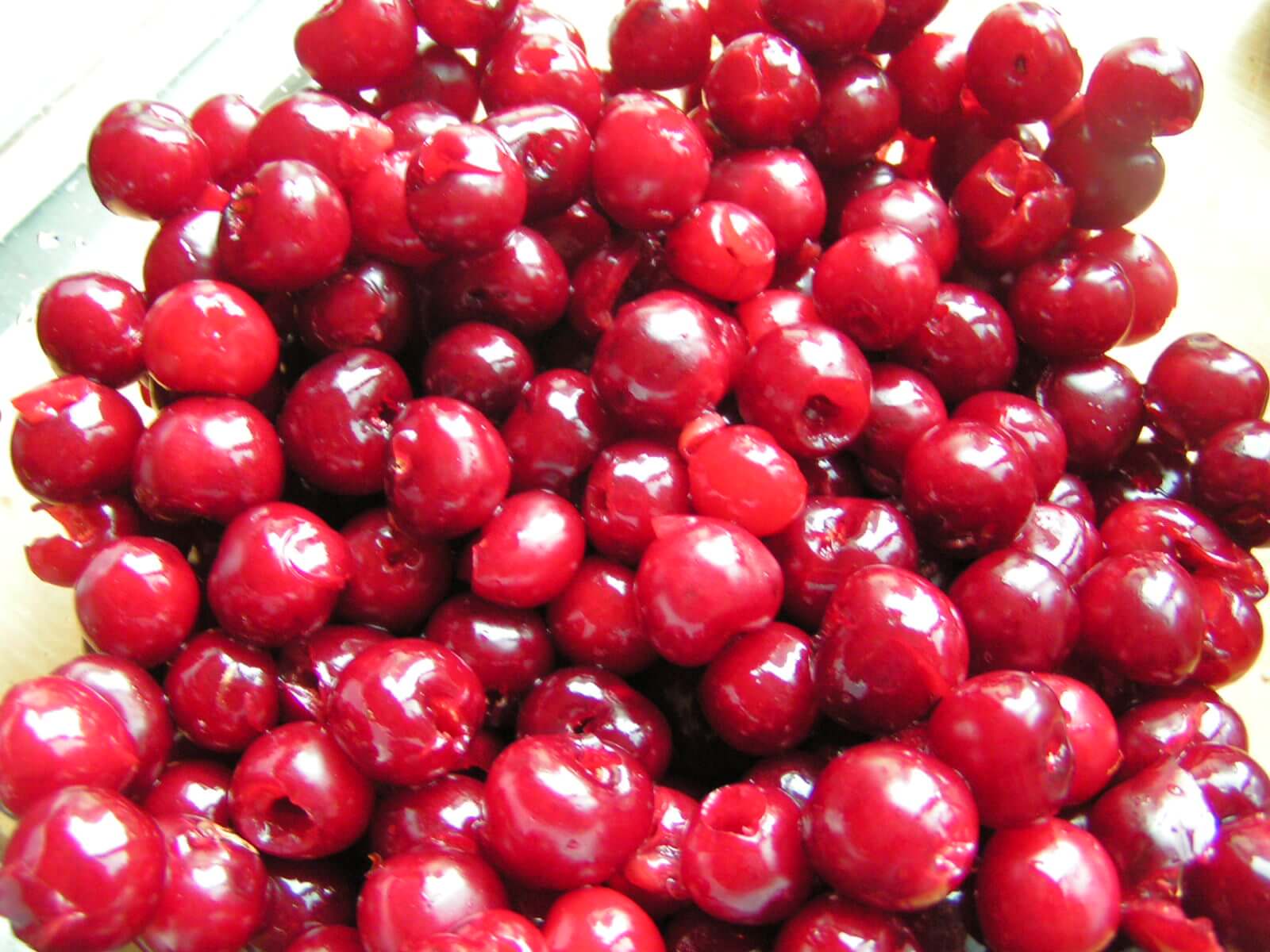 Adjust oven rack to center position and heat oven to 450 degrees. Place cookie sheet into oven for preheating (this helps get the bottom crust crispy before the fruit juices penetrate). Remove one dough round from the refrigerator and roll on a on a lightly floured surface or a large piece of parchment paper into a 13-inch circle. Fold dough in quarters, then place dough point in center of deep dish pie pan. Unfold dough. Gently press dough into sides of pan leaving portion that overhangs lip of pie plate in place. Refrigerate shell while oven preheats, at least 20 minutes.

Turn fruit mixture (minus excess juice) into chilled pie shell and mound slightly in center. Roll out other dough round, cut into strips, and weave lattice over filling. Flute edging or press with fork tines to seal. If you like, add some chunks of butter just beneath the crust.
Place pie in oven onto preheated cookie sheet. Bake for 10 minutes at 450 degrees, and then turn down to 350 and cook for an additional 35 – 40 minutes until lattice is just golden. Transfer pie to wire rack; cool.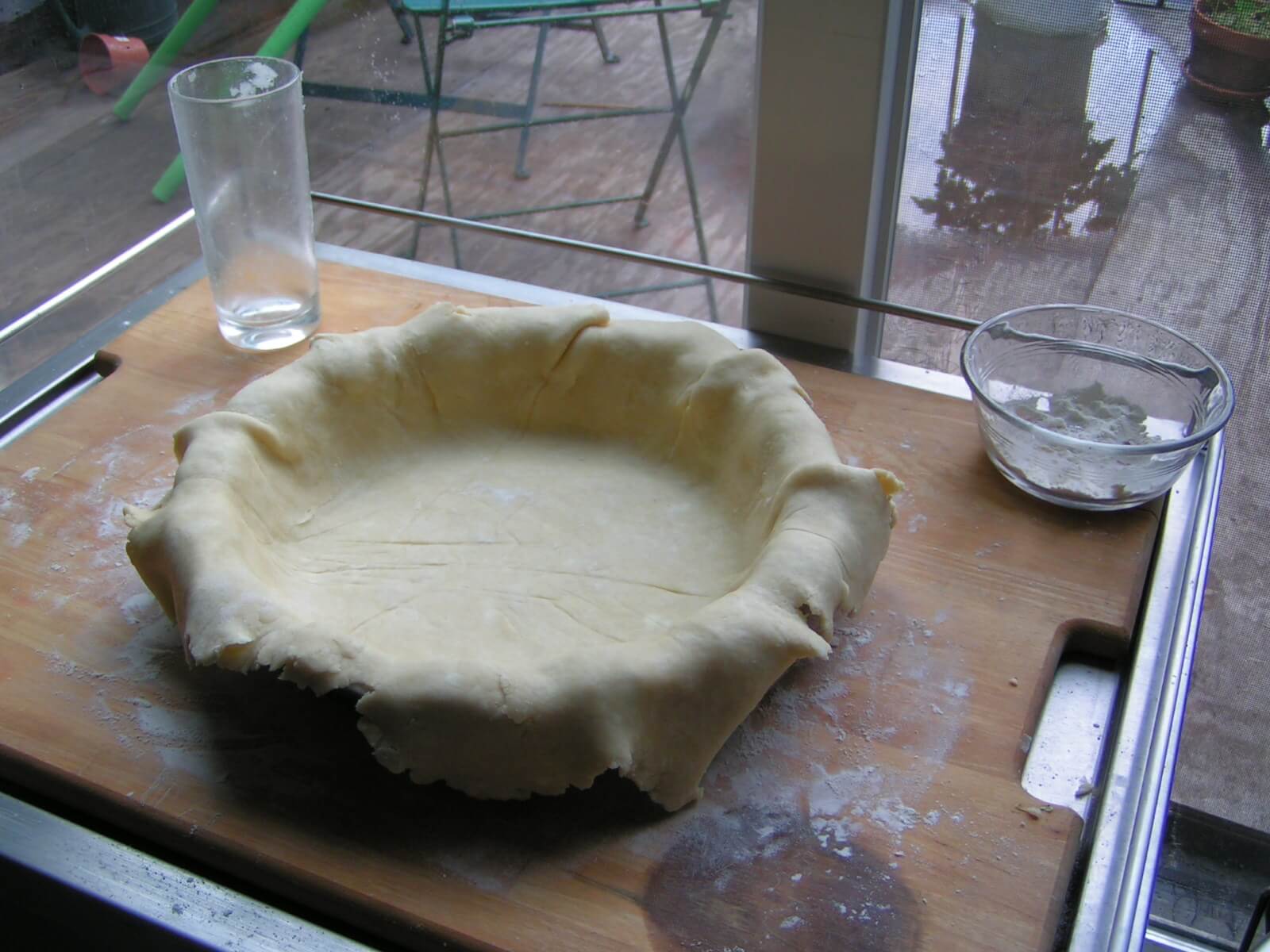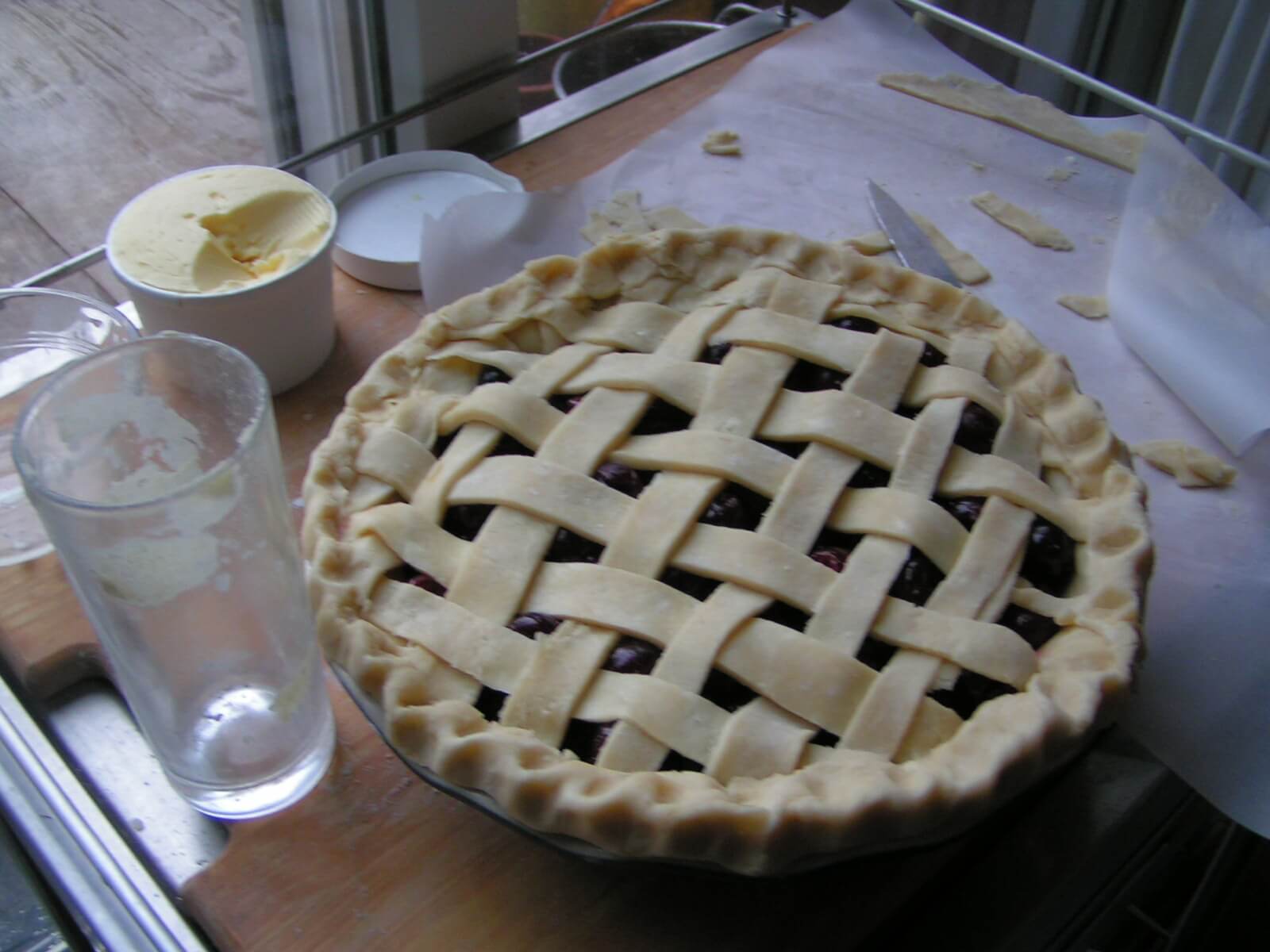 Despite the liquid problems, the pie was picture perfect and very tasty.