A wintry orange and arugula salad scattered with citrus-marinated radishes and drizzled with creamy buttermilk ranch dressing.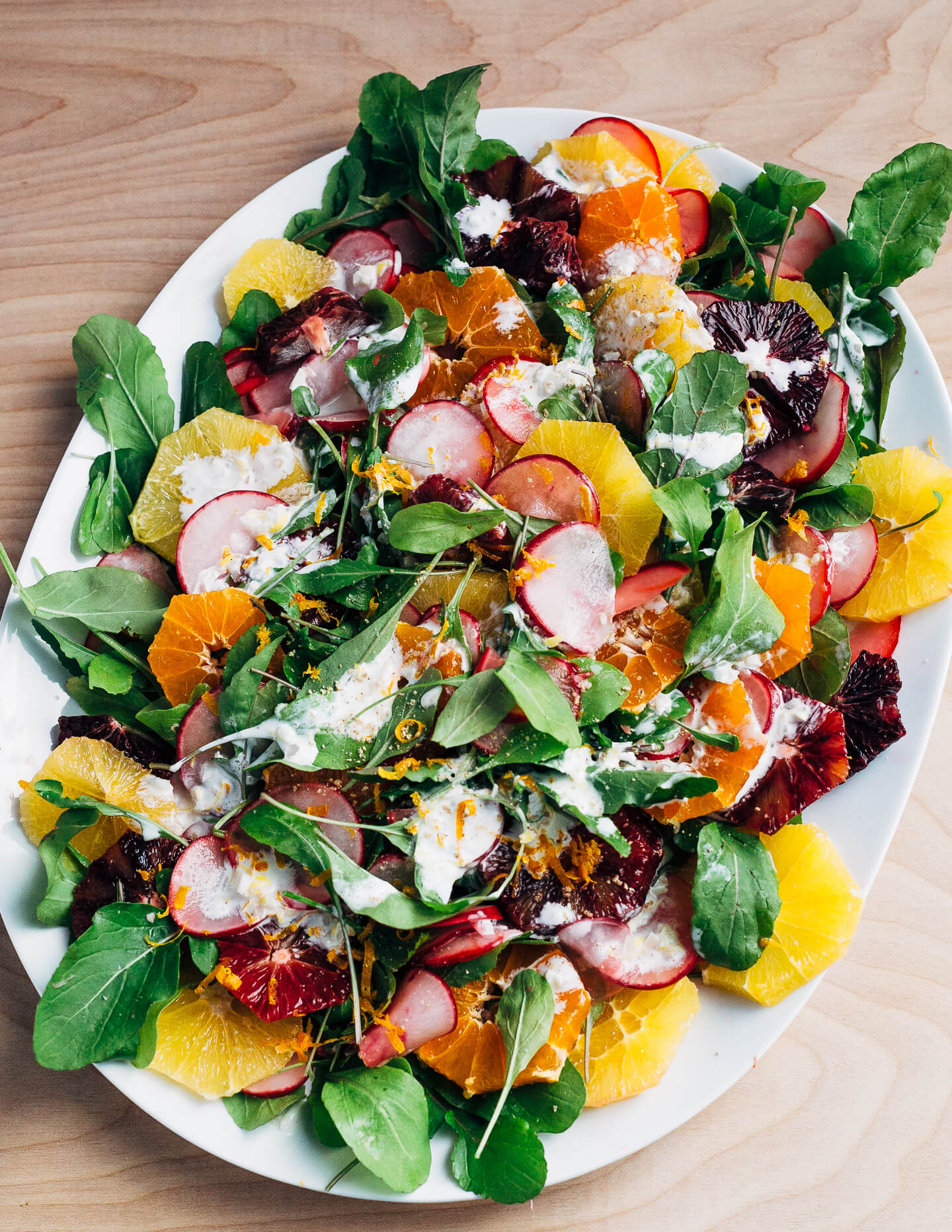 After a balmy winter last year (I wore sandals in February), I decided to make the most of climate change and keep a winter garden this year. Predictably, this winter is bitterly cold and thick row covers and tarps shroud my garden, which is very likely frozen solid anyway. (I'll check next week when temps get above 40.)
Before the frigid weather set in, however, I harvested a few bags each of tender kale, collards, and arugula. Happily, I also had a bowl of citrus on hand – sweet naval, blood, and satsuma mandarin oranges – all as bright and deliciously sweet as you could wish for, and perfect for a wintry orange and arugula salad.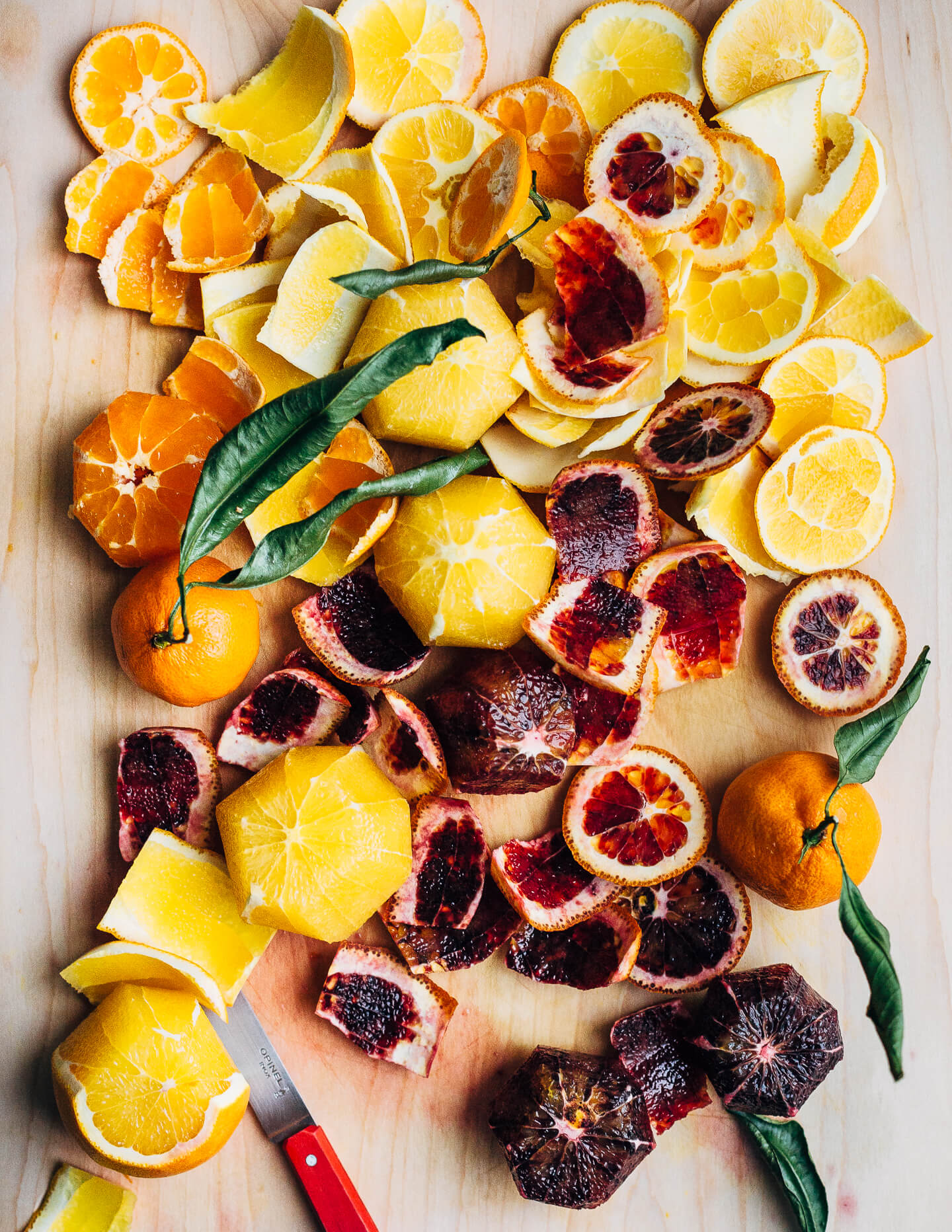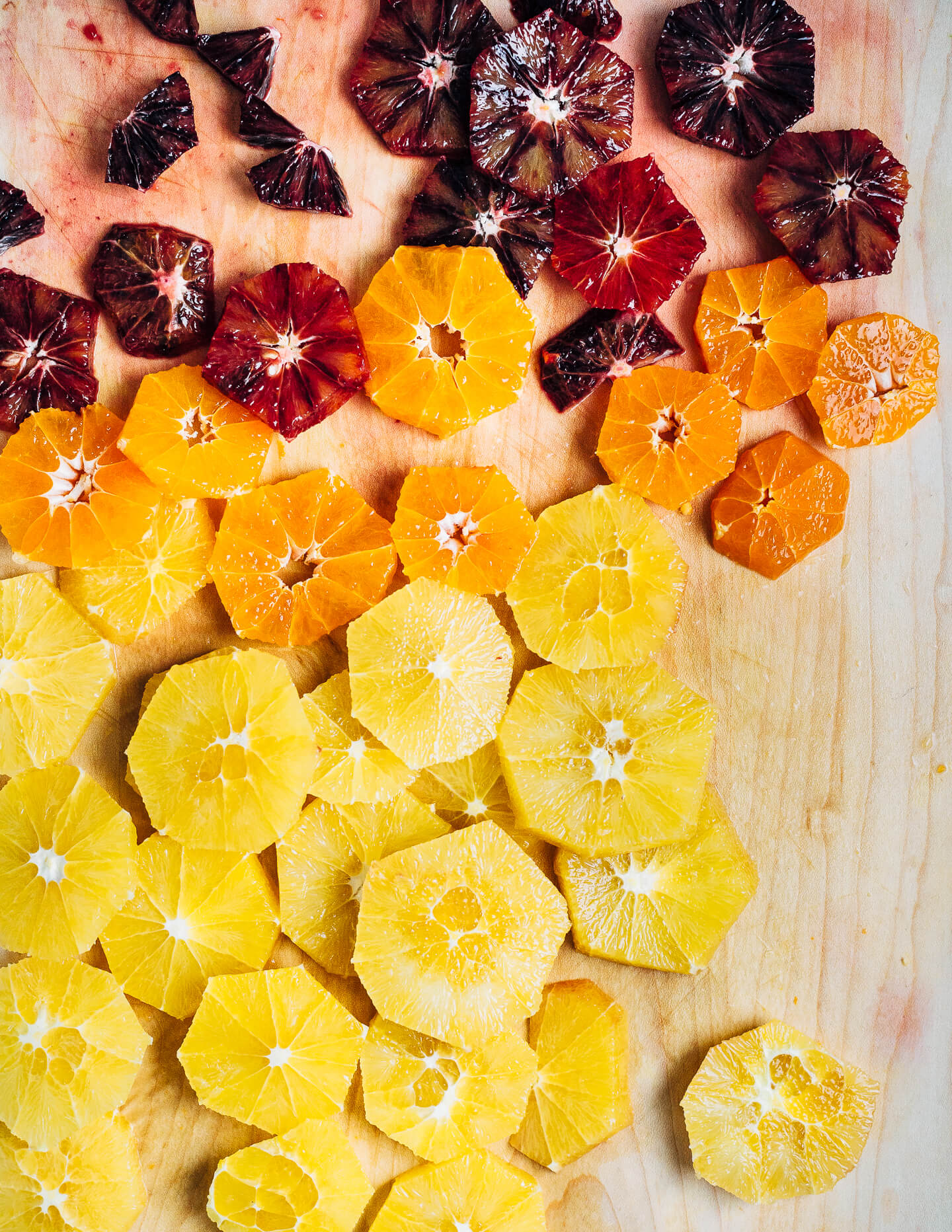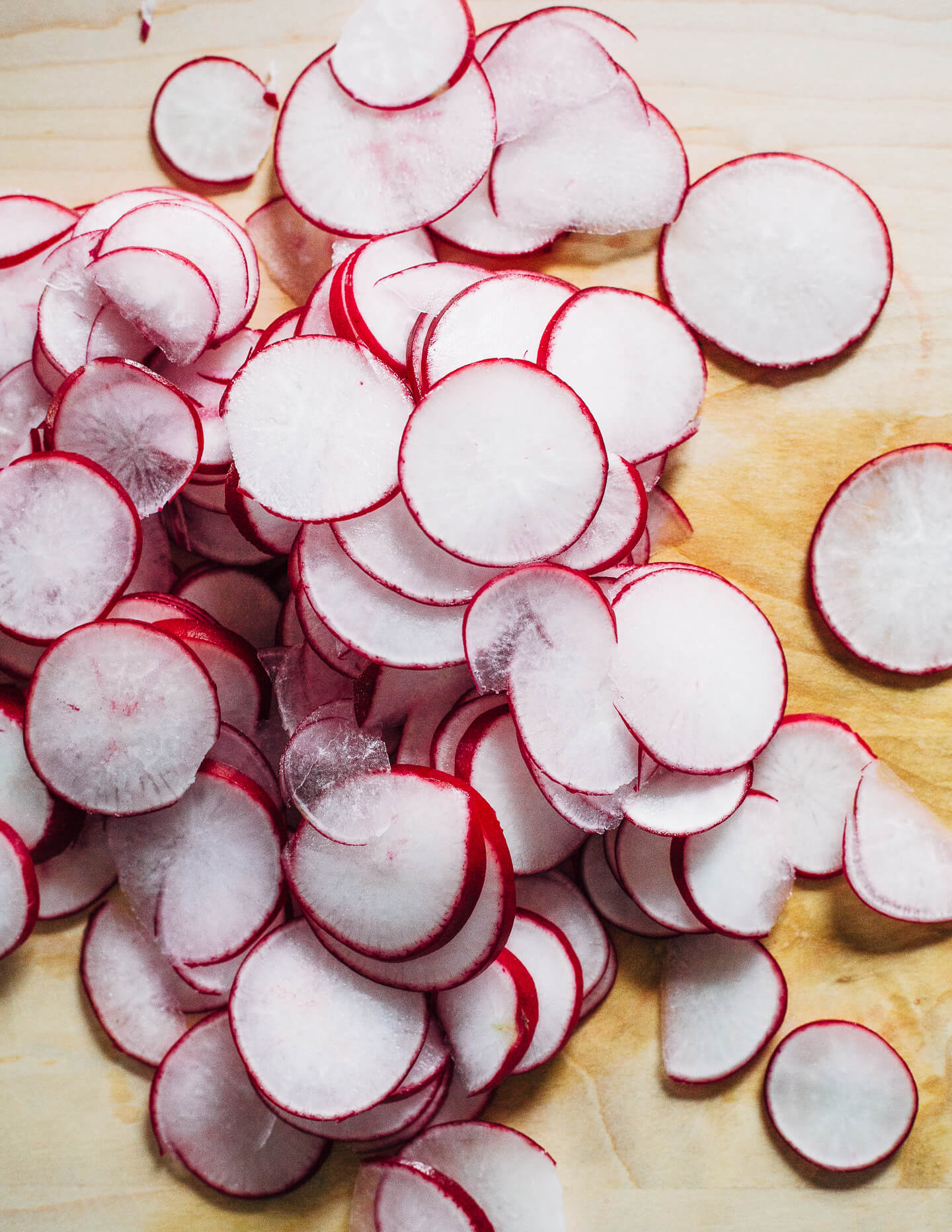 Despite the freshest possible greens and rainbow-hued citrus, this salad's superpower is actually the radishes. Tossed with fresh squeezed orange juice and sea salt, they become supple and faintly sweet, all while maintaining a nice bit of peppery bite. An entire bunch of radishes makes it into the salad, ensuring a delicious slice in nearly every bite.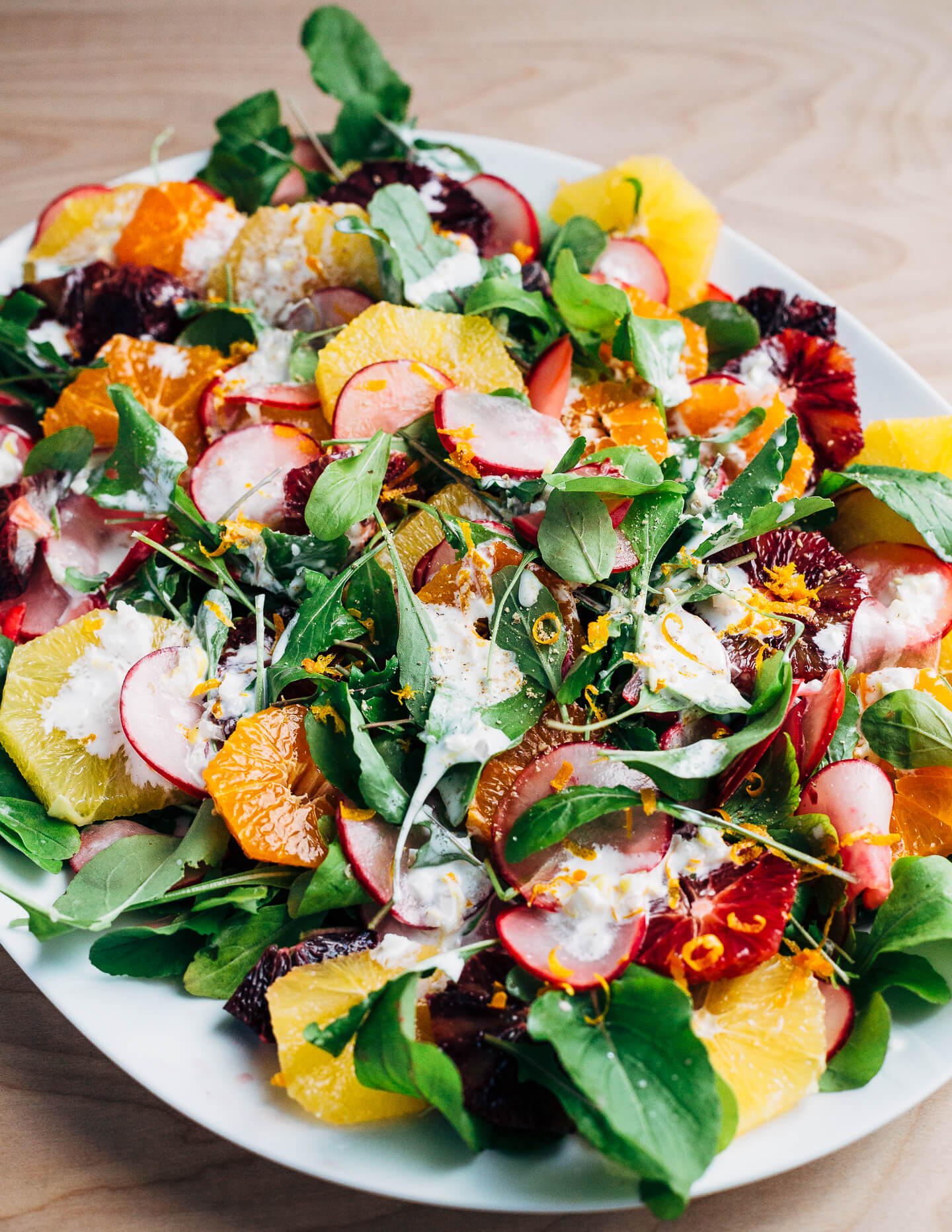 My radish, orange, and arugula salad is topped with a creamy homemade buttermilk ranch dressing made with mayo, Greek yogurt, and buttermilk. The dressing is brimming with herbs – here, parsley and tarragon, but nearly any herbs would be excellent; try thyme, chives, rosemary, savory, or marjoram. The dressing doesn't have any thickeners, and so isn't as viscous as the store bought kind, but the simple list of ingredients makes for a tangy, unfussy dressing that's perfect for all kinds of green winter salads, and melds surprisingly well with the citrus and radishes.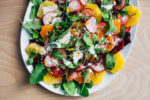 Radish, Orange and Arugula Salad with Buttermilk Ranch Dressing
This vibrant arugula salad marries peppery radishes and sweet orange slices beautifully. The salad is topped with a creamy buttermilk ranch dressing that's a snap to make from scratch.
Ingredients
Dressing
1

tablespoon

minced shallot

1

tablespoon

lemon zest

1/4

teaspoon

sea salt,

plus more to taste

1/4

cup

mayonnaise,

I'm partial to Duke's

2

tablespoons

plain,

whole milk Greek yogurt

1/2

cup

buttermilk,

shaken vigorously

1

tablespoon

minced parsley leaves

1

teaspoon

minced tarragon leaves
Salad
6

colorful,

sweet oranges (I used 2 naval, 2 blood, and 2 satsumas)

1

bunch radishes,

greens trimmed and sliced paper thin

1/4

teaspoon

sea salt,

plus more to taste

10

ounces

arugula leaves
Instructions
Dressing is best made a few hours ahead of time. In a small bowl, mix to combine shallot, lemon zest, and 1/4 teaspoon sea salt. Whisk in mayo and yogurt. Whisking constantly, drizzle in buttermilk. Fold in herbs and pepper. Taste and add sea salt as needed. Cover and refrigerate for 2 hours or longer.

To assemble salad, grate 1 tablespoon orange zest and set aside for garnish. Next, slice tops and bottoms from oranges. With a sharp knife and downward strokes, cut off peel and pith to reveal the orange flesh. When citrus is peeled, cut oranges into 1/2-inch thick slices.

Collect any accumulated orange juice from the cutting board, and measure out 2 tablespoons (the orange tops, bottoms, and slices will give out a bit of juice as well). Toss radish slices with orange juice and 1/4 teaspoon sea salt. Set aside 20 minutes; drain.

Arrange arugula on a platter and toss with 1 tablespoon dressing. Layer in orange and radish slices, drizzling with ranch dressing as you go. Top with reserved orange zest, and a pinch each sea salt and fresh ground pepper. Serve immediately.
SaveSave
SaveSave