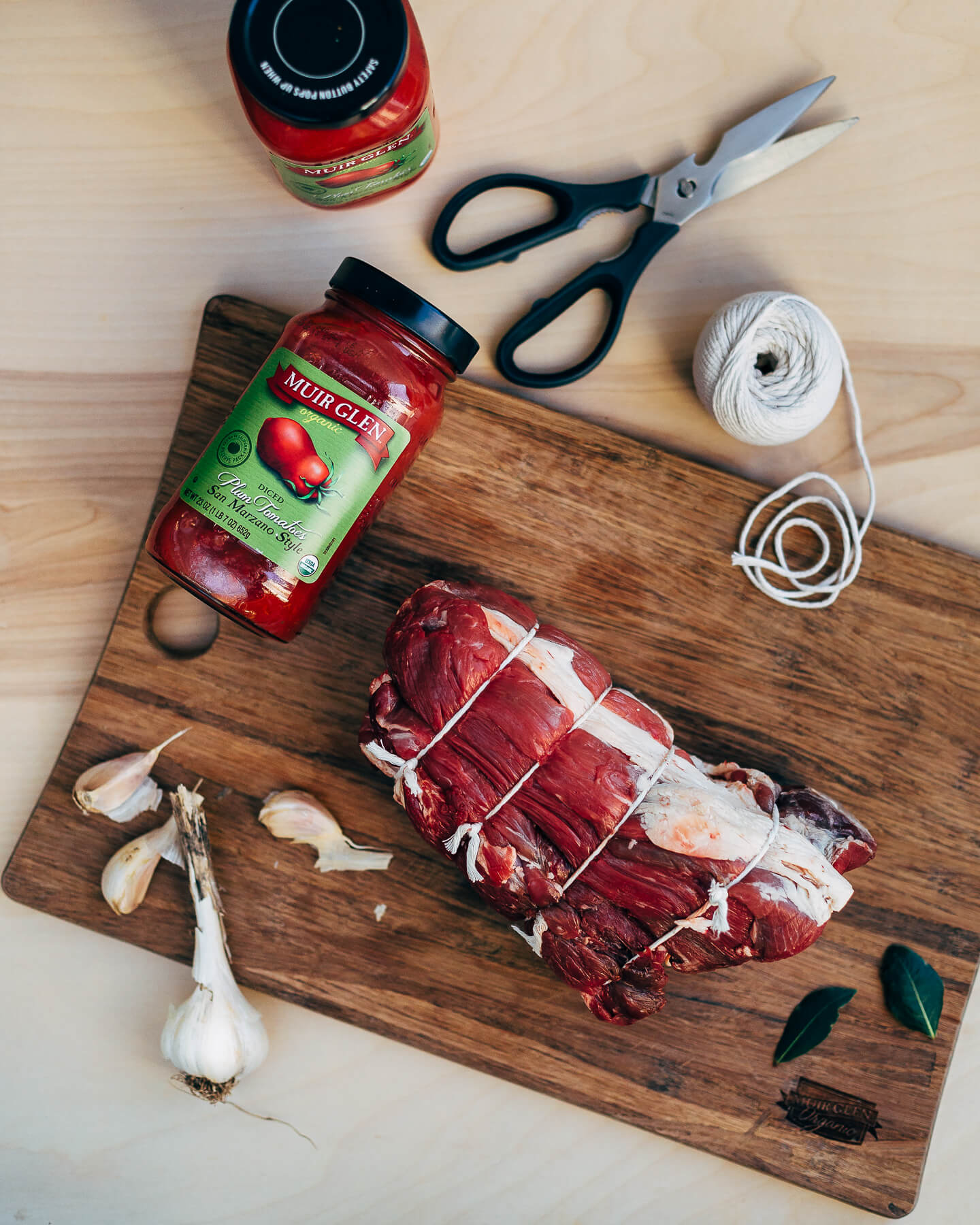 A simple oven-braised beef brisket recipe with tomatoes, garlic, and wine. This post is sponsored by Muir Glen. Thanks for supporting the brands we love. Jump to recipe. 
Most meals I write about here require a decent amount of effort. I do my best to be reasonable and generally avoid complicated techniques, but there's not much you can do about washing and chopping vegetables, prepping a protein, or toasting up spices. As we all muddle through January, winter, and back to work feelings, I thought I'd cut you (and myself) a break and share a recipe that's dinner party epic, filled with really good stuff, and requires only five minutes of prep.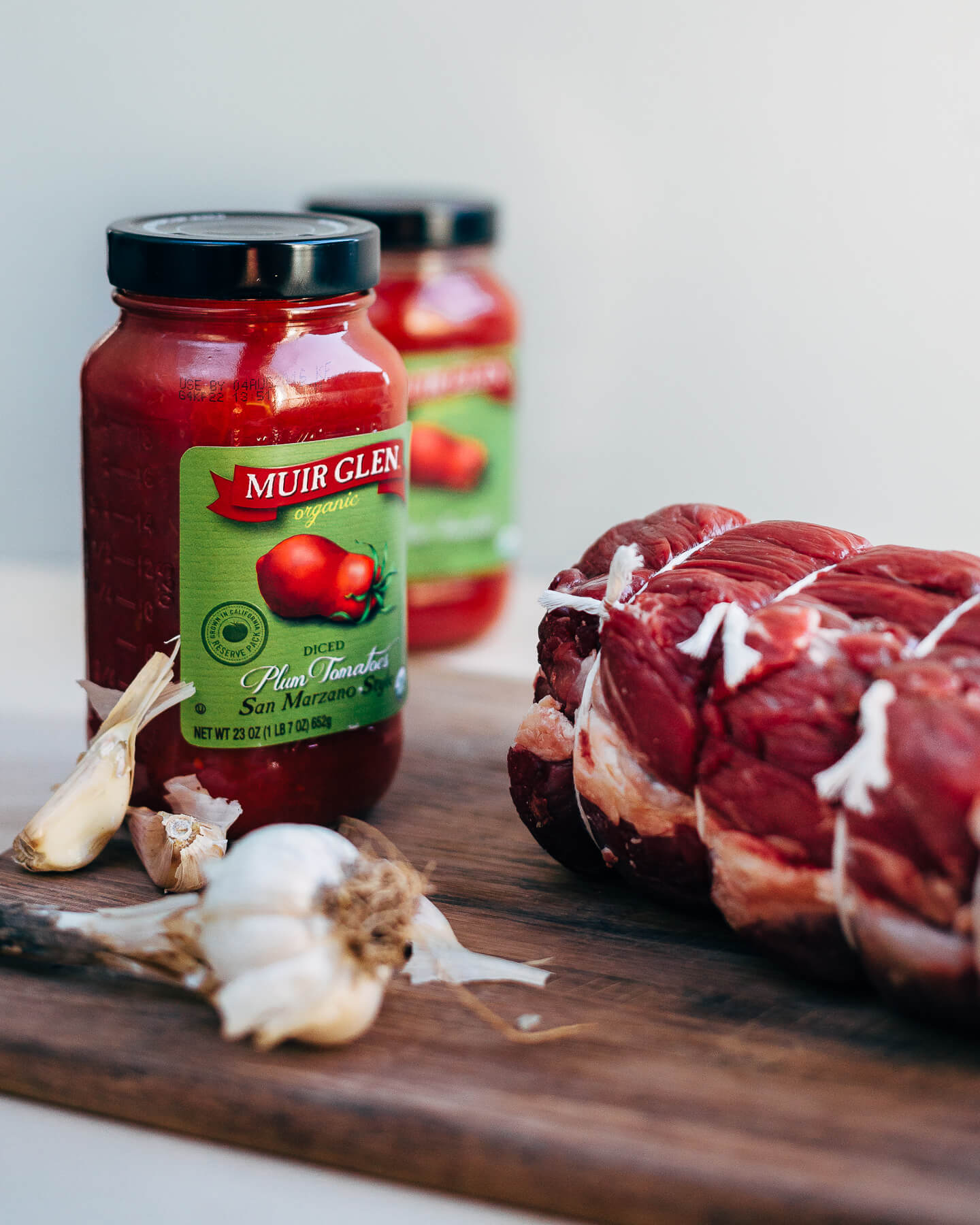 There's a catch, of course (there always is, right?): a cook time of 3 hours or so in the oven. However, the time the brisket's in the oven (making your home smell amazing, btw) isn't a burden, but a gift. Think of the things you can accomplish! Time to strengthen or undo resolutions, purge the hole-y socks crammed in your sock drawer, or hunker down for a light Netflix bender. Afterwards, you'll have deliciously tender, melt in your mouth beef underpinned by summer tomatoes cooked down and concentrated in all their glory.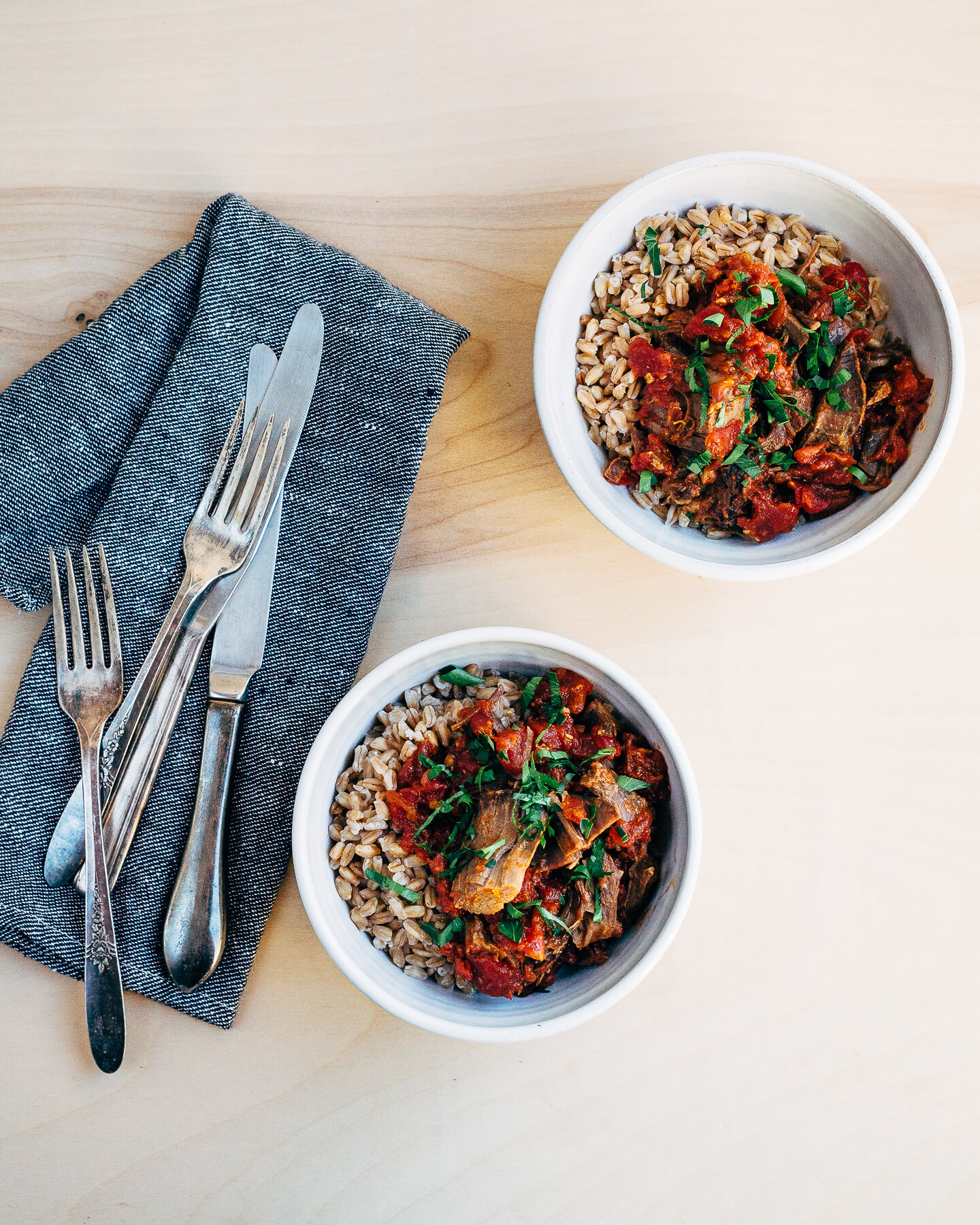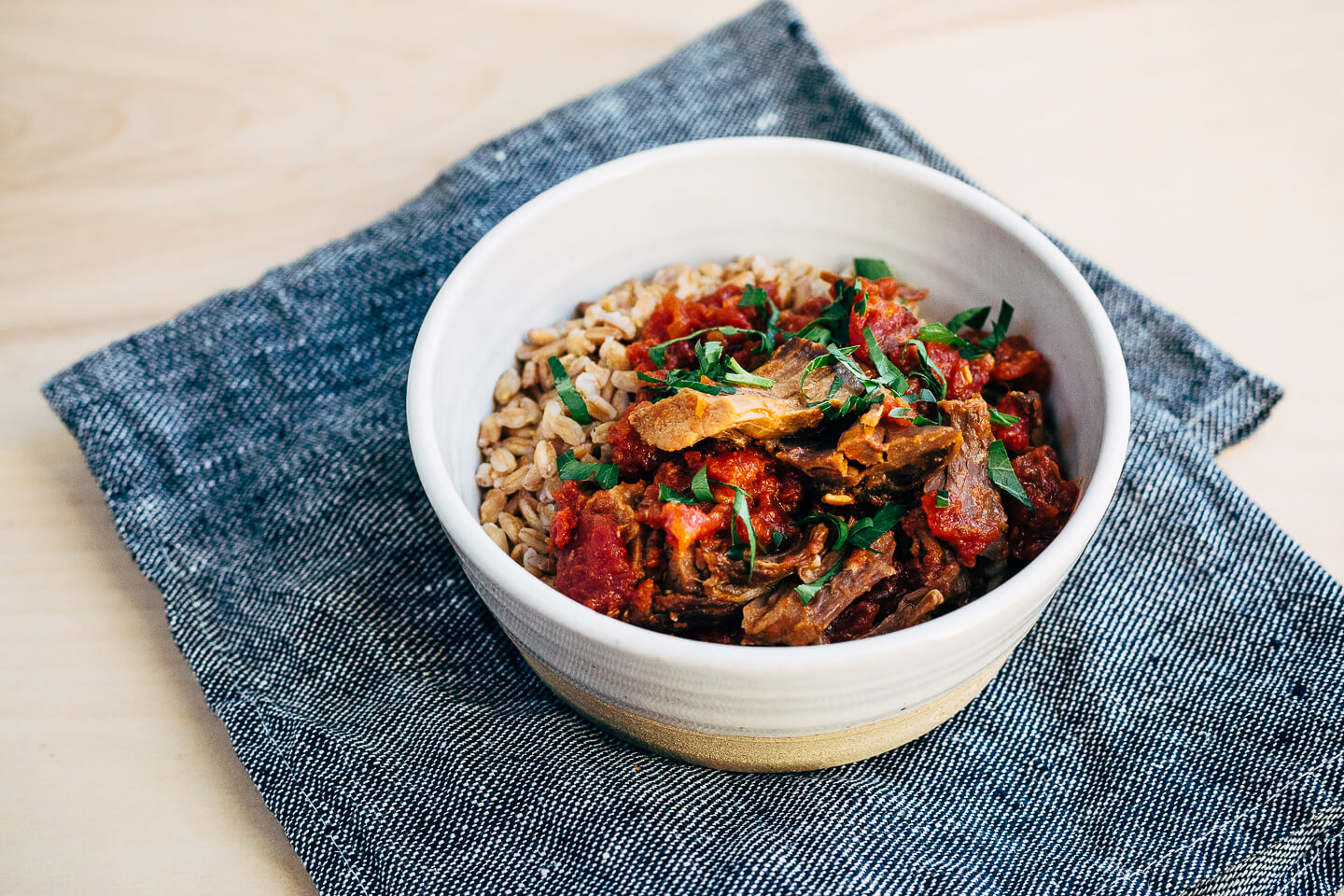 Because this braise has only four ingredients, plus salt and pepper, you'll want to cook with the best ingredients you can find. Even after hours of cooking, the summery essence of Muir Glen's San Marzano-Style Diced Tomatoes came through beautifully. Muir Glen's tomatoes are always excellent and full of intense tomato flavor, and their new line of jarred tomatoes set the bar even higher. This summer I toured their fields in California's Sacramento Valley and saw fresh-picked tomatoes that made it from field to jar in a matter of hours. You always want to taste tomatoes and not the packaging, so the non-reactive, BPA-free, resealable convenience of a jar is a huge plus for me. Convenience aside, I'm a fan of Muir Glen's just-picked flavor; it's balanced and rich, with hints of acid and sweetness – bringing a flash of that sunny California tomato field into my Virginia kitchen right in the middle of January.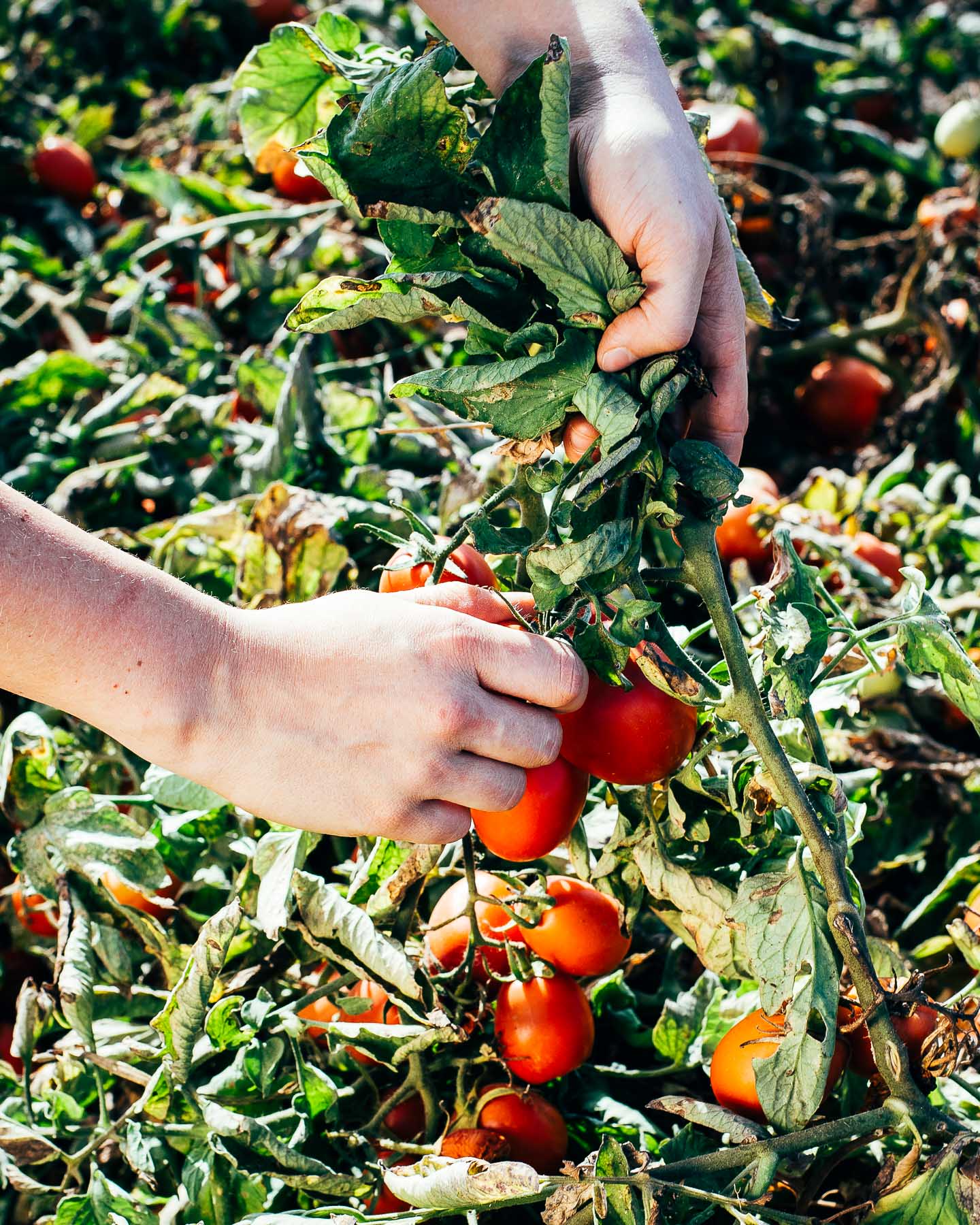 For the beef, I picked up a nicely marbled pasture-raised brisket from my local butcher who was kind enough to trim and tie it for me, making an easy recipe even easier. If you're prepping the meat at home, slice of any huge fatty bits or silverskin and tie it up in three or four spots to hold the meat together as it cooks and shrinks down.
Brisket is a flavorful, if fatty cut, and, like most braises, this dish improves with time. To take on both issues, consider braising the beef until almost perfectly tender and then chilling it in the fridge overnight. This will allow you to scoop the considerable amount of fat from the surface before you reheat.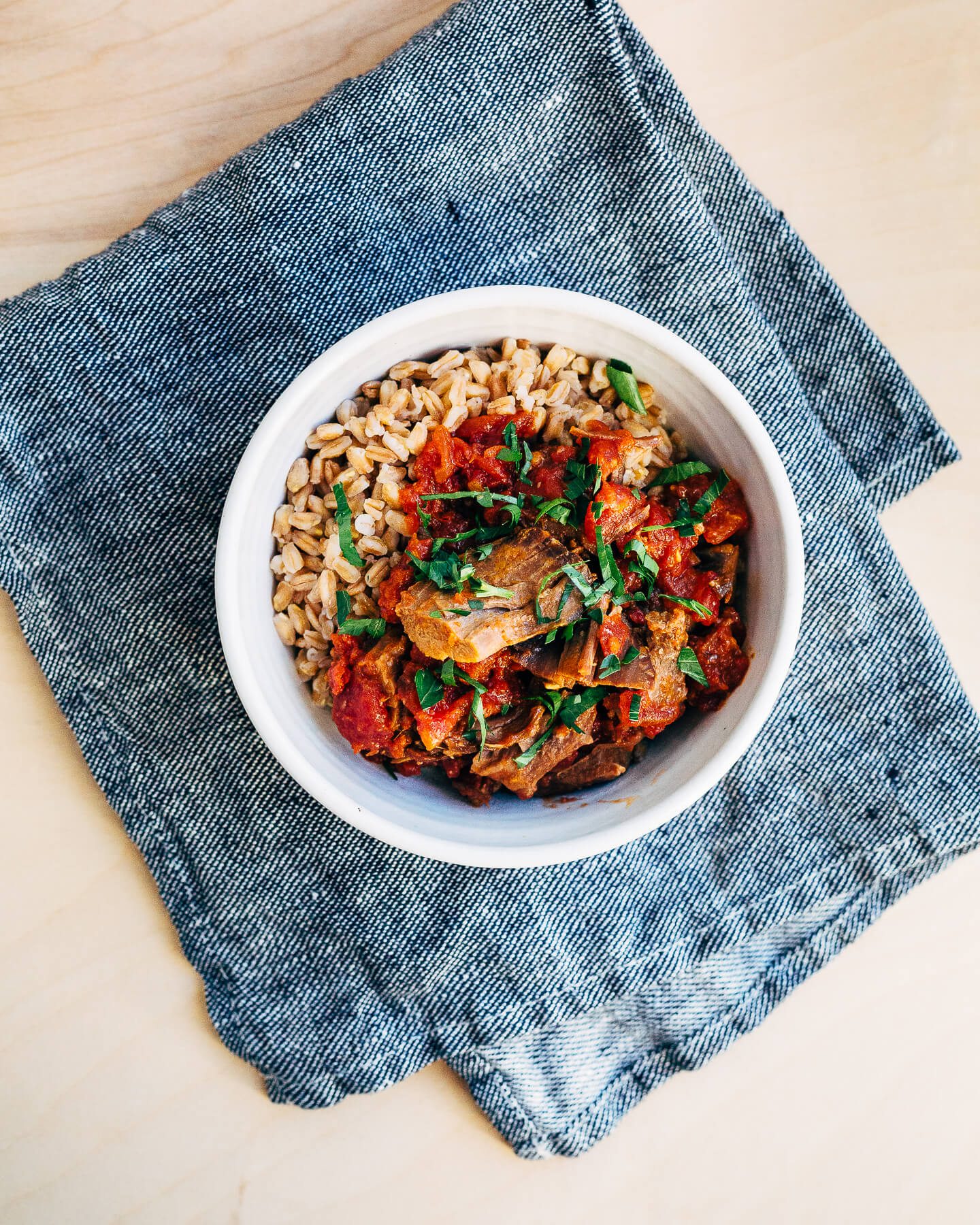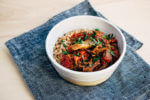 Oven-Braised Beef Brisket in Tomatoes
A simple oven-braised beef brisket recipe with tomatoes, garlic, and wine. This recipe takes time to make, but it's mostly hands off. For best results, plan for it to take a day or so to make. The brisket will have the best flavor if salted and left in the fridge overnight. After braising the meat, allow it to cool in the fridge for a few hours. Once cool, the fat will rise to the top of the sauce and congeal so that it can easily be skimmed. Once the fat is skimmed, brisket can be reheated and served.
Ingredients
3 - 3 1/2

pounds

beef brisket

fat trimmed and tied

sea salt

fresh ground pepper

10

garlic cloves,

peeled

3

cups

Muir Glen San Marzano-Style Diced Tomatoes

(about one and a half 23-ounce jars), plus more as needed

1/2

cup

dry red wine

farro,

cooked according to package instructions

2

tablespoons

minced parsley
Instructions
Before cooking, rub brisket all over with a generous amount of sea salt and pepper. Set on a plate and refrigerate for an hour or as long as overnight.

Preheat oven to 300 degrees F.

Set brisket in a large oval Dutch oven or other non-reactive, oven-proof vessel with a tight-fitting lid, and add diced tomatoes and garlic, being sure to tuck garlic cloves well into tomato sauce. Cover, slide into oven, and cook 2 hours.

Carefully remove pot from oven, remove lid, and check roast. Taste a tiny bit of the meat to see how things are going. If needed, slide back into oven and check every half hour until meat is just tender, but not yet falling apart.

If you have time, at this point I recommend cooling the dish and setting braise in the fridge for 3 hours or overnight. The fat in the sauce will rise to the surface and harden, and can be easily plucked out and repurposed or discarded. Reheat the brisket in a 300 degree oven for about 30 minutes.

Once hot, set brisket on a large cutting board. Depending on the marbling, either slice brisket or cut into robust hunks. Meanwhile, bring sauce to a gentle boil over medium-high heat, stir in wine, and make any final additions of sea salt or pepper. Turn heat to low and place meat back into the sauce to warm.

Serve over farro, pasta, or your grain of choice. Garnish with minced parsley and a few twists of black pepper.

This dish reheats beautifully, though it can dry out. If reheating a second time, stir any remaining diced tomatoes into the sauce.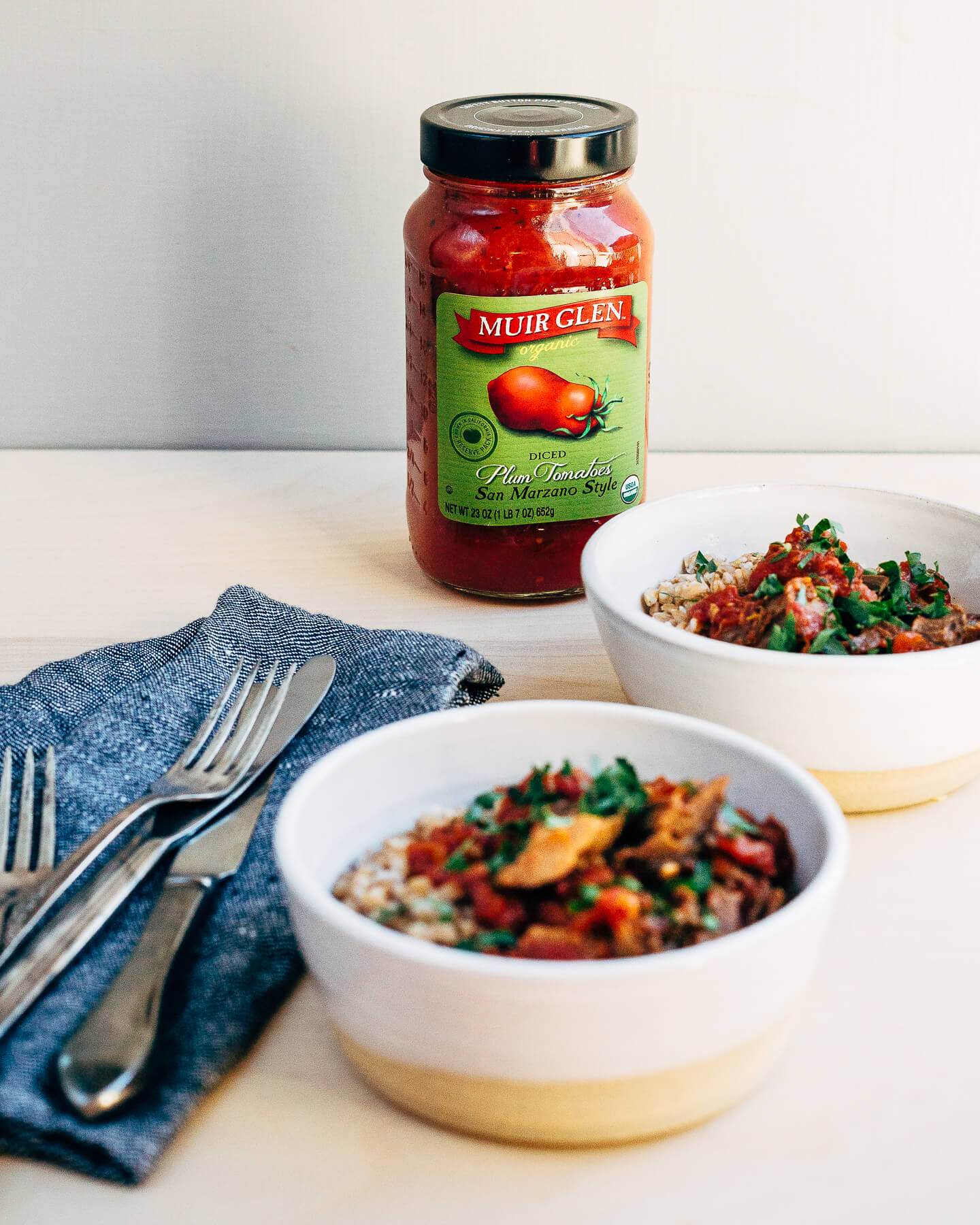 Disclosure: This post is sponsored by Muir Glen. Thanks for supporting the brands that make Brooklyn Supper possible.