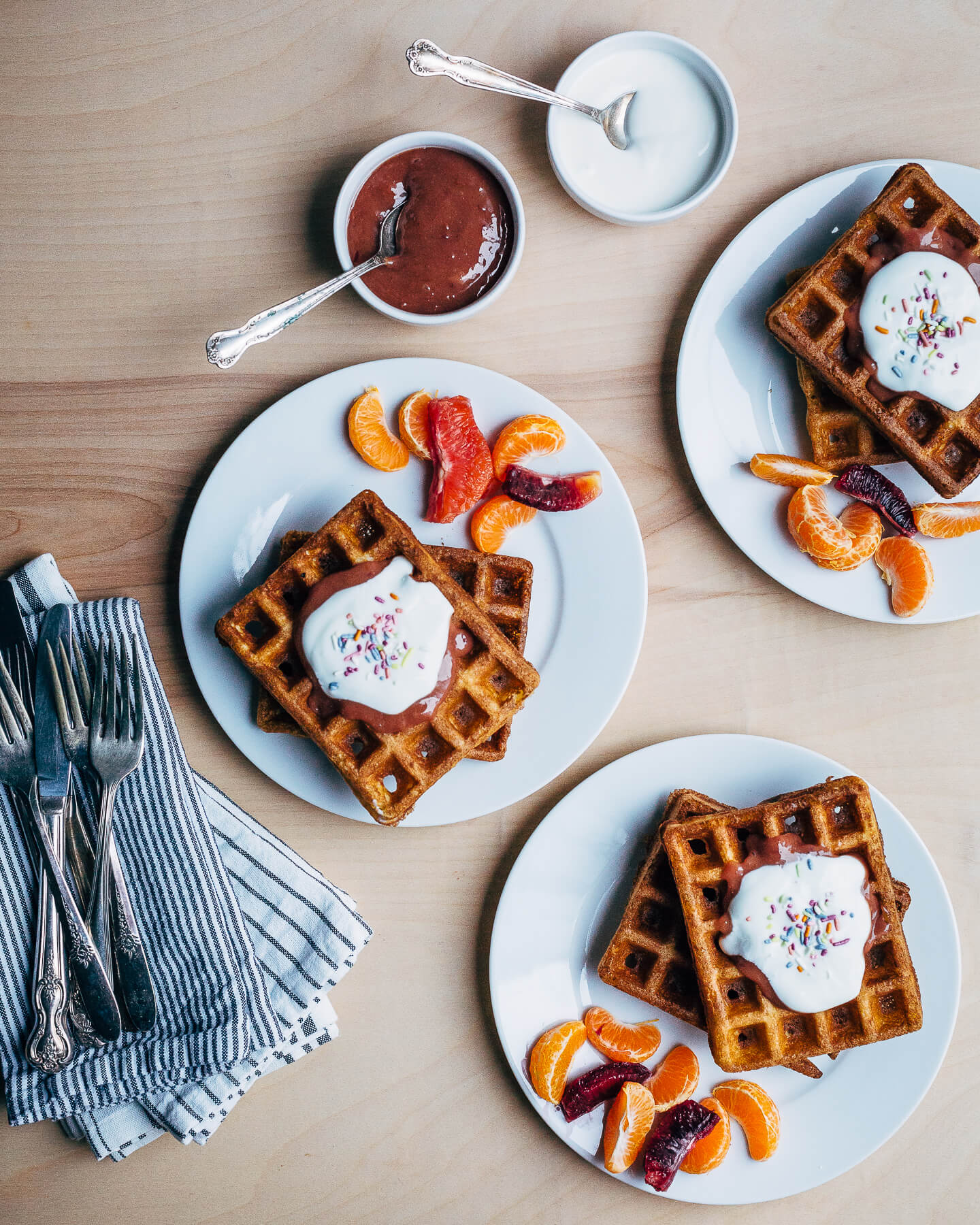 A surprisingly simple recipe for overnight yeasted waffles topped with fresh blood orange curd and festive sprinkles. Jump to recipe. 
Evenings are not my most productive time. After dinner and the girls' bedtimes, exhaustion hits hard. I know this, but that knowledge doesn't stop me from making big plans to write and edit photos or organize and clean – plans I reliably jettison after 30 minutes of effort, leaving me feeling disappointed in myself.
(Hey – I'm glad we had this talk. I'll try to create more realistic expectations from now on.)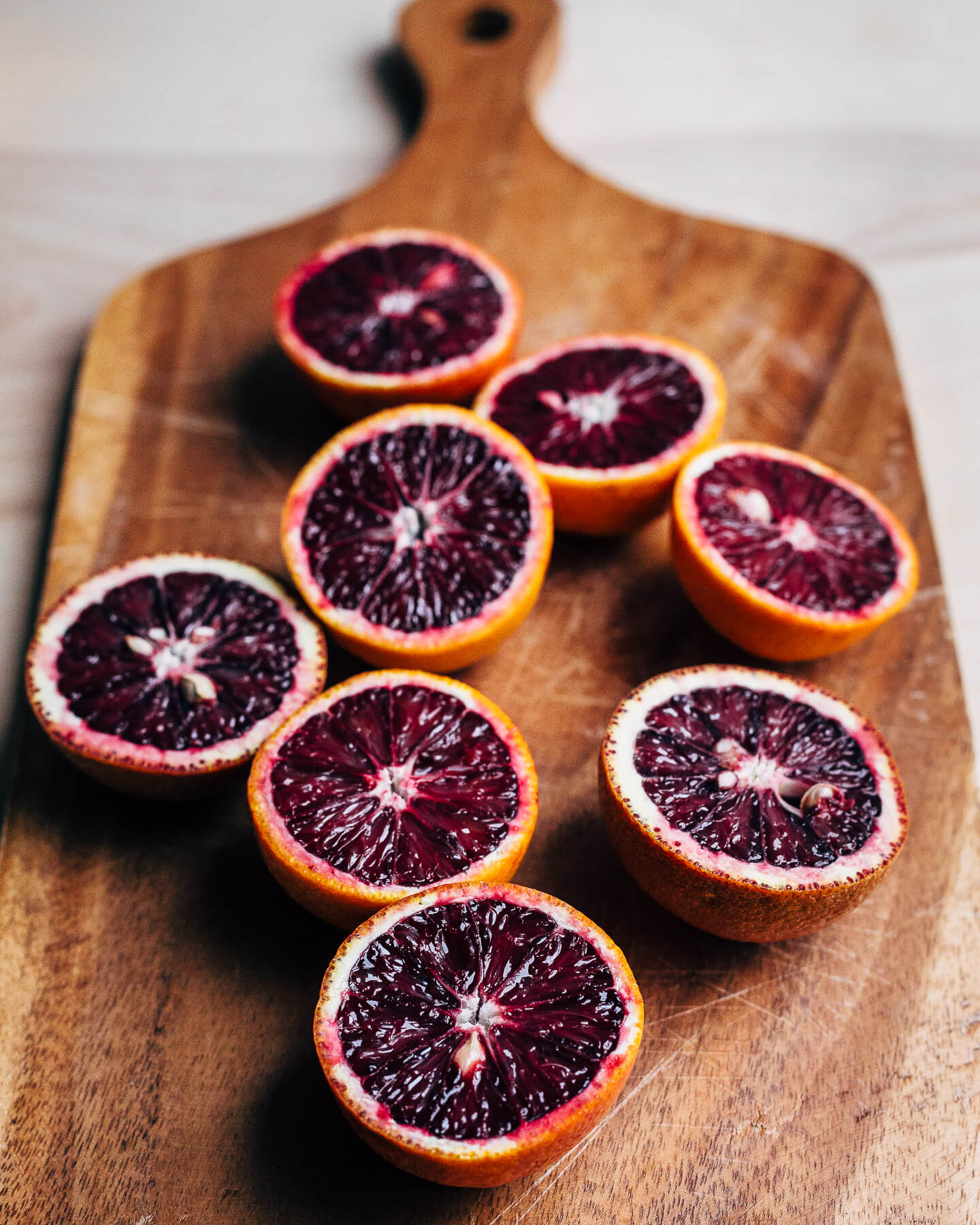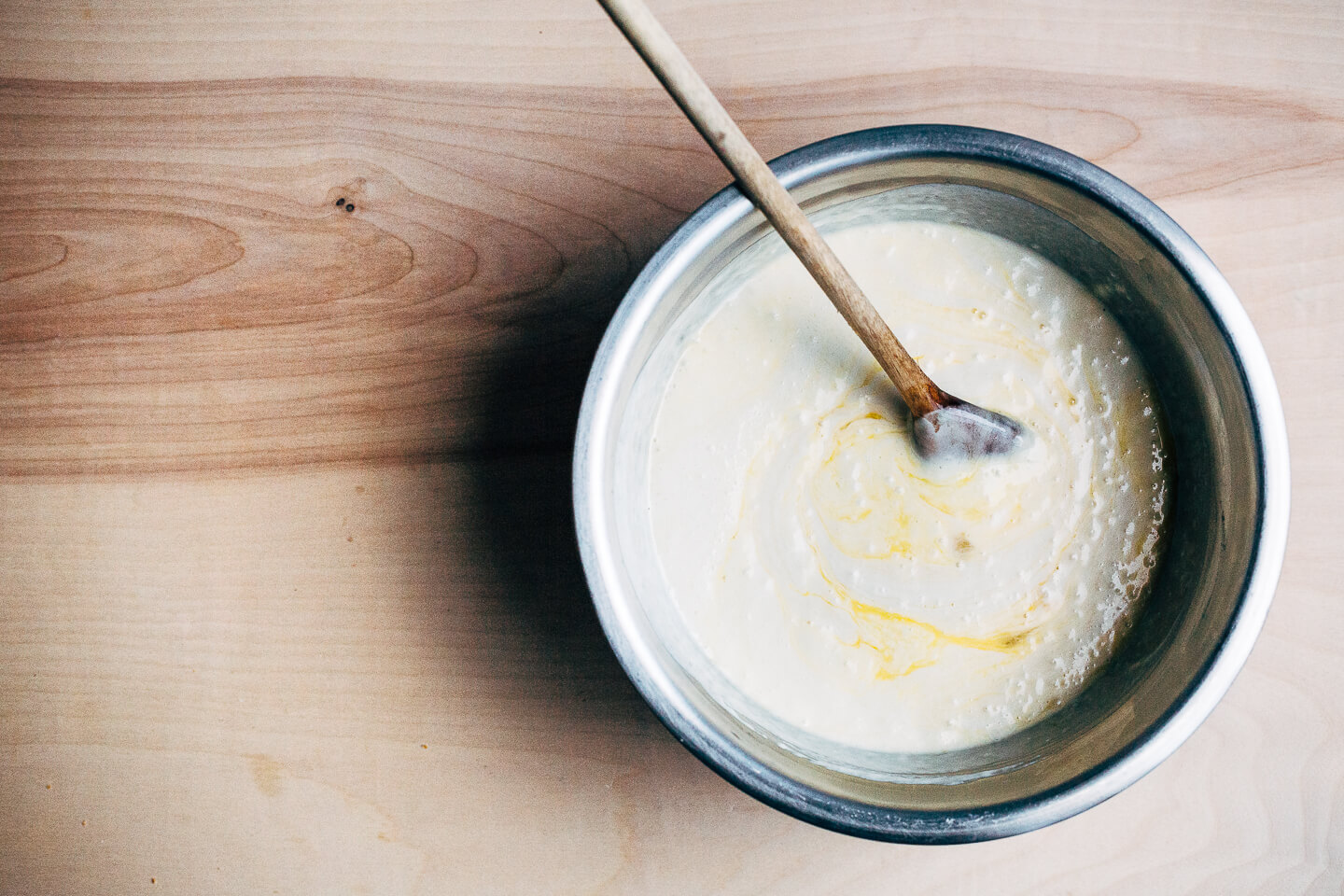 Another oft-abandoned evening plan is cooking. I  imagine myself starting that braise and waking up with tomorrow's dinner already done. But these visions run up against the reality of both my fatigue and my dinner dishes. For these reasons, recipes that start with the word "overnight" usually aren't for me. But recently, I've been tackling the world of yeast and am starting to find the motivation I need to start a dish in the evening. These waffles, for instance, only require that you mix water, honey, and yeast with flour, butter, salt, and milk. Then, the batter bubbles away overnight, and by morning, after adding a couple eggs and baking soda, you have a wonderfully complex waffle batter that cooks up with crispy edges and a chewy, stretchy center. I served my waffles up with a smear of blood orange curd, a dollop of plain yogurt, and just a few sprinkles, but can assure you that they are every bit as sublime with a pat of salted butter and a drizzle of maple syrup.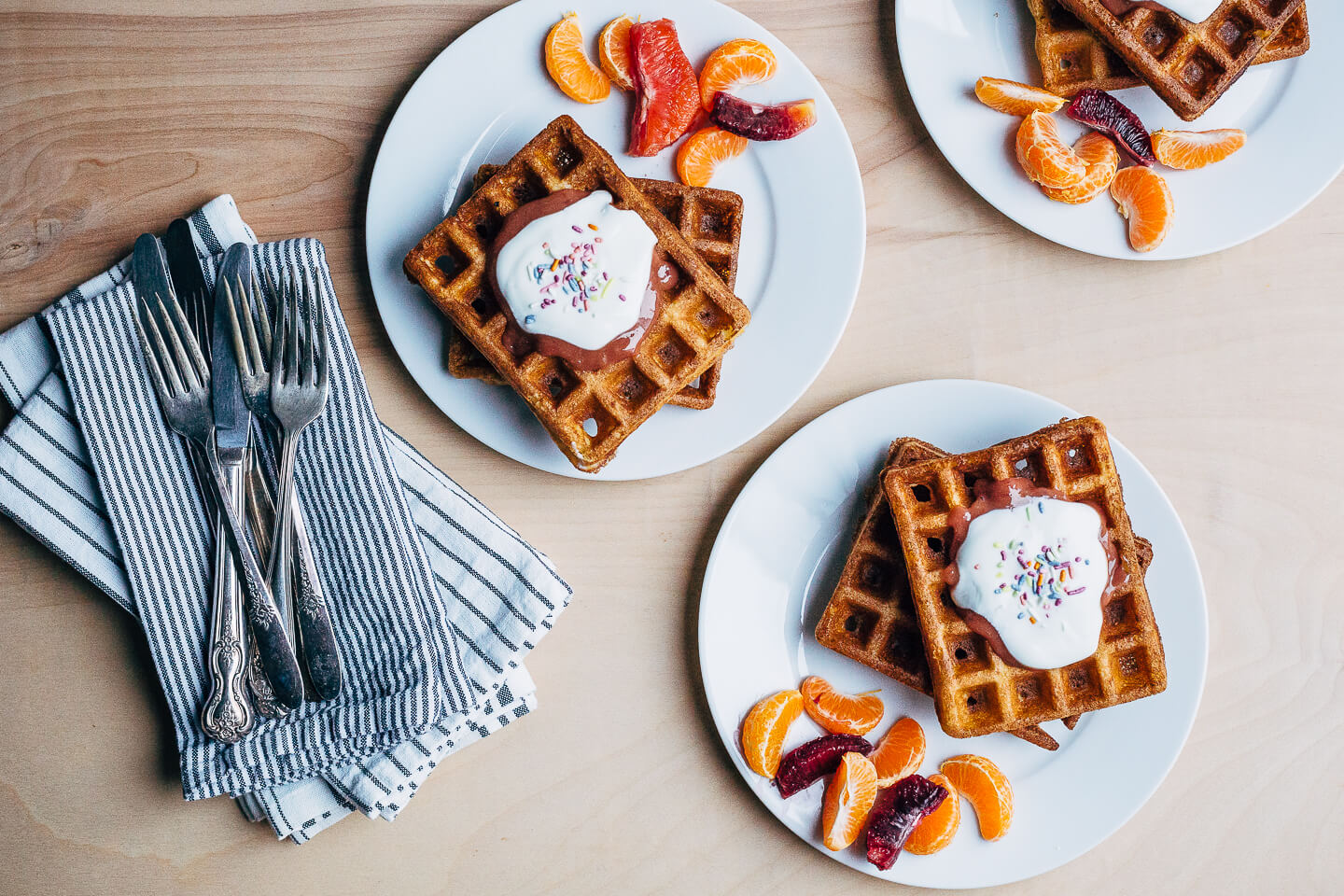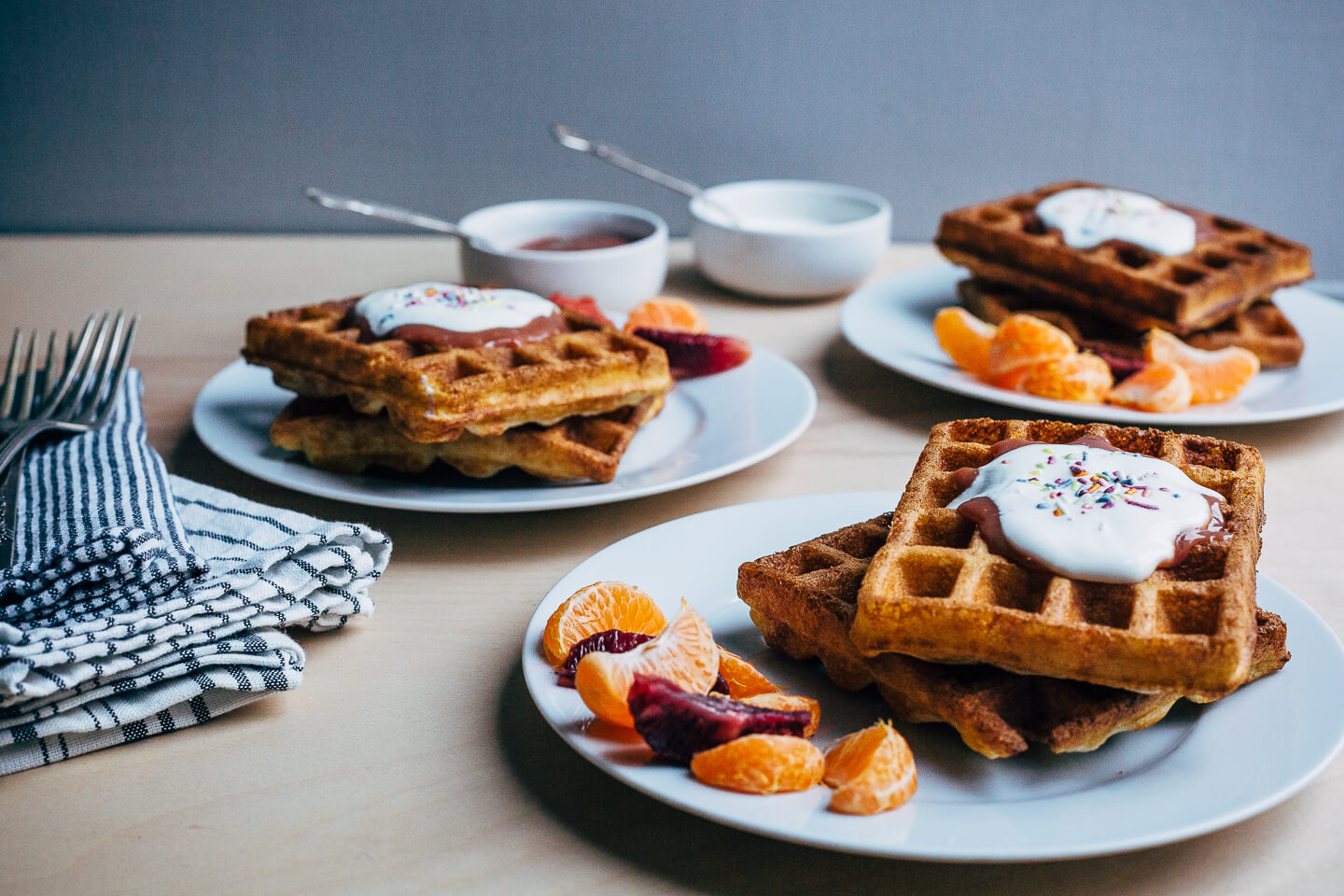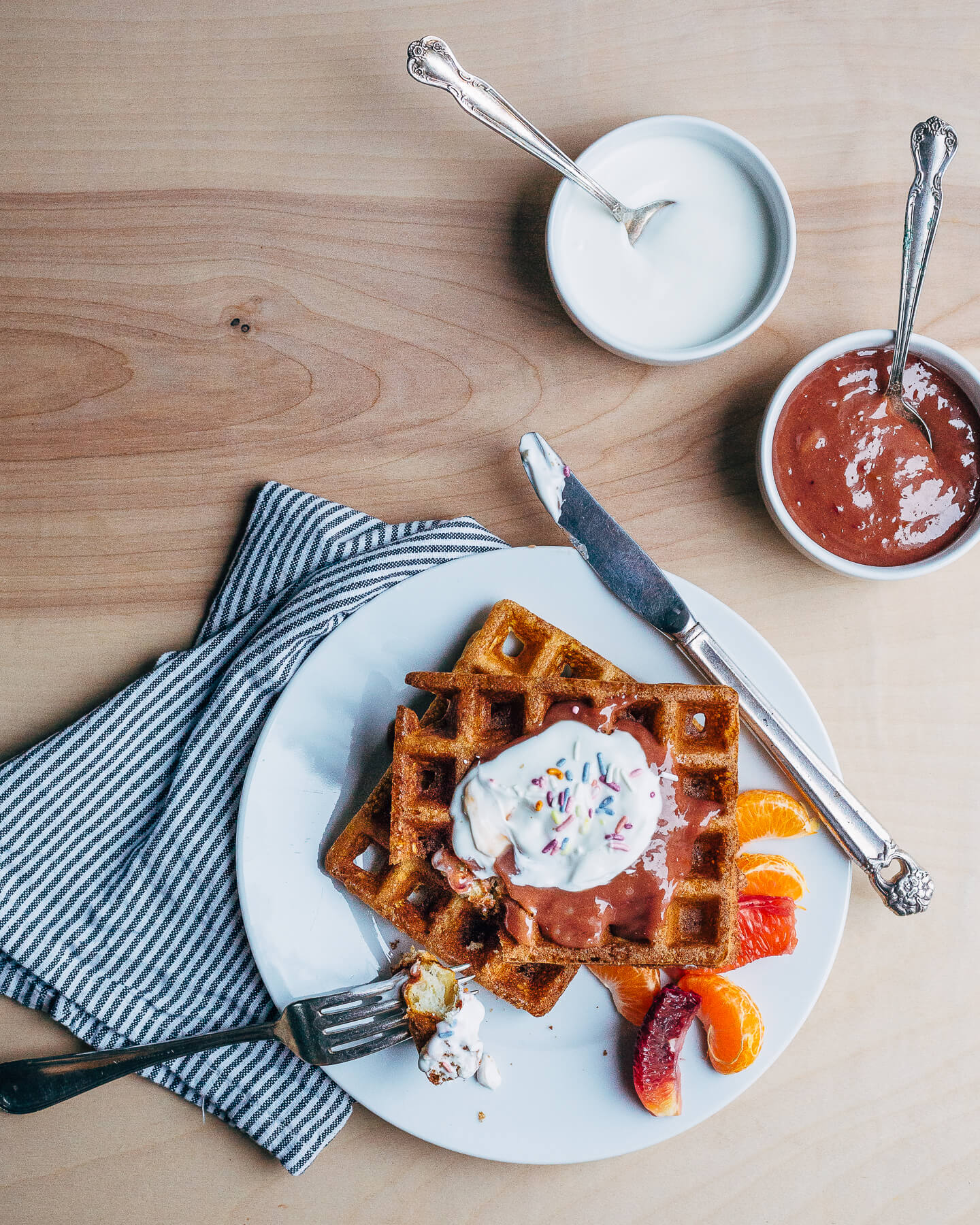 Because the curd is made with the citrus zest and juice, it's best to source organic or low spray varieties if possible. Leftover egg whites can be frozen or used to make a pavlova (or both).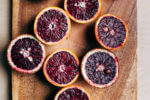 Blood Orange Curd
A vibrant and fresh blood orange curd recipe.
Ingredients
zest of 3 blood oranges plus 1/2 cup freshly squeezed juice

zest of 1 lemon plus 2 tablespoons freshly squeezed juice

6

egg yolks

1/2

cup

sugar

pinch sea salt
Instructions
Set a heavy-bottomed saucepan over medium-low heat (or use a double boiler). Add zest and juice and heat, stirring often, until steamy. In a small bowl, whisk to combine yolks, sugar, and sea salt. Whisking constantly, add several tablespoons of steamy juice to yolk mixture to temper eggs. Continue adding juice and whisking until you've added it all. Pour mixture back into saucepan, whisking as you go. Edge heat to low, and cook, stirring constantly, 5 - 7 minutes, or until the bottom of the pan is visible with each stir.

If eggs cook up or clump too much, push hot mixture through a mesh strainer.

Spoon into a glass jar, let cool, then cover and set in the fridge. Curd will keep well in the fridge for 1 - 2 weeks.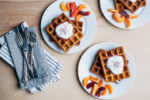 Overnight Yeasted Waffles
A surprisingly simple recipe for overnight yeasted waffles. Note that though the waffle batter comes together quickly, it will need to rise overnight. Recipe adapted from Marion Cunningham's The Breakfast Book via Smitten Kitchen.
Makes
:
10
(4-inch) waffles
Ingredients
8

tablespoons

unsalted butter,

melted and cooled

2

cups

milk

milk can not be hotter than 140 degrees F – aim for 120 degrees, warmed

1

packet active dry yeast

(1/4-ounce)

1

tablespoon

honey

1/2

cup

lukewarm water

(about 110 degrees F)

2

cups

unbleached all-purpose flour

1

teaspoon

sea salt

2

eggs,

lightly beaten

1/4

teaspoon

baking soda
Instructions
The night before, mix water and honey in a large bowl. Sprinkle yeast over top and set in a warm place for 15 minutes. Check that mixture is frothy and bubbly (that means yeast is working).

Add warm butter and milk to yeast mixture. Fold in flour and sea salt, mixing gently, just until combined. Cover with plastic wrap, and leave mixture to rise overnight.

In the morning, preheat waffle iron to high heat. Set oven to 200 degrees F and slide a rimmed baking sheet in to preheat as well.

Batter should be thin and very bubbly. Fold eggs and baking soda into the batter.

I used more batter per waffle than usual for my waffle maker – 1/3 - 1/2 cup compared to the usual 1/4 cup per 4-inch waffle. Bravely ladle it in to the waffle maker, close lid, and cook a bit longer than you might a normal waffle, until waffles are a rich golden brown on the outside, but still pale and pillowy on the inside. (My waffle maker has a 1 - 6 heat setting and I cooked these between 5 and 6.)

Store cooked waffles on baking sheet in warm oven.

Serve warm waffles with blood orange curd and plain yogurt, or salted butter and a drizzle of maple syrup.

Leftover batter can be kept covered in the fridge for a day or so. Leftover waffles can be kept covered in the fridge and toasted up just before serving.