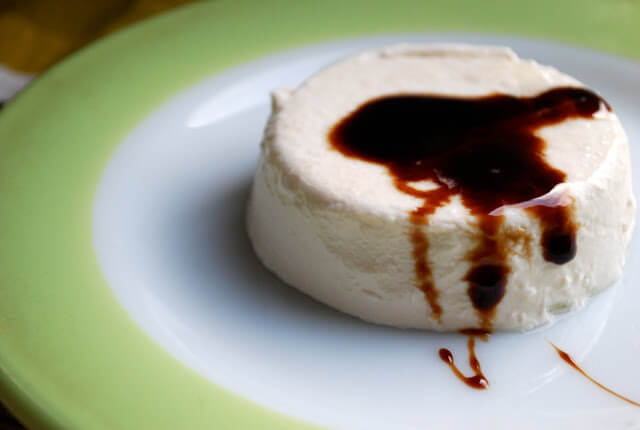 Thyme, lime, ricotta panna cotta. That's what we called it the night it was served. However awkward the name, I found the flavors very compelling. Subtle, creamy, and tangy, with mild, grassy thyme undertones. Served with an easy balsamic reduction, it's nearly sublime. A bonus feature is that this fragrant panna cotta requires minimal cooking. All around panna cotta is an ideal summer dessert.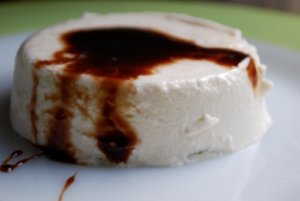 Panna Cotta with Lime, Ricotta and Thyme
1 2.5 oz packet plain gelatin
3 tablespoons cold water
2 cups heavy cream
1 cup milk
1 cup ricotta
1/4 cup sugar
pinch salt
zest (cut into 4 or 5 broad strips) and juice of 1 lime
5 sprigs french thyme
Using a neutral oil, grease 8 ramekins or other container. Sprinkle the gelatin packet over a bowl with the 3 tablespoons water. Set aside while you prepare the cream. Combine the cream, milk, sugar, salt, and lime zest in a large saucepan over medium heat. Stirring constantly, bring up to a gentle simmer with small bubbles around the edge. Add thyme and remove from heat. Pour 1 cup of the hot cream and milk over the gelatin and whisk to combine. When smooth, whisk into the saucepan. Allow ingredients to cool to 110 degrees. Then remove the lime zest and thyme sprigs, add 3 tablespoons of lime juice, and fold in the ricotta. Adjust lime, salt and sugar levels to taste. Gently ladle into the ramekins, cover, and refrigerate.
Chill for a full six hours. Gently swipe a not-too-toothy knife around the edges and flip onto a plate. Serve with a balsamic reduction, tart, lightly sweet fruit, or just a pinch of sugar.