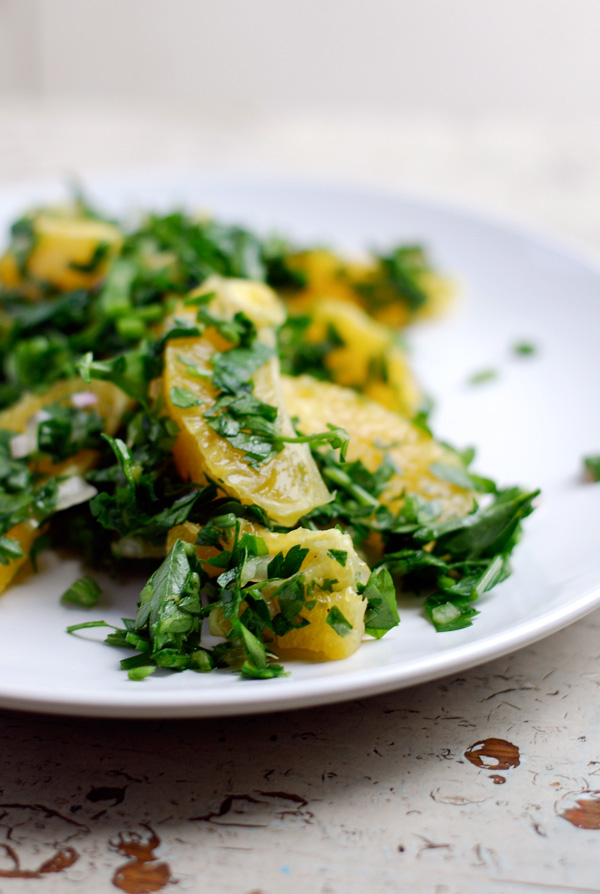 I usually cling to the holiday season, and while our Christmas tree is still flickering away in our little apartment for a few more hours at least, this year I am thrilled to have arrived in January with its bone-chilling winds and cool, bright light. I think of this parsley orange salad as my first tribute to winter unadorned. Simple, fresh, and bracing, this easy creation delivers unbelievable sweetness from fresh oranges, and combines them with fresh parsley and a bit of pungent shallot. There's very little in the way of salt or dressing, since the orange juice itself saturates the salad beautifully, and I didn't dare spoil the interplay of the oranges' delicate sweetness and the robust, bracing parsley.
Parsley and Orange Salad
serves 4 – 6
1 bunch parsley, minced
6 oranges, supremed
1 shallot, minced
2 tablespoons olive oil
1/4 teaspoon sea salt
fresh ground pepper to taste
Gently toss the oranges with the parsley and shallot. Drizzle in the olive oil, and sprinkle in the sea salt and pepper. Set aside to allow the flavors to co-mingle for an hour or so. Gently toss once more, taste, and adjust salt levels as needed.