A chevron lattice peach chutney pie recipe with all the flavors of a classic peach pie, plus the pop of fresh ginger, apple cider vinegar, and spice. This post is sponsored by Mirassou Winery.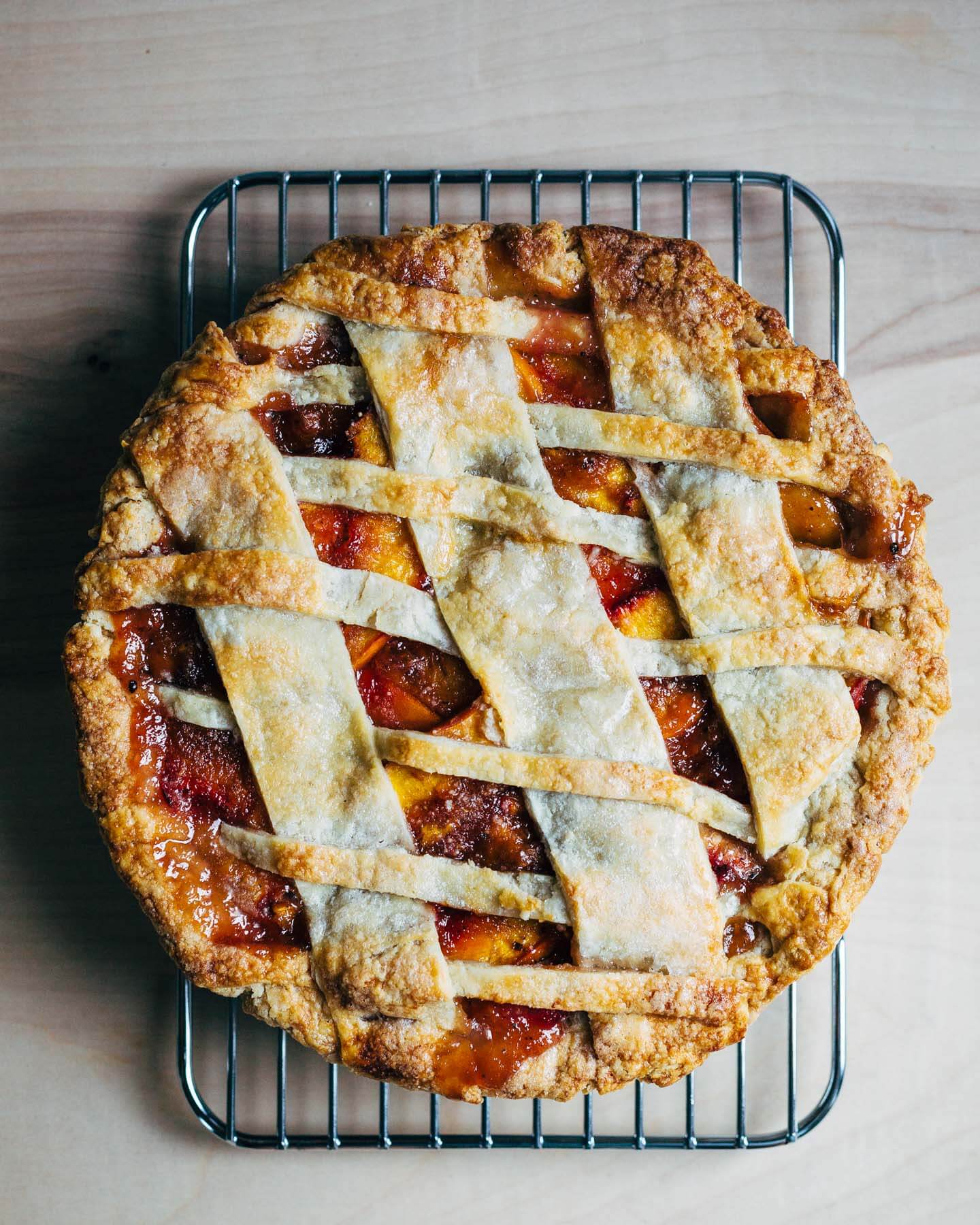 I love planning an intricate party. Things that should feel like chores – coming up with the menu, writing an elaborate grocery list, washing my full set of fancy wine glasses – are fun in an odd way. But there's also something nice about an impromptu party. (If you've cleaned your house recently, all the better.)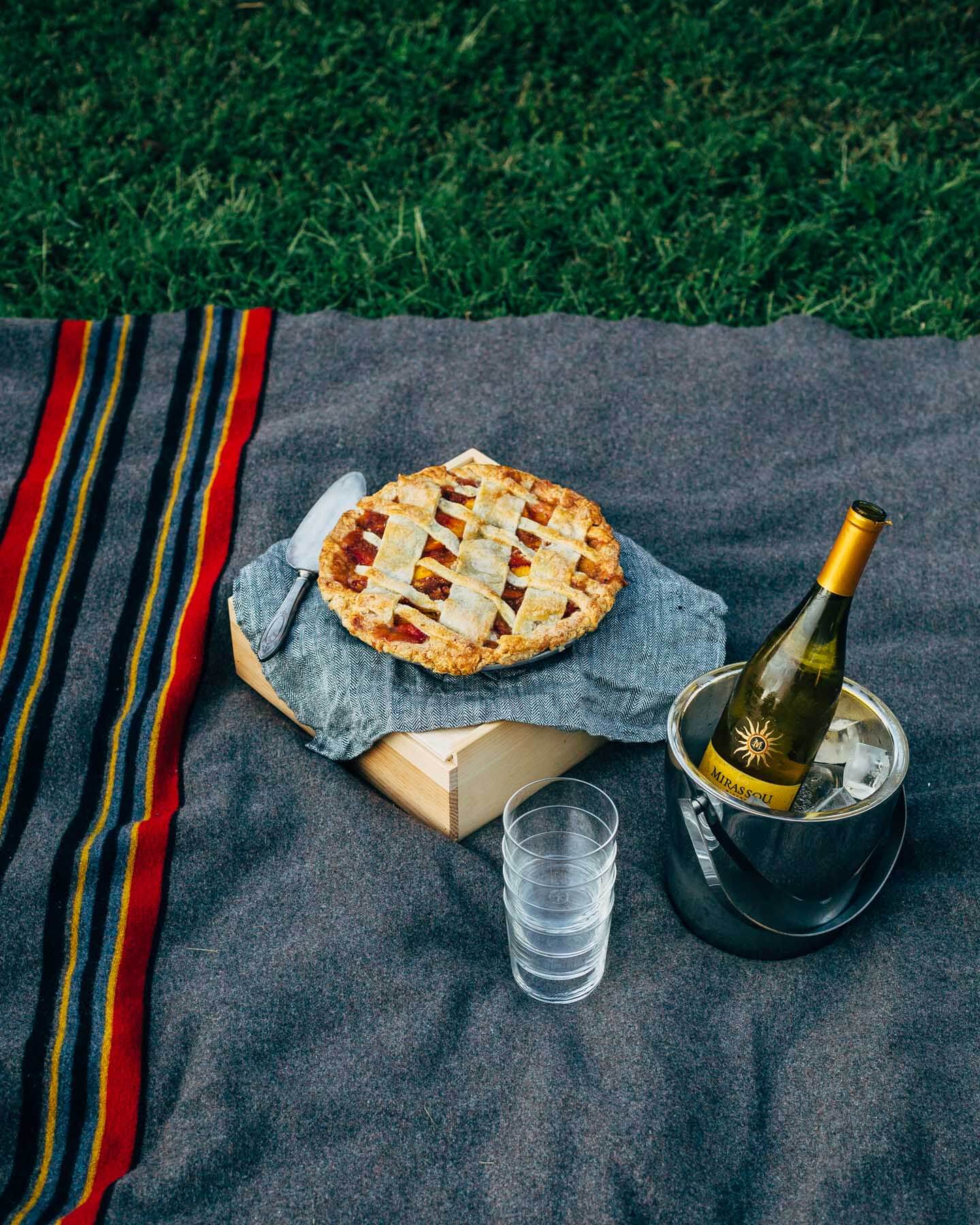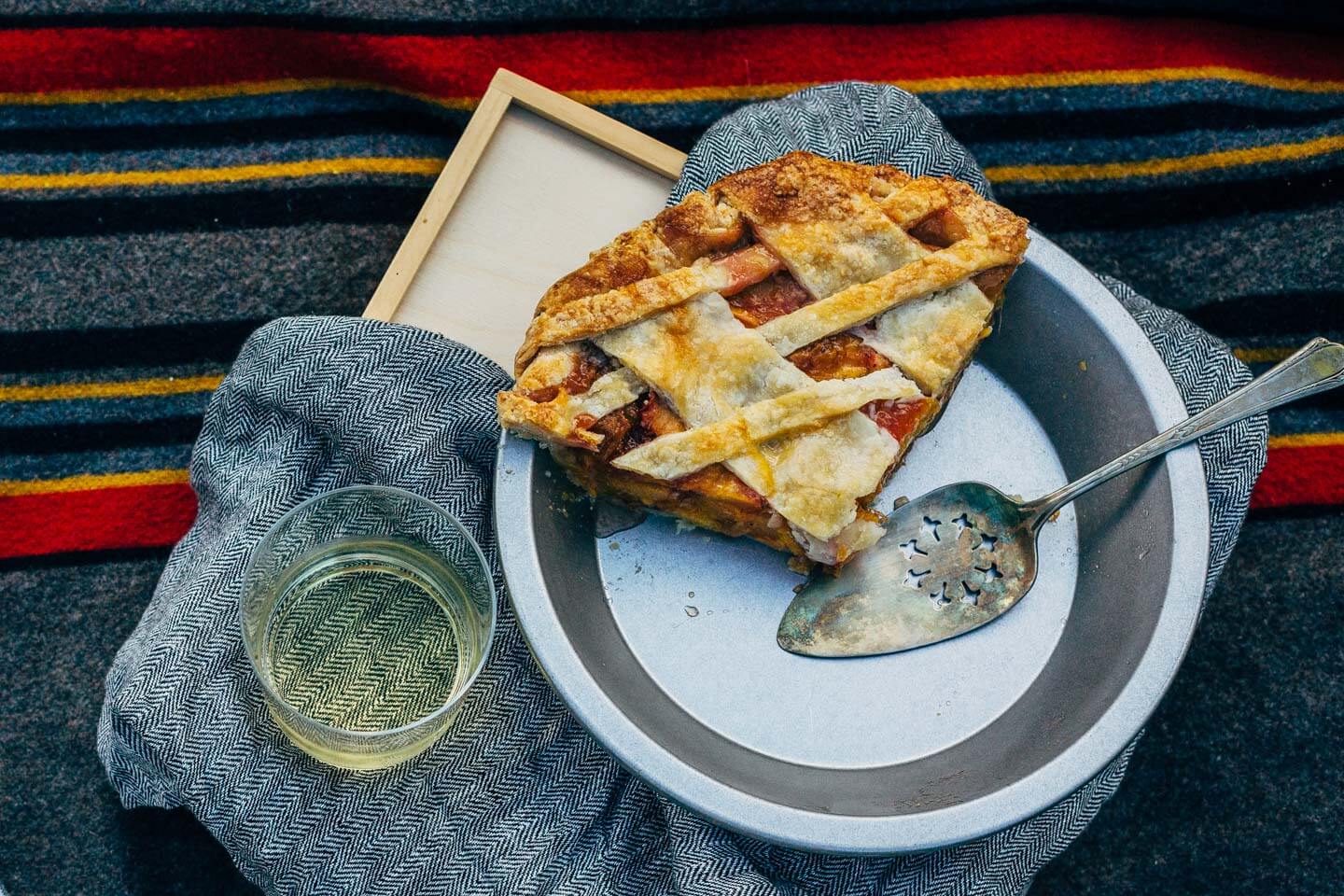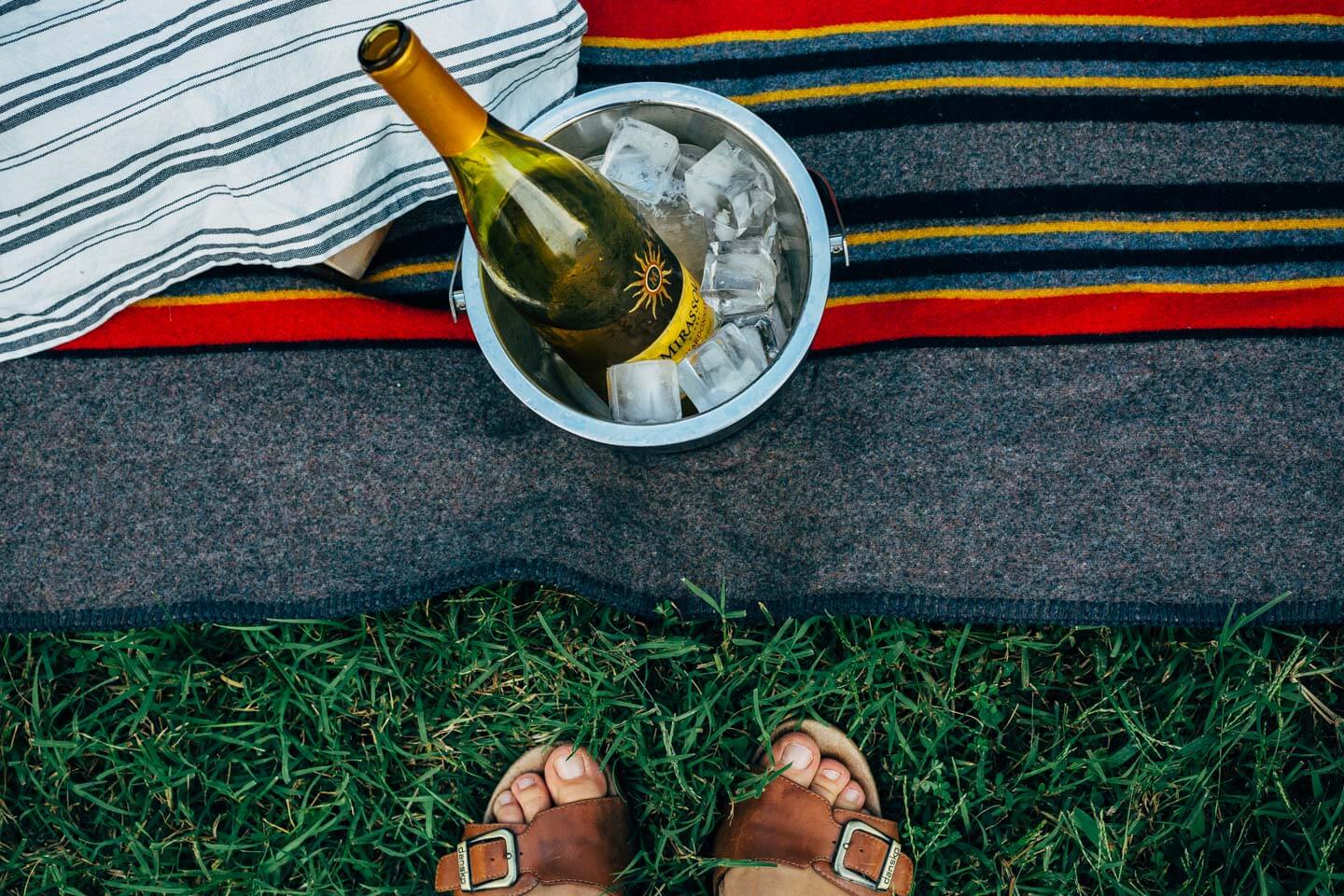 At a minimally planned party, the focus is on friends and fun, not table settings or a perfect menu. I like this shifting focus – away from Instagram perfection and towards more meaningful interactions with the people we don't get to spend enough time with. One idea we've been exploring is the dessert potluck. Everyone brings a simple sweet to share, we set up a table outside, spread a blanket on the grass, put a couple bottles of wine on ice, and enjoy an evening under the sky.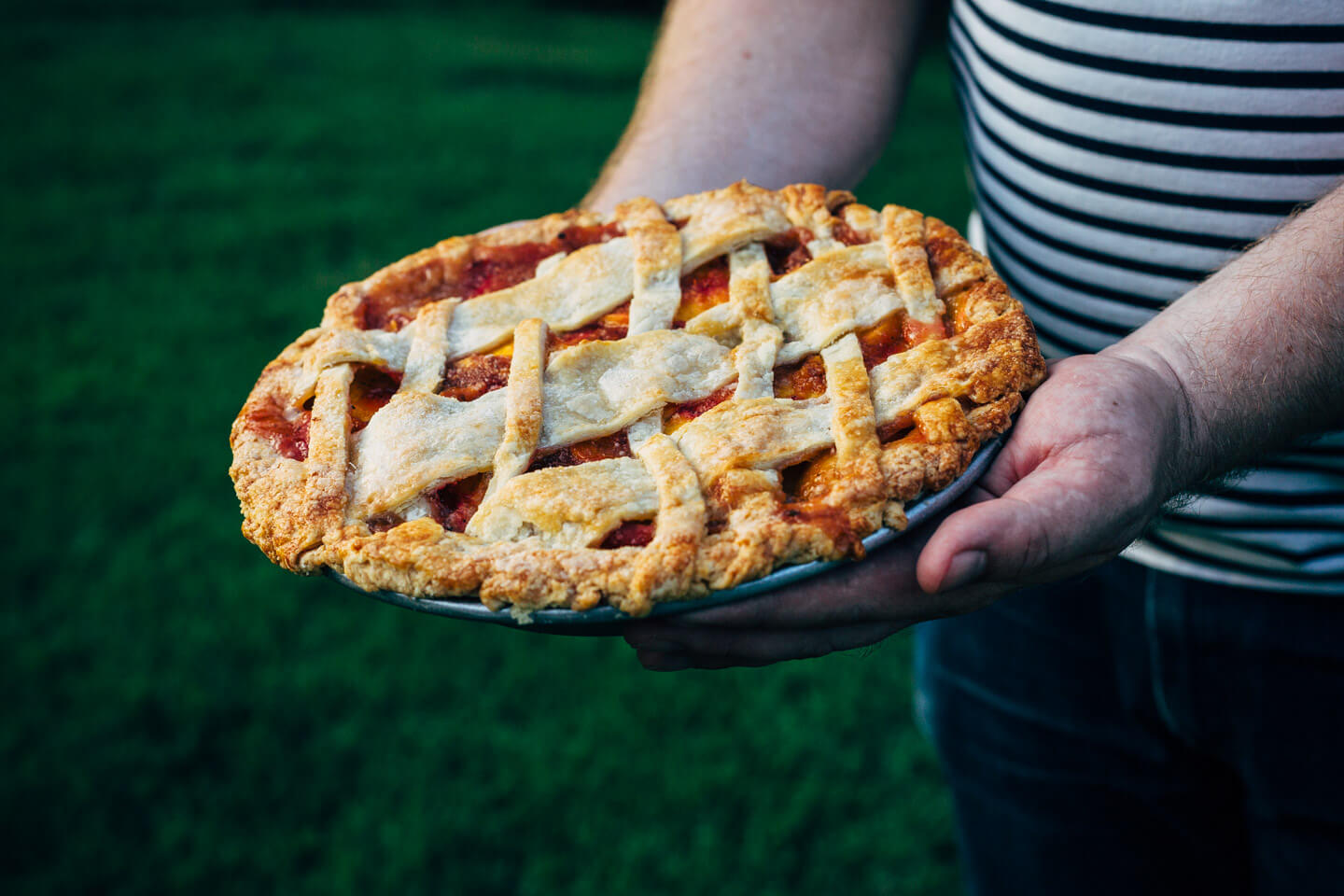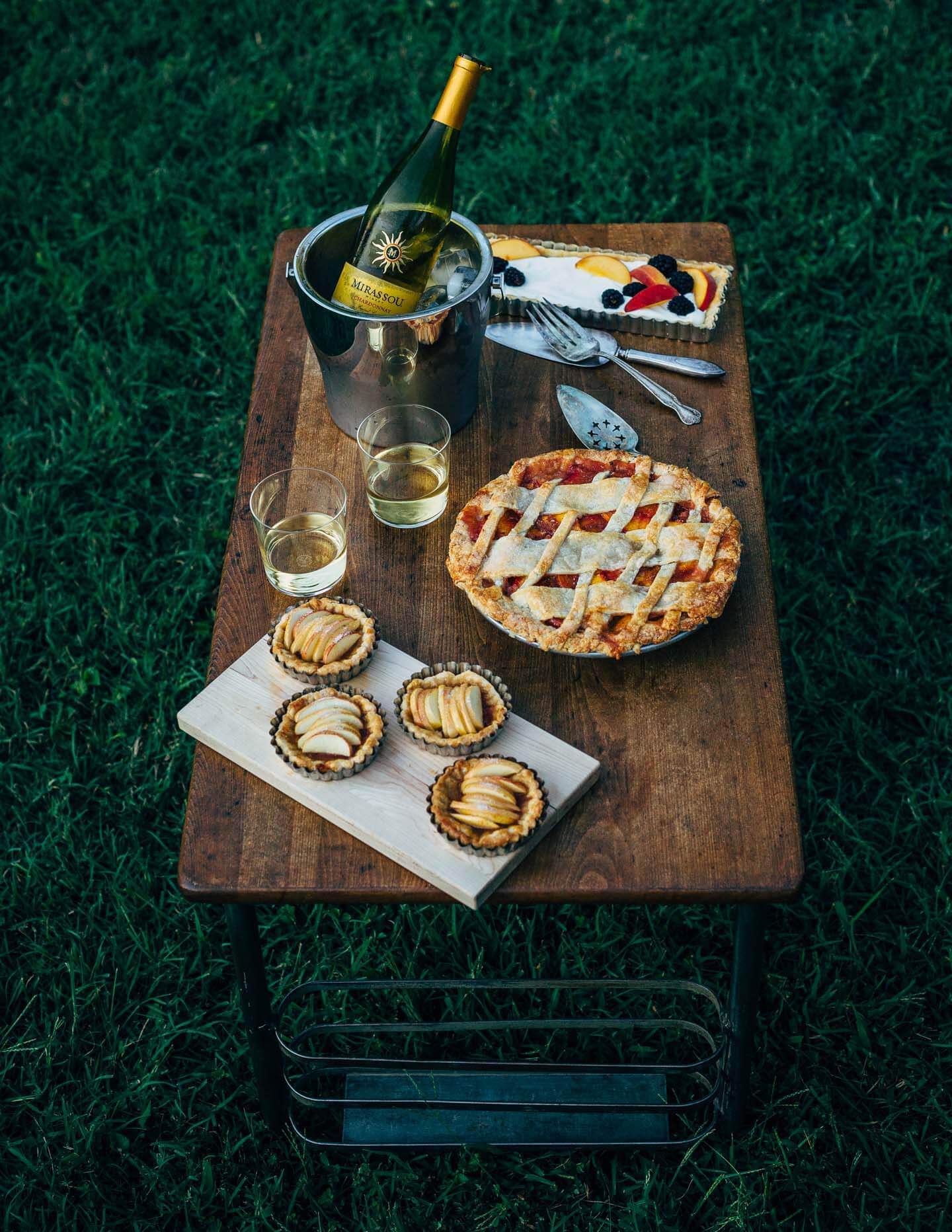 If you're planning your own low-key get-together, I recommend this peach chutney pie. I know tinkering with something as classic as a peach pie sounds like gilding the lily, but before you rush to judgment, imagine a really great batch of peach chutney – one with fragrant spices like star anise and cloves, and the perfect mix of tang, spice, and caramel sweetness. My version cooks up quickly on the stove, and is tossed with fresh peaches and nestled in to a flaky pie all-butter shell (my go-to, made with grated butter and a nice hit of sea salt), and finally, baked up until golden and bubbly.
To complement the unique range of flavors in my pie, I've paired it with Mirassou Winery's Chardonnay. Balanced and bright, Mirassou's smooth drinking Chardonnay has notes of stone fruit and citrus which play off the jammy sweet fruit in the pie beautifully. Hints of tropical fruit balance the brighter, spicy flavors of the chutney as well.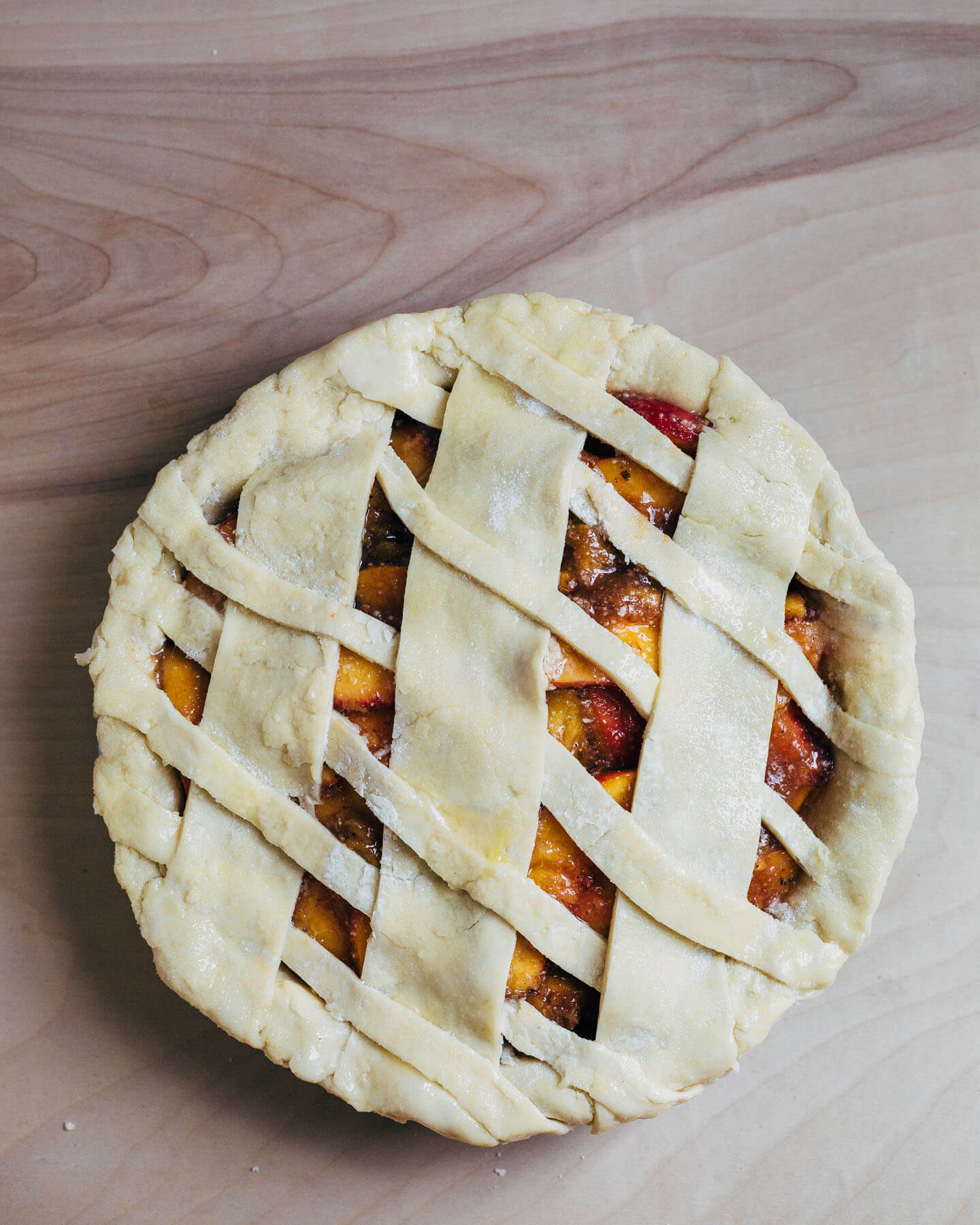 If you're an organized type, the dough and peach chutney can be made ahead of time.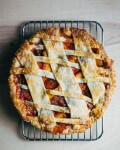 Chevron Lattice Peach Chutney Pie
A chevron lattice peach chutney pie recipe with all the flavors of a classic peach pie, plus the pop of fresh ginger, apple cider vinegar, and spice. Recipe adapted from Melissa Clark's Plum Chutney Pie.
Ingredients
For the Crust
2 1/2

cups

all-purpose flour,

plus more for dusting

2

tablespoons

sugar

1

teaspoon

sea salt

16

tablespoons

unsalted butter,

frozen for 20 minutes

2/3

cup

ice water
For the Filling
2

tablespoons

apple cider vinegar

1/2

cup

brown sugar

1

tablespoon

grated fresh ginger

1

whole star anise

1/2

teaspoon

fresh ground cloves

1/2

teaspoon

fresh ground black pepper

1/2

teaspoon

fresh ground cardamom seeds

1/4

teaspoon

sea salt

3

pounds

peaches

(about 6 cups), sliced into 1/4-inch thick slices, divided

1/4

cup

granulated sugar plus 2 tablespoons,

divided

2

tablespoons

ground instant tapioca

(this can be purchased or ground up in your coffee grinder)

1

egg,

lightly beaten
Instructions
To make crust, whisk to combine flour, sugar, and sea salt in a large bowl. With a box grater, grate in butter, using fingertips to blend into the flour until things are well blended and crumbly. Drizzle in water, turning dough with a silicone spatula, using just enough water for dough to hold together.

Turn out onto a lightly floured surface and gather into a shaggy ball. Divide dough in half, flatten each round into a disc, and wrap each tightly with plastic. Chill in the fridge 30 minutes or up to 5 days.

When ready to bake pie, position oven rack in the center of oven and preheat to 425 degrees F. Slide a rimmed baking sheet in oven to preheat as well.

Set a medium-sized saucepan oven medium heat. Add apple cider vinegar, brown sugar, ginger, star anise, cloves, pepper, cardamom seeds, and sea salt. When mixture starts to bubble, fold in 1 pound (about 2 cups) sliced peaches. Bring mixture to a boil and then turn heat down to a lively simmer. Cook, stirring often, 20 - 30 minutes, or until mixture has thickened considerably – enough to easily coat a spoon. Set aside to cool.

On a lightly floured surface, roll one of the dough discs out into a 14-inch round. Press into pie pan, trimming all but a one-inch overhang. Slide pie shell into the fridge while you prepare filling.

In a large bowl, stir to combine remaining peaches, cooled chutney, 1/4 cup sugar, and ground tapioca. Set aside.

Roll second disc into a 14-inch round. With a sharp paring knife, cut 3 2-inch wide strips and 5 1/2-inch ones.

Spoon filling into chilled shell, weave lattice over the top (using 3 wide strips in one direction and 5 thin strips in the other; I also made my lattice at an angle rather than perpendicular), fold dough under the outer edge, and crimp. Working quickly, brush lattice with egg and sprinkle with remaining sugar. 

Set pie on preheated baking sheet and bake 15 minutes. Turn heat down to 350 degrees F, rotate pie, and bake for another 35 - 45 minutes, or until crust is a deep golden brown and the filling is bubbling vigorously.

For the best filling set, cool pie a full 4 hours before cutting into it. (If you cut in sooner, the filling juices will run.)

Serve as-is or with a scoop of vanilla ice cream.
Disclosure: This post is sponsored by Mirassou Winery. Thanks for supporting the brands that make Brooklyn Supper possible.