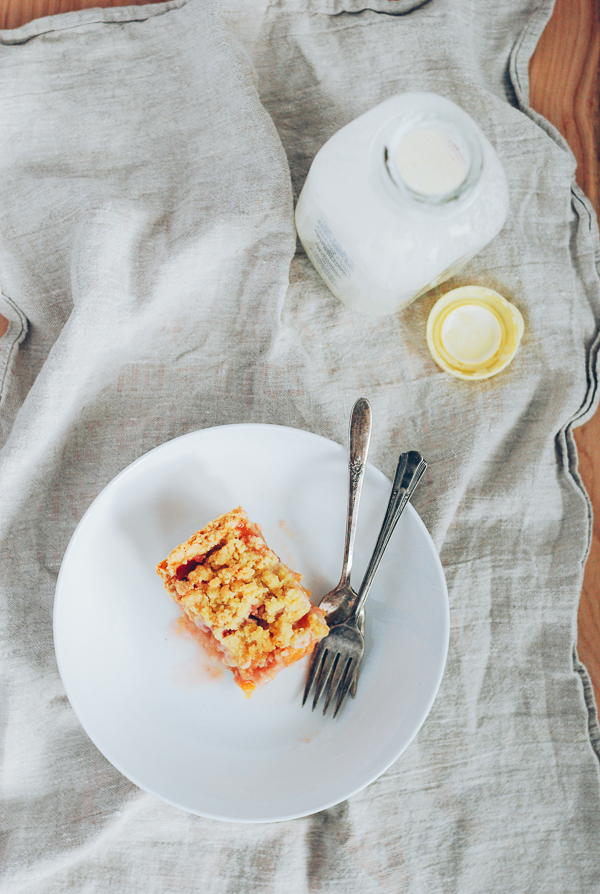 Today is one of those days, one of those posts, where I have too much to say. It's more than this delicate crumb-topped peach pie can bear, I think. So instead of a more involved tale, I'll say that I've been enjoying the some much-needed peace after a few weeks of freelance craziness. My work life was upended just a bit recently. Right away there was scrambling and a slew of emails; happily, I now have a few exciting projects beginning to take shape. In the meantime, I've had some time to recharge.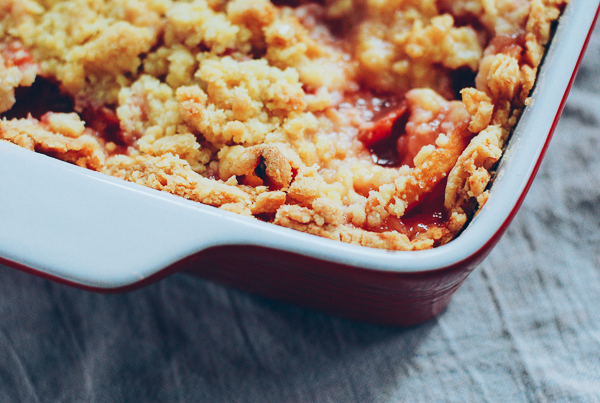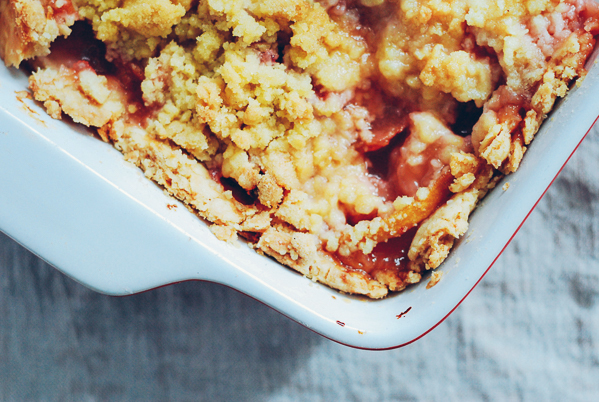 And anyway, the quiet has been splendid. Right now, it's just me and some coffee (and leftover peach pie, but that's for a little later in this post). I spent my weekend cooking and reading and walking. Time to reflect, think new thoughts, and just enjoy my humanity for a bit. We also had friends over Saturday, and it seemed like a good time to make the season's last peach pie. Yossy had a beauty of a pie made with peaches and apricots over on Food52 a few weeks ago. I was inspired by her gorgeous take as well as this recipe from Melissa Clark.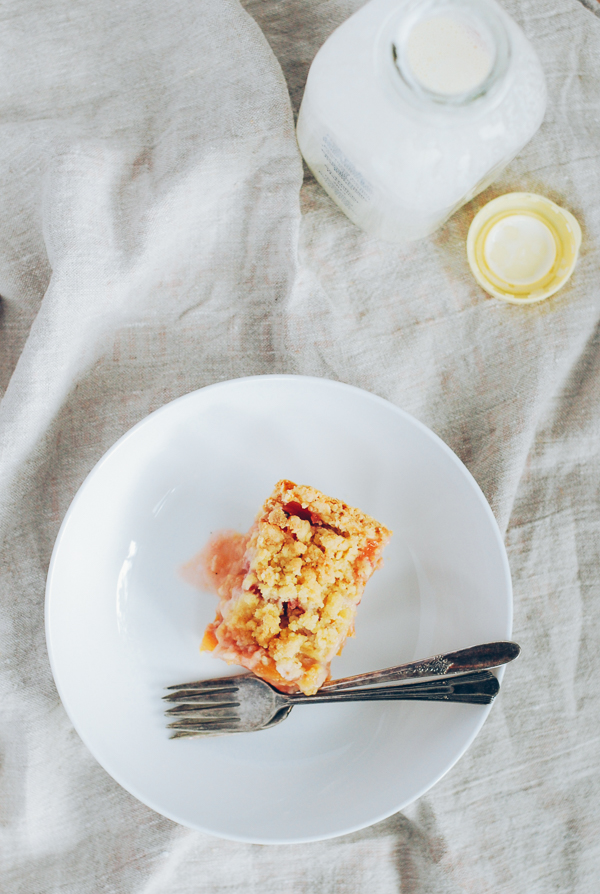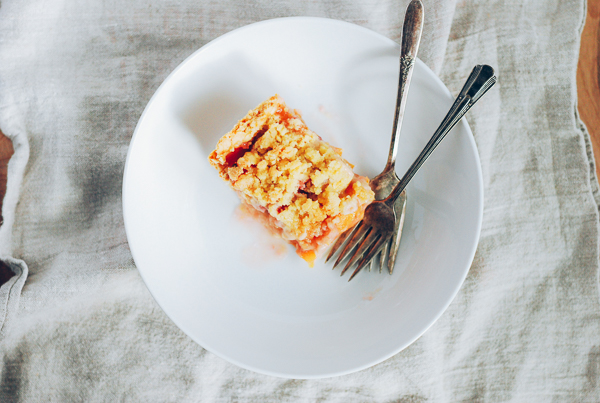 The lightly sweet crumb topping is buttery enough to melt on your tongue, while the peach filling is juicy and simple. A thick but flaky bottom crust is the workhorse of the pie, holding the whole wonderful, messy business together.
And in case you, like me, have a thing for insane quantities of pie, check out this lattice-top peach slab pie, this apple slab pie, and this bing cherry slab pie.
This pie is simple and rustic, just as all the best peach pies are. I like to let my peaches speak for themselves, and as such, I've gone easy on the sugar and spice. The amount of juice and sweetness can really vary from peach to peach, so taste the filling as you go, adding more lemon or sugar as needed. Also note that this is a delightfully juicy pie –– leave some of the juices behind if you're concerned.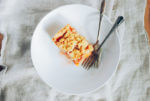 Peach Crumb Slab Pie
This peach crumb slab pie recipe features buttery fresh peaches topped with a sweet crumb topping.
Ingredients
Crust
2 1/2

cups

all-purpose flour

1

tablespoon

sugar

3/4

teaspoon

sea salt

20

tablespoons

unsalted butter

(2 1/2 sticks)

6 - 8

tablespoons

ice water
Filling
10 - 11

large peaches

1

cup

sugar

1/3

cup

ground instant tapioca

(use a coffee grinder to grind the tapioca)

zest of 2 lemons

2

tablespoons

lemon juice

1

teaspoon

sea salt
Topping
1 1/2

cups

all-purpose flour

3/4

cup

sugar

1/2

teaspoon

ground cinnamon

1/2

teaspoon

ground ginger

1/2

teaspoon

sea salt

12

tablespoons

unsalted butter
Instructions
First, make the crust. In a large bowl, combine flour, sugar, and sea salt, and mix with a fork. Grate in cold butter, mixing in with fingertips until mixture is well combined. 

Drizzle in just enough water that mixture will hold together. Gather into a large disc and wrap tightly with plastic. Set in fridge; chill dough at least 30 minutes.

To prep filling, rinse peaches well and set out to dry. Halve peaches, remove pits, and cut into 1/2-inch thick slices. In a large bowl, toss peaches with sugar, ground tapioca, lemon zest and juice, and sea salt. Set aside while you roll out crust and prepare topping.

Preheat oven to 425 degrees F. Set a large rimmed baking sheet in oven to preheat as well. Butter a deep-sided 9 x 13-inch baking dish and set aside.

On a lightly floured surface, roll chilled disc of dough out into an 11 x 15-inch rectangle. Set into prepared baking dish, pressing dough all the way up the sides so that it's even with the top of the dish. Set baking dish in the fridge to chill while you prepare the rest of the pie.

Make topping by combining flour, sugar, spices, and sea salt in a smallish bowl. Grate in butter; mix in with fingertips.

Remove pie shell from fridge and spoon in filling so that it mounds in the center. Cover top completely with crumb topping.

Set baking dish on preheated baking sheet and slide into oven. Bake at 425 degrees F for 15 minutes, then turn heat down to 375 degrees F, and bake an hour more. The pie is ready when crumb topping is a deep golden brown and filling is bubbling vigorously. 

Set pie on a wire rack to cool completely, 3 - 5 hours. This pie is best enjoyed the same day it's baked, but as long as you're OK with a slightly soggy bottom crust, it will keep just fine for 2 or 3 days.

Serve with a drizzle of heavy cream or lightly sweetened cream whipped to soft peaks.