A simple peach shrub recipe. Once infused, peach shrub makes for a perfect summer cocktail.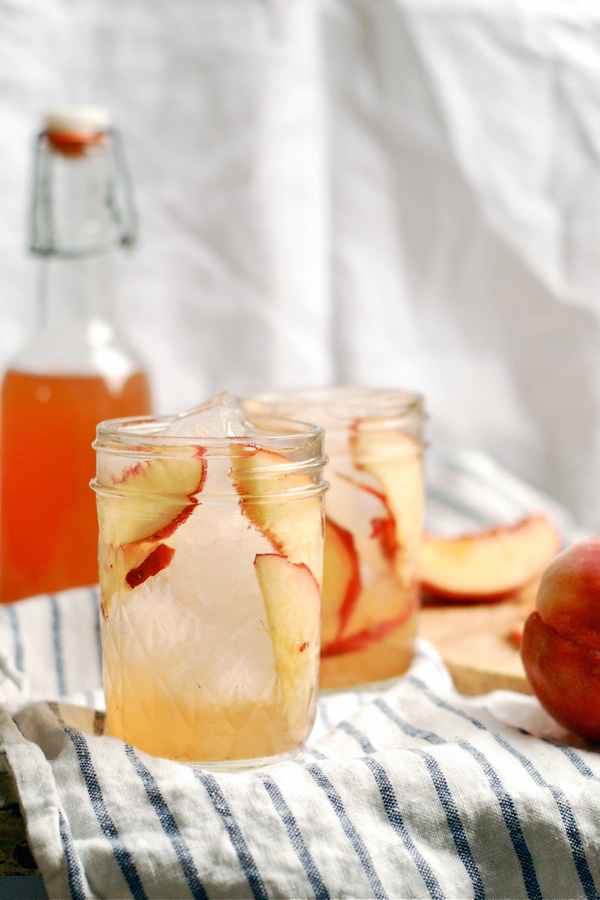 Once, I was a martini kind of girl. Waiting for a table at a cool restaurant, it was no big deal to toss one back. And though I do like the things, there was more than a hint of bravado in my order – obviously, I was pretty tough.
After martinis, I moved on to whiskey on the rocks. I tried ordering whiskey with ice a lot, because "rocks" felt a little silly, or maybe not up to par with my otherwise tough lady sip, but then I realized I was just being a pain in the ass for bartenders, who always misunderstood ice and really just wanted me to say rocks. So there I was, whiskey on the rocks.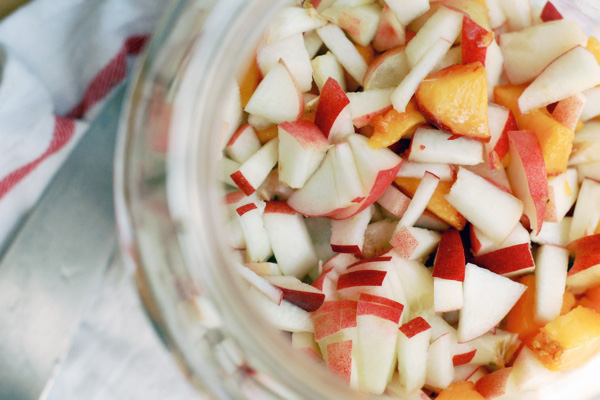 Between babies and the craft cocktail revolution, my cocktail consumption ebbed. I do enjoy a fine cocktail, but not being among the initiated, I feel silly sitting somewhere fancy and asking the poor barkeep to define and explain each element in a complex comestible. There's pressure, too. To order whiskey on the rocks in a cocktail temple would be wrong. So I gravitate toward the simple. Something strong, bitter, and bright for sure, but more than four elements leave me feeling a bit lost.
With this in mind, I've decided this is the year to reclaim the cocktail. I mix up batches of herbed simple syrups, smash some fruit, toss in bitters or a splash of lemon, and that's plenty for me. I write all this in the hopes that you too will reclaim cocktails. Let's rise up and wrest control from the hands of baroque mixologists everywhere!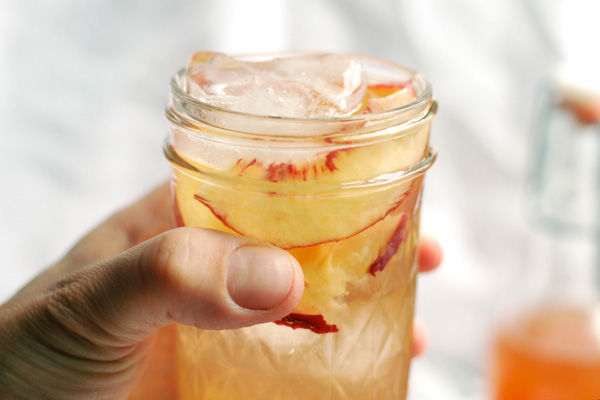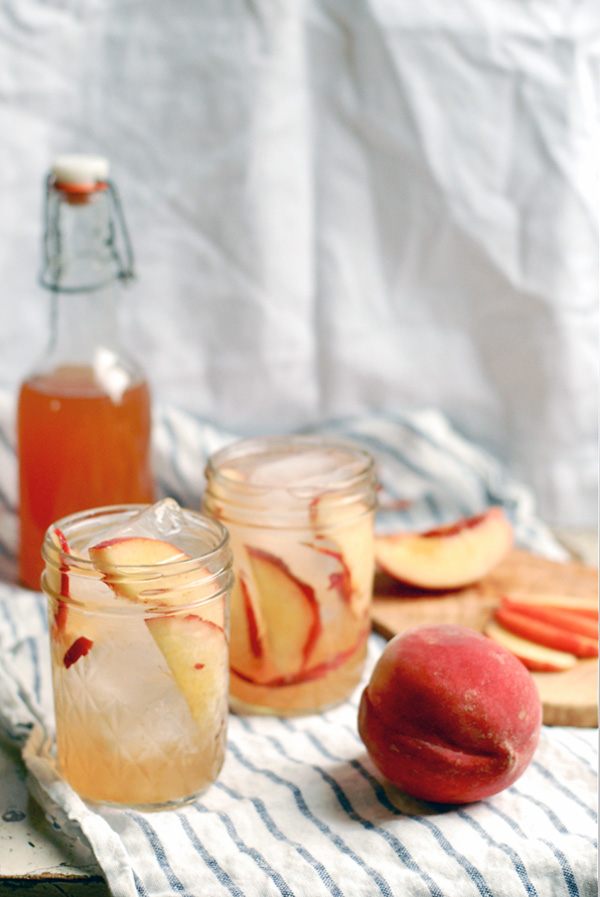 And if you were looking for opposite of a schmancy cocktail, and you wanted something simple and down-home and good, surely then you would want a shrub. Shrubs vary wildly, but at their essence, they are a vinegar-based simple syrup infused with fruit. Techniques and ratios are all over the place, but for mine I went with one part sugar, one part apple cider vinegar, to two parts chopped peaches. I placed the peaches and the sugar together in a large jar and let them mingle for a day or two, I then added the vinegar, and left things for another four or so days.
The final mixture is suffused with peach fragrance, and the flavor has all the bright, faintly buttery fruit undertones you'd expect, not to mention the pleasant sourness of vinegar. My shrub was served with one part shrub, one part vodka, and two parts soda. Our guests were smitten, and so were we. Shrubs for all!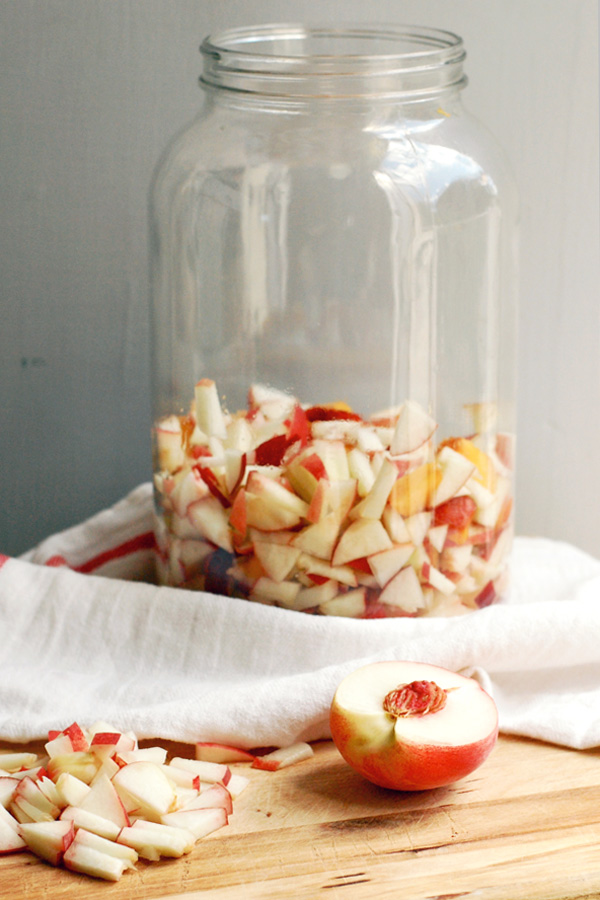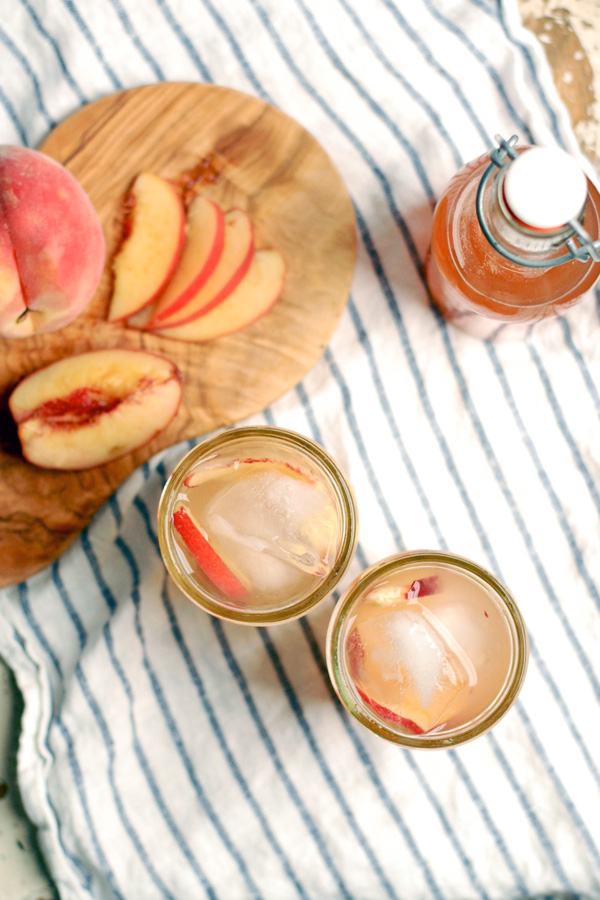 One last note on this terribly lengthy post, my shrub was inspired by Brian from A Thought for Food and The Boys Club. He demonstrated his technique at the Big Summer Potluck, and spread shrub mania like wildfire. The Big Summer Potluck is so special to me, and I was incredibly thankful to be there again this year. I can't tell you how refreshing it was to spend a weekend surrounded by so many familiar friendly faces.
This recipe is an ideal way to use up nearly expired fruit.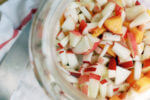 Peach Shrub Cocktail
A simple peach shrub recipe. Once infused, peach shrub makes for a perfect summer cocktail.
Ingredients
6

cups

pitted and chopped peaches

3

cups

granulated sugar

3

cups

apple cider vinegar
Instructions
In a large jar or other vessel with a tight-fitting lid, combine the chopped peaches and sugar. Use the back of a wooden spoon or a muddler to smash the fruit a bit. Cover and refrigerate.

After a day or two – once all the sugar has dissolved – add vinegar. Swirl a bit, cover, and set back in the fridge. After 4 or 5 days, or up to a week, taste the mixture. If it's to your liking, that is, fruity with mellow vinegar flavor, strain out fruit with a mesh sieve and pour syrup into clean jars.

Your shrub should keep well, covered in the fridge, for three weeks.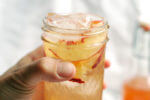 Peach Shrub Collins
Turn your peach shrub into a classic cocktail with this peach shrub Collins recipe.
Ingredients
1 1/2

ounces

peach shrub

1 1/2

ounces

vodka –

we used Tito's

3

ounces

seltzer

Peach slices for garnish
Instructions
Pour shrub and vodka over ice. Add peach slices and seltzer, stir gently, serve.
SaveSave
SaveSave