This from-scratch lattice-top peach slab pie recipe feeds a crowd.
Jump to recipe.
A couple of weeks ago I celebrated my birthday. Because we now live in a house with a yard, I was thrilled to plan the epic dinner party of my dreams. As it turned out, it was more like the simple dinner party of my dreams, which is actually just the thing for an August evening. That night, rain fell for a while early, but the skies cleared and our friends sprung into action setting up tables, chairs, and citronella candles. We started with these peach shrubs; then by tiki and candlelight, had a Lowcountry boil for dinner, and for dessert, lattice-top peach slab pie. There's almost nothing better than a cookie sheet full of pie, especially one made with fragrant yellow peaches in all their summery perfection. We served the peach pie with lemon verbena ice cream, and ate as storm clouds blew through and stars appeared.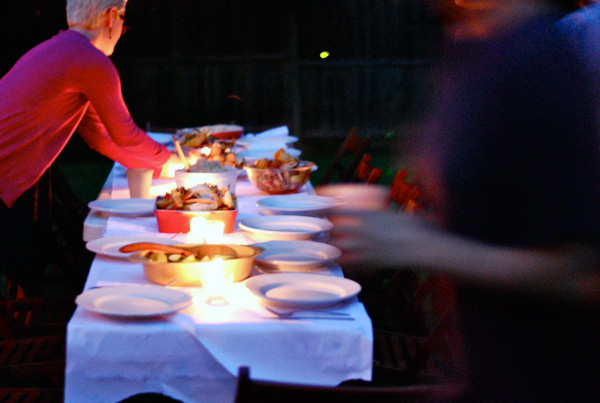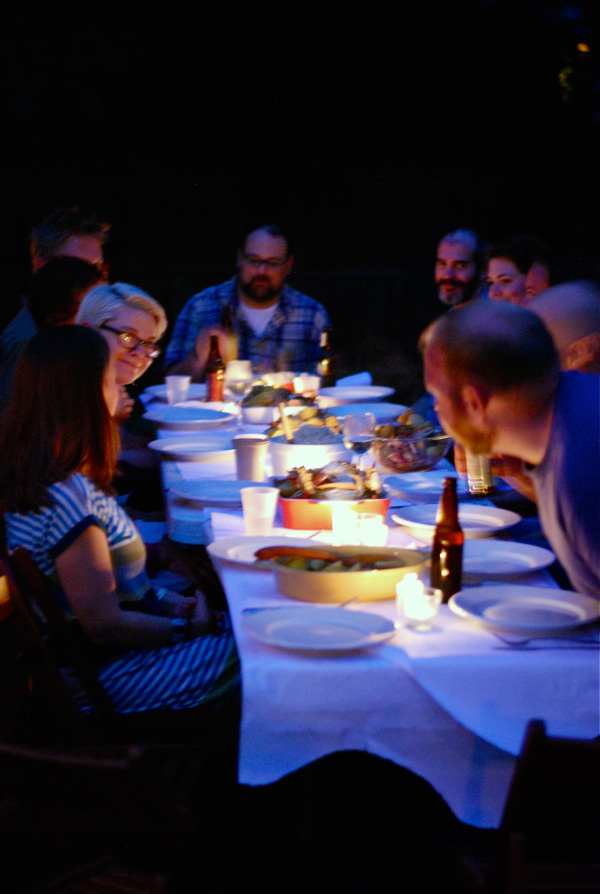 A slab pie has a lot going for it. Because the filling is in a thin layer, there are fewer concerns about whether or not it will set properly. This also means that it's a little more like pastry than pie. I opted for yellow peaches in my filling, which were preferable to the clean sweetness of white peaches. I kept the filling absolutely simple to highlight the peaches themselves. With the peel left on, the filling had a hint of bitterness, which I loved; if bitterness isn't your thing, peel your peaches.
This year, the summer has been so good. Mild, and beautiful, and filled with exactly the kind of ease I always craved back in Brooklyn. As things edge toward fall, I realize I need to eat more pie. You, my friend, do too.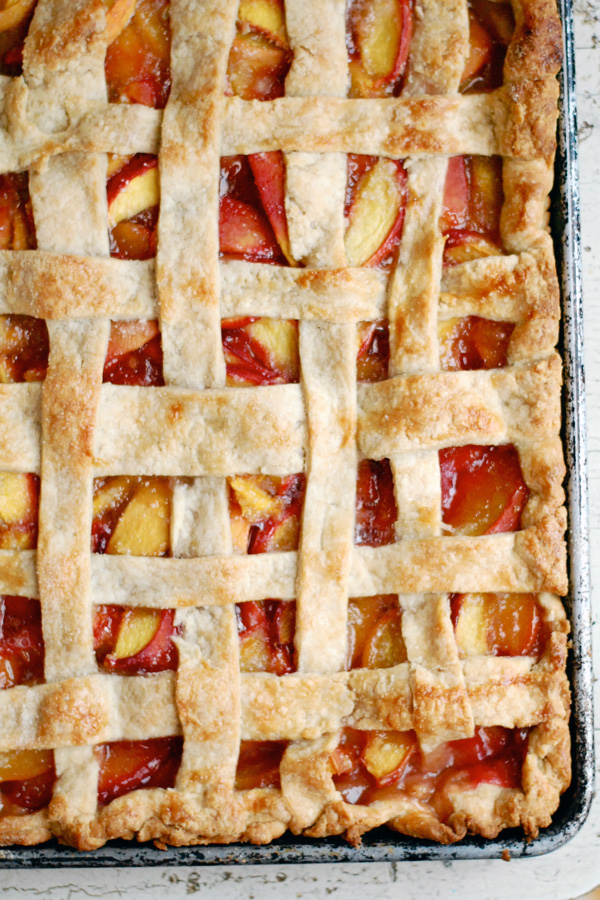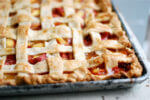 Lattice-Top Peach Slab Pie
This from-scratch lattice-top peach slab pie recipe feeds a crowd.
Ingredients
Crust
5

cups

unbleached all-purpose flour

1

teaspoon

salt

5

tablespoons

sugar

32

tablespoons

cold butter

1 pound

1 1/3

cup

ice water
Filling
12

medium peaches,

washed and cut into 1/2 inch thick slices (for about 10 cups total)

zest of 2 lemons

3

tablespoons

fresh squeezed lemon juice

1

cup

turbinado sugar

5

tablespoons

pulverized quick-cooking tapioca

(grind it in your coffee grinder)

1/2

teaspoon

freshly grated nutmeg

1/2

teaspoon

sea salt
To Assemble
1

egg white,

lightly beaten

2

tablespoons

turbinado sugar
Instructions
This recipe calls for a lot of dough – if you have a large food processor or cut in butter by hand or

with a grater

, make it all at once. Otherwise, you may find it easier to make two batches.

Combine flour, salt, and sugar in the bowl of your food processor. Chop cold butter, and add to flour mixture by pulsing several times. Drizzle in ice water, pulsing food processor just until dough holds together. (If you are new to pie dough, add a little extra water to help dough hold together; just add plenty of flour while rolling dough out.)

Turn dough out onto a lightly floured surface and gather into a ball. Divide in 2, flatten into discs, and wrap each tightly with plastic wrap.

Chill both discs 30 minutes, but preferably longer, in the refrigerator. 

Meanwhile prepare the filling.

Meanwhile, toss all of the filling ingredients together and set aside while you roll out the crust.

Grease a half-size rimmed baking sheet (12 x 17 x 1 inches) and set aside. Clear some space in your freezer to chill bottom crust.

Preheat the oven to 400 degrees.

On a parchment-lined, lightly floured large working space roll out dough for the bottom crust. Your rectangle should be about 15 x 20-inches. Working quickly, fold dough into quarters, and unfold in greased cookie sheet. Trim all but 1-inch of crust from the edges. Place in freezer while you prepare top crust.

Roll out top crust. With a sharp knife, cut into 1-inch strips.

Remove bottom crust from freezer, spoon filling into cold shell, and then work quickly to weave your lattice over the top. (For a step-by-step guide on lattice weaving, click here.) Crimp up edges. Brush egg white on top and sprinkle with sugar.

Bake 45 - 55 minutes, or until filling is bubbling and crust is a light golden hue. Cool several hours before serving.
SaveSaveSaveSave
SaveSave