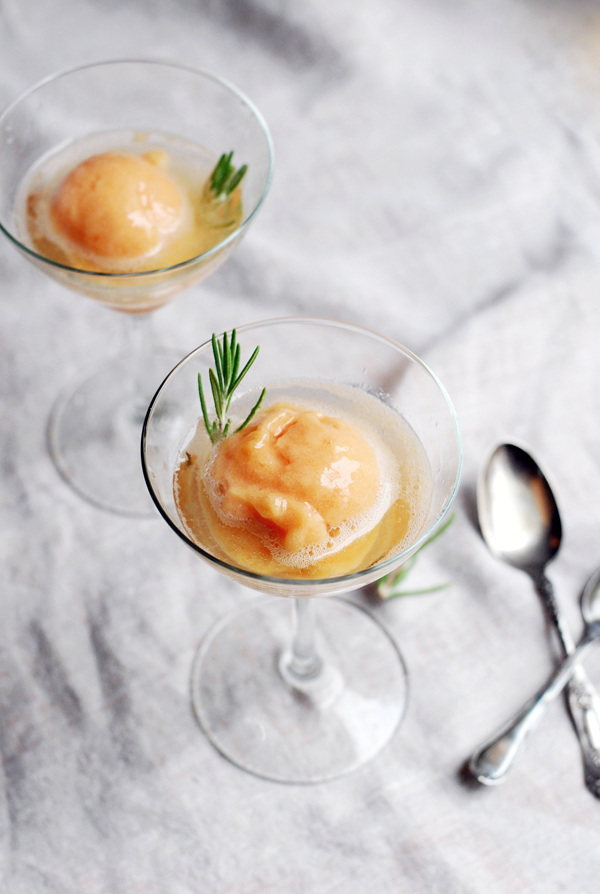 Brooklyn Supper is six! We're actually a bit overdue, but it's summer, so you'll just have to let it slide. To celebrate, I made peach sorbet and poured Prosecco over it. Just the right kind of effervescent, tangy thing for yet another hot summer day.
Last year, I made sangria. It had been on my list for a while and was a highly attainable summer accomplishment. This year, I'm goalless, aside from trying to spend the most hours possible floating in a pool or taking in a view of the Blue Ridge mountains. The past few months have seen a few major shifts for us, and we're still working on getting back to solid ground. No matter what kind of upheaval is happening, our girls are happy and healthy, and we're incredibly grateful for that. We're also so grateful for you. Over the years, our readers have been an important part of our lives. Whether it was the time we were looking for a new place and got a handful of thoughtful emails with offers and leads, or that time we left Brooklyn, and so many of you chimed in to share your own experiences with major moves and changes.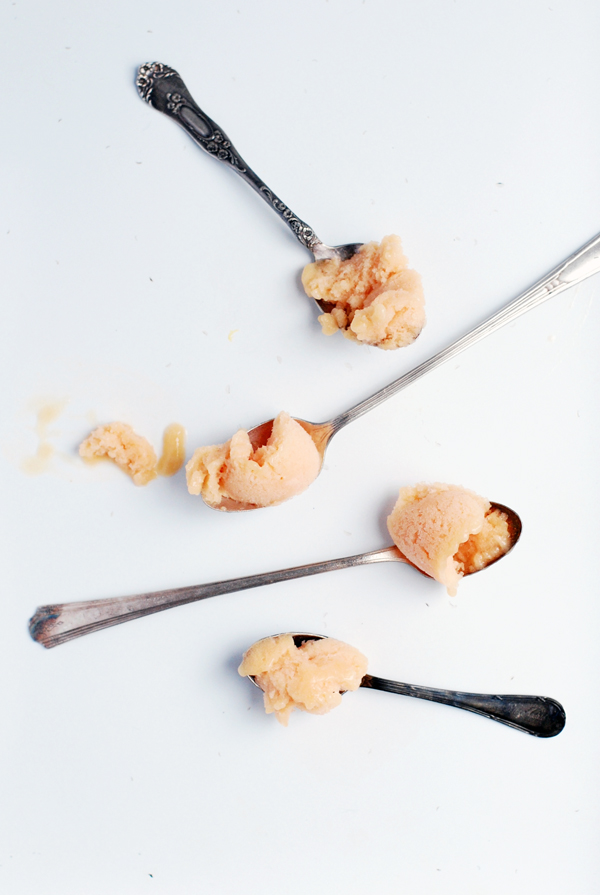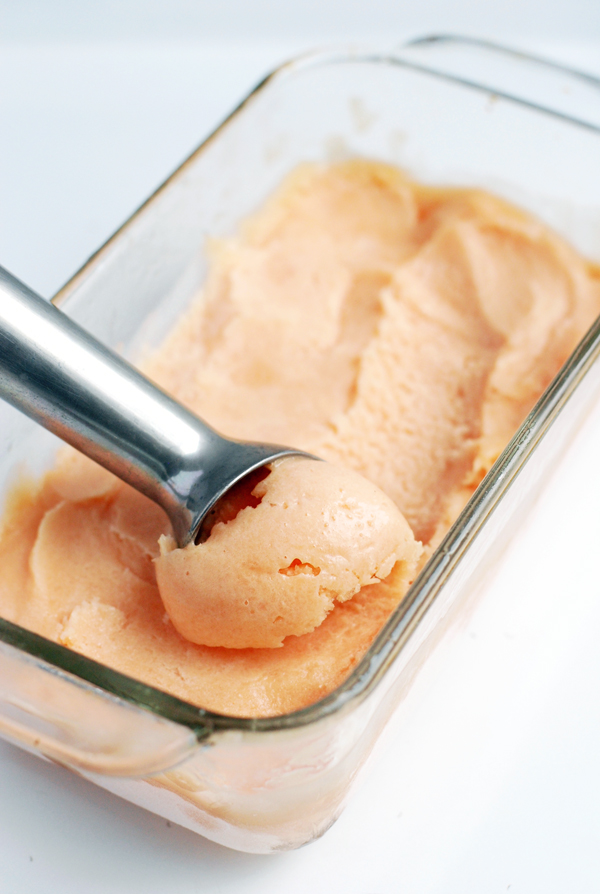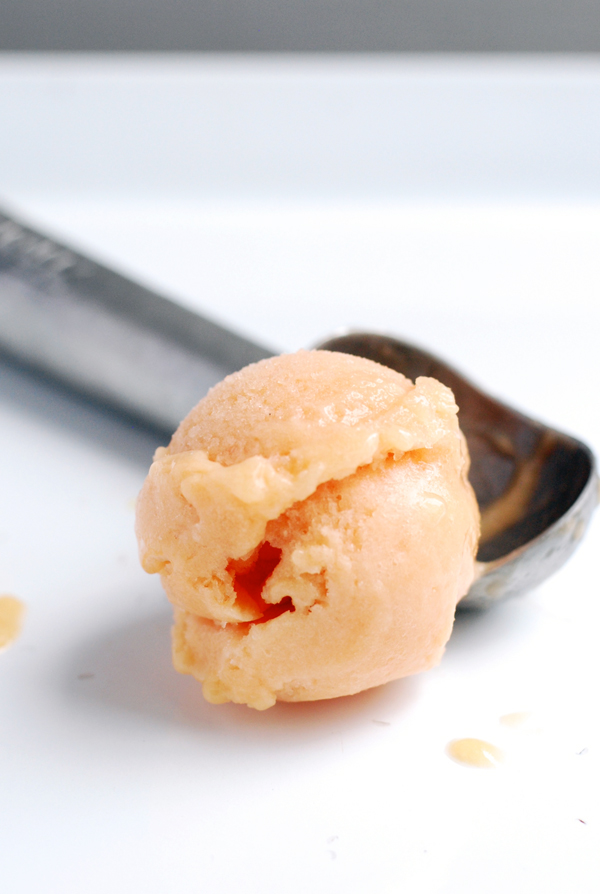 And since this is a reflective sort of post, it's also a good time to share a short film our friends Jen and Dave made about Brooklyn Supper. One day in early June, Jen and Dave came down and hung out in Charlottesville for the day. Brian and I showed them around town –– our favorite butcher, the river, the pool, and a party to support Community Bikes. It was mellow, and just really fun.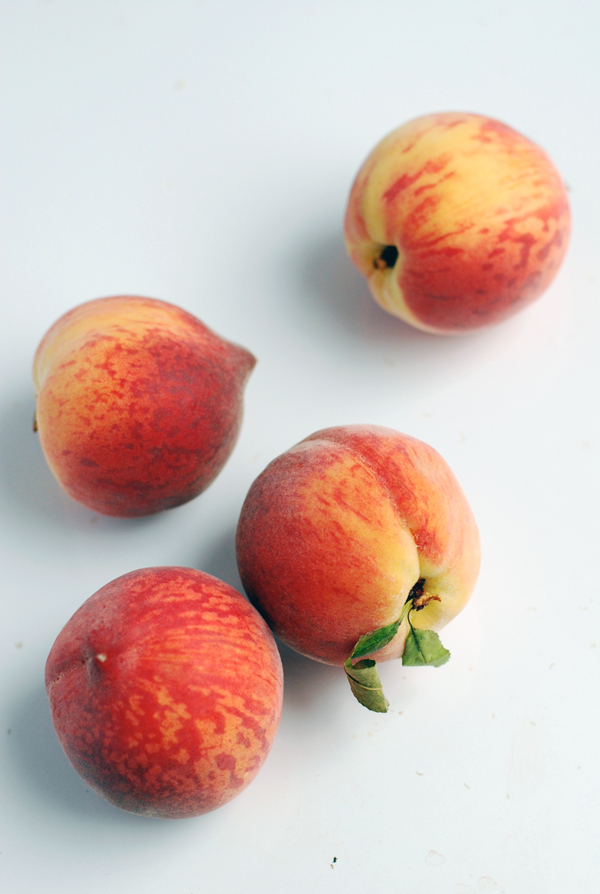 The film is beautifully shot and edited with care. We were so lucky to be in such talented, capable hands. Check it out, won't you? The film is a small part of the newly launched site, South of Brooklyn. The site focuses on all the great things happening outside of Brooklyn and features a slew of inspiring makers and creatives –– it was an honor to be included in their ranks.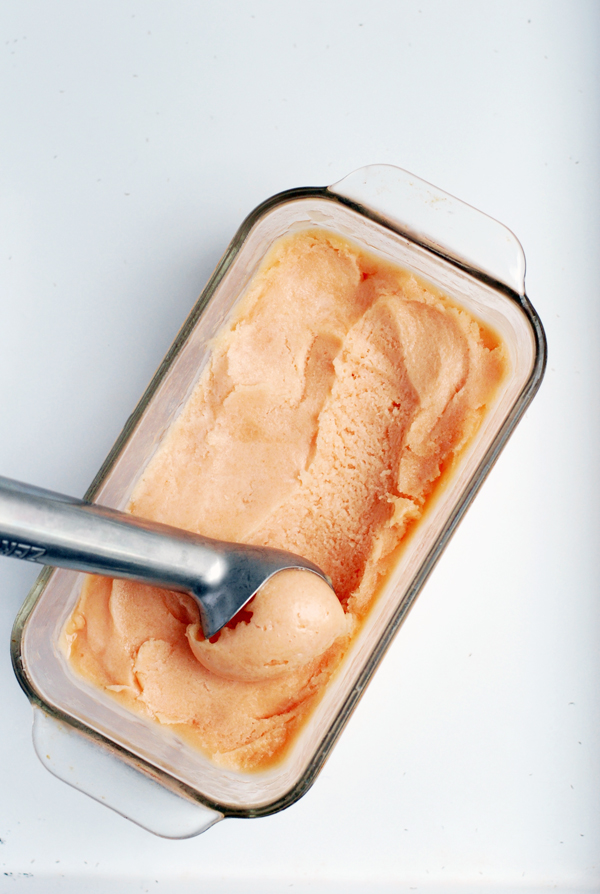 Now, let's have some sorbet. This recipe is actually my second go at perfecting a peach sorbet. I'd envisioned it as something fun and summery that you might make for a midsummer party in the backyard or at a beach house rented with friends. It took a few tries to perfect, but the trial and error was worth it. This sorbet is perfectly fragrant, relaying the most delicate flavors of a summer peach, and has a bright, lightly sweet finish. There's a hint of rosemary and bay, with lots of lemon for emphasis. Peach sorbet tastes wonderful on its own but with a splash of Prosecco, it's downright transcendent.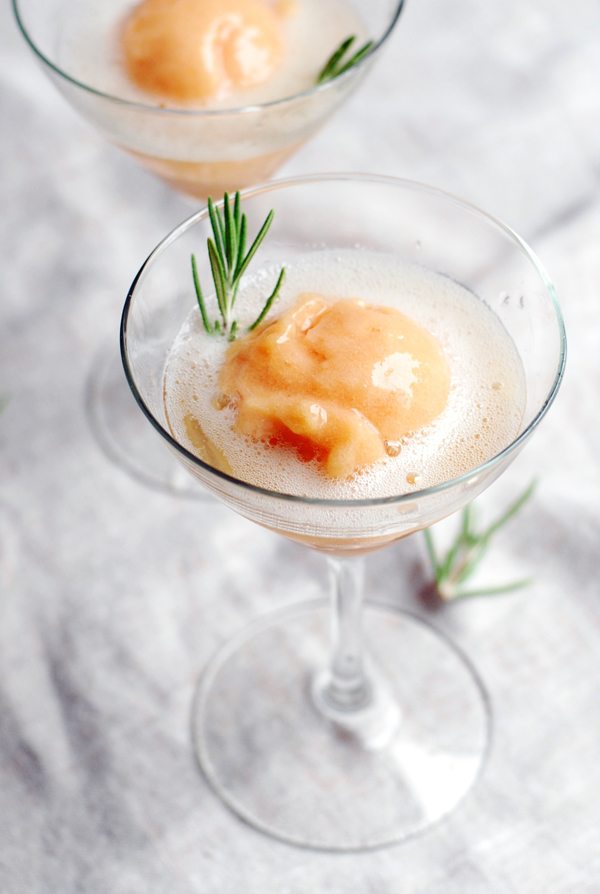 Peach Sorbet (No-Churn Optional)

makes one quart
For the best flavor, peel the peaches –– I found the skins to be overly fragrant for such a simple dessert. They also skew the color toward an unattractive brown. Depending on ripeness, you can either use a peeler, or for riper peaches, use your fingers to peel skin right off.
4 heaping cups peeled, chopped peaches (about 6 medium, ripe, but not brown)
1/2 cup fresh squeezed lemon juice
2/3 cup water
2/3 cup white granulated sugar (I found that turbinado or brown sugar overwhelmed the peaches, so stick with plain white here)
3 4-inch strips lemon zest
2 sprigs rosemary
2 fresh bay leaves (dried will work, too)
In a large container, combine the chopped peaches and lemon juice. Stir, cover, and set in the fridge while you make the simple syrup.
In a small saucepan, combine the water, sugar, lemon zest, and herbs, and heat over medium heat. Stir, and when the sugar has dissolved, off the heat and let the herbs steep for 10 minutes. Remove herbs and zest, and pour syrup into the peach mixture. Puree.
If you do not have an ice cream maker, you can pour the puree into an ice cube tray and freeze, or (for a smoother sorbet) pour into a wide freezer-proof container, and stir every hour for 3 – 4 hours, or until mixture is airy and cured.
If using an ice cream maker, pour peach puree back into the large container (used for peach and lemon mixture) and chill in the fridge for 3 hours or more. Process according to your ice cream maker's instructions and then cure in the freezer overnight.
Peach Sorbet Prosecco Cocktails
makes two cocktails
2 scoops peach sorbet
1/2 cup Prosecco (the drier the better)
rosemary sprigs for garnish
Chill 2 gimlet, cocktail, or martini glasses in the freezer. When ready, add a scoop of sorbet to each, pour in Prosecco, and garnish with a sprig of rosemary. Serve with tiny spoons. Cheers!