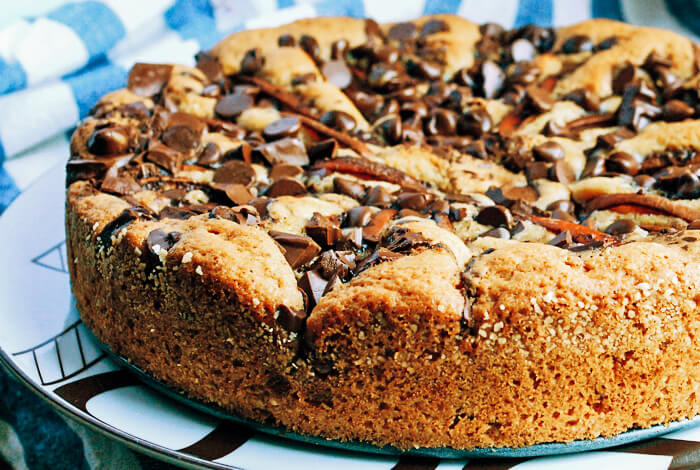 In an attempt to enjoy every single second of fall, I've been hoarding fall fruit. Right now, I'm sitting on a serious cache of pears. Later today I'm hoping (if the baby's nap schedule cooperates) to tackle pear butter, but for now let's talk about cake – more specifically, pear and chocolate cake. I am a little bit of a dessert minimalist and not at all prone to cramming 3 pears and nearly a cup of chocolate into one cake, but it sounded good, so I did it.
It turns out pears and chocolate were made for each other, especially when united with a big helping of brown butter. Pears have a distinct, yet subtle flavor that can easily be overwhelmed, but the bittersweet chocolate was a fantastic compliment, and the eggy, buttery, lightly sweet cake was the ideal vehicle for these fast friends.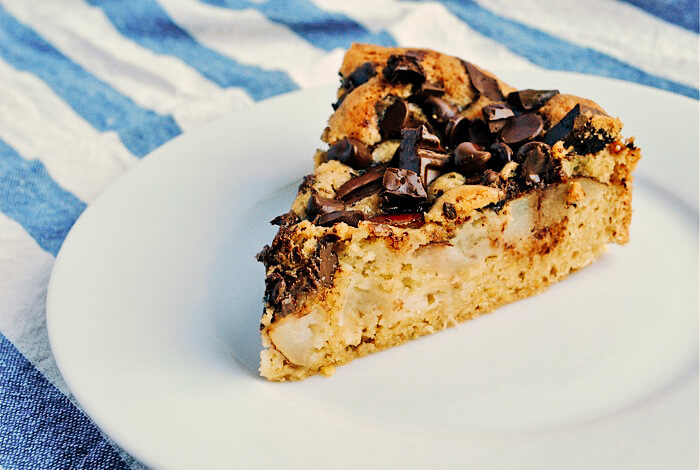 This cake is best eaten the same day it's baked, so consider making it for a brunch or party.
Almost like a Dutch baby pancake, this cake will puff up all around the fruit and chocolate, so don't be alarmed if it looks pretty flat going into the oven. Use whatever kind of chocolate you like, I took the opportunity to use up some odds and ends from the cabinets, hence the chip/chunk combination. I went easy on the sugar and heavy on the chocolate, but build the cake to match your tastes.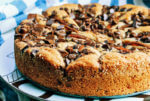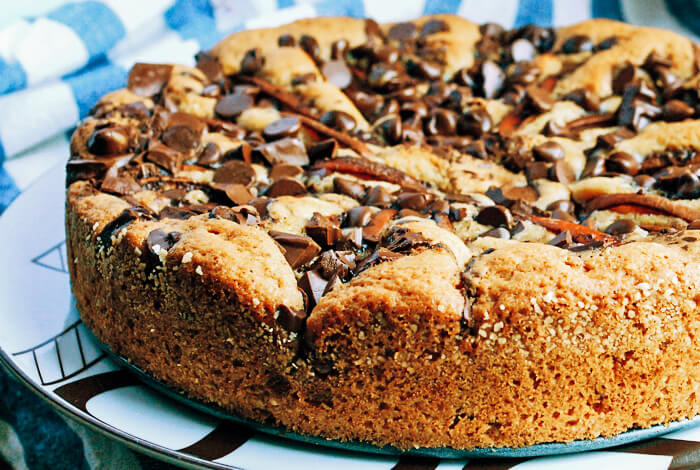 Pear and Chocolate Cake
A simple pear and chocolate cake recipe that's great for a fall brunch or dessert. Recipe adapted from Smitten Kitchen and al di la Trattoria in Brooklyn.
Ingredients
1

cup

all-purpose flour

2

tablespoons

fine-ground corn meal

1

tablespoon

baking powder

1/2

teaspoon

sea salt

3

eggs

8

tablespoons

unsalted butter

3/4 - 1

cup

sugar

3

pears

(I used relatively firm Bosc pears)

3/4 - 1

cup

bittersweet chocolate chunks or chips
Instructions
Preheat oven to 350 degrees F. Butter a 9-inch spring form pan. Coat with fine cornmeal, breadcrumbs, or flour.

I didn't peel my pears, but you can if you want to. Core and slice the pears into long, 1/8-inch thick slices. If using bar chocolate, chop or break into chunks.

In a small bowl, combine the flour, baking powder, and salt.

Next, in a large bowl or the bowl of your stand mixer, beat eggs on high speed for 9 minutes. Add sugar and beat 2 minutes more.

Meanwhile, make the brown butter. Melt butter in a medium-sized saucepan over medium-high heat, stirring frequently. Watch for the butter to bubble up, become fragrant and then slowly brown, after about 6 - 8 minutes. Once browning has started, keep a close eye and stir constantly. Remove form heat when butter is a rich golden hue – butter will continue to brown once removed from heat.

Turn mixer to low and add flour and butter alternately. Turn off mixer, and use a spatula to fold any unmixed flour into batter. Pour into prepared pan, and then press pear slices into the batter. I pressed them in a circular pattern with each slice nestled very close to the next. Scatter chocolate across the top. Place on a rimmed baking sheet and bake 40 - 50 minutes. Remove cake from over just after the center has set and a toothpick inserted in the center comes out with a few crumbs attached (cook time may be slightly longer, so be sure to check).

Cool cake 20 minutes, then unmold, slice, and serve.