A gorgeous pear galette recipe with a buttery rye crust that makes for a wonderfully rustic fall or holiday dessert!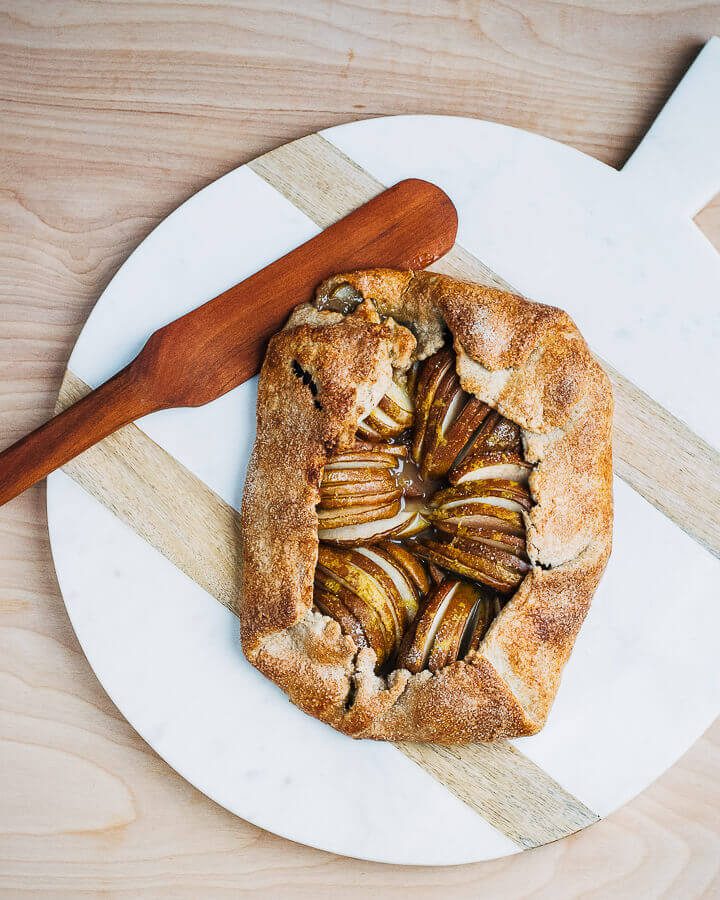 Get the newsletter
Are you signed up for the Right Now newsletter? It hits inboxes twice a week with exclusive recipes and seasonal ingredient inspiration. Subscribe today!
This rustic galette pairs nutty rye pastry with the sweetness of baked pears. Like all galettes, this one can be assembled pretty quickly – just make sure to give the pastry dough time to chill in the fridge.
This pear galette was created as part of a rustic harvest dessert party. Read more about it here!
Baking with Alternative Flours
I love adding a bit of rye, semolina, whole wheat, quinoa, or buckwheat flours to my pastries. Each type brings a unique flavor that emphasizes the flavor of the pastry, especially when baked up with sweet fruit. I keep the flours I use less often in the freezer, so they're fresh when I need them.
Here, rye lends a distinct nuttiness and depth that contrasts beautifully with the delicate sweetness of pears.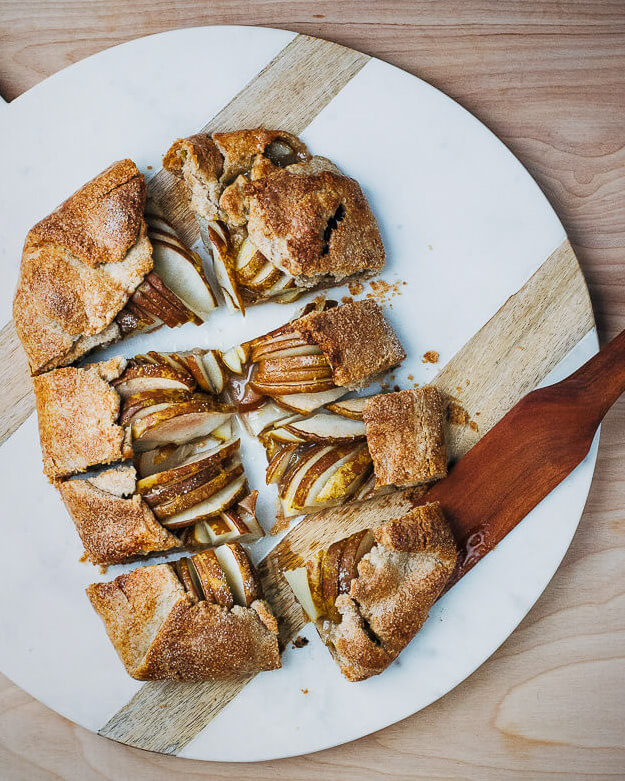 Assembling the Galette
Use firm pears with a balance of sweet and tart flavors. If you're unsure where to start, ask a farmer or grab an assortment. I like Asian pears, Bosc, Comice, Concorde, and Red Anjou.
For the prettiest presentation, halve and core the pears, and then slice about 1/8-inch thick. To arrange on the galette, keep each half together, place cut side down, and fan out slightly. No need to be fussy here – galettes are extremely forgiving.
Finish the galette with an egg wash and a generous sprinkling of large-grain sugar like cane or turbinado (regular granulated sugar is fine too!).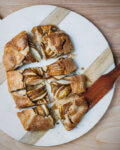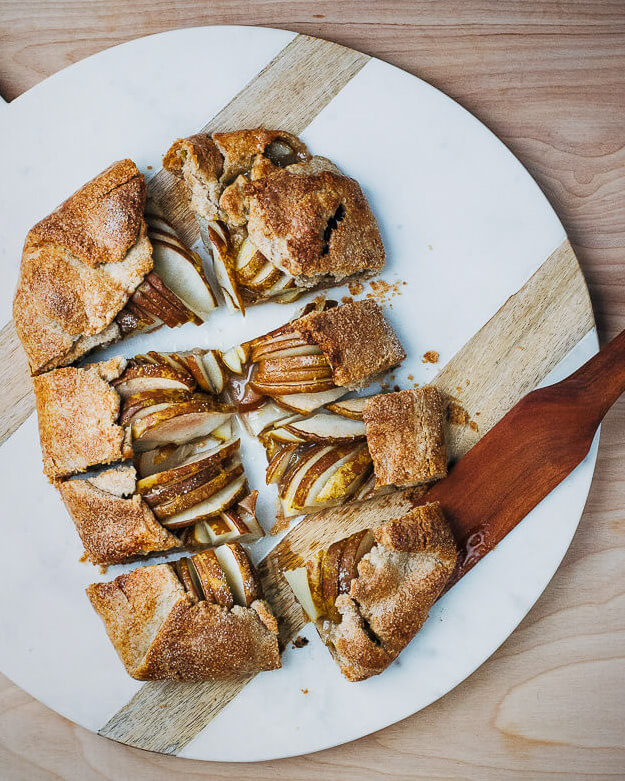 Pear Galette with Rye Crust
A pear galette recipe with a buttery rye crust that makes for a wonderfully rustic fall dessert!
Ingredients
For the Pear Filling
3

medium pears

, cored and cut into 1/8-inch thick slices

3

tablespoons

sugar

, plus more for the crust

Zest of 1 lemon

1/2

teaspoon

freshly grated nutmeg

Pinch sea salt

1/2

cup

pear or apricot jam

1

egg, lightly beaten
For the Rye Crust
3/4

cup

all-purpose flour

1/2

cup

rye flour

1

tablespoon

sugar

1/2

teaspoon

sea salt

8

tablespoons

unsalted butter

, cold

1

tablespoon

vodka

4 - 5

tablespoons

ice water
Instructions
In a large bowl, use a fork to combine flours, sugar, and sea salt. Grate in butter and massage into flour with fingertips until it has a uniform, crumbly texture. Fold in vodka and then just enough ice water for dough to hold together when pinched.

Turn out onto a lightly floured surface, gather into a disc, and wrap tightly with plastic. Chill 30 - 60 minutes. For airier dough, roll dough into a rough 8 x 15-inch rectangle, fold inward into thirds, and then roll envelope just enough to hold together, rewrap dough, and chill for 30 minutes or longer. Repeat 3 times. (More on the technique here.)

Preheat oven to 425 degrees F. If desired, line a rimmed baking sheet with parchment.

In a large mixing bowl, toss to combine pears, sugar, lemon zest, nutmeg, and sea salt. For a prettier presentation, gather the pears into groups in graduated sizes as you place them in the galette. (See 'Assembling the Galette' above for more info!)

On a lightly floured surface, roll chilled dough into an 11 x 14-inch rectangle. Set on prepared baking sheet. In the center of dough, spread jam into a 5 x 8-inch rectangle. Gather pears side-by-side and arrange within the jam rectangle. Fold up the sides around the filling, crimping the dough as you go. Brush crust with egg wash and sprinkle with sugar.

Slide galette into oven and bake 10 minutes. Rotate pan, turn heat down to 375 degrees; bake 30 - 35 minutes longer or until filling is bubbling and crust is a rich golden brown.

Cool 2 hours, slice, and serve.