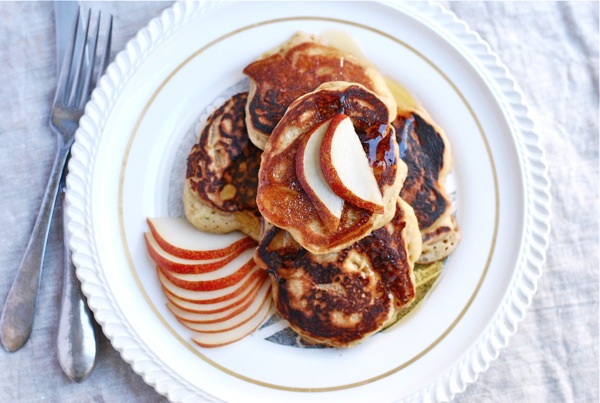 The season has changed in the city. The sky has turned that unmistakable clear September blue, and the trees are edging toward yellow, with bunches of leaves giving up altogether and falling from trees still green. The sounds of fall are here too–the brisk wind and the last frenzied twittering of the birds. I can hear both right now through open back door. Though almost dead, my yellowed tomato plants out on our 3rd-floor roof deck have started sending brand new shoots into the sky (a tribute I guess to the cooler daytime temperatures). And yesterday, we got our second shipment of jewel-toned pears in the CSA share, signaling that fall really is here.
As it turned out, a couple of russet red Bartletts were the perfect thing for these airy pancakes. For lots of reasons I've been craving a little comfort food lately, so this morning, I made these buttery, light, tangy pancakes for myself. The baby is still sleeping, and she can have some too, but there is something irreverent and awesome about making pancakes just for me, and you too. So, get yourself a scarf and some tea, open the windows wide, and cook up this perfect early fall plate.
Pear Pancakes with Vanilla and Lime
serves 2 – 3
2 tablespoons butter, melted and cooled
1 cup unbleached all-purpose flour
1 teaspoon baking powder
1 teaspoon baking soda
1/2 teaspoon sea salt
1 tablespoon dark brown sugar
zest of 1 lime
2 tablespoons fresh-squeezed lime juice
1 egg
1 cup yogurt
1 cup sliced pear (about 1 1/2 medium pears)
, plus more for garnish
oil or butter for cooking
Melt the butter and set aside. Preheat a large skillet over medium-high heat.
To slice the pear, cut into thin slices lengthwise. Discard the core, and cut the lengths into thirds. I cut the lengths using a diagonal cut for a prettier slice.
In a medium bowl, combine the flour, baking powder, baking soda, and sea salt, and stir together with a fork.
In a small bowl, combine the sugar, zest, lime juice, egg, and yogurt. Fold into the dry ingredients and stir just until combined. Fold in the butter, vanilla extract, and pear.
Add about 1 teaspoon of oil or butter to your skillet, and spoon in the batter, allowing for 2 – 3 tablespoons batter per pancake. Cook each side for 2 – 3 minutes, and flip.
Serve immediately with sliced pear and maple syrup.