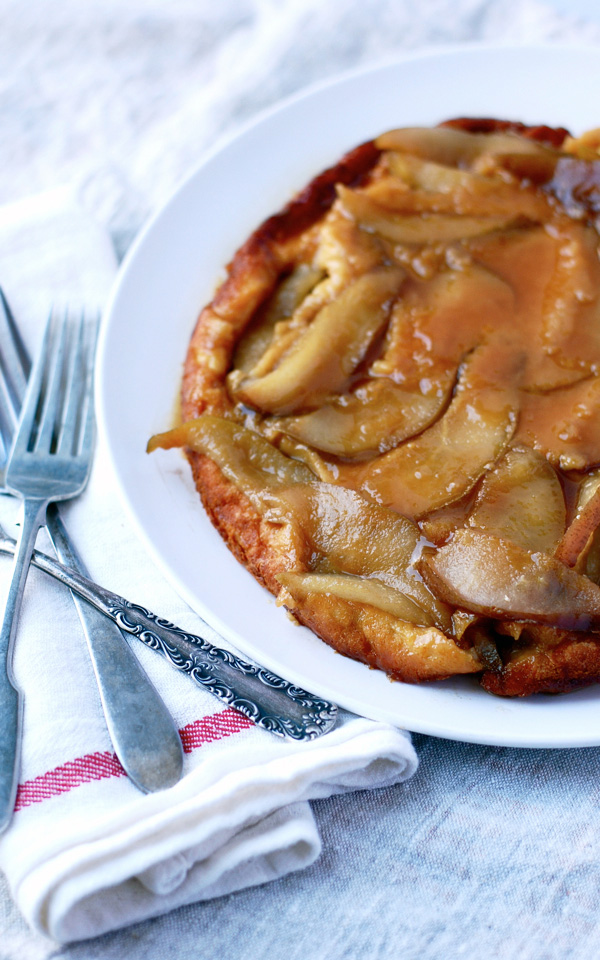 If I were starting from a place of perfect ignorance of breakfast foods and tasked with naming them all like Adam and the animals, the Dutch Baby Pancake is probably what I would give the name "pancake" to. I mean, if someone told you, "Here's a pan, make a cake," you would mix up some batter, pour it into the pan, and stick it into the oven, right? And that simple fact right there, demonstrates why the Dutch baby pancake is such a fabulous breakfast. Because it really is a sort of cake. Or something between a cake and an English pudding. That you eat for breakfast. And it's hot. And delicious. As it stands, though, I haven't been given the duty of naming breakfast foods and that's probably for the best because I imagine it's thankless work and no matter what I came up with, people would rip on me nonstop on the internet. "why did u naem it bacon lol? u don't bake it lololol."
Elizabeth's Dutch baby pancakes are especially dear to me, because she makes them like upside down cakes, with a layer of cooked fruit at the bottom of the pan that becomes a wonderful, sweet, caramel-y topping when served. In this version, she used pear and vanilla which go together exactly as beautifully as you would imagine. If you're a regular reader, you know that Elizabeth and I are really influenced by the weather in our cooking, so I'm tempted to say this warm, sweet dish is just right for a cold, gray winter morning like the one we ate it on. But if I step back and think about it, it sounds just as good on a misty spring morning, a summer morning with a nice breeze, or a crisp autumn morning. This is one of my favorite breakfasts and I think it will be one of yours, too.
And in case you're wondering, I'd have named regular pancakes "cake-crepes" or something like that.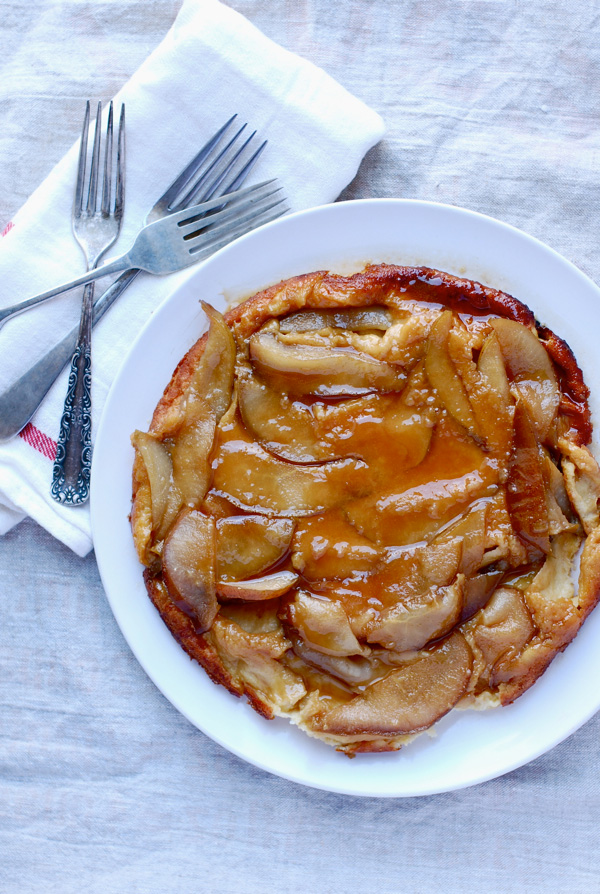 Pear Vanilla Dutch Baby Pancake (adapted from our recipe on Babble Food)
2 tablespoons butter
2 small, firm Bartlett or Red Bartlett pears, cored and cut into thin slices
2 inch segment of vanilla bean, split
1/3 cup honey
1 tablespoon lemon zest
3 eggs
3/4 cup milk
3/4 cup all-purpose flour
1/4 teaspoon sea salt
Preheat the oven to 400 degrees. In a 10 inch oven-proof skillet over medium-high heat, melt the butter until fragrant and bubbly. Scrape the vanilla seeds into the butter, and toss in the pod too. Add the pears and cook for about 4 minutes, gently nudging them until they have softened and absorbed some of the butter. Add the honey and zest. Remove from heat and set aside while you prepare the batter.
In a medium bowl combine the eggs, milk, flour, and salt. Whisk the batter until it is dotted with small bubbles and has a smooth consistency. Remove the vanilla pods, and pour the batter over the pears in the skillet.
Place the skillet in the oven and bake for 25 – 30 minutes, or until the pancake is golden on the edges and has started to pull away from the sides of the pan. Cool briefly, and then scoop out onto a platter, or just slice out of the pan.