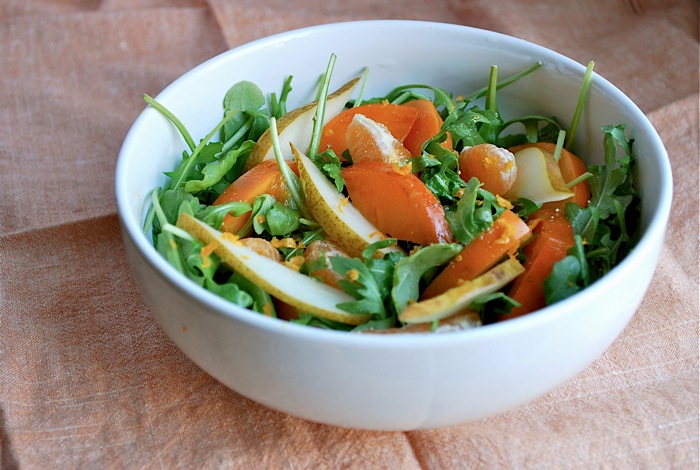 Dear December, please slow down. I want to enjoy every second of pine needles, Christmas lights, candles, cinnamon, clementines and laughter. I want to cry to "Have Yourself a Merry Little Christmas" and dance to "Christmas in Hollis" at least five more times. I want to bake cookies for the world, make my own eggnog, make my own holiday gifts, and wear something glittery for a night out on the town. But you, December, seem to have different plans and are rushing by at lightning speed, and I feel a little lost in your speedy wake.
As the days of December rapidly fly by, I've been doing my best to eat simply. There's no time for fancy lunches or elaborate dinners–instead I'm taking comfort in yogurt with apples, celery sticks, and cheese sandwiches. And when I do need to come up with something presentable, I'm reaching for simple, yet beautiful, salads like this persimmon and pear number.
Soft, sweet persimmons contrast with the crisp bosc pears, tangy clementines, and pungent arugula. A bright and lightly sweet clementine dressing with a hint of fresh ground white pepper ties it all together.
Persimmon, Pear, and Clementine Salad with a Clementine Vinaigrette
2 persimmons (Fuyu are my fave)
2 russet pears
1 bunch arugula
zest of 1 clementine, plus 2 tablespoons juice
2 more clementines, sectioned
3 tablespoons olive oil
1/4 teaspoon salt, or more to taste
1/2 teaspoon white pepper
Remove the stem, core, and slice the persimmons. Core and slice the pears. Zest, peel, section, and juice the clementines. Set aside.
Whisk together the remaining ingredients, but reserve a few pinches of zest for garnish. Place arugula in a bowl, dress the leaves generously with your hands. Gently add the fruit. Garnish each bowl with a sprinkle of clementine zest.