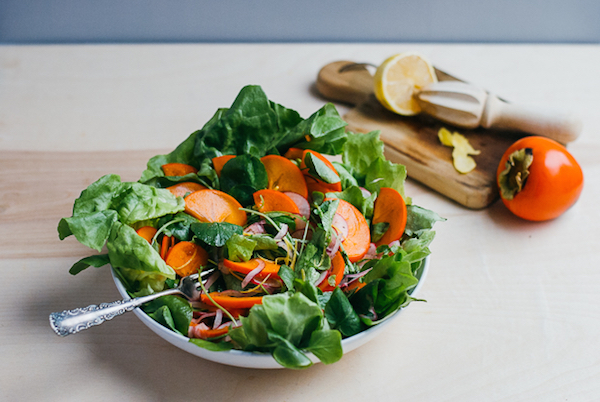 I'm pretty sure that the work week after Thanksgiving is the longest of the year. And this one, especially. Christmas preparation and hard news are a strange and terrible combination.
Brian and I have been staying up late discussing the week's news, exchanging links, and sharing social media discussions. After such a long, heavy kind of week, I'm looking for holiday escapism –– getting our tree, ice skating, making cookies, and all that. But first, my weekend links.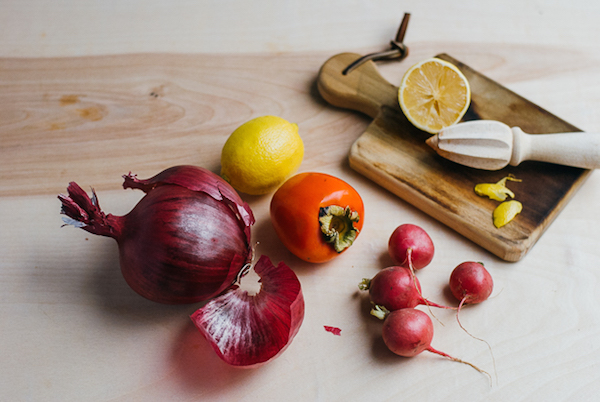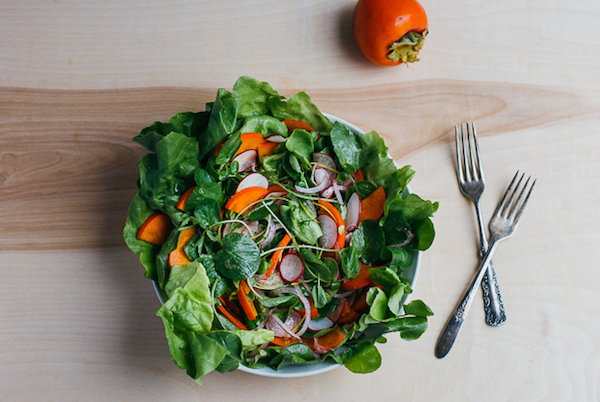 Let's start with the lighter stuff. Up first is a pretty holiday salad I put together for my 'Salad Days' column on Food52. It features the deep orange of persimmons, and contrasts their sweetness with thinly sliced radish and red onion, along with delicate lettuces and a lemony vinaigrette. Get the recipe here.
Unique international spirits that would make excellent holiday gifts, on Condè Nast Traveler.
Holiday food traditions can be wonderful and burdensome. On Babble, we've got a few tips to help you sort them out, create your own, and ditch traditions that don't resonate.
8 Unusual wines from around the world, on Condè Nast Traveler.
Roasted grape and butternut squash with kale and Parmesan, on Food52.
I'm a University of Virginia alumnus. My time at UVA is the reason I fell in love with Charlottesville and the reason I live here now. Clearly, the brutal assault portrayed in the Rolling Stone article was horrifying and deserved immediate action and investigation. To many of us closer to the scene, though, many things in the article didn't add up. Yes, UVA has a reputation for being an elite school for the wealthy, but it's also a public institution with a relatively diverse student body. Fraternity culture was definitely not my thing when I was in school, and while many of the stereotypes portrayed in the piece rang true, in many cases, these truths were exaggerated. We were all saddened to learn that the piece in Rolling Stone, one which essentially turned the academic and media worlds upside down, was not reported or fact-checked well. Nonetheless, the piece pointed out serious issues with the ways sexual assault is investigated and tried at the university. My hope is that UVA will continue to asses and revise their policies in a way that puts the needs of victims first. This has all gone on too long.
In the face of it all, this piece in the Washington Post is a lesson in journalism done right. It deals well with the messy, difficult world on which it is reporting, and leaves bias at the door.
This piece is a much-needed look at an incredibly complex issue, unpacking journalistic bias and facts in a thoughtful way.
I was glued to my Twitter feed this week as the unbelievable news came that the officer whose use of a banned chokehold that led to the death of Eric Garner would not be tried. WNYC (the public radio station of NYC) has a Twitter list of news on the ongoing protests and fallout. And the #EricGarner hashtag on Twitter is an excellent place to go for reactions and continuing protest information.
This is a long interview with Chris Rock, but one well worth the read. Smart and funny, of course, but also a refreshing perspective on everything from race to politics to President Obama's cool factor and place in history.
A closer look at the Food Babe.
Mapping migration in each of the 50 states.
Stuff is hitting the fan at The New Republic.
Solid career advice, for any age, really.
A great gift guide from Tim of Lottie and Doof.
This is why I never tweet when the Saveur Food Blog nominations are announced. (Kidding. Mostly.)