Celebrating the season's first shoots with a vibrant spring onion and chive pesto pasta tossed with sautéed shrimp that's perfect for dinner parties or a quick weeknight meal.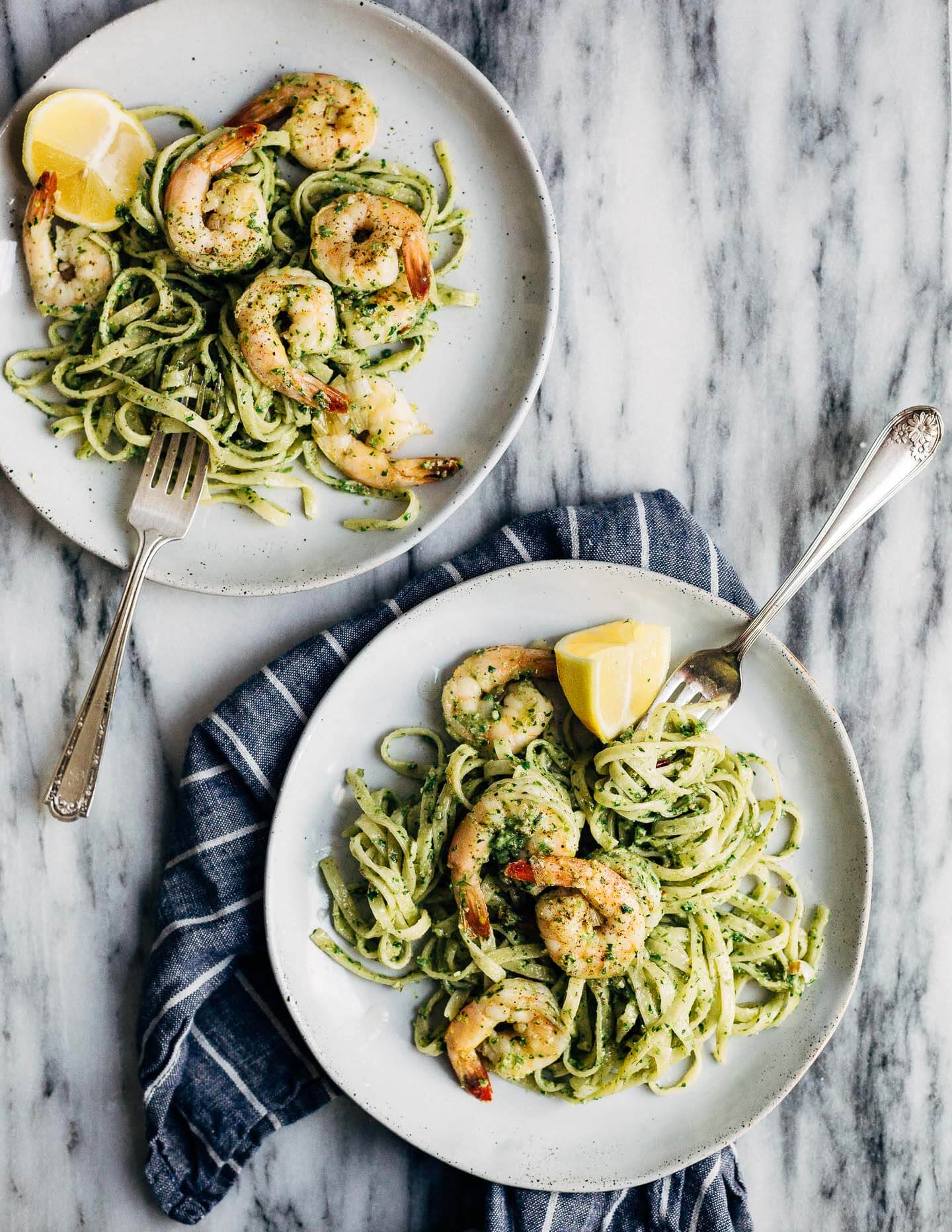 When I was nine years old, after a divorce, my mother and I moved from the Virginia suburbs of DC all the way to Chula Vista, a suburb just south of San Diego. My aunt lived there and I think my mom was looking for a fresh start. We left my older siblings and my dad behind, and started a new chapter, just the two of us.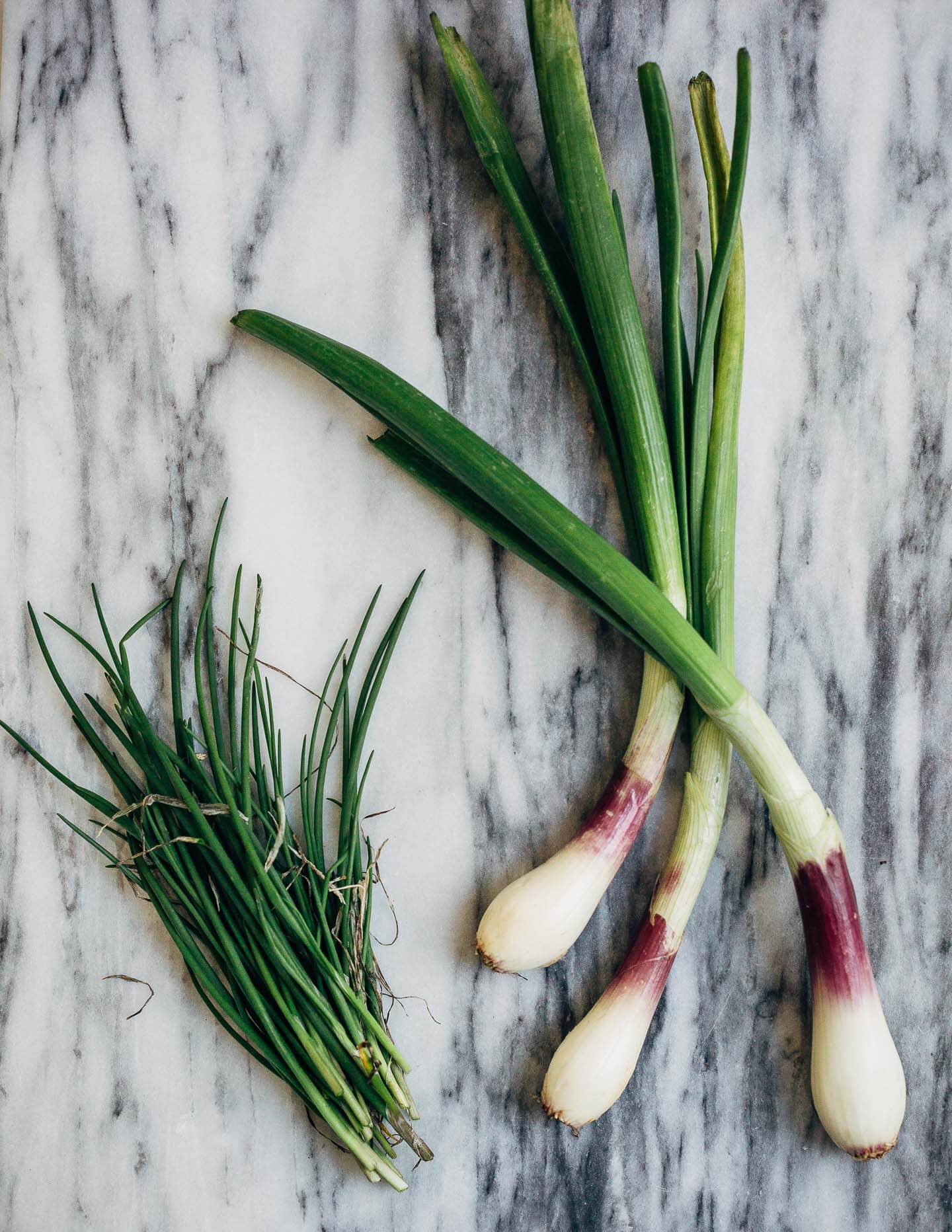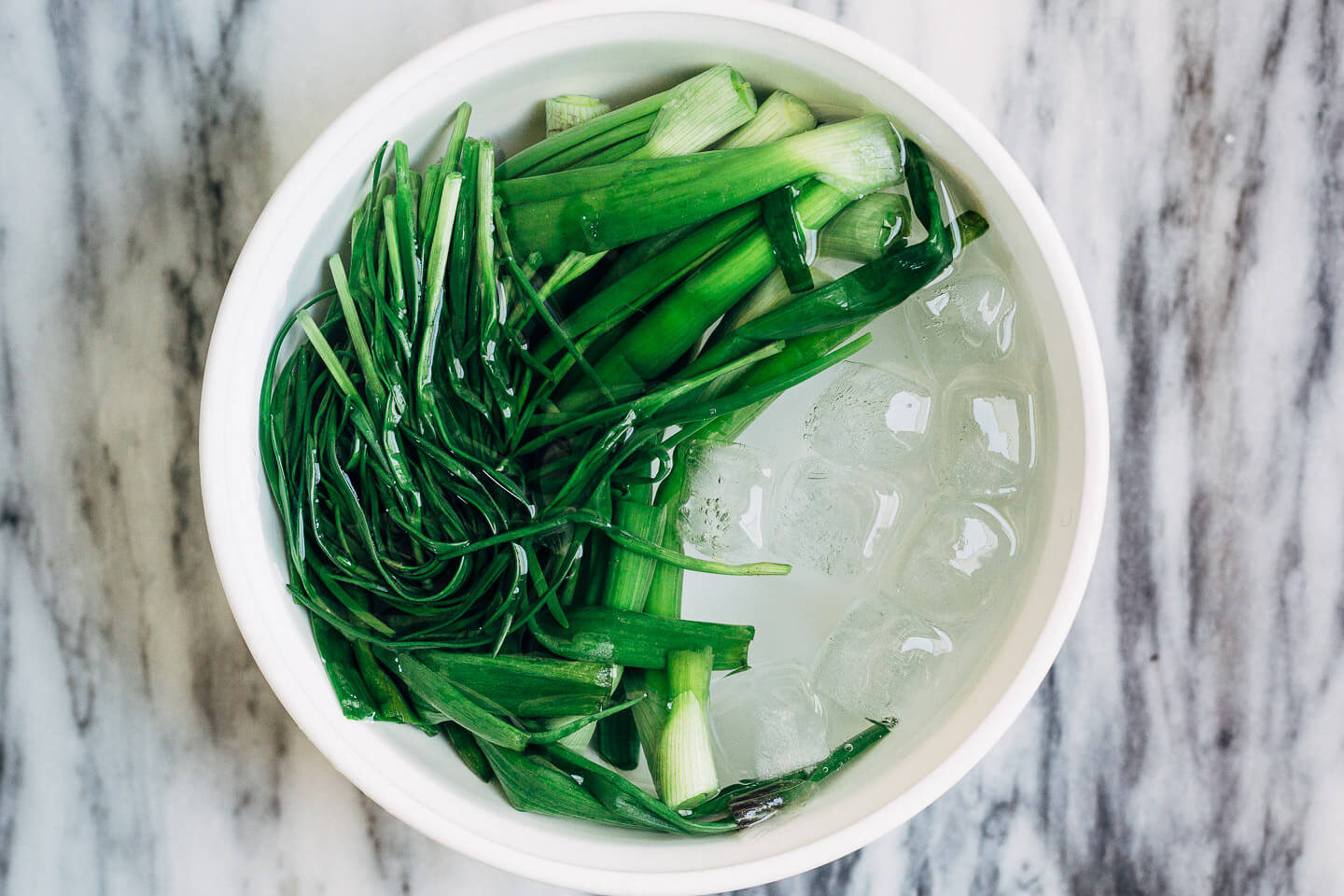 It was a rough transition in all the predictable social ways, but it also felt a little bit like we'd landed on Mars. The Southern California landscape, naturally parched and artificially verdant, was strange. I exchanged the familiar first markers of spring – the forsythia bush that bloomed in my best friend Kathy's yard and the daffodils that pushed up each year in my own yard, for a single stretch of maple trees on H Street that lost their leaves in January and promptly grew them back a month later. Eventually, life on planet California became my normal and the seasons and pollen of the East lost their familiarity.
One spring, my mom and I were back East for a visit. We drove through the Appalachian mountains making our way from Ohio to Pennsylvania. Staring out the window, The Pixies blaring in my yellow walkman, I was struck by the patchwork of color covering the nearly-blooming mountains. Unlike the bold colors of fall or the saturated hues of summer, this was an array of muted whites, pastel greens, purples, and pinks. After years in California, I was amazed by the quiet beauty of this moment just before spring comes on full force. All these years later, I remember that kernel of excitement – spring is coming.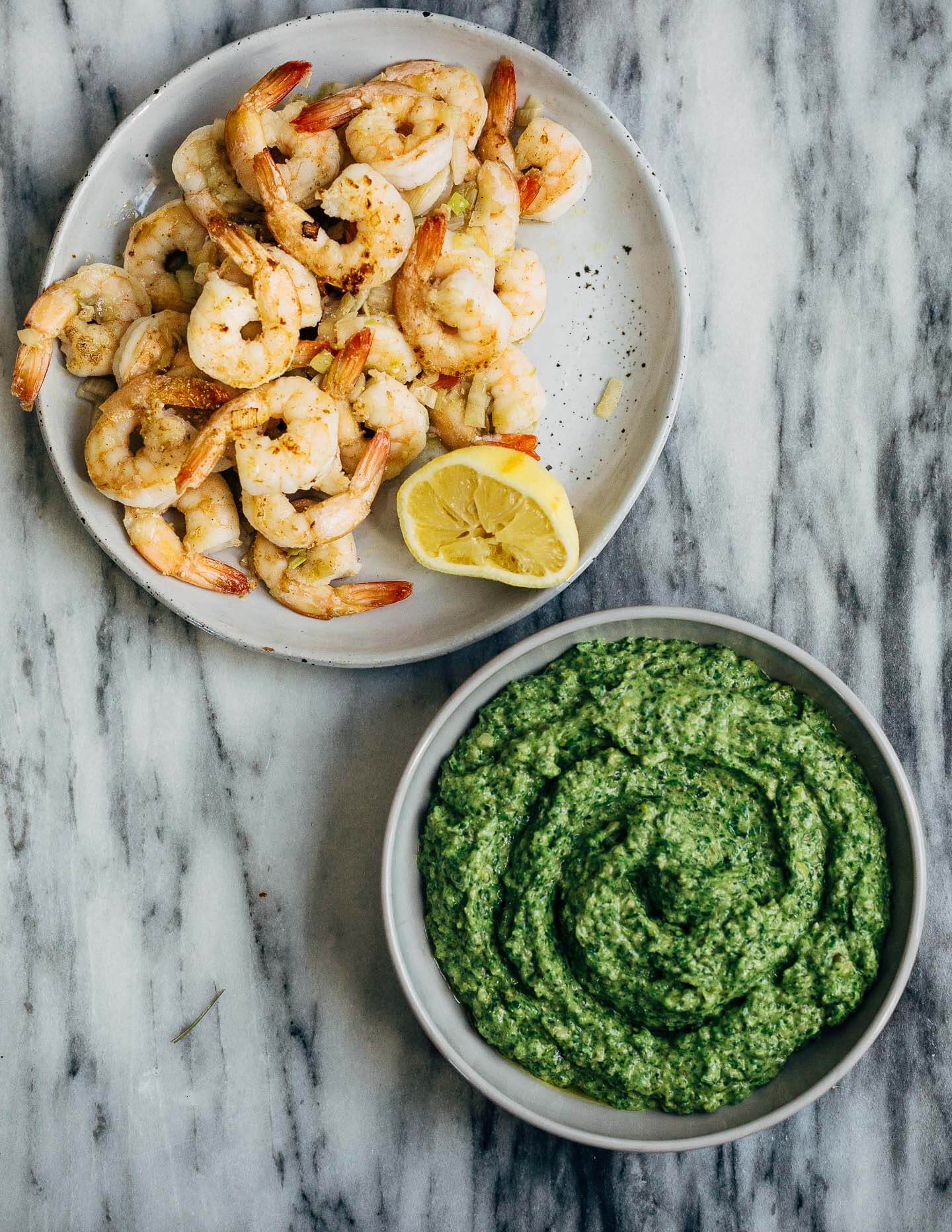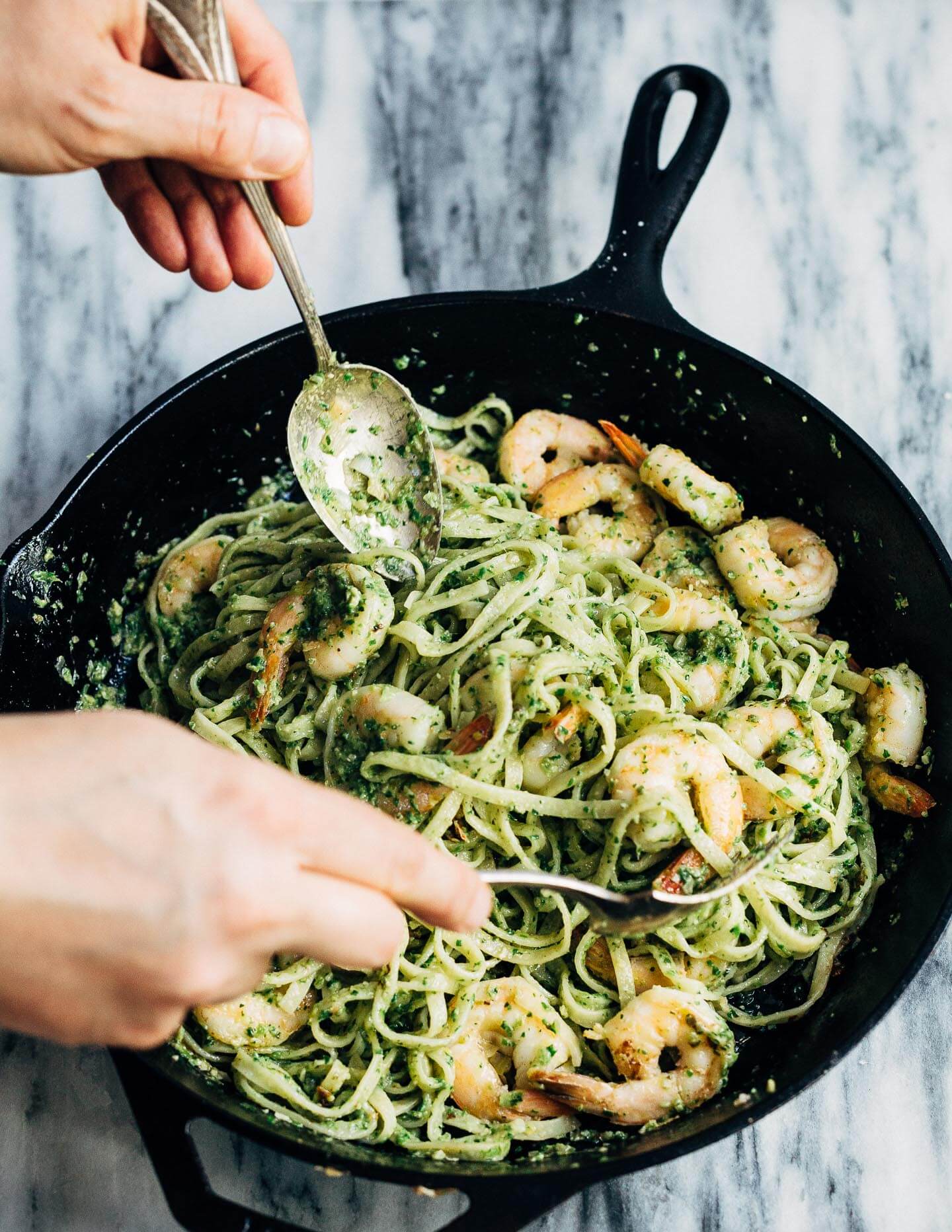 Now, back East for years, I think of this moment each spring. In my backyard, spring blooms are nearly here and in the garden, the chives are up. The first new, green things of the season – the return of local produce – is always a cause for celebration. I love that the first spring dishes are brimming with pungent alliums, but like the understated not-yet-flowered hues of those early spring trees, this spring onion and chive pesto pasta with shrimp embraces subtlety. The spring onions and chives that make up the base of the pesto get a quick dip in salted boiling water followed by a plunge into ice water. Blanching not only preserves the vibrant hue, it also tempers the flavor of these punchy alliums. The flavor is creamy; wonderfully green tasting, but not overwhelming. Tossed with pasta and topped with sautéed shrimp, this dish is at once celebratory and quick enough for a midweek dinner.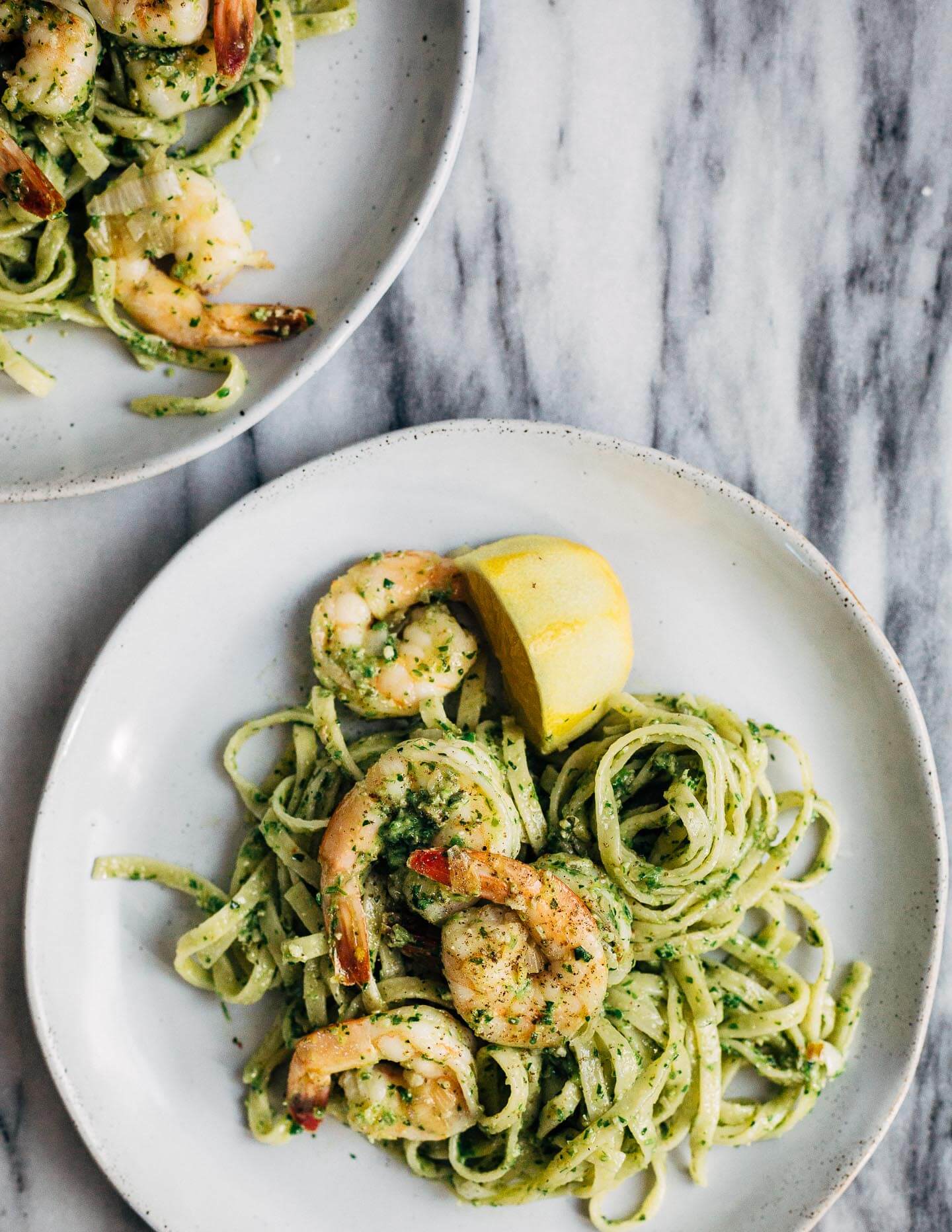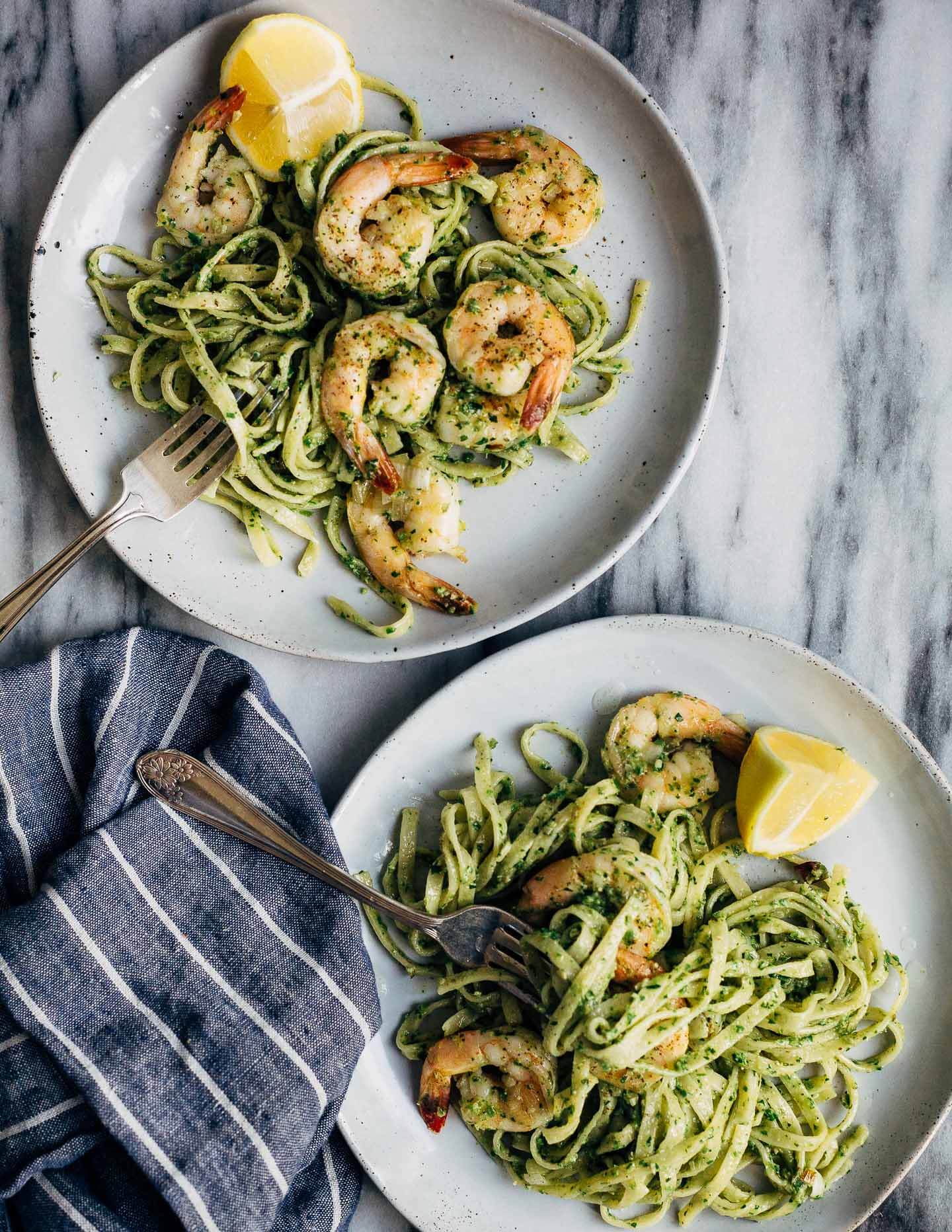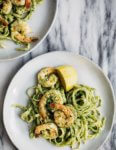 Spring Onion-Chive Pesto Pasta with Shrimp
A vibrant spring onion and chive pesto pasta tossed with sautéed shrimp that's perfect for dinner parties or a quick weeknight meal. Blanched onions and chives make for a mild, creamy pesto that's perfect for tossing with pasta, or just slathering on toast. This recipe makes extra pesto – it will keep well covered in the fridge for 3 days.
Ingredients
Pesto
2

bunches spring onions with greens

(6 - 8 small)

1

bunch chives

(3/4-ounce)

1

lemon

2

cups

parsley leaves

1/2

cup

raw,

hulled pepitas

1/2

cup

extra virgin olive oil
Shrimp Pasta
12

ounces

linguine or other ribbon pasta

2

pounds

raw, deveined shrimp

(peeled or unpeeled, see note*), thawed


4

tablespoons

extra virgin olive oil

sea salt

fresh ground pepper
Instructions
Pesto
Cut green and light green onion stalks from the white or purple bulb. Mince 2 bulbs; reserve remaining bulbs for another use. Zest the lemon, then cut into wedges and reserve.

Bring a large pot of generously salted water to a boil. While water boils, prepare a large bowl with cold water and ice.

Use tongs to plunge onion stalks into boiling water, just until wilted, 30 - 60 seconds, then plunge into ice water. Repeat process with the chives. Set pot and water aside – you'll want to use the same pot to cook pasta.

Squeeze ice water from onions and chives and set in the bowl of a food processor. Add parsley, pepitas, olive oil, zest of the lemon, and 1 teaspoon sea salt. Pulse until combined, then process just until smooth. Add sea salt to taste. Set aside.
Shrimp Pasta
Bring water used to blanche onions back up to a boil and cook pasta to al dente. Reserve 1 cup pasta water for plating pasta.

Meanwhile, heat 2 tablespoons olive oil in a large, deep-sided skillet over medium-high heat. Add reserved minced onions and sauté shrimp, working in batches so as not to crowd it. Sprinkle each batch with sea salt and pepper. Cook 1 - 2 minutes per side, until shrimp pinks up and is slightly firm to the touch. As you cook, add additional 2 tablespoons olive oil as needed. Remove cooked onions and shrimp to a platter or large bowl. Toss shrimp and onions with a squeeze of lemon juice.

Remove skillet from heat. Toss to combine sautéed onions and shrimp, pasta, and 1/2 cup pesto. Add additional pesto to taste and several splashes pasta water as needed to thin mixture. Add sea salt and pepper to taste.

Serve immediately with a lemon wedge on the side.
Recipe Notes
*To thaw frozen shrimp, set in a bowl of water under a trickle of cold running water for several minutes. Toss shrimp periodically. Shrimp should thaw in about 20 minutes. 
**Though peeled shrimp are easiest to work with, unpeeled shrimp have superior flavor. Go with whatever makes sense for you. When buying shrimp, I look for shrimp from the USA since imported shrimp can be caught up in exploitative labor practices.
SaveSaveSaveSave
SaveSave
SaveSave
SaveSave
SaveSave
SaveSave
SaveSave