A recipe for wonderfully delicious homemade pimentón aioli that's velvety in texture and smoky and bright on the palate; and an ode to the best sandwich ever: the Saltie Scuttlebutt.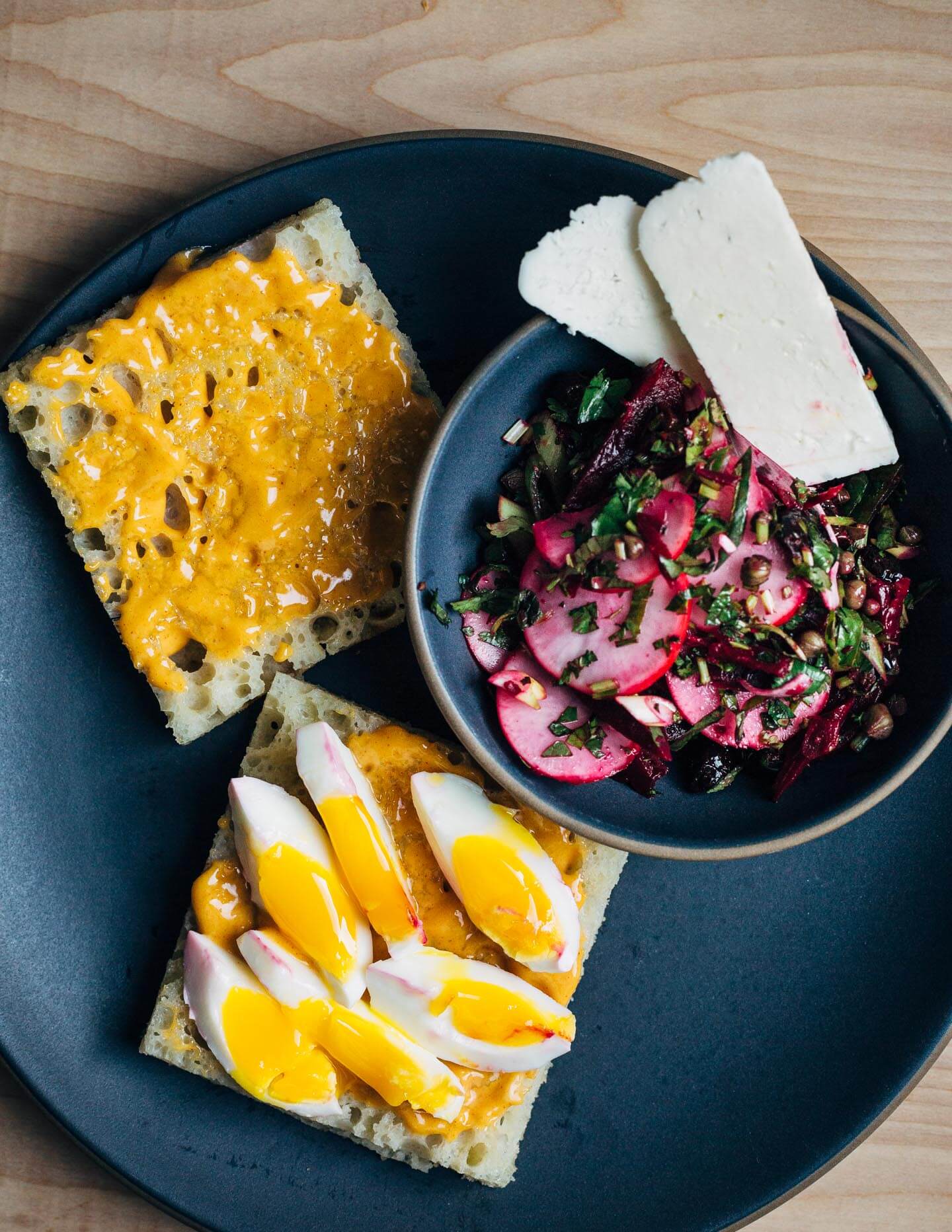 The last meal I ever had in my Brooklyn apartment was a Scuttlebutt sandwich from our favorite neighborhood sandwich shop Saltie. Piled with eggs, herbs, and pickles, the Scuttlebutt masquerades as a sandwich, but it's really just a very delicious salad served between two slices of tender focaccia. Saltie had about 5 seats but was very close by, so Brian and I usually got our sandwiches to go. At home, I'd carefully slide the "sandwich" onto a plate and ready my knife and fork – a single bite was all it took for the salad to burst out of the other side of the focaccia.
But for my last meal in that apartment, and as it happened, my last Saltie Scuttlebutt, we had no silverware, no plates, and unfortunately, far too few napkins. No matter, Brian, myself, and our very dear friend (the kind of true and good friend who helps you move out of a third-floor walkup) were starving and happily ate our unruly sandwiches in the empty, echo-y front room of that tilting, ramshackle third floor apartment.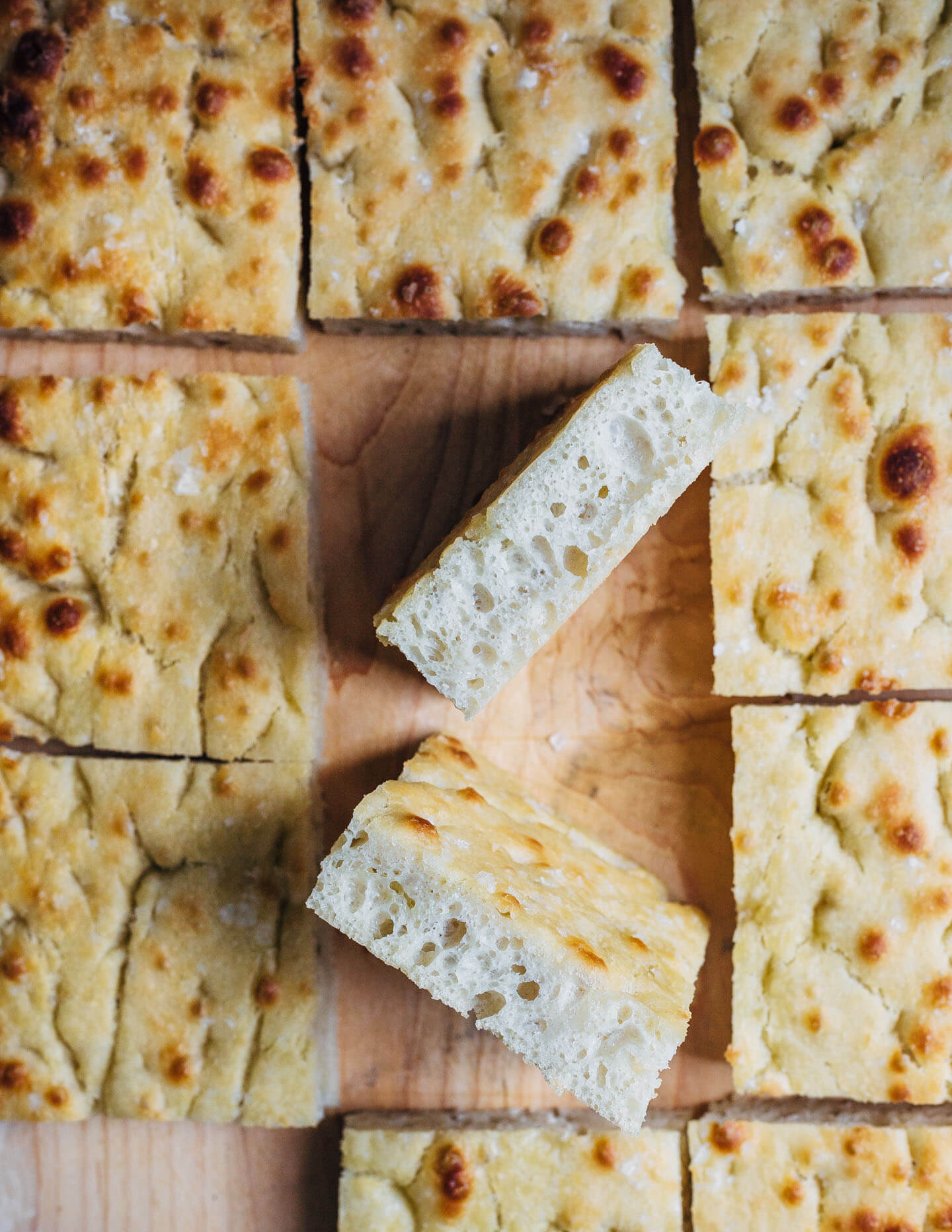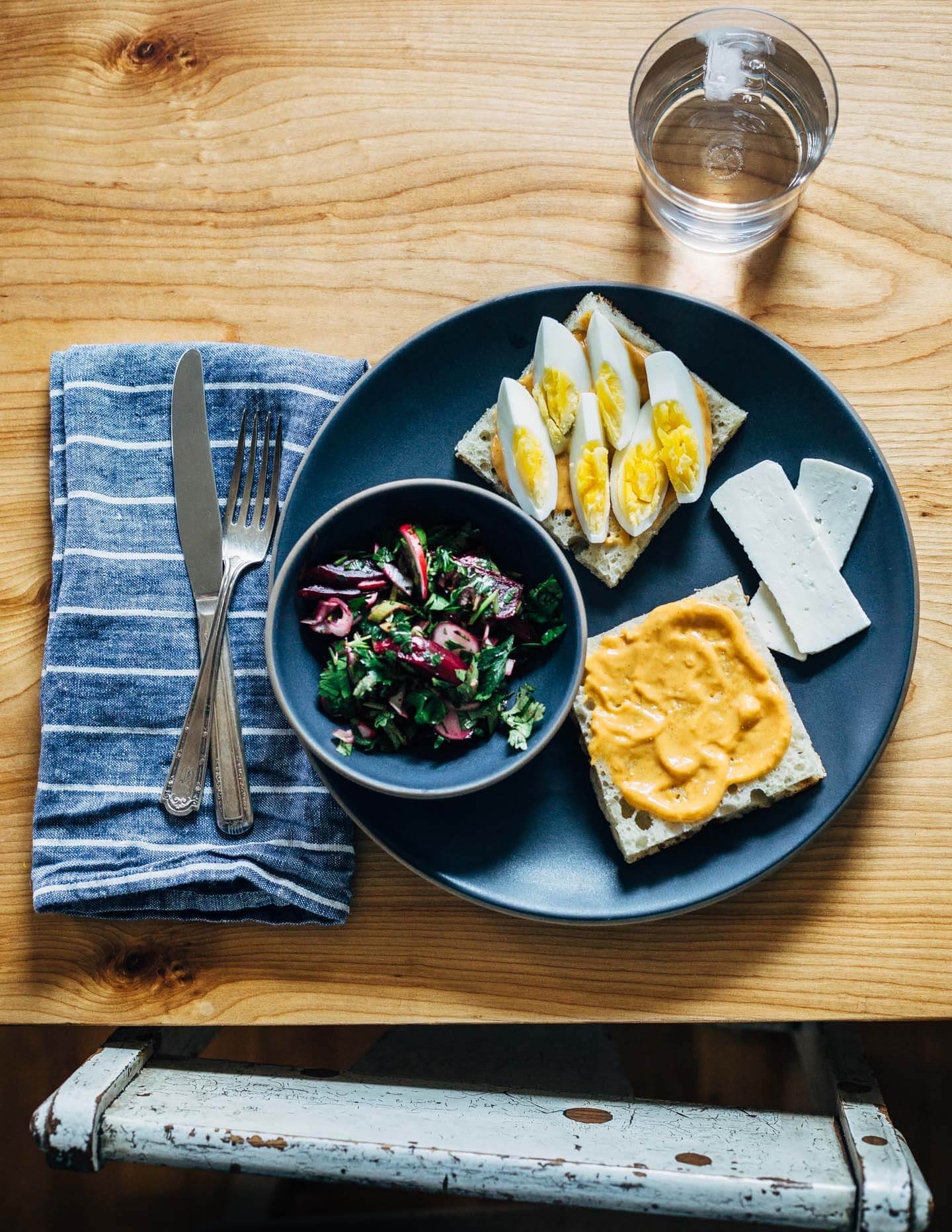 Recently, I had Brooklyn on my mind and recalled that moment. My 11 year-old daughter and I were planning a trip, and I got to thinking of the old neighborhood and all my beloved haunts. Chief among these loves is Saltie. Sadly, it's gone now, so I opted for the next best option: I ordered the cookbook and set about making my very own Scuttlebutt. Saltie: A Cookbook is authored by food goddess Caroline Fidanza, and reading it, I realized how much of my cooking was influenced directly by her and her work at Diner, the Diner Journal, and later, Saltie.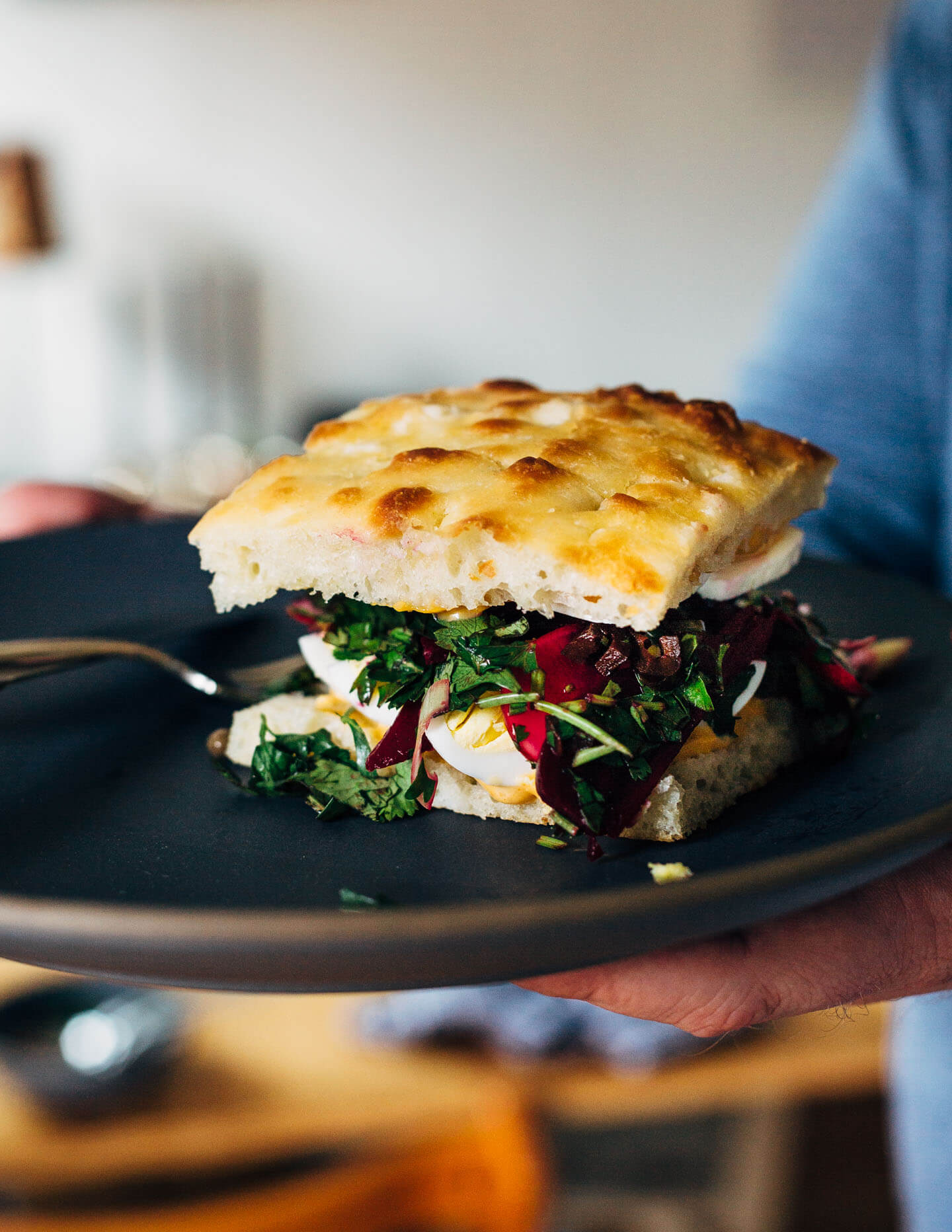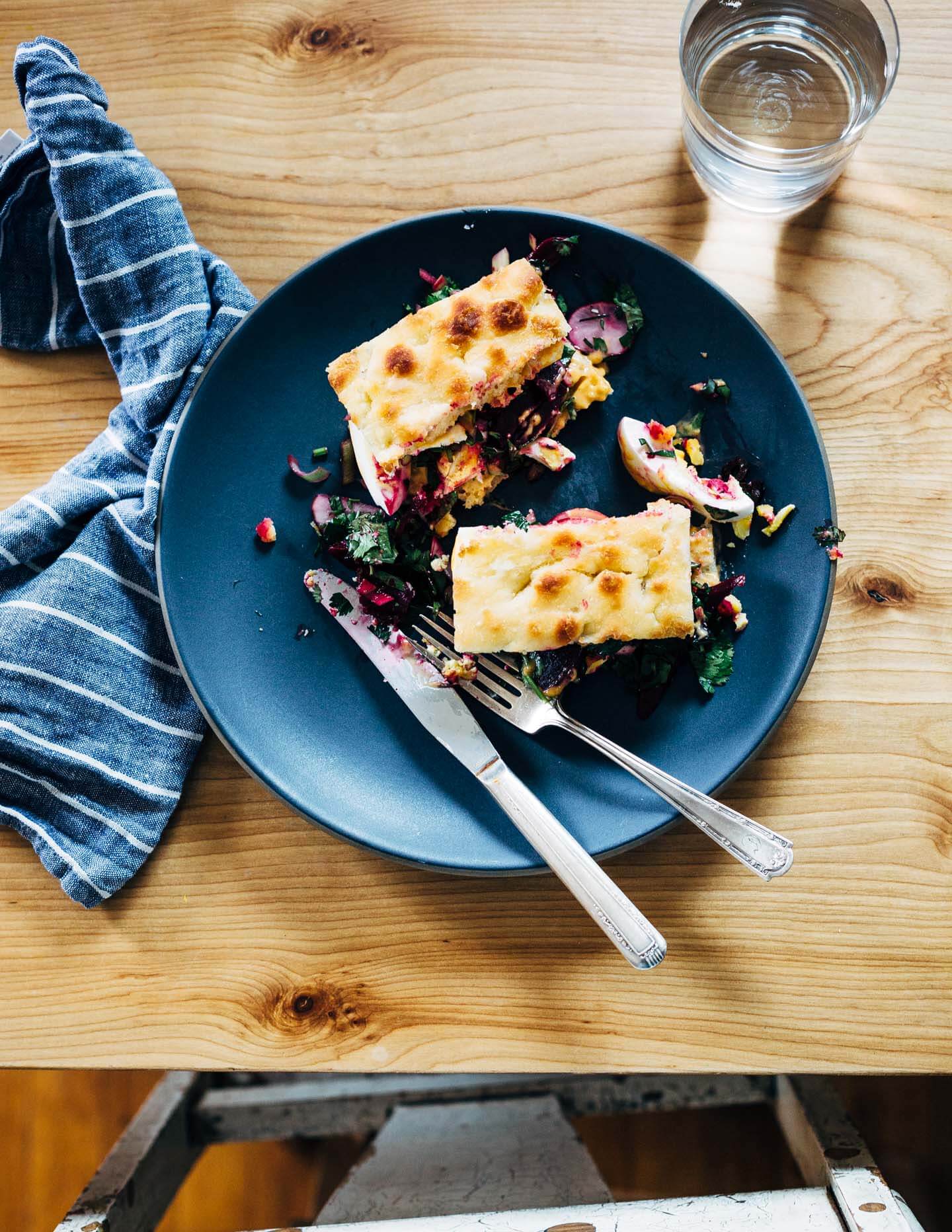 The layers of a Scuttlebutt do not come together quickly, though each step is simple enough. First, you need to mix up the focaccia dough and let rise for a day or two in the fridge. You'll also want to make up the pickled beets and let those chill overnight. When the time is right, you bake the bread, steam the eggs, whip up the pimentón aioli, and prep the herb salad. At last, assemble it all with big slices of briny feta and then savor each and every bite, knowing that a days worth of Scuttlebutt sandwiches is 100% worth the effort.
Years back, Marian Bull offered the detailed Scuttlebutt recipe over on Food52; here's the focaccia and here's the recipe for pickled beets and herb salad. Below, I'm sharing the subtly delicious, tie-it-all-together essential: pimentón aioli. Pimentón, or smoked paprika, lends distinction to everything from seared fish to hummus, but in this aioli, it absolutely sings. From here on out, I'm forgoing any kind of dip at parties in favor of this rich, smoky aioli.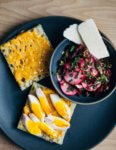 Saltie's Pimentón Aioli
A recipe for wonderfully delicious homemade pimentón aioli that's velvety in texture and smoky and bright on the palate. This aioli is ideal for slathering on sandwiches, eggs, or potatoes, and makes a lovely dip for crudités.
Making aioli by hand is something of a learned art. If your emulsion breaks, just start over with a new yolk, whisking the broken emulsion in very slowly.
Ingredients
1

large garlic clove,

peeled and smashed

1/2

teaspoon

flaky sea salt,

plus more to taste

1

large egg yolk

2

teaspoons

sherry vinegar

3/4

teaspoon

pimentón

(aka smoked paprika)

1

cup

extra virgin olive oil

1 - 2

tablespoons

water,

if needed
Instructions
Using a mortar and pestle, pound and then press garlic and sea salt into a smooth paste. If you don't have a mortar and pestle, use the flat of a knife to smush and spread minced garlic on a cutting board until smooth.

In a large mixing bowl, steadied with a towel underneath, vigorously whisk garlic paste, yolk, vinegar, and pimentón until a creamy base forms.

Still whisking vigorously, add olive oil a very small drizzle at a time, whisking until each addition is fully combined. Continue adding just a drizzle, until you've added about a half cup of oil. From there, add oil in more generous glugs, making sure all additions are fully emulsified before adding any more. If mixture becomes too thick, whisk in a half tablespoon water – just enough to loosen the mixture slightly. Add more water if needed, but proceed with caution.

Taste aioli and add sea salt if needed. Aioli will keep sealed in the fridge for one week.