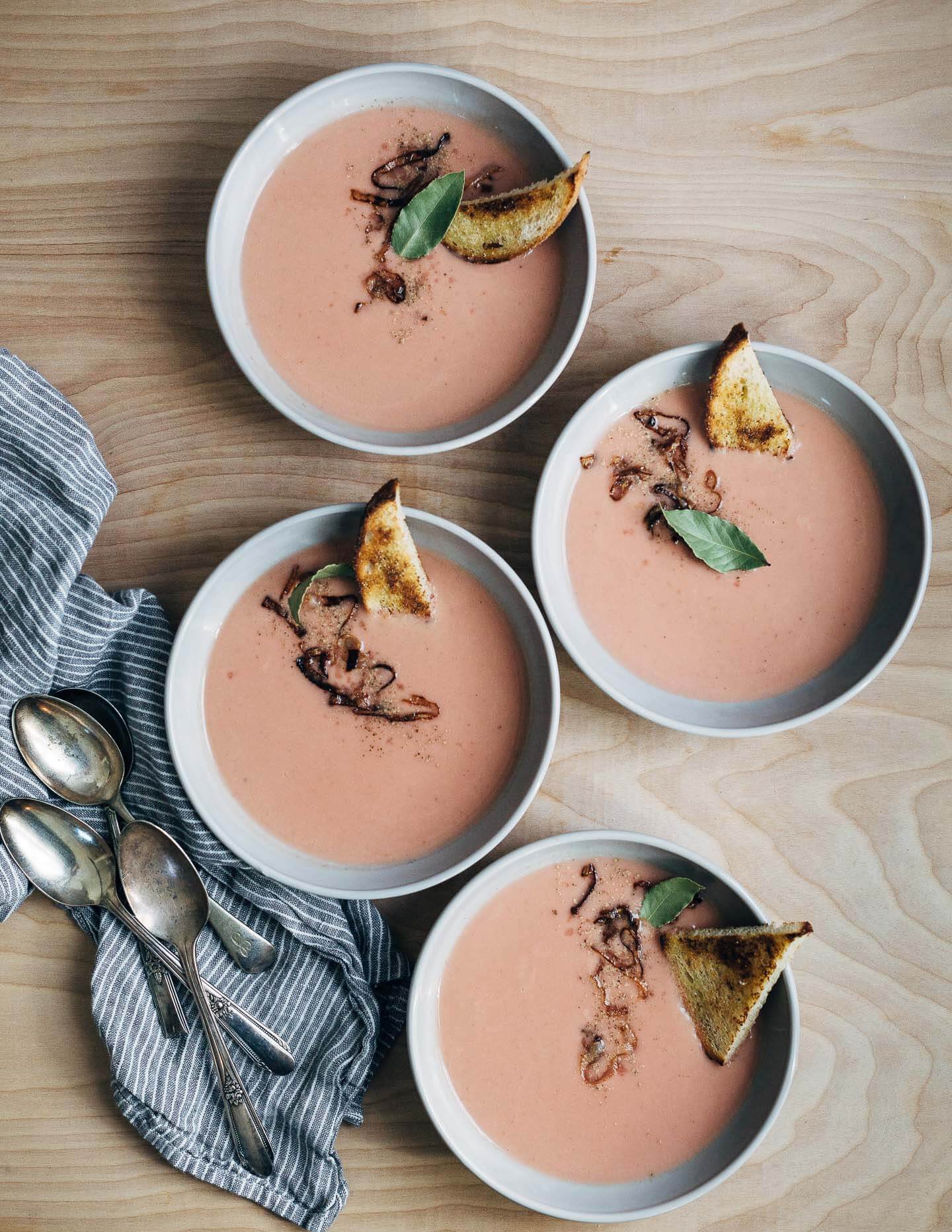 A pretty pink radish soup that highlights the earthy flavors of fall radishes, beets, and red potatoes, and is topped off with skillet croutons and crispy fried shallots. Jump to recipe.
Radishes are, generally speaking, the consolation prize of every CSA share. Plentiful and hardy, chances are you've had your fill already this season. And there's a decent chance that if you have a CSA, you have radishes in your fridge this very minute and no particular plans to use them.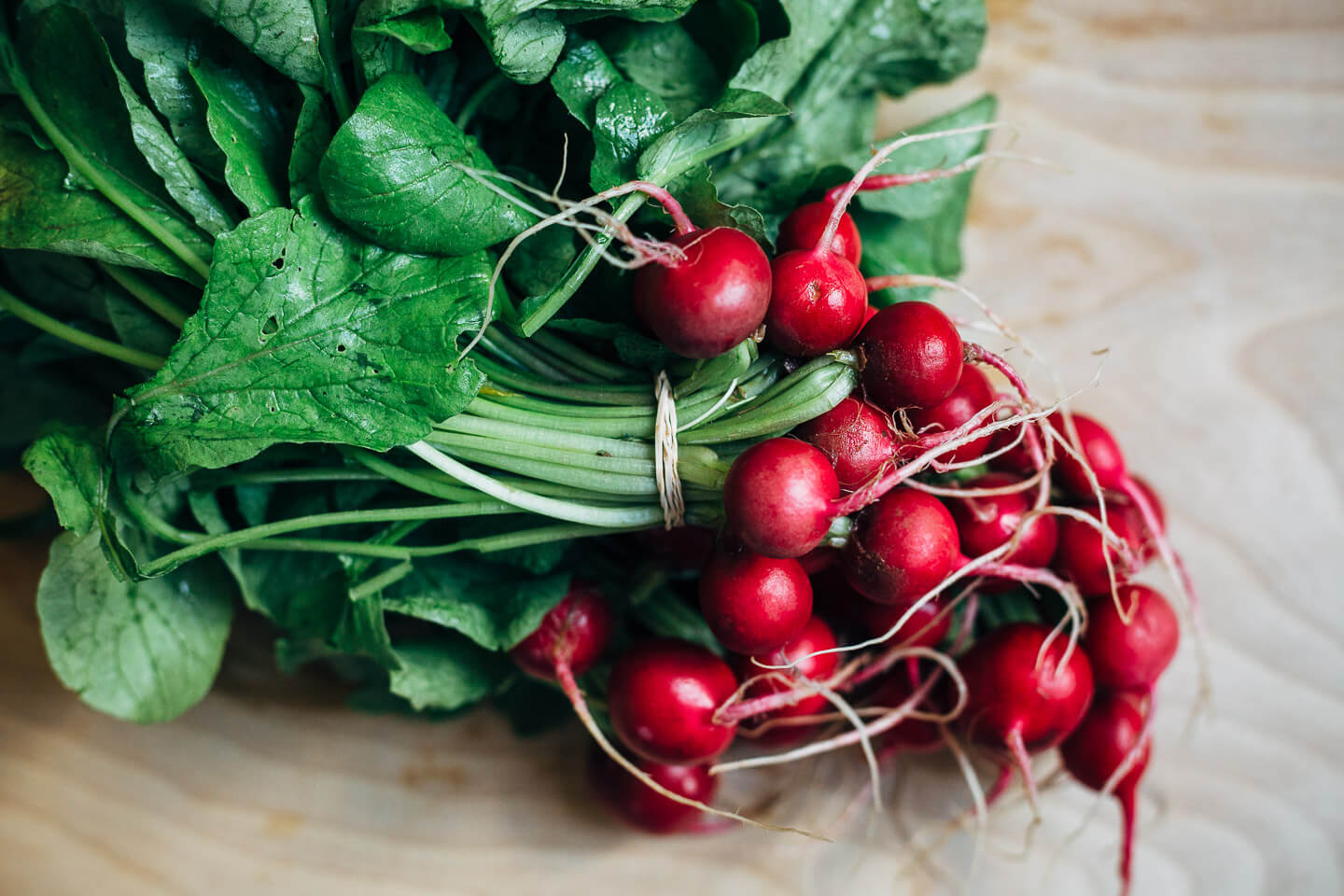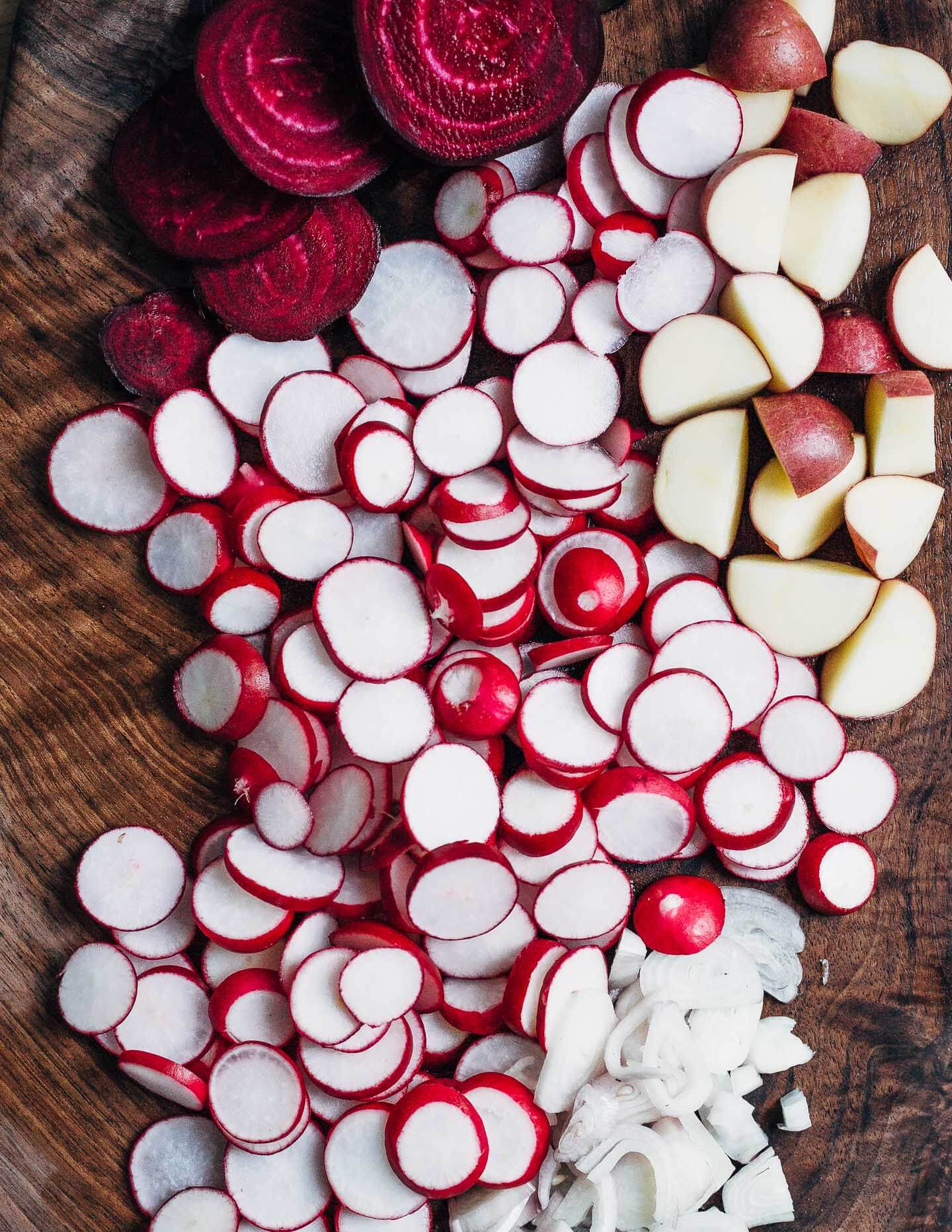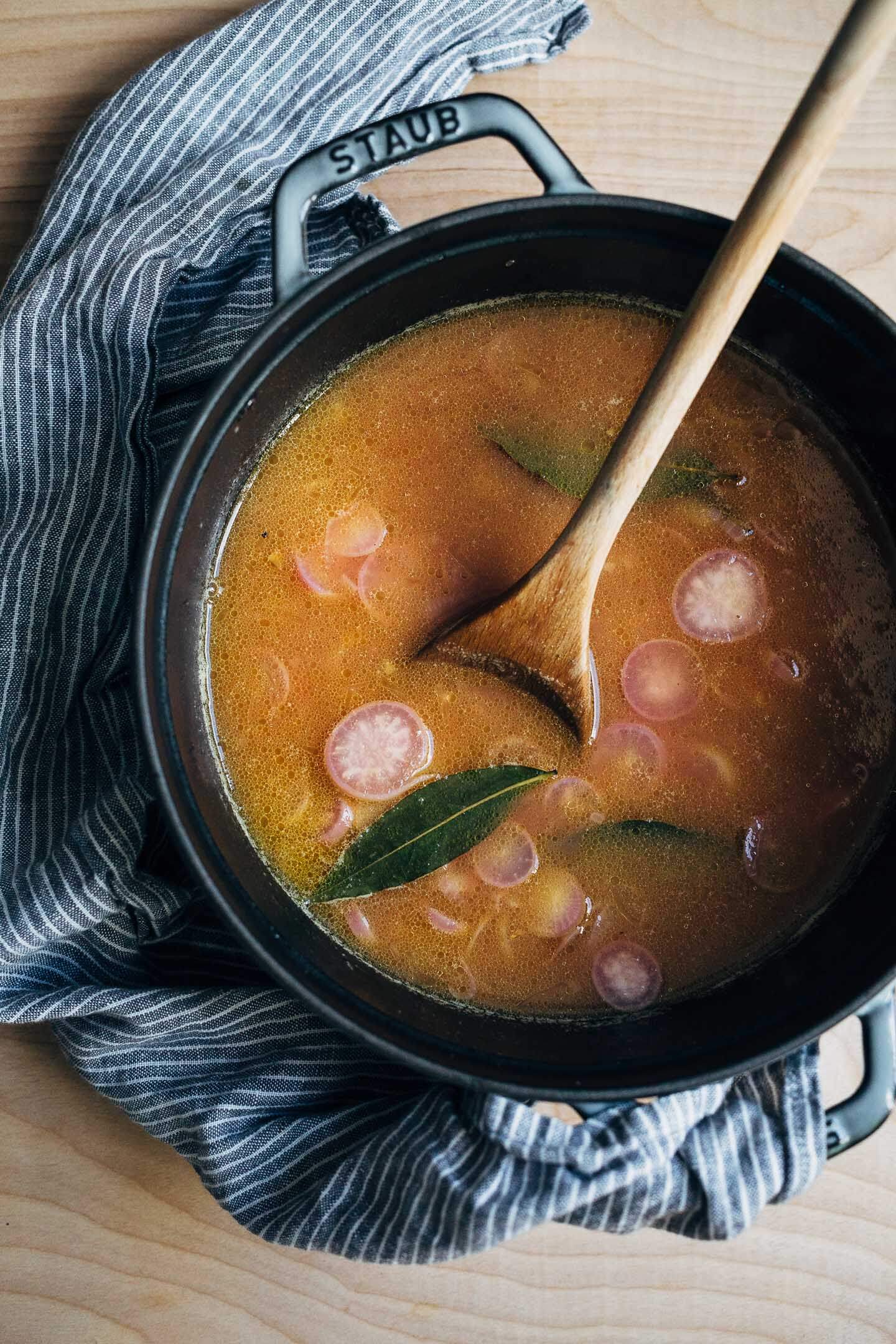 And not even in a let-me-help-you-choke-your-extra-radishes-down kind of way. Not at all. I made a pretty, pretty pink radish soup and discovered it was also one of the best things I've eaten in a long time. Cooked up in this soup, the bitter bite of the radishes melds into butter and velvet. Distinctly rich, but without the heaviness of dairy or excess fats.
This radish soup owes its pinkness to a beet. Without it, the soup is just as delicious but not nearly as pretty. No one wants to read about puce radish soup. I've also added a handful of chopped potatoes (with red skins, just in case they boost the pinkness slightly). The potatoes lend body and texture to the soup without overwhelming the delicate deliciousness of the radishes. The soup is topped with crispy shallots, pepper, and a decorative bay leaf.
Should you find yourself with an excess of radish tops, here's a great way to use them.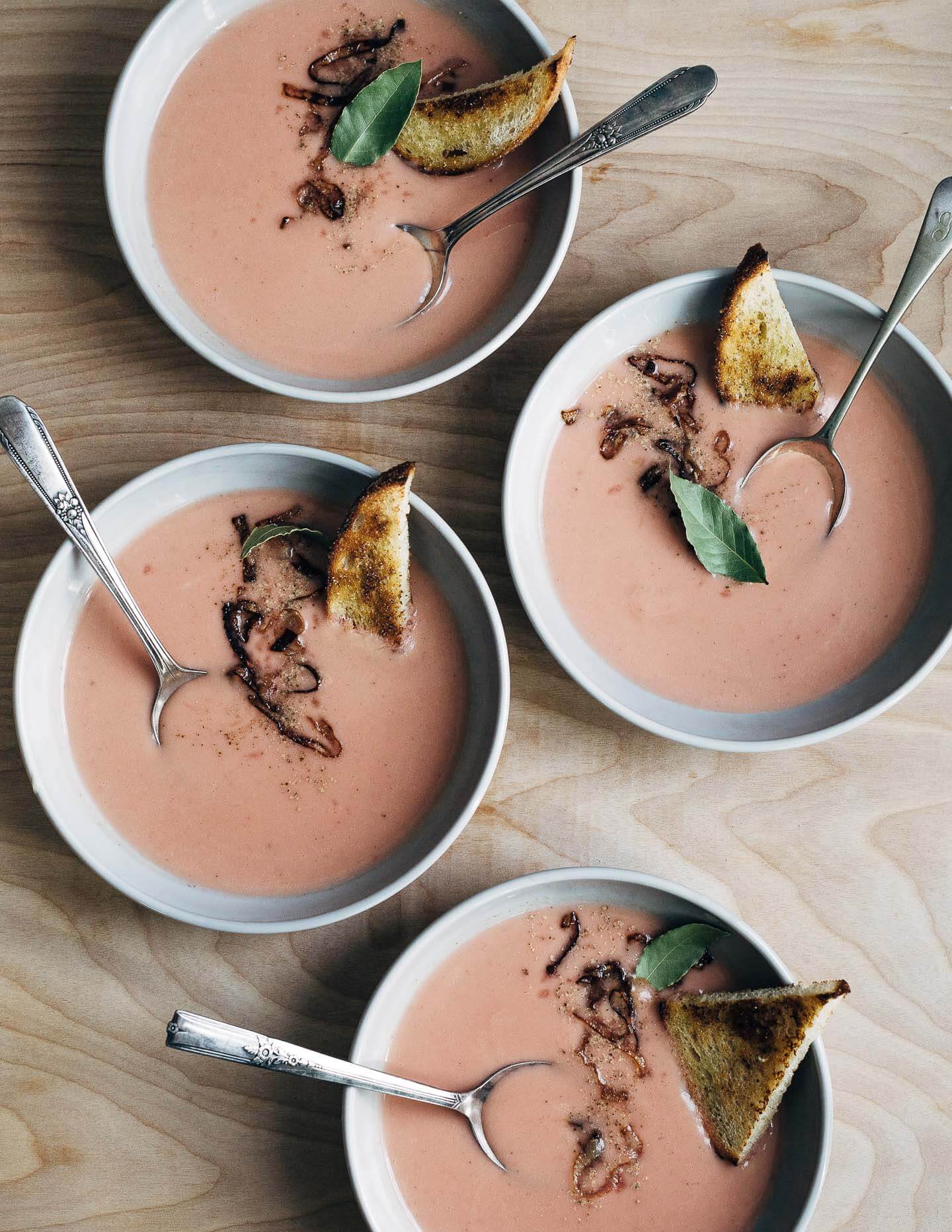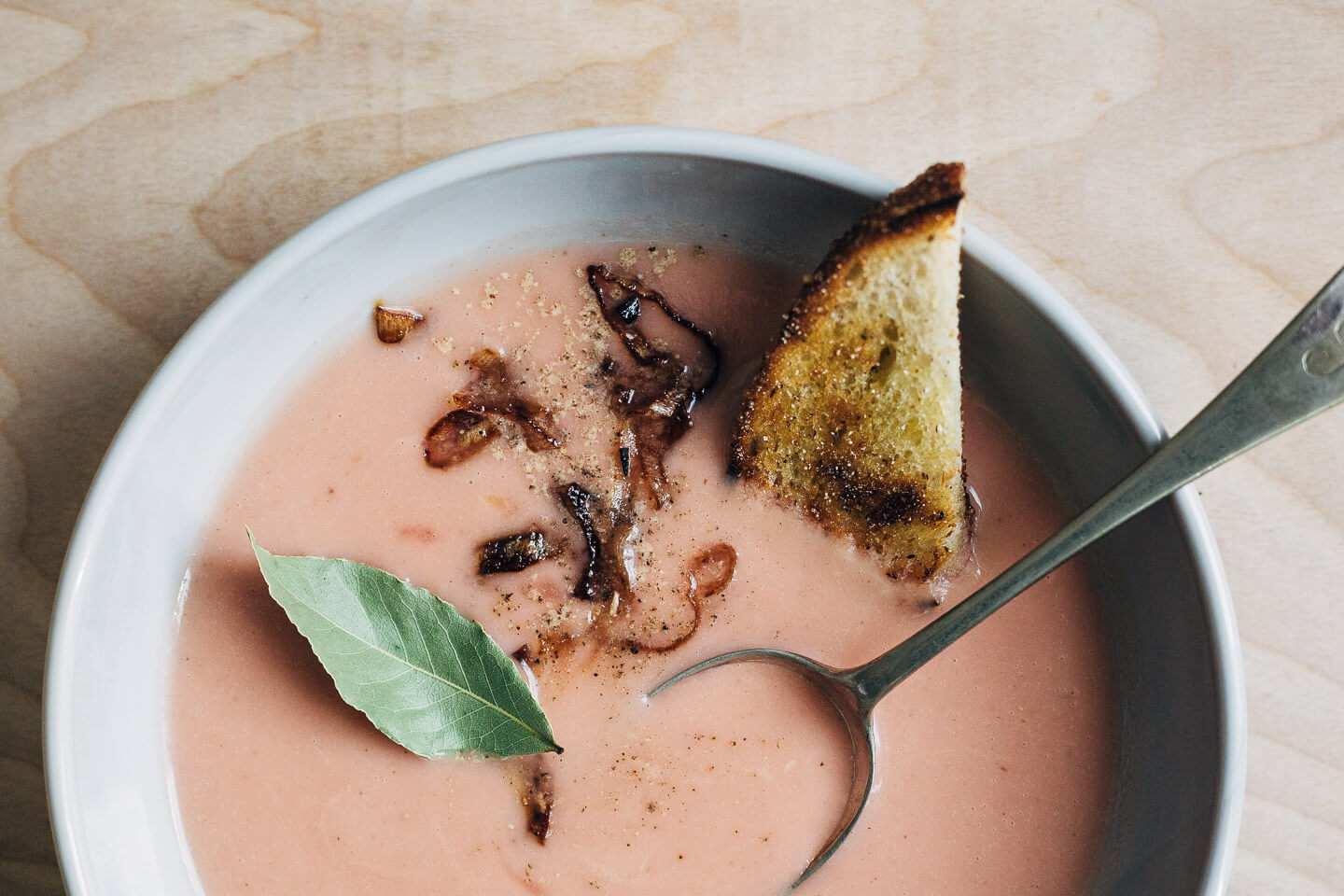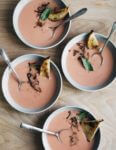 Pink Radish Soup
A pretty pink radish soup that highlights the earthy flavors of fall radishes, beets, and red potatoes, and is topped off with skillet croutons and crispy fried shallots. For maximum flavor, use rich homemade chicken or vegetable broth.
Ingredients
3

tablespoons

extra virgin olive oil

, divided

3

shallots

sliced thin, divided

sea salt

fresh ground pepper

2 - 3

bunches radishes

(2 heaping cups sliced)

4

small new potatoes

, quartered

1/2

a beet

, peeled and sliced 1/4-inch thick

7

bay leaves

, preferably fresh

1

quart

chicken stock or vegetable stock

neutral

heat-tolerant oil for frying shallots

3

thick-cut slices of stale bread

, crusts removed and cut into large triangles
Instructions
Heat olive oil over medium heat in a medium-sized soup pot or Dutch oven. Add 2/3 of the sliced shallots and a generous pinch each sea salt and pepper; sauté until tender and golden, about 4 minutes. Add sliced radishes and cook until radishes are translucent and tender, 7 - 10 minutes.

Fold in potatoes, 3 beet slices, 3 bay leaves, and another generous pinch of sea salt. Stir to combine and then slowly stir in broth. Bring mixture to a gentle boil, then turn heat down to a simmer. Cook 20 minutes or until potatoes can easily be sliced with a fork.

Fish bay leaves out and set aside. Working carefully, puree the hot soup and then return to the soup pot; reheat oven medium-low heat until soup is steamy. Levels of pinkness will vary – if you'd like to add a little more color, grate one of the remaining beet slices and squeeze juice into soup a little at a time, until the perfect pinkness is achieved. Taste soup and add sea salt and pepper as needed.

While soup cooks, prepare the garnishes. Fill a small sauté pan with 1/2-inch of neutral cooking oil and set over medium-heat heat. You want the oil to be very hot, but not so hot that it smokes. Add a few of the remaining sliced shallots at a time and cook until light golden and crisp, 1 - 2 minutes. Use a slotted spoon to remove shallots to a paper towel-lined plate and toss with sea salt. Continue until all of the shallots have been cooked.

To make skillet croutons, set a medium skillet over medium heat. Drizzle both sides of the bread with the remaining tablespoon olive oil, and sprinkle with a pinch of sea salt and pepper. Set in the skillet and cook until crotons are crisp and golden, about 4 minutes a side.

Ladle soup into shallow bowls and garnish with a line of crispy shallots, fresh ground pepper, a bay leaf, and a crouton. Serve immediately.
Recipe Notes
To make dish Whole30 compliant, omit the croutons.