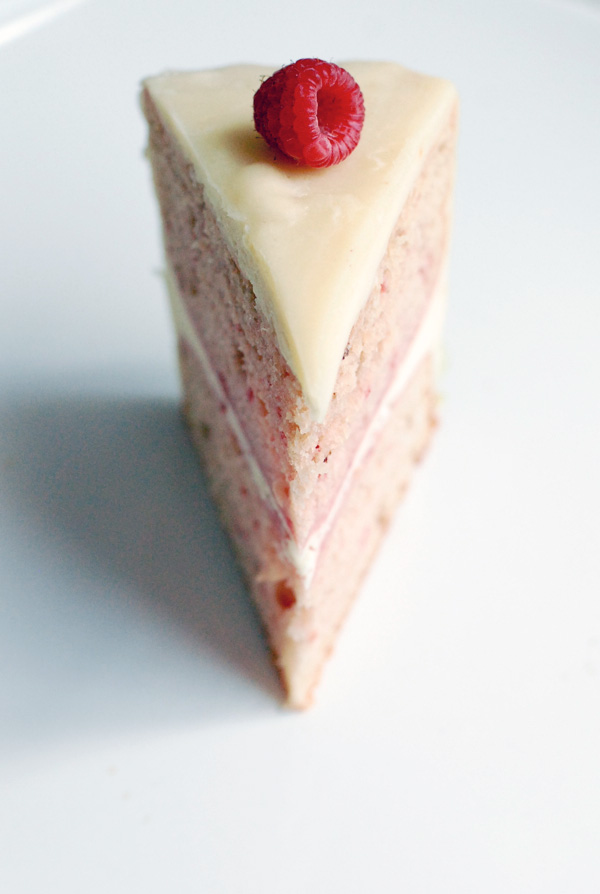 The best bit of parenting advice I ever received is this: don't listen to anyone. My friend Patrick told my friend Lucas that when he had his daughter, and then Lucas told me. Shouldn't all advice be so simple? You already know what's up, just do it.
This is my way of telling you that both my daughters had birthdays this week and I've spent too much time scrolling through old pictures and crying. Not necessarily ugly crying, but still. This parenting stuff is real.
And where there are birthdays, there is cake. At least there really ought to be (I know that counts as advice and I've already said you shouldn't listen to anyone, but cake is the exception). Not just any cake either, the goal should always be really, really good cake. Forget whatever's painted in food coloring on the top, it is the crumb (OK, and the frosting) that matters.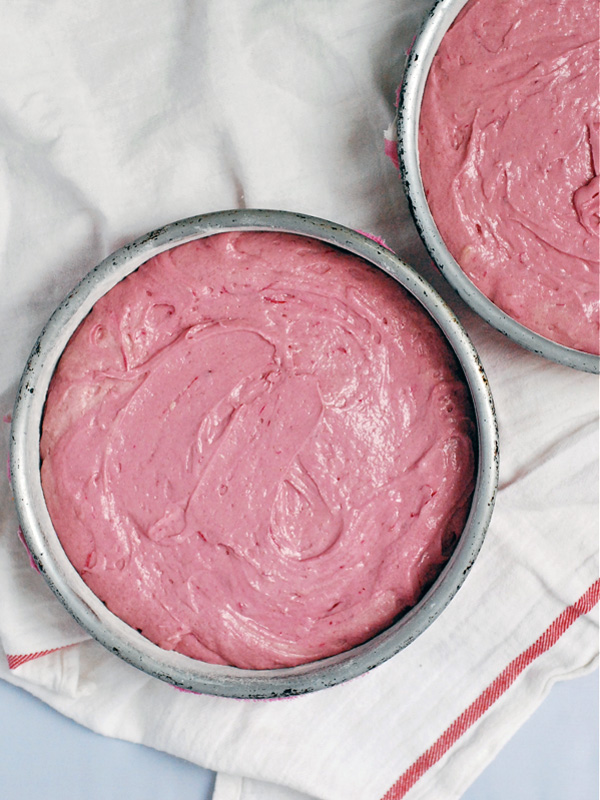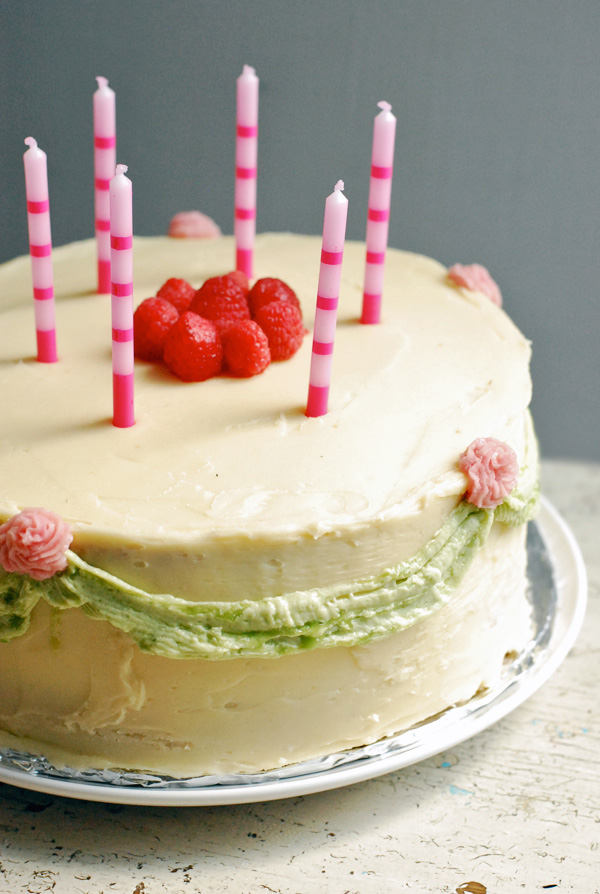 For simplicity's sake, we had one party for both girls. One party with two cakes.
The baby, who is now two and possibly not really a baby anymore, has yet to show a cake preference, so I looked deep into to her eyes and decided her cake would be chocolate with chocolate buttercream and white sprinkles. It turned out to be impossibly delicious and chocolaty, and she seemed cool with that. (Recipe forthcoming, I promise.)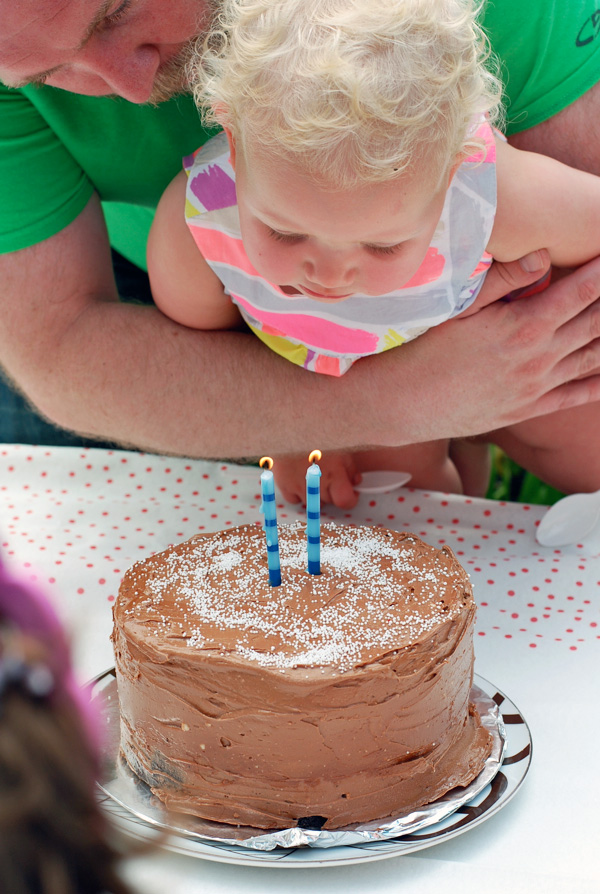 My oldest daughter requested a cake with vanilla frosting, green garland, and pink flowers. Happily, this fell pretty well within my limited cake decorating ability. And since pink cake is awesome, I convinced her that the cake itself should be raspberry flavored. And so a quart of raspberries was purchased and pureed, a beet was grated, and we had a pink raspberry cake. I was mildly terrified that the cake would turn gray, so I left out the egg yolks and added extra beets for good measure. The pretty pink cake was moist, airy, and faintly fruity. I held back on the sugar, and loved the contrast of the lightly sweet crumb with the hopelessly rich and sweet buttercream.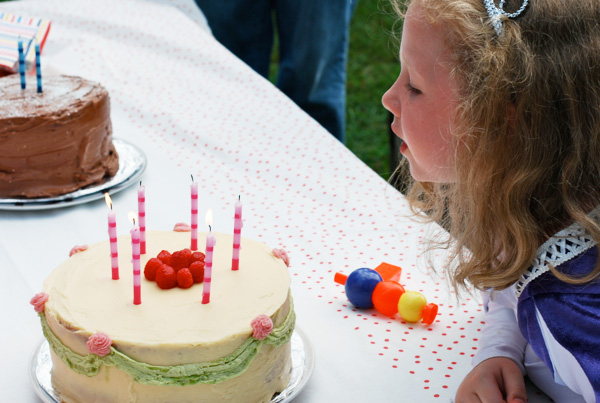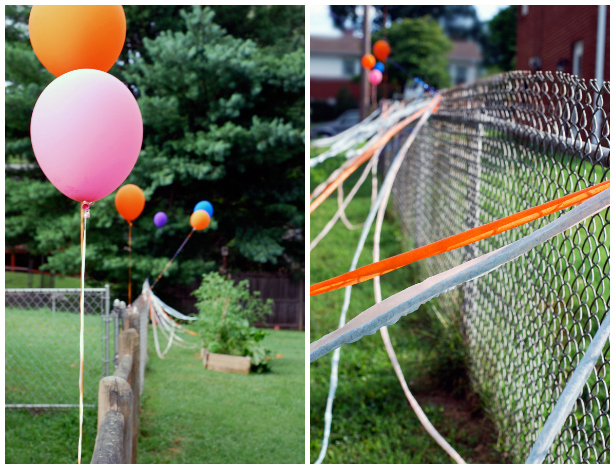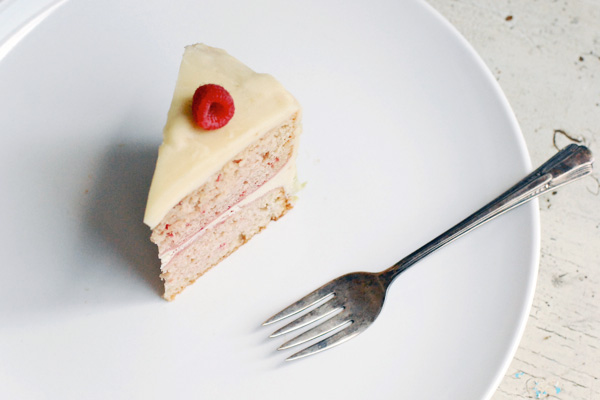 Pink Raspberry Cake with Vanilla Buttercream Frosting (adapted from this strawberry lime cake by way of Smitten Kitchen)
makes a two layer (9-inch) cake
These directions are for the cake I made. Using the basic milk-dye formula, feel free to do colorful experiments with the cake or frosting colors.
for the raspberry cake
3 cups all-purpose flour
3 1/2 teaspoons baking powder
1/2 teaspoon salt
16 tablespoons unsalted butter, room temperature
2 cups sugar
5 egg whites, room temperature
2 cups fresh raspberries
1/4 cup finely grated beets
1/2 cup whole milk, room temperature
1 teaspoon vanilla extract
Preheat the oven to 350 degrees. Line two 9-inch cake pans with parchment circles, and then liberally butter and flour the parchment and pan sides. Set aside.
In a blender, puree the raspberries. Push the puree through a mesh strainer to remove the seeds. In the same blender, combine 1 cup raspberry puree (reserve the rest for the frosting), the grated beets, and the milk. Pour into a glass and set aside.
In a large bowl, combine the flour, baking powder, and salt.
In the bowl of a stand mixer fitted with the paddle attachment, or in a large bowl with beaters, beat the butter on low until pale and fluffy. Scrape the sides, and add the sugar, beating for a minute or two. Fold in the egg whites.
Next, with mixer on low, add half the raspberry milk mixture, and half the flour, and then the rest of the milk, and the rest of the flour. Use a silicone spatula to scrape the sides and fold the mixture together, ensuring that the color is well incorporated.
Pour the batter into the prepared cake pans, filling each two-thirds full. (I used this technique to try for more even layers and it worked.) Bake cakes for 40 minutes, or until a toothpick inserted in the center comes out with just a few crumbs attached.
Set cakes aside to cool. After 15 minutes, flip cakes out of the baking pans and onto a rack to cool completely.
for the vanilla buttercream frosting
makes frosting for a 2-layer (9-inch) cake, plus extra for decorating
28 tablespoons butter (gulp, 3 1/2 sticks), room temperature
3 1/2 cups powdered sugar, sifted
pinch of sea salt
2 teaspoons vanilla extract
1 – 2 tablespoons milk or raspberry puree, as needed
In the bowl of a stand mixer fitted with the paddle attachment, or with a regular mixer, beat the butter until light and fluffy on medium speed. Slowly add the confectioners sugar, scraping down the sides often. Add the sea salt and vanilla extract, beat for another minute or two. If you are going for a cake with vanilla buttercream and pink and green accents, set aside a cup of the buttercream to be colored. Add a tablespoon or so of milk to the remaining buttercream until you have achieved a thick, but spreadable consistency.
for pink or green frosting
Add 1 – 2 tablespoons raspberry or spinach puree to a cup of buttercream frosting. Stir to incorporate, and decorate as needed.
to assemble the cake
If you've never decorated a cake before, this is great advice. Because I would be serving my cake on the most sweltering of summer days, and because I made the layers a day ahead, I refrigerated my layers, frosted the crumb coat, refrigerated again, frosted the main coat, refrigerated again, piped on the decoration, and refrigerated just until serving. Buttercream is, after all, made out of mostly butter and it melts really fast in the heat. Before serving, top with fresh raspberries and candles, present, slice, and serve.