A beautifully rustic, of-the-moment Damson plum galette with fresh thyme, ground star anise, and a flaky all-butter crust.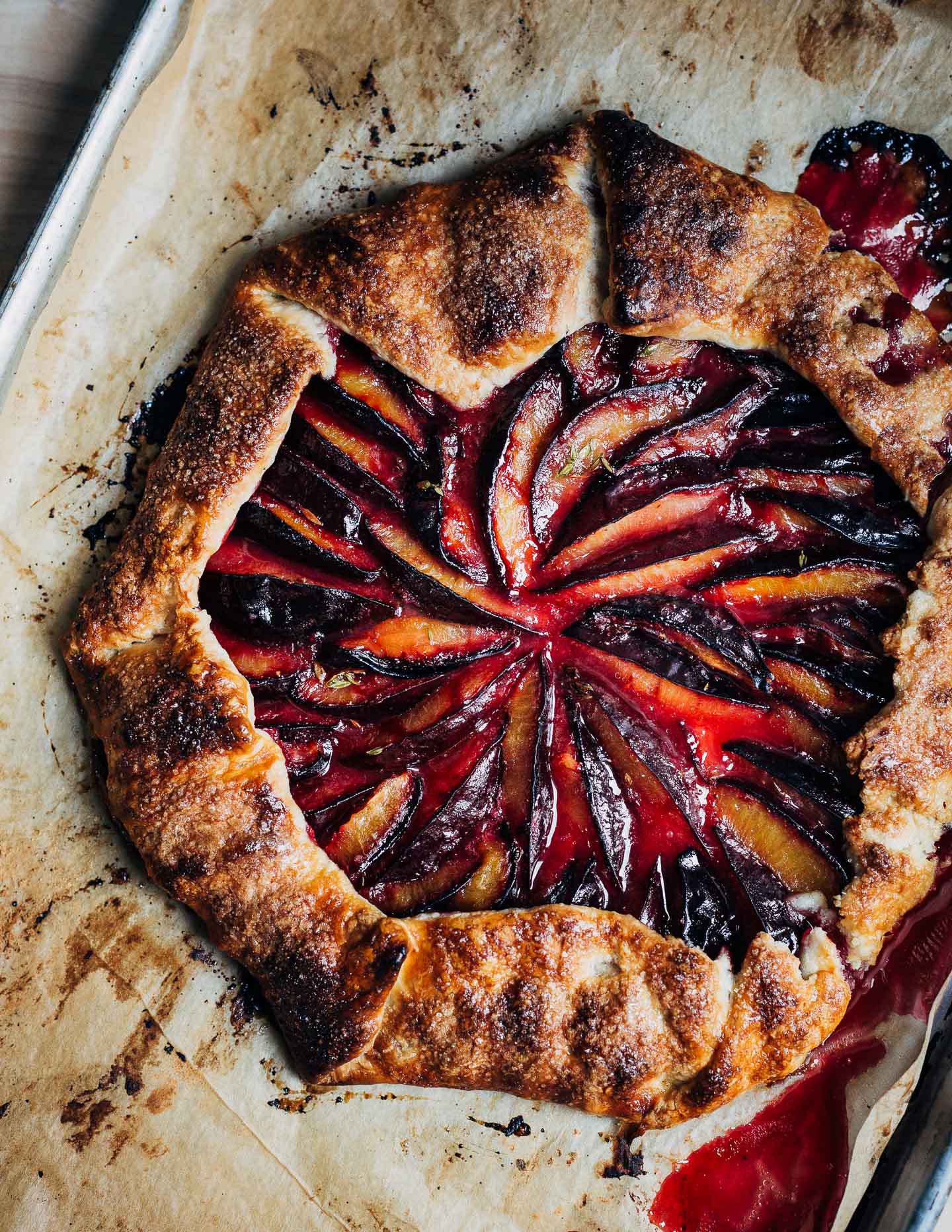 It's probably not a coincidence that fresh thyme – one of the few herbs I can get to amid an enormous tangle of butternut squash vines in my garden – is a key ingredient in this Damson plum galette. There's also just a hint of ground star anise and a perfect all-butter crust. Mixed with the thyme, the galette captures this moment beautifully – just the right mix of summer and fall flavor.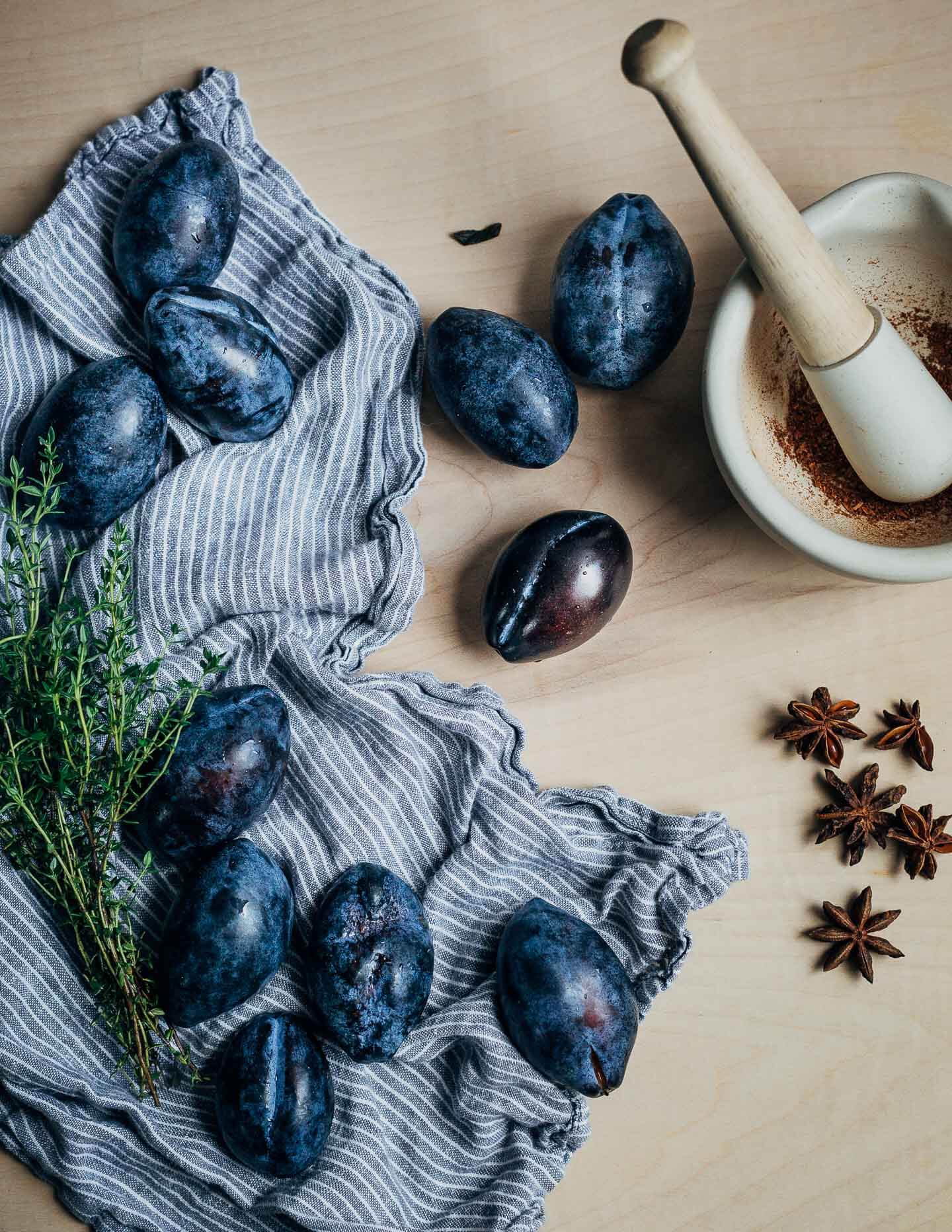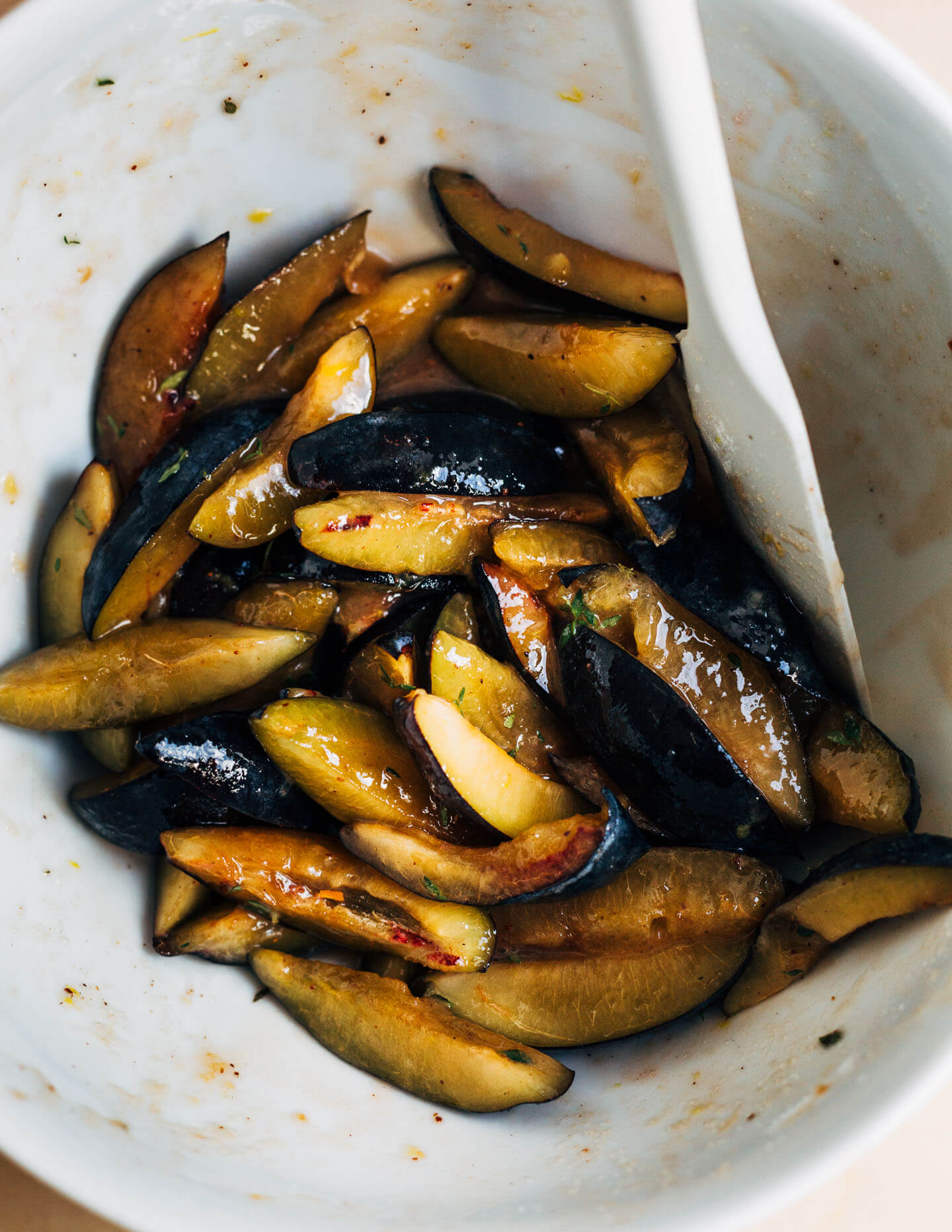 Always and forever, my preferred plum variety is the oblong Damson plum. I find the less ripe specimens are not as sour as other kinds of plums, and they have a buttery sweetness that turns jammy and rich in the oven. The best place to get Damson plums right now is the farmers' market. Generally speaking, you can just follow the yellow jackets who are often swarming the fruit on these sunny almost-fall days.
If you can't find Damsons, any plum will work fine. Just take care to adjust the sugar amount and leave excess juices behind in the bowl.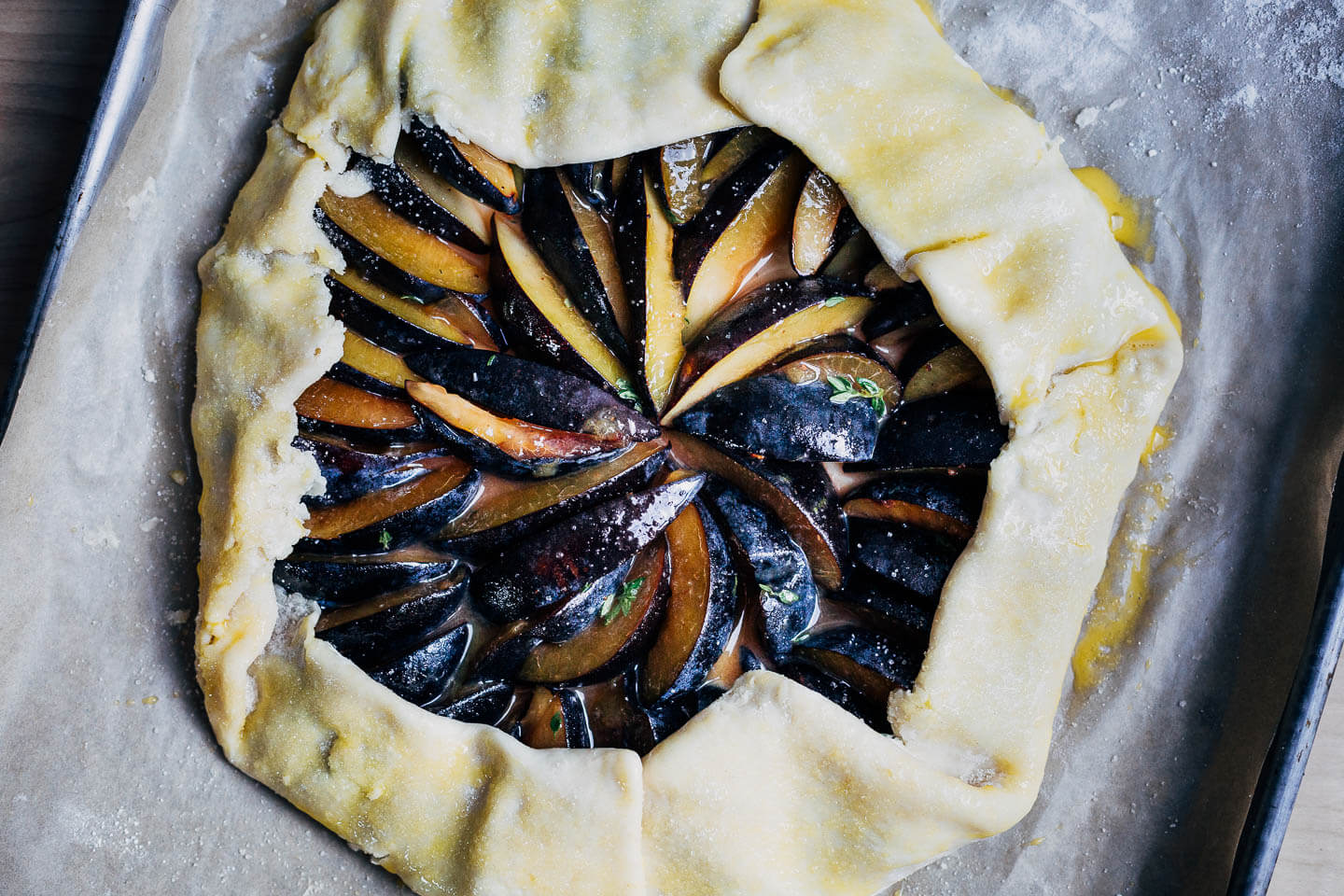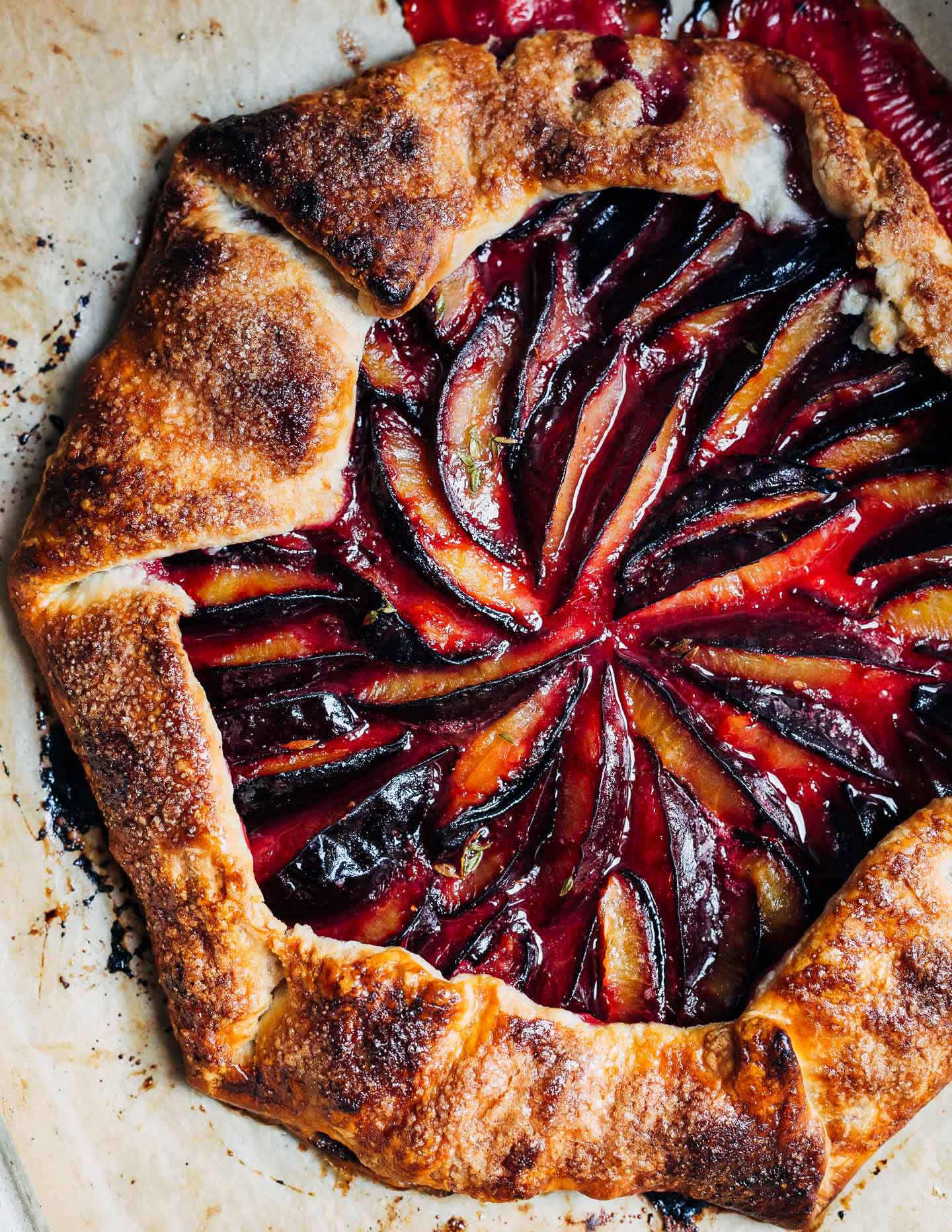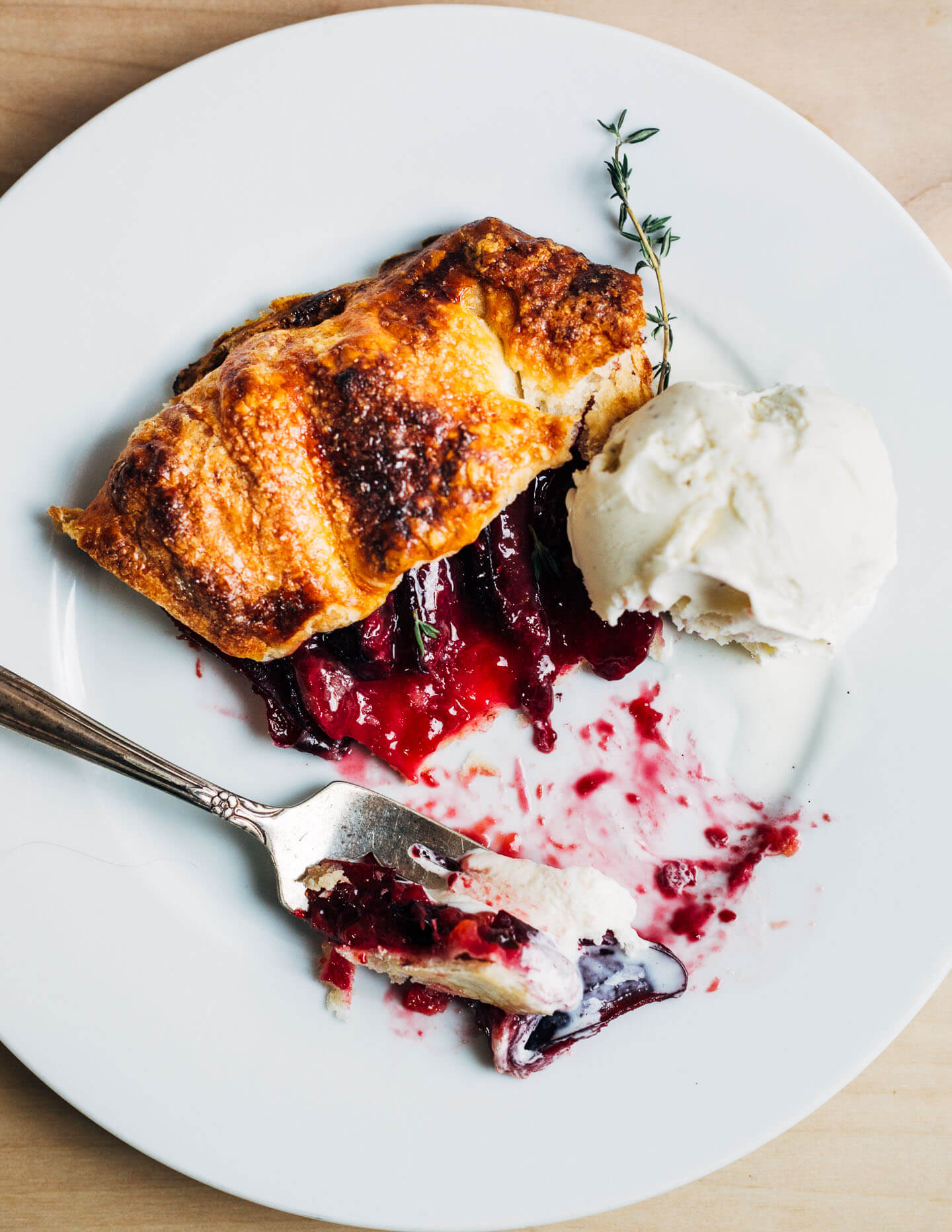 Galettes: Perfectly Imperfect
Galettes should always be unfussy and rustic, and because of this, you cannot mess them up. Anything you may think of as a mistake, just adds to the rustic beauty of the galette. I recommend a thorough egg wash and a couple tablespoons of cane sugar to bring out the really deep golden brown hues in the cooked dough. The juices can and should bubble up and run over – that's how you know it's cooked through! Because of this, I suggest lining the baking pan with a sheet of parchment.
Homemade Pastry Dough for Beginners
This dough recipe is the same one I use for all my pies and tarts, except instead of grating in the butter like I usually do, I sliced it thin and smushed it into the dough with my fingers to create big pockets of flakiness. I know many folks out there think making your own dough is hard, but it just takes practice to get a feel for the process. Once you have it down, you can make exquisitely flaky dough anytime you want. My biggest tip (that came to me long ago from an old friend) is that if you're having trouble getting it to hold together, just drizzle in more water. Damp dough is preferable to dough that's been overworked.
If you're new to homemade pastry crust, I go into much greater detail with tips and different techniques right here.
Soon, the season will push toward just apples and pears. Storage fruits. Now's the time to get out to the markets and savor this moment of just-ripe jewel-toned fruits in all their deliciousness.
And finally, I can't write about galettes without mentioning galette evangelist Yossy Arefi, author of Sweeter off the Vine and Snacking Cakes. Yossy's approach to rustic desserts, and deep golden pie crusts in particular, have had a huge influence on the way I bake pies.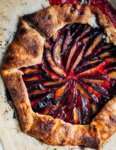 Damson Plum Galette with Thyme and Star Anise
A beautifully rustic, of-the-moment Damson plum galette with fresh thyme, ground star anise, and a flaky all-butter crust.
Ingredients
Crust
1 ¼

cups

unbleached all-purpose flour

1

tablespoon

sugar

½

teaspoon

fine sea salt

4 - 6

tablespoons

ice water

8

tablespoons

cold unsalted butter,

very thinly sliced
Filling
1 ¼

pound

damson plums

(8 - 10 plums), pitted and sliced into 1/2 -inch thick wedges (about 3 cups sliced)

6 - 8

tablespoons

sugar,

use more or less depending on the sweetness of the plums

1

teaspoon

lemon zest plus 1 tablespoon lemon juice

1

tablespoon

all-purpose flour

1

teaspoon

fresh thyme leaves

½

teaspoon

ground star anise,

preferably freshly ground with a spice grinder or mortar and pestle

Pinch

sea salt

1

egg,

lightly beaten

2

tablespoons

cane or turbinado sugar for topping
Instructions
In a large bowl, use a fork to combine flour, sugar, and sea salt. Use your fingertips and the palm of your hand to flatten and smush the butter into the flour mixture. Fold in just enough ice water for dough to hold together.

Turn dough out onto a lightly floured surface, gather into a disc, and wrap tightly with plastic. Chill for 30 minutes or up to 3 days ahead.

Preheat oven to 425 degrees F. Line a rimmed baking sheet with parchment.

In a large mixing bowl, toss to combine plums, 6 tablespoons sugar, lemon zest and juice, thyme, star anise, and sea salt. Taste a plum and add up to two tablespoons more sugar as needed. Fold flour into the mixture and set aside.

On a lightly floured surface, roll chilled dough into an 11 x 14-inch rectangle. Set on prepared baking sheet.

In the center of dough, arrange the plum wedges in concentric circles. Fold up the sides of the dough around the filling, crimping the dough as you go. Brush crust with egg wash and sprinkle with remaining 2 tablespoons sugar.

Slide galette into the oven and bake 10 minutes. Rotate pan and turn heat down to 375 degrees; bake 20 - 25 minutes longer or until filling is bubbling and crust is a rich golden brown.

Cool for 30 minutes, then slice and serve with scoops of vanilla ice cream, if desired. Galette is best day-of since the crust gets a bit soggy when wrapped up. Even so, leftovers make for a delightful breakfast.