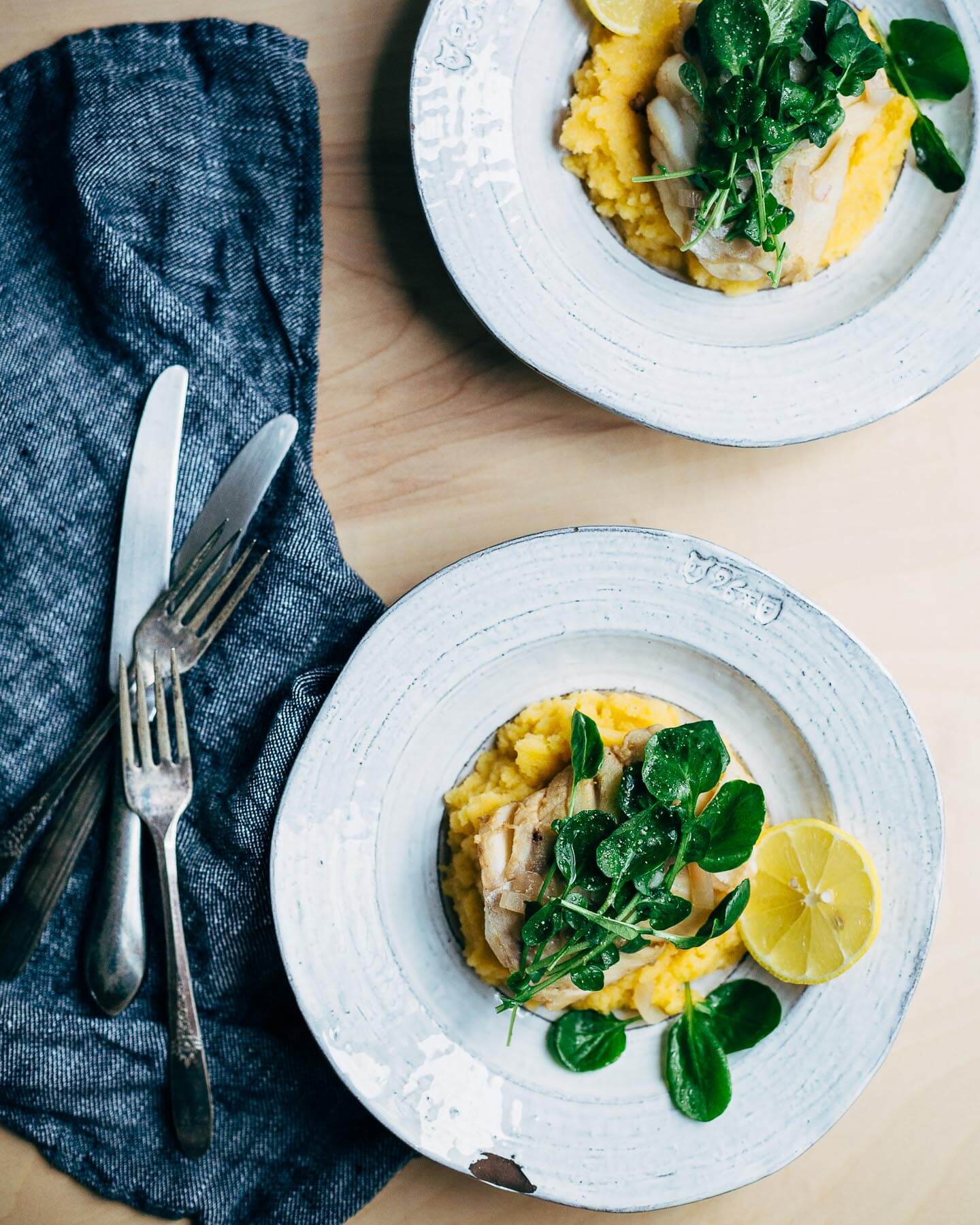 A simple poached cod recipe served over a buttery rutabaga puree and topped with lemony watercress. This post is sponsored by Progresso Foods. Thanks for supporting Brooklyn Supper's sponsors! Jump to recipe. 
A minute ago, I nearly convinced myself that winter was my favorite food season.
That's definitely not true, but I do love the way winter eating forces me to think on my feet. I relish the unlikeliness of it all, the way forgettable roots can be coaxed into vibrancy with the help of pantry staples and an oven.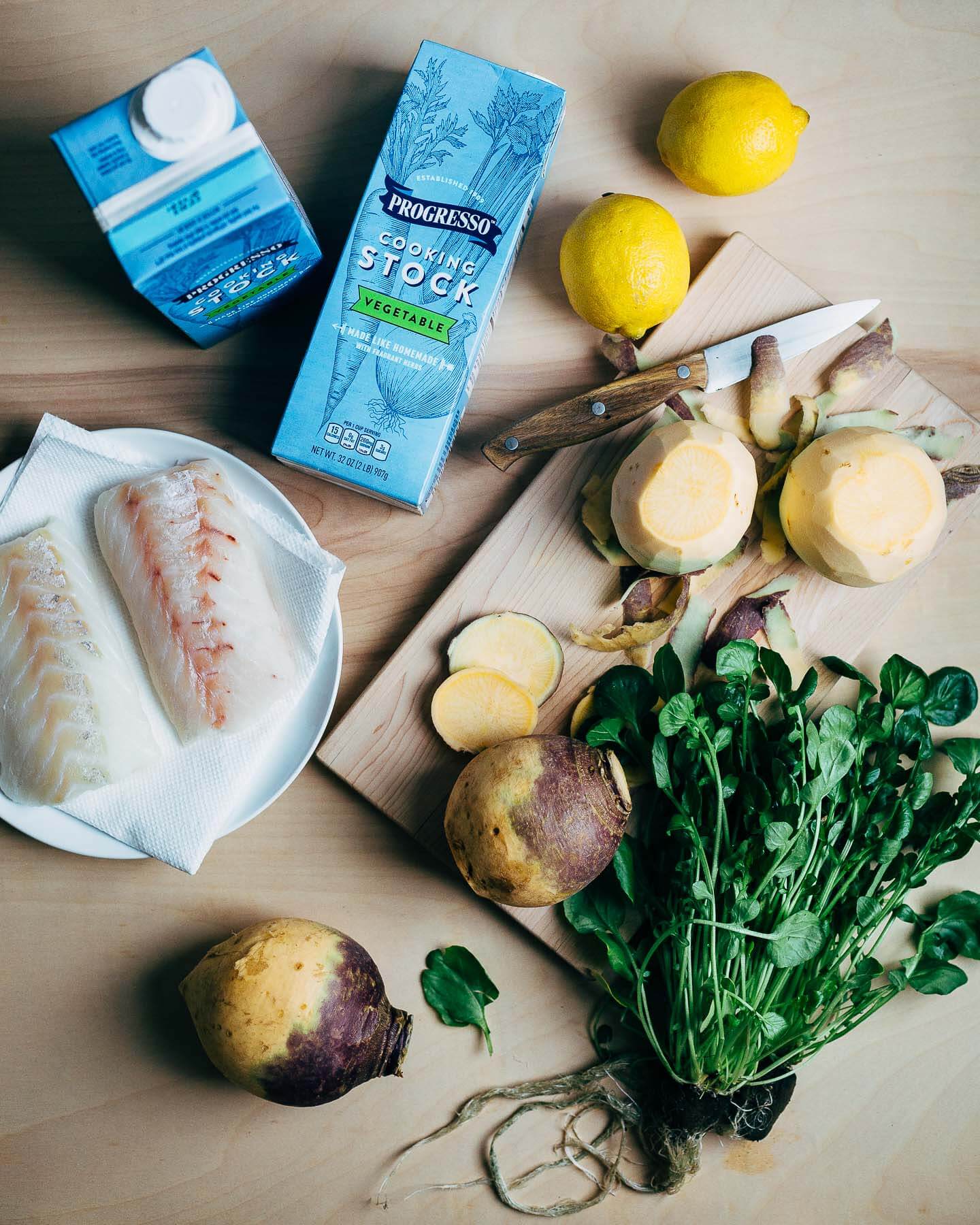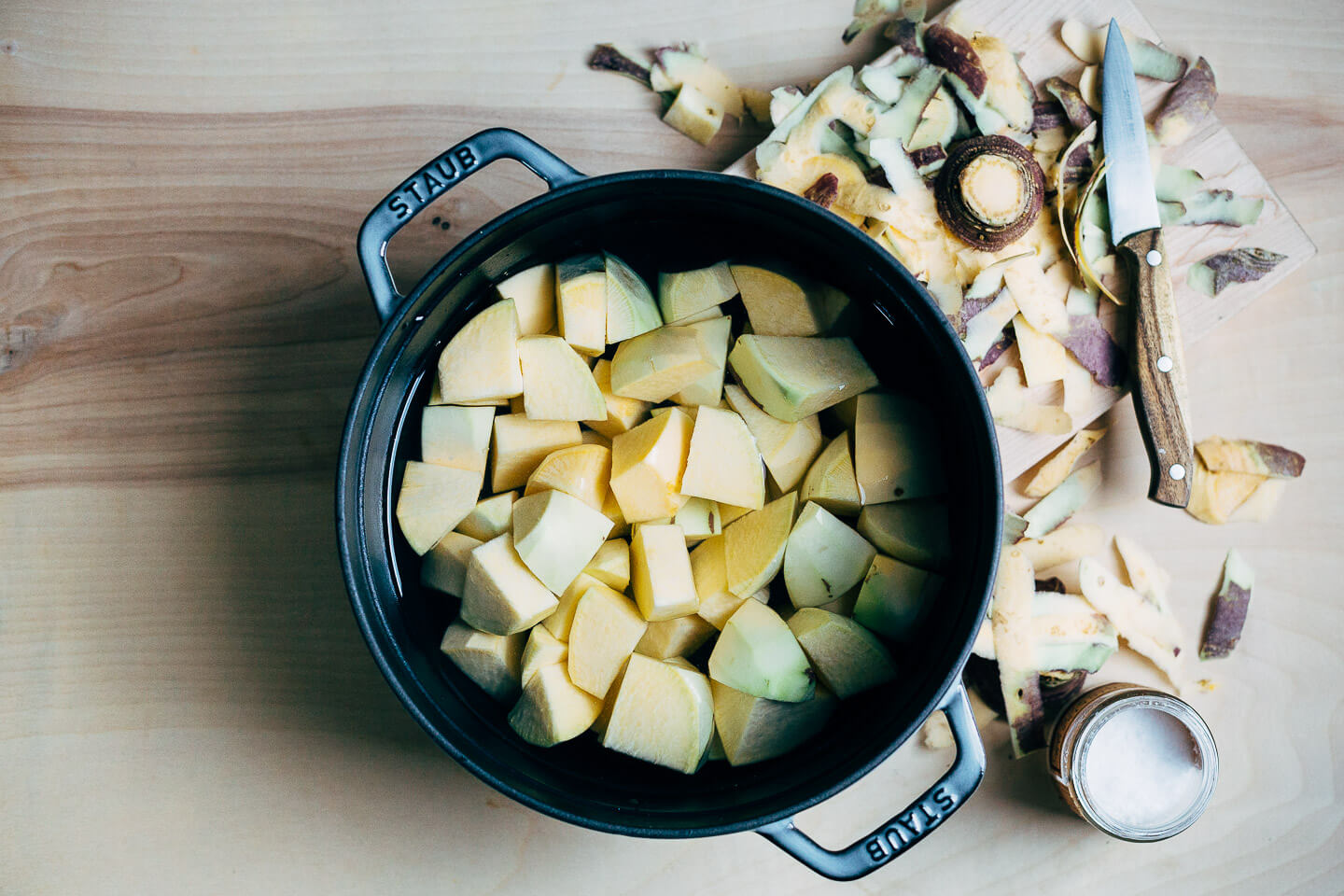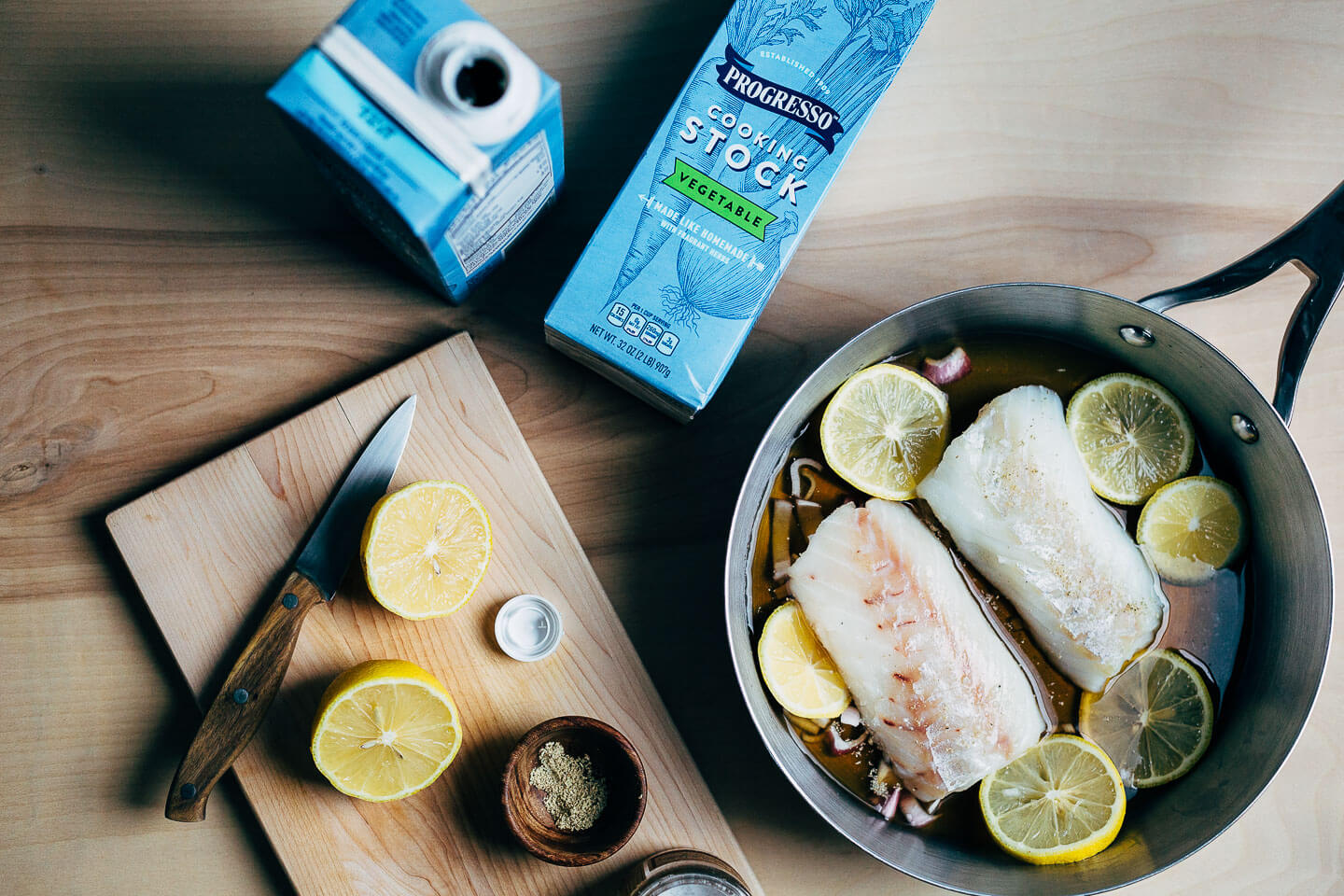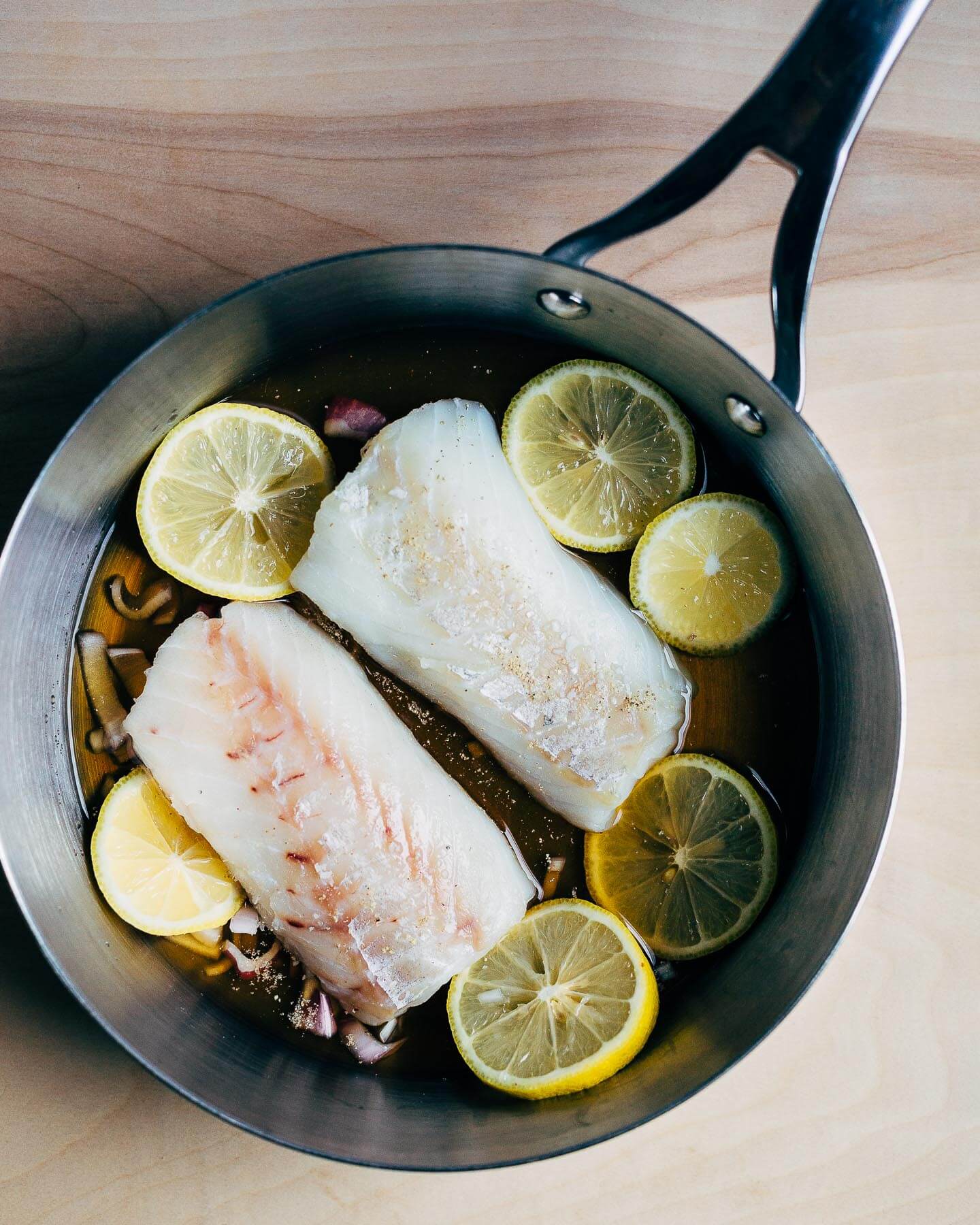 These days, as the sun starts to dip toward the horizon, I make my way into the kitchen. Brian and I have been keeping to a more structured meal plan lately, and just like all those smart people say, it really helps keep things organized during the week. Meal plans at hand, winter staples procured, the magic of winter cooking is in the details.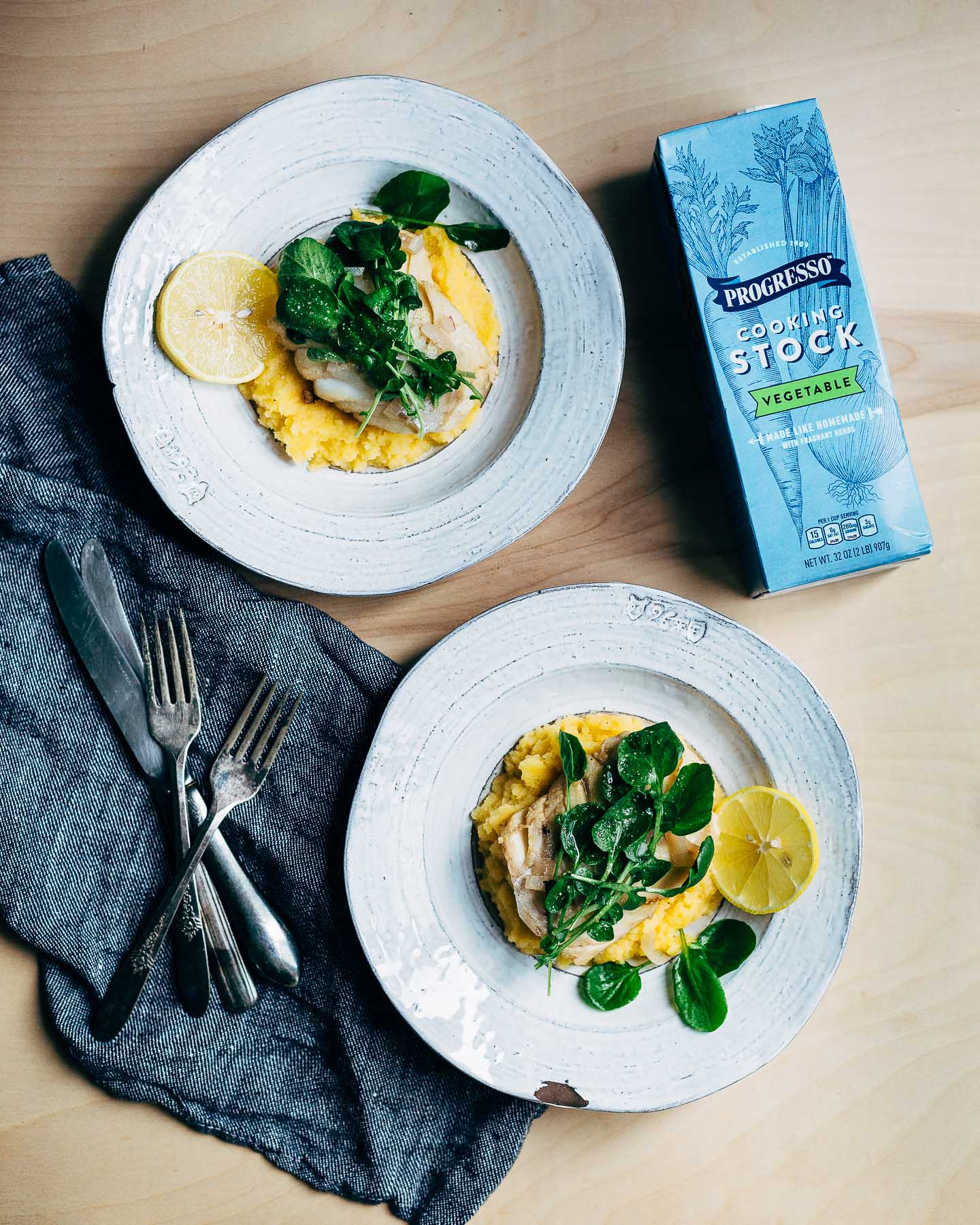 Here, a relatively modest ingredient list becomes a complete meal, one that contrasts sweet roasted rutabaga with the meatiness of Pacific cod poached in flavorful vegetable stock with a hit of shallot and a mess of lemon slices. Uniting it all, lending generally green flavors as well as crunch, is a tiny bit of watercress; it's well salted and lemony, giving everything the brightness we all crave in these short winter days.
Progresso's Vegetable Cooking Stock has quickly become a pantry staple in my house. The flavor won me over first, but I'm also thrilled with their brief, entirely pronounceable list of quality ingredients (good things, including celery, leeks, carrot, onions, and bay leaf). I have a few boxes in my pantry and love knowing that, even in a pinch, I can grab one and make a little winter kitchen magic.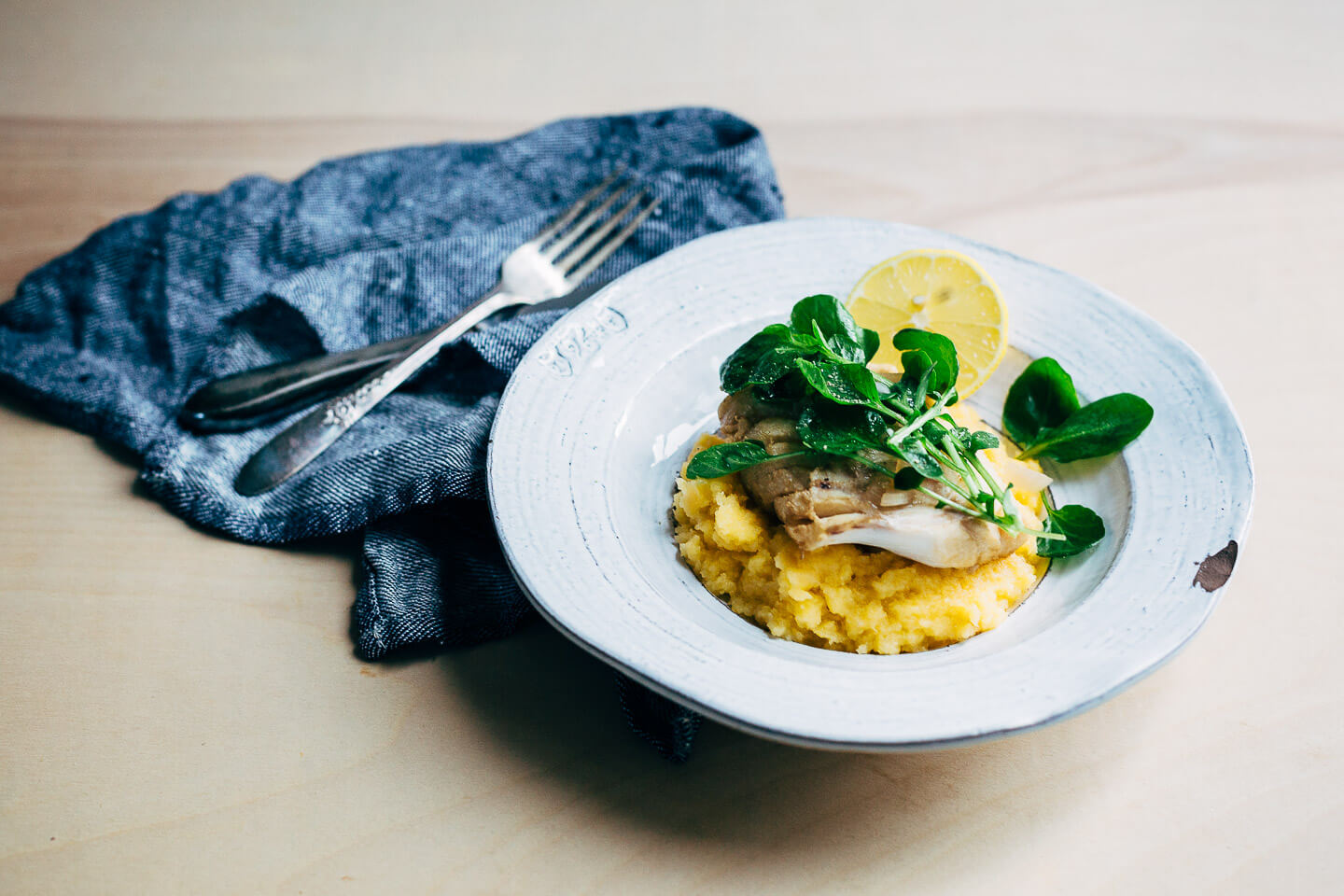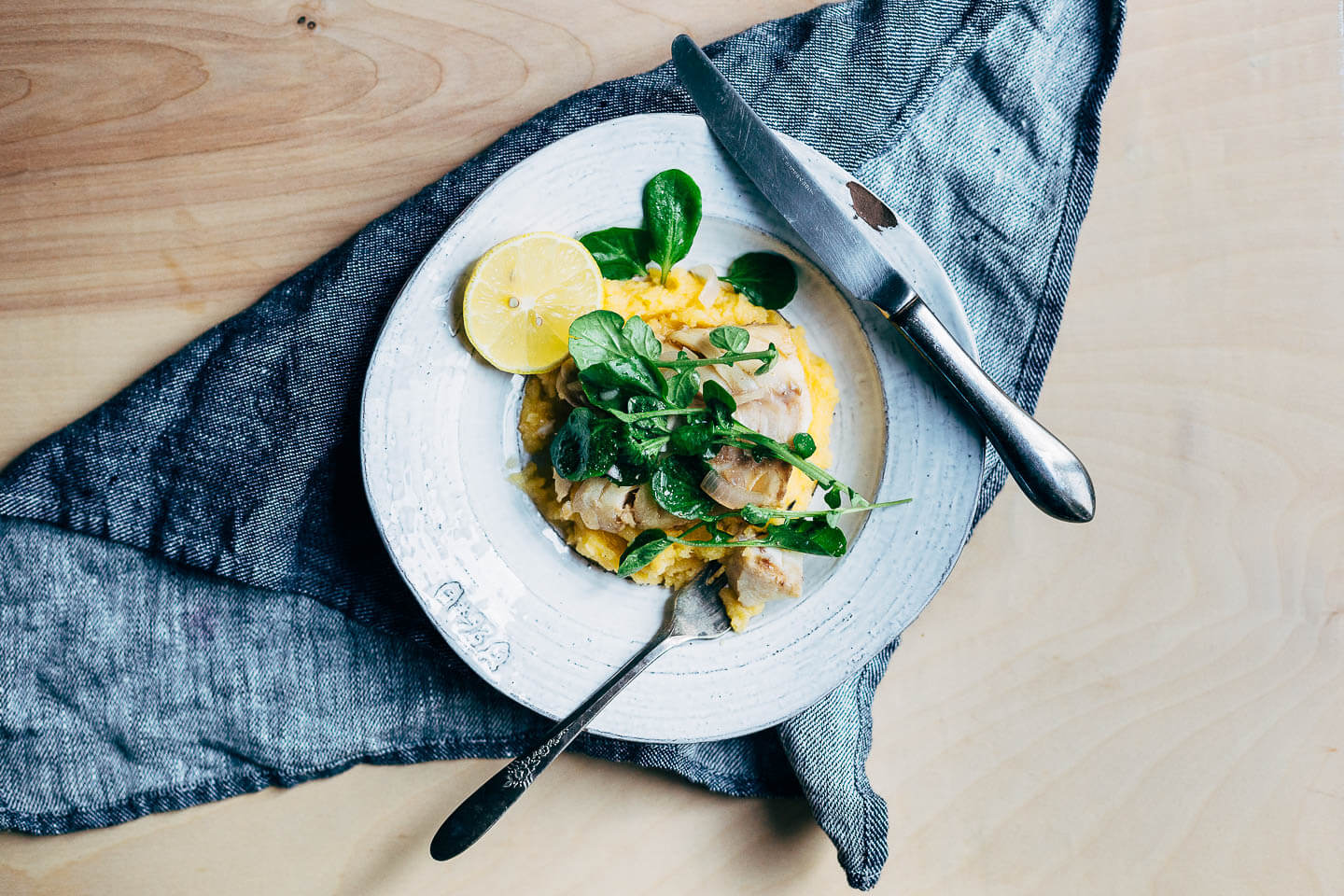 Notes on the recipe: Cod can be a tricky fish to source – I opt for Pacific cod since it's a more sustainable option. Moving on to rutabagas, I know that they can sound a bit dreary. But I assure you – they're fantastic. Pale orange, with a nice balance of sweetness and bite, they mash up into a dream – with none of the gluiness or mealy texture that potatoes can sometimes have. Finally, I topped my dish with watercress, but a few leaves of arugula would be an excellent substitute.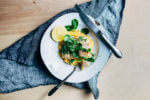 Poached Cod with Rutabaga Puree and Watercress
A simple poached cod recipe served over a buttery rutabaga puree and topped with lemony watercress.
Ingredients
4

medium rutabagas,

trimmed, peeled, and cut into even 1-inch chunks

sea salt

4

Pacific cod fillets,

about 1-inch thick

1

quart

Progresso Vegetable Cooking Stock

1

lemon,

sliced, plus 1 tablespoon freshly squeezed lemon juice, divided

1

large shallot,

trimmed and peeled

2

tablespoons

unsalted butter

2

tablespoons

extra virgin olive oil

1

bunch watercress,

roots and stems trimmed

ground pepper to taste
Instructions
Place rutabagas in a large pot and fill with cold water. Add a generous amount of sea salt and bring to a boil. Once water boils, cook 10 - 15 minutes, or until rutabagas can easily be mashed with a fork. Drain and set aside. While rutabagas cook, prepare other elements.

Rough chop shallot. Measure out 1 tablespoon, mince that portion, and reserve for salad dressing. Slice lemon.

To make poaching liquid, combine Progresso Vegetable Cooking Stock, chopped shallot, and lemon slices in a wide, deep skillet and set over medium-high heat. Bring mixture to a boil, and then turn heat down to a very gentle simmer.

Next, make rutabaga puree. Cooked rutabaga can either be mashed or, for a finer puree, pureed in a food processor. Spoon into a bowl, fold in 2 tablespoons butter, 1/4 cup of the poaching broth, and sea salt to taste. Adjust seasoning as needed. If desired, keep rutabaga mash in a warm oven while fish poaches.

Next, gently slide cod fillets into poaching liquid; poach 5 - 7 minutes, or just until fish is completely opaque. Top each cod fillet with a pinch of sea salt.

While fish poaches, make dressing. In a small bowl, whisk to combine reserved minced shallot, 1 tablespoon freshly squeezed lemon juice, and a generous pinch sea salt. Whisk in olive oil. Drizzle 1 - 2 tablespoons over watercress and gently toss.

To plate, layer rutabaga puree, poached cod, and dressed watercress. Finish with a few twists black pepper and sea salt to taste. Serve immediately.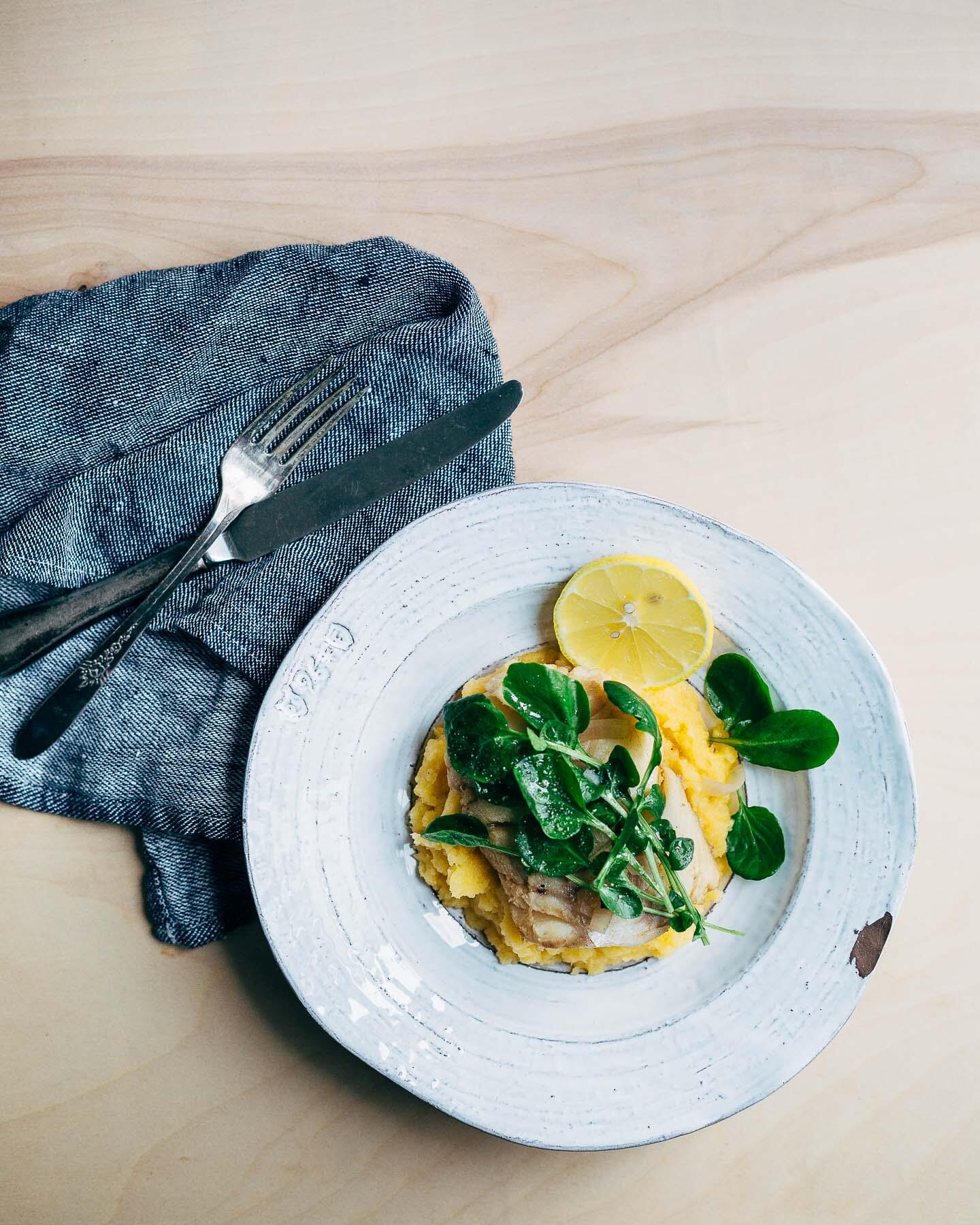 Disclosure: This post is sponsored by Progresso Foods. Thanks for supporting the brands we love!