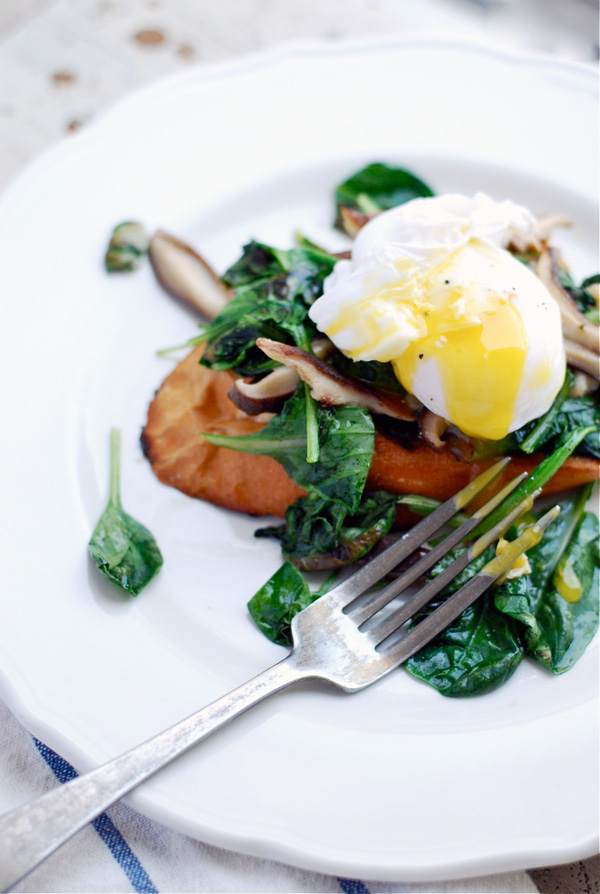 And just like that, spring is here. A lone bird chirps on the afternoon breeze. Across my back yard, the cherry tree (this one) is starting to bloom, making the branches look fluffy and white. But let's not waste time on small talk, we need to get outside.
At the market on Saturday, I passed these duck eggs by, then doubled back for them. I'd never had duck eggs before and they seemed like something new and interesting. I recently discovered the secret to a well-poached egg, and I've been meaning to share it for weeks. So today it's poached duck eggs atop young tatsoi leaves with shiitake mushrooms and crisp garlicky toast; this is early spring eating at its best. Simple and fresh, replete with spring's grassy, earthy flavors, with a creamy duck egg to boot. Now if you'll excuse me, I'm off to cultivate a sunburn.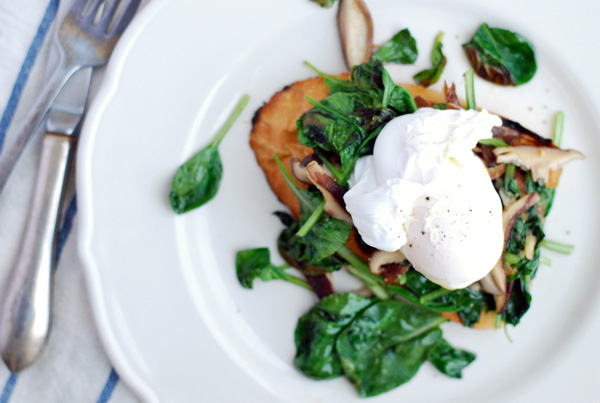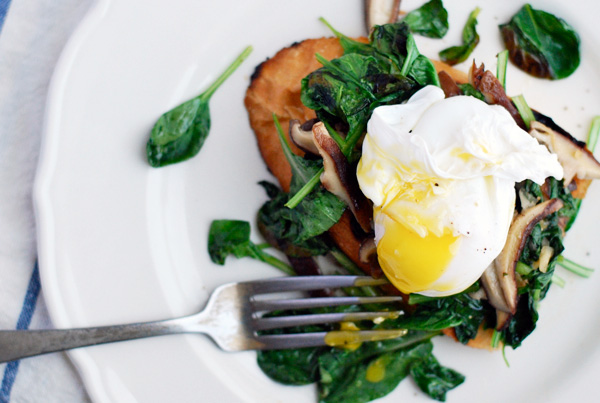 And, in case you were wondering, my secret for well-poached eggs is plenty of red wine vinegar. Ever since I started glugging it in, my eggs have been awesome. Now you know.
Poached Duck Eggs Over Garlic Toasted & Wilted Tatsoi with Shiitake
serves 2
2 large slices thick cut bread, toasted to golden brown
2 duck eggs (regular eggs will do fine here too)
1 clove garlic, smashed and peeled
2 tablespoons olive oil plus more for plating
1/2 cup shiitake mushrooms, wiped clean, stems removed, and sliced
4 cups tatsoi leaves, washed and dried
1 1/2 teaspoons sea salt, divided, plus more for finishing
1/4 cup red wine vinegar
fresh-ground black pepper to taste
Set a water-filled wide-mouthed sauce pan over high heat to boil. Toast your bread, rub it all over with one of the smashed garlic cloves, and set aside.
Heat a medium-sized skillet over medium-high heat. Mince the garlic clove. Add the olive oil to the skillet, and when it's hot, add the garlic. Toast for one minute and then add the mushrooms slices. Sauté for 2 minutes, just until they release their water, and then add the greens and 1/2 teaspoon of sea salt. Sauté for 2 minutes more and set aside.
Add the vinegar and a teaspoon of sea salt to the boiling water. Crack each duck egg into a small, shallow bowl with rounded sides. Stir the boiling water so that there's a vortex in the center and gently lower each of the eggs into the water, working quickly. Edge heat down so the bubbles aren't too violent and cook eggs for 3 minutes. Lift out with a slotted spoon
Place your toast on a plate, and spoon the greens and mushrooms over it. Top each toast with an egg, a drizzle of olive oil, a pinch of sea salt, and a twist or two of black pepper. Serve immediately.