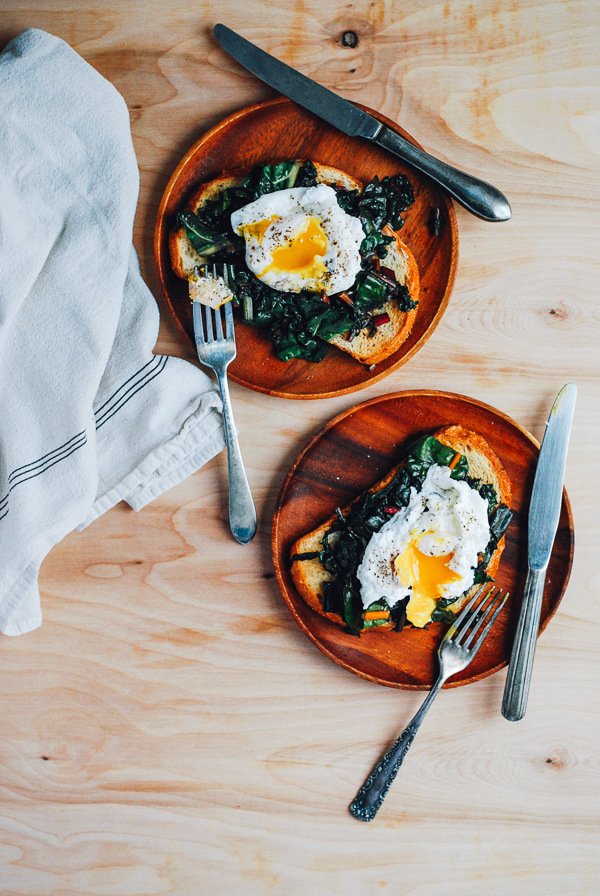 Perfect your breakfast game with this recipe for poached eggs with runny yolks served atop sautéed rainbow chard and thick-cut toast. Jump to recipe.
With a chill in the night air and a few recent professional disappointments, the past couple weeks have been a time for long, hot showers. At night, the bathroom all steamy, I listen to the BBC News, which focuses on Africa in the evening and often serves as a reminder that, with my safe home and clean water, I'm still ahead by more than any of us deserve. No one can blame me for being rooted in my own life –– it's an essential part of being human –– but remembering that all I have is mine by chance is good way to keep things in check.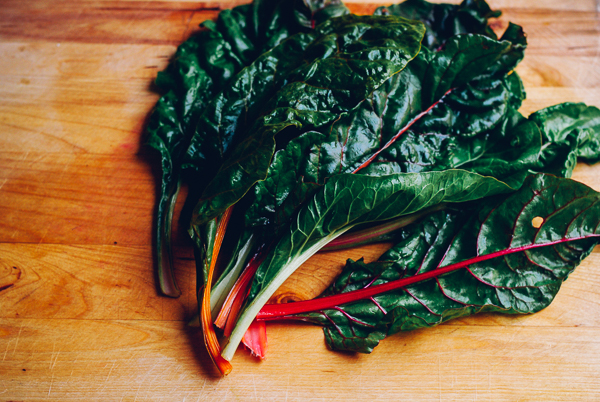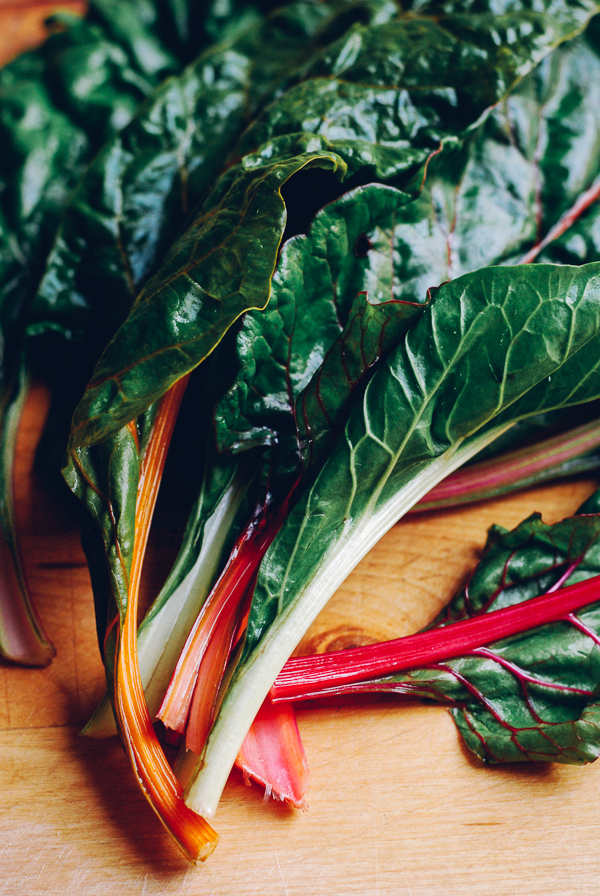 Normally, when I want to stay grounded, I turn to the kitchen, but these days I'm also spending a lot of time sitting on the porch or looking out the window taking in the colors of fall, mediocre as they may be this year. Because, mediocre or not, for now we have the leaves and I want to remember them. April is a long way off.
It's a good time for simple comforts and nourishing, easy food that reflects the moment. I've had a pile of rainbow chard in the fridge for a while now and pairing it with lots of garlic, butter, and pepper seemed like an excellent way to put it to use. I gave my toast the crouton treatment, rubbing it down with a clove of garlic before its trip to the oven. And the eggs are poached gently the way I like best –– with lots of sea salt and vinegar to ensure that even a fresh egg doesn't spread like crazy.
If you're new to poaching, find a more thorough recipe here. Otherwise, charge ahead and make the most of the rapidly changing season.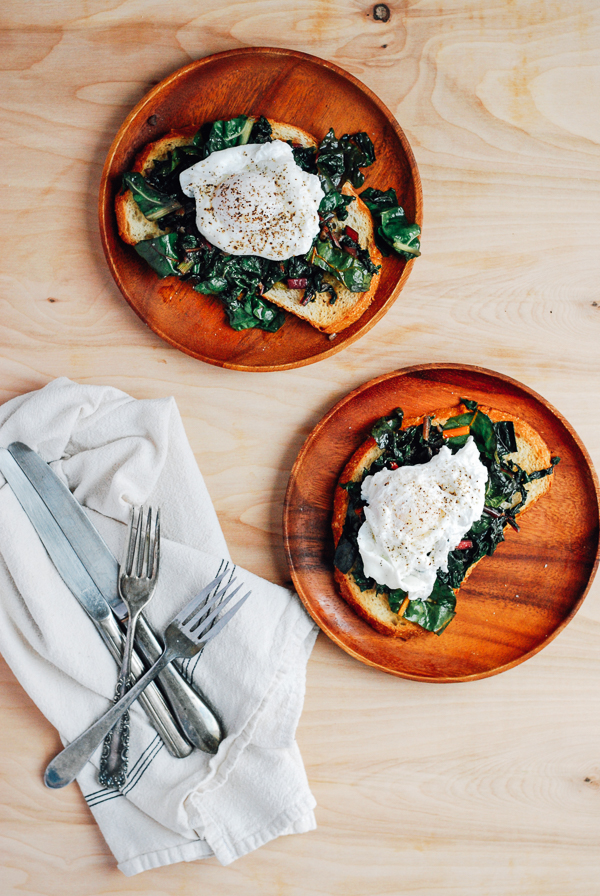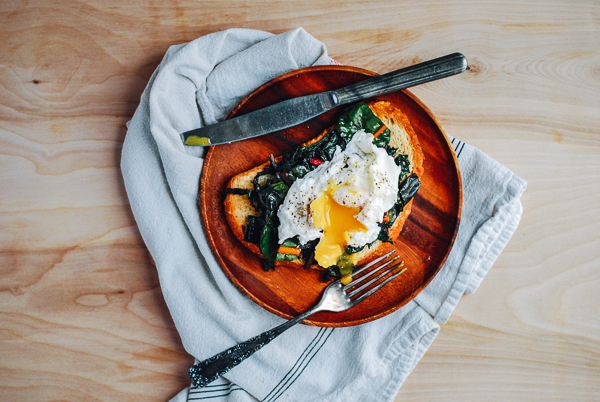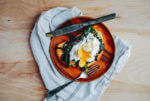 Poached Eggs and Rainbow Chard on Sourdough Toast
Perfect your breakfast game with this recipe for poached eggs served atop sautéed rainbow chard and thick-cut toast.
Ingredients
1

small bunch chard

, washed, dried, and ends trimmed

7

cloves

garlic

, smashed and peeled

1

tablespoon

unsalted butter

1/2

teaspoon

sea salt

, plus more to taste

ground black pepper to taste

2

tablespoons

apple cider vinegar

(or whatever kind you have)

2

slices

thick-cut sourdough
Instructions
Fill a shallow skillet or sauce pan with water and set over medium heat.

Meanwhile, in a large skillet, heat the butter over medium heat. Mince 6 cloves garlic and toss with butter. Edge heat to medium-low and cook 5 minutes. Stir, turn heat to medium, and add chard. Sprinkle with a pinch of sea salt and several twists ground pepper. Cook, stirring occasionally, 10 minutes. Add sea salt to taste.

Rub sourdough with remaining garlic clove and toast.

Meanwhile, poach eggs. Turn water up so that it's bubbling gently and add 1/2 teaspoon sea salt and 2 tablespoons apple cider vinegar. Working swiftly, crack eggs (one at a time) in a small, wide bowl, and tip into the bubbling water. Allow eggs to set up a bit, then use a slotted spoon to bump them off the bottom of the pan. For set whites and (delightfully) runny yolks, cook 4 - 5 minutes.

Meanwhile, plate toast and divide cooked chard between slices. Use a slotted spoon to pull poached eggs from hot water and nestle them into cooked chard. Finish with a tiny pinch sea salt and ground pepper to taste.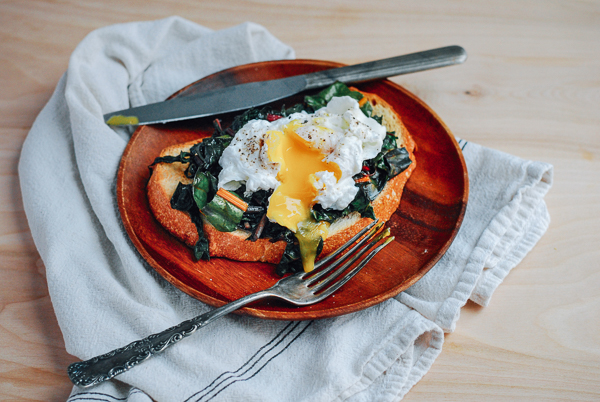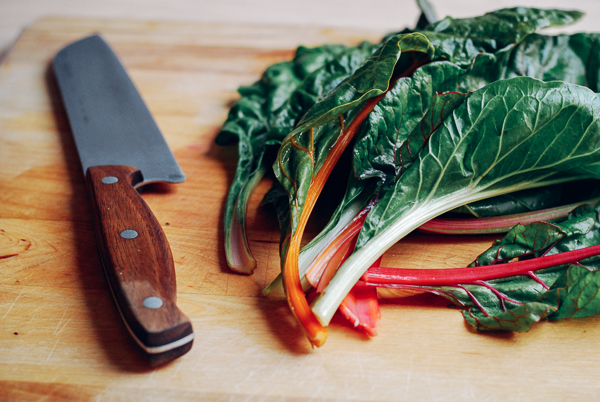 SaveSave
SaveSave