These buttery polenta cookies with a lemony cookie icing, fresh thyme leaves, and candied violets capture the flavors of early spring beautifully.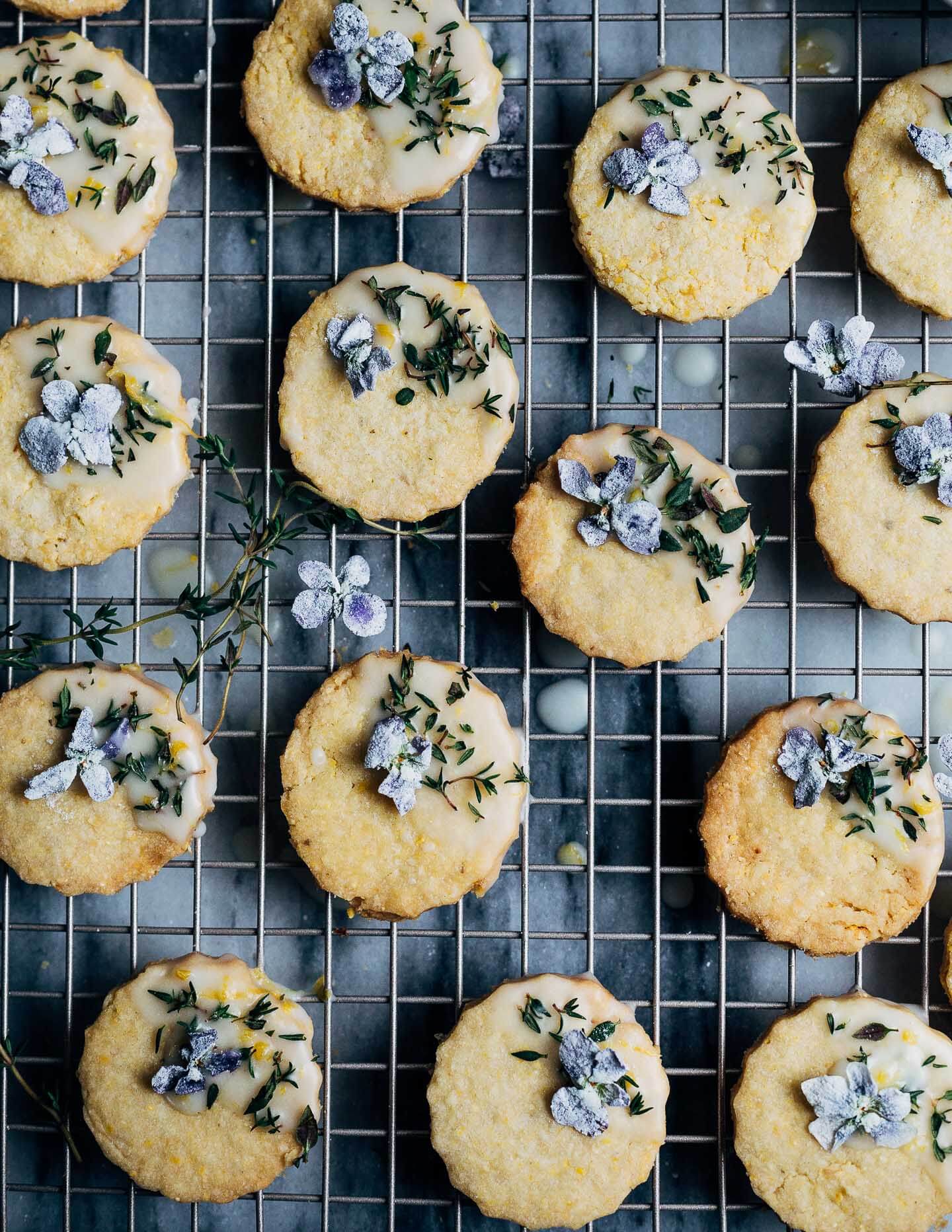 There's a touch of escapism in making such pretty cookies during difficult times, but they also remind me of the simple beauty of spring and all that comes with it.
Eating Flowers
The urge to bring spring blooms into my home and kitchen is powerful. Usually, I just harvest a mess of redbuds or violets, and then try (and fail) to make some kind of thing with them. One year it was ice cream, another jam. But the results are often lackluster, especially when compared to the loveliness of the flowers just as they are.
Knowing all this, but unable to stop myself, this time around I candied a few flowers and herbs from the yard. Redbuds and violets were the most successful, but I also attempted dandelions (total failure) and thyme (weird!). My takeaway from the experience track with my previous experiments. Which is to say, it was a lot of work for a relatively dull flavor. They are pretty though, and I enjoyed the process of encasing each little flower in sugar.
If you'd like to try your hand, I found this Alice Medrich recipe to be the most helpful. (Note that edible flowers should always come from a known, pesticide-free source.)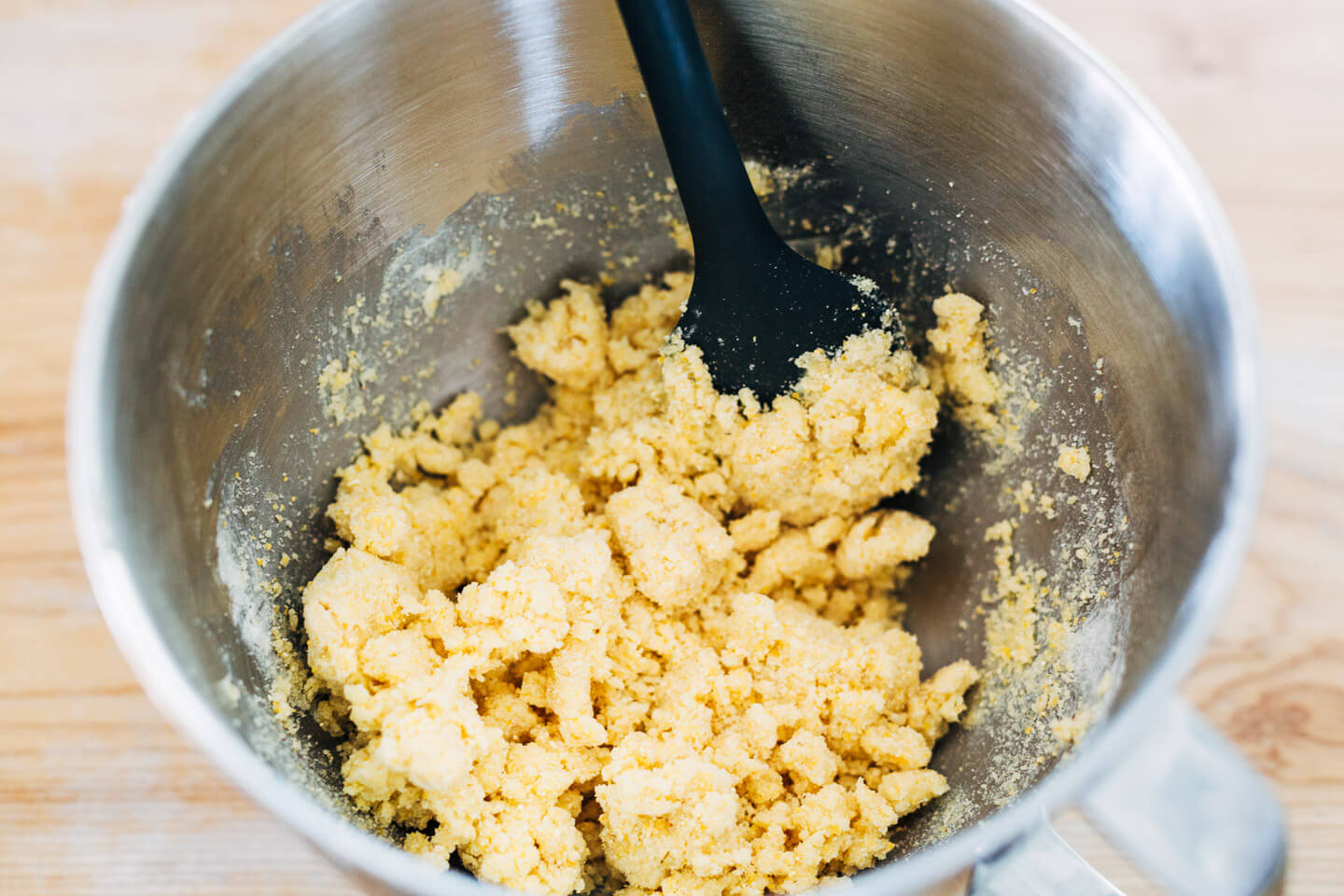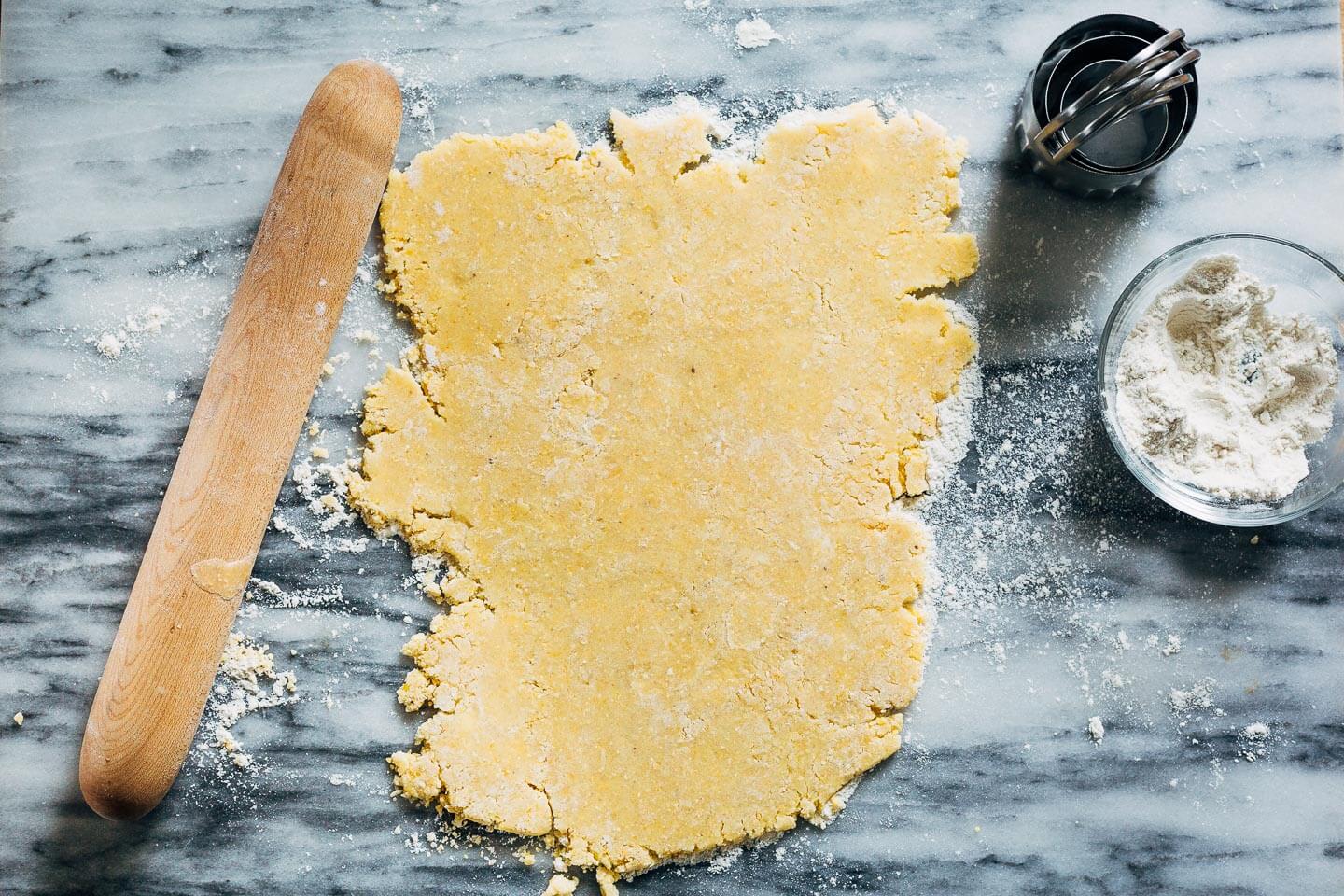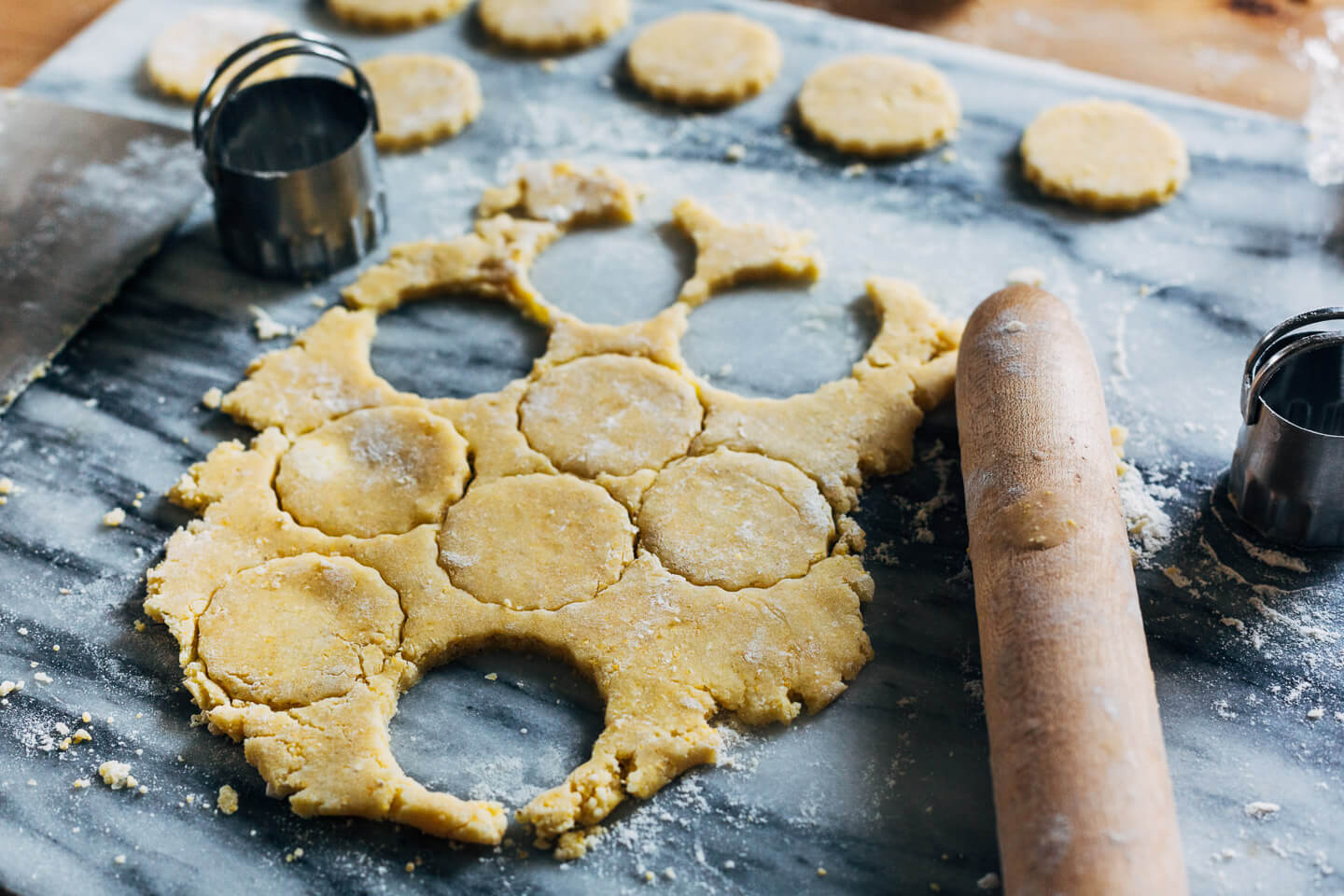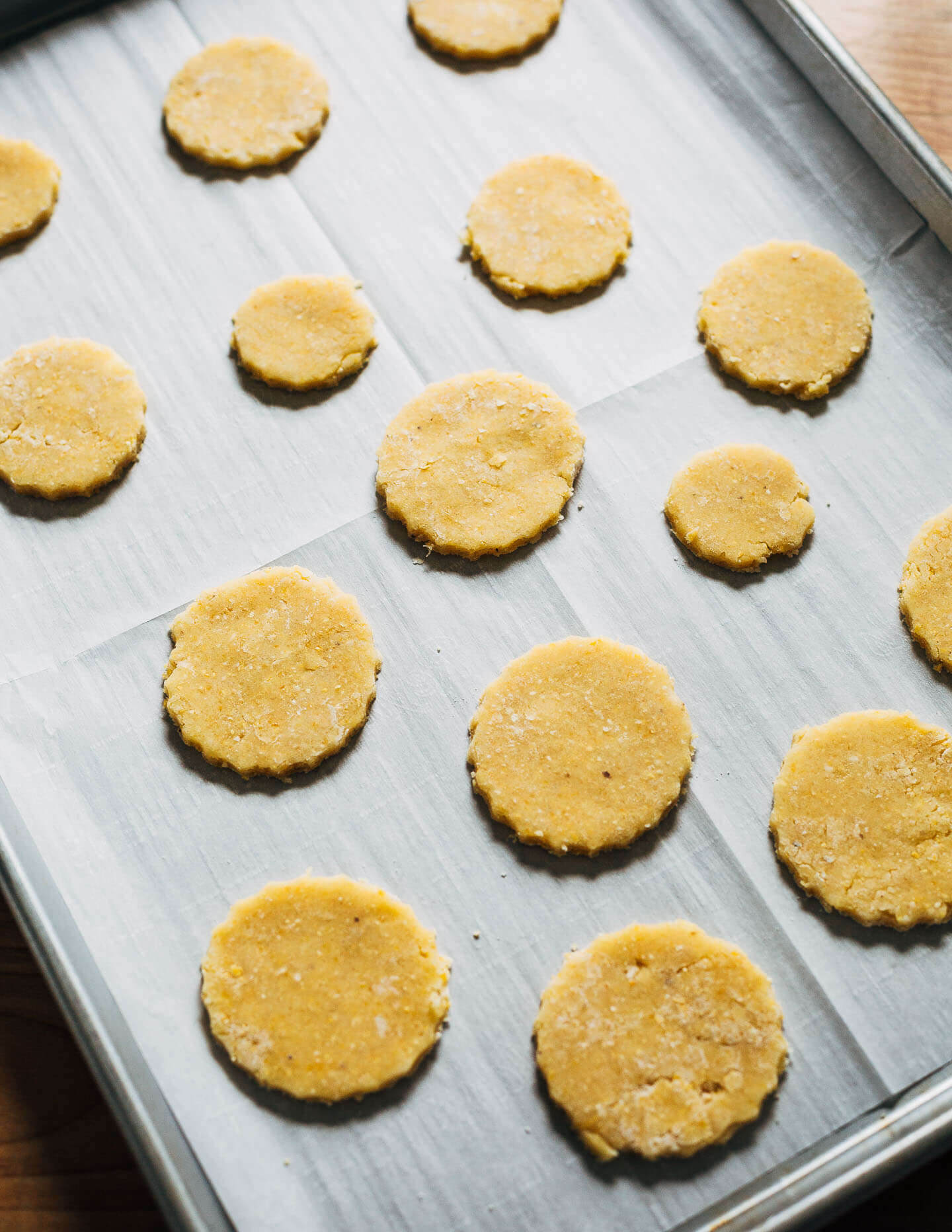 Polenta Cookies
As my candied violets dried, I decided to make a cookie that would show them off nicely. These polenta cookies, based on Italian biscotti di meliga cookies, are made with a medium grind cornmeal that lends a nice bit of crunchy texture. Beyond the featured ingredient, my polenta cookies combine a few simple ingredients for a buttery cookie with just the right amounts of texture and tooth.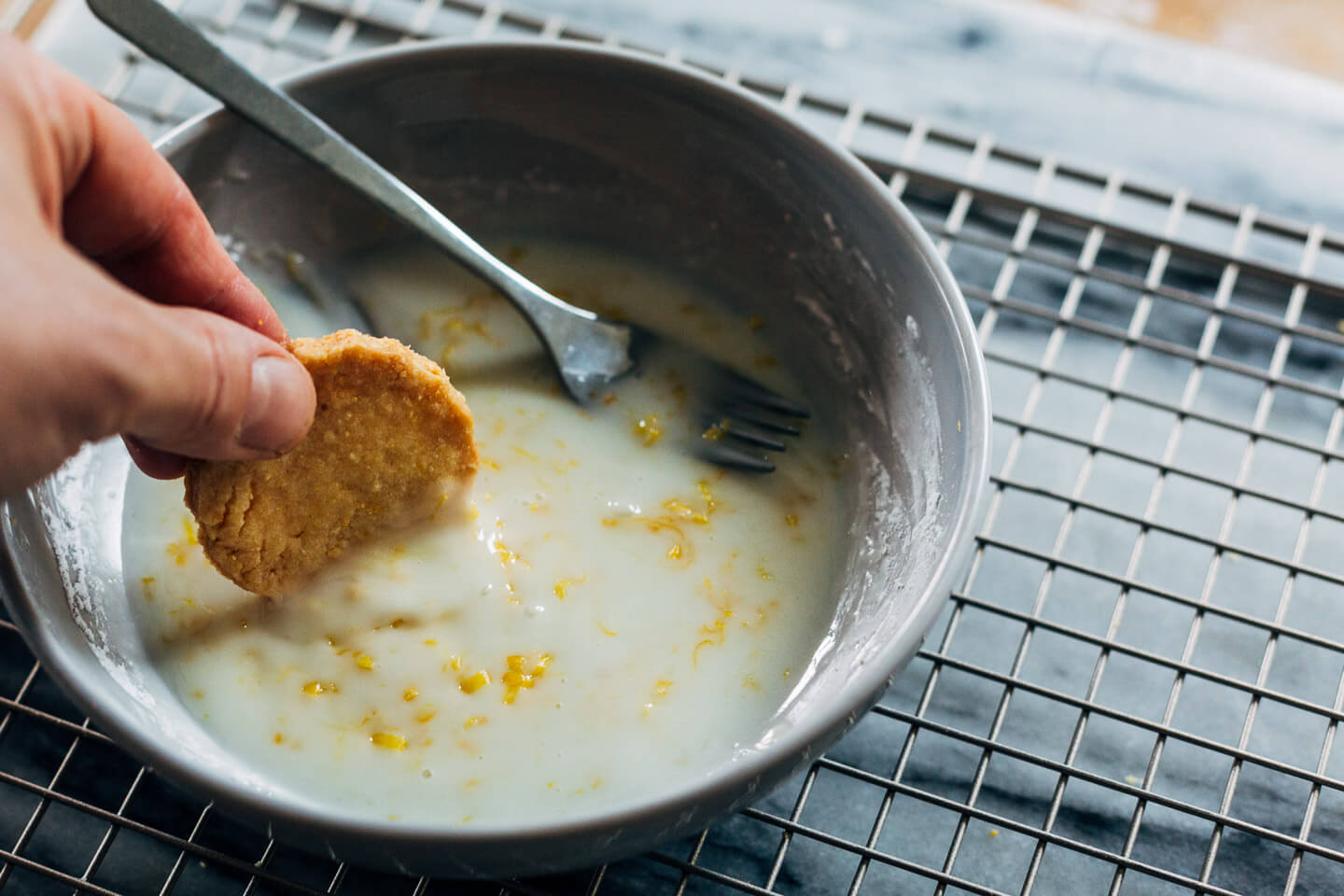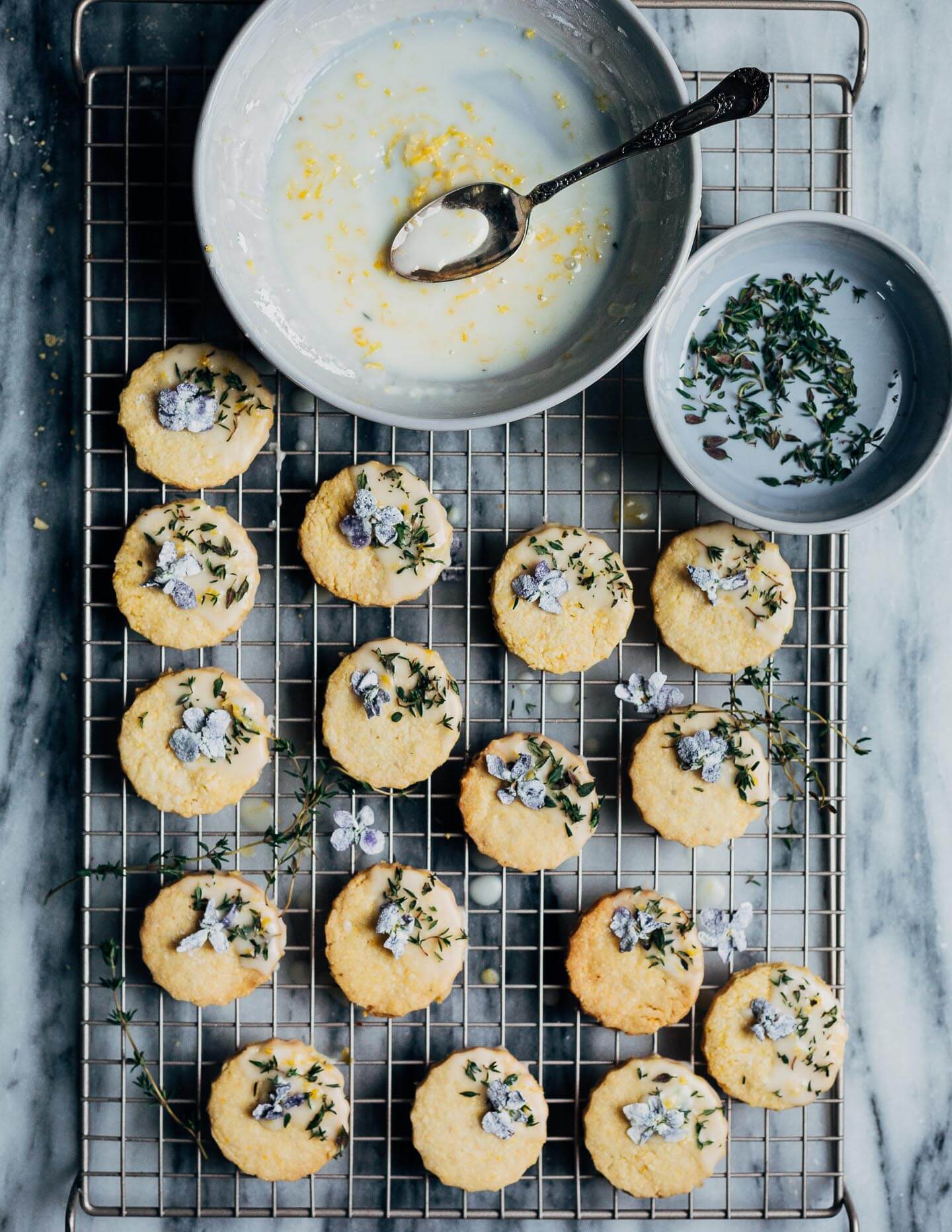 Keep It Cold
With so much butter, the dough warms up quickly as you roll the cookies out, and especially if it's a hot day outside, you'll want to build in time to chill the dough at each step. If the dough isn't properly chilled, the cookies won't hold their shape and will spread out in the oven.
I went to the trouble of rolling my cookies, but you could also form the dough into 2 2-inch wide logs, chill it completely through, and then cut the dough into 1/2-inch thick rounds instead.
Add Flavor
I love these shortbread-like polenta cookies all on their own, but they can also be a nice foundation for layered flavors. I made a simple lemon and powdered sugar cookie icing, dipped half of each cookie, and topped them with minced thyme leaves and a candied violet. Thyme, lemon thyme, or rosemary would all be nice additions. If you're going to be eating them right away, fresh edible flowers would be a nice topping as well.
These cookies keep well at room temperature for about three days. I imagine them as part of an Easter or spring celebration, but they're just as lovely with an afternoon mug of tea.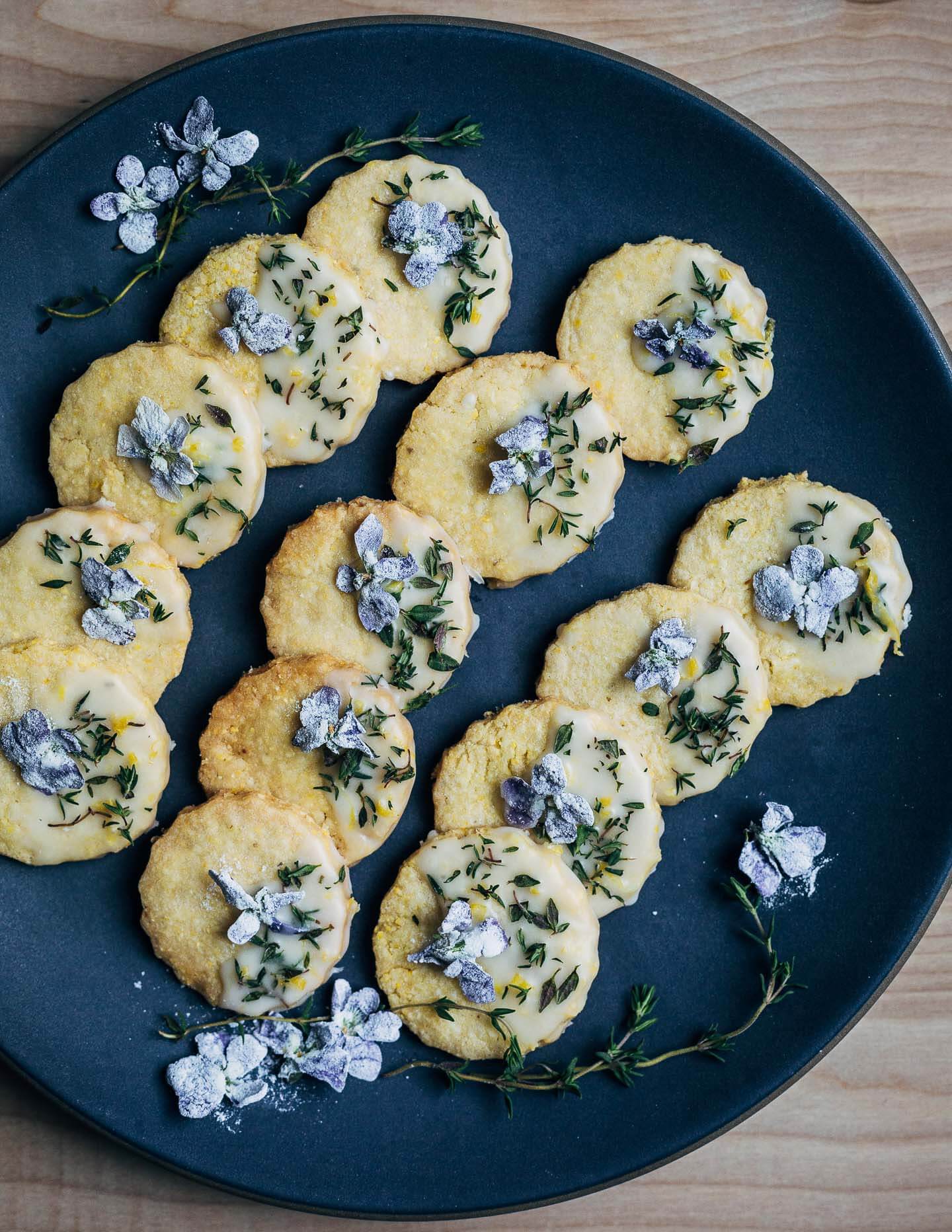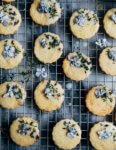 Polenta Cookies with Thyme and Candied Violets
These buttery polenta cookies with a lemony cookie icing, fresh thyme leaves, and candied violets capture the flavors of early spring beautifully. Recipe adapted from Food52 contributor Emiko. If you'd like to make candied violets, I recommend Alice Medrich's recipe here.
Cookies can also be made ahead and then iced and decorated with fresh edible flowers just before serving.
This cookie dough is very buttery and needs to be chilled after each step. Be sure to build in time to chill the cookies thoroughly before baking or they will spread in the oven.
Ingredients
Cookies
6

tablespoons

butter,

room temperature

¾

cups

all-purpose flour

½

cup

medium-grind cornmeal,

or fine grind for a less textured cookie

½

teaspoon

fine sea salt

½

cup

sugar

1

teaspoon

lemon zest

2

egg yolks
Icing
½

cup

powdered sugar

1

tablespoon

finely grated lemon zest

1

tablespoon

lemon juice
Toppings
2

tablespoons

minced thyme leaves,

or use lemon thyme or rosemary

Candied or edible flowers such as violets or redbuds
Instructions
Set the butter out to come to room temperature.

In a small bowl, whisk to combine flour, cornmeal, and sea salt.

In the bowl of a stand mixer fitted with the paddle attachment or with hand held beaters, cream the butter and sugar until light and fluffy, about 2 minutes. Add the yolks one at a time, mixing until each is well combined. Add zest. With mixer on low, add the flour mixture and mix just until the dough starts to come together. Use a silicone spatula to fold any floury bits into the butter.

Gather dough into a rough ball and press out on a sheet of plastic into a rough 6 x 10-inch rectangle. Chill dough for at least 30 minutes or as long as 3 days.

When ready to bake, preheat oven to 300 degrees. Move baking rack to the center of the oven. Line 2 baking sheets with parchment.

Set dough on a lightly floured surface. Give it a few minutes to soften slightly, and then roll it into a larger rectangle about ½-inch thick. Use a 2-inch cookie cutter to cut out your cookies. Arrange 12 - 15 on prepared baking sheet.

Set baking sheet in the fridge to chill for 20 - 25 minutes.

Gather up leftover dough, flatten into a rectangle, wrap in plastic, and set in the freezer for 10 minutes to re-chill. Then roll dough out, cut, and set cookies on the other baking sheet.

When cutout cookies have chilled, slide into the oven and bake 10 minutes, rotate pan, and bake 7 - 10 minutes more, or just until the bottom edge of the cookies turns golden.

Cool on baking sheet for 10 minutes, then remove to a wire rack to cool completely. Repeat process for the second batch of cookies.

Once cookies are completely cool, make the icing by whisking to combine the powdered sugar, zest, and lemon juice. Dip each cookie in the icing, set on a wire rack, and decorate with thyme leaves and (if using) edible flowers. Allow icing to dry before serving or storing.

Cookies will keep well in a sealed container at room temperature for 3 days.