Classic paloma cocktails with a kick of chili powder, smoked sea salt, and pomelo citrus.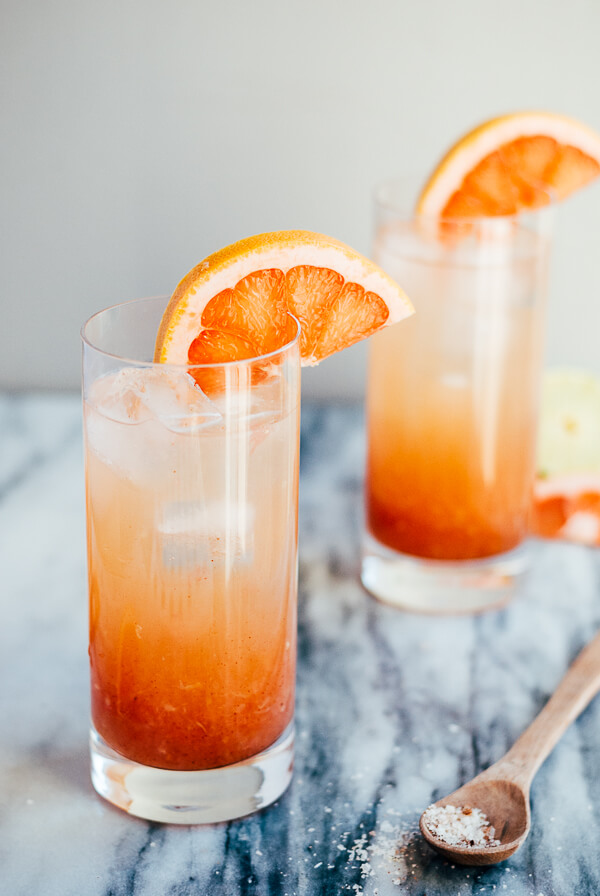 Jump to recipe.

I'm a dedicated brown liquor type and pretty stodgy in my drink ordering ways, so I was a little late to the tequila game. Like all tequila forays, it began with the margarita. Not the frozen kind, but the kind with fresh limes served over ice. And the margarita is so good, I didn't really think to mess with it until I met the paloma.
Pomelo Paloma Cocktails
Similar in flavor notes to the margarita, the paloma features grapefruit juice or soda, sugar, fresh lime, and salt. A fizzy hit of cold grapefruit juice is ideal refreshment designed to cut through the muggy heat of summer. But it's cold out. So I traded grapefruit soda for citrus – limes, grapefruit, and pomelos – and made a pretty, tropical cocktail with a hint of smoky spice that's perfectly at home cozied up to a midwinter evening. Fresh pomelo juice is just right for the job; it's the color of a summer sunset with a complex flavor profile that balances bitterness, acidity, and the bright sweetness of winter citrus. All in all, a really good way to get a bit of June in Febru
ary.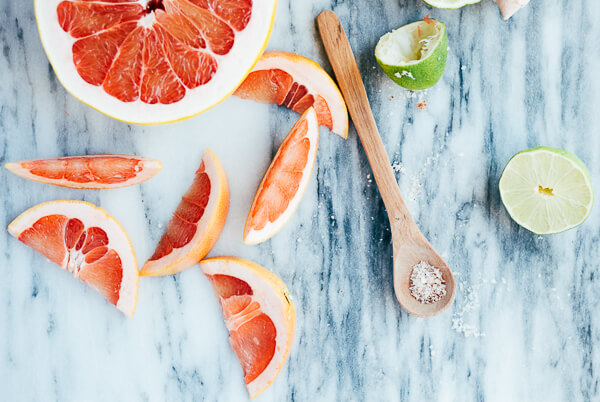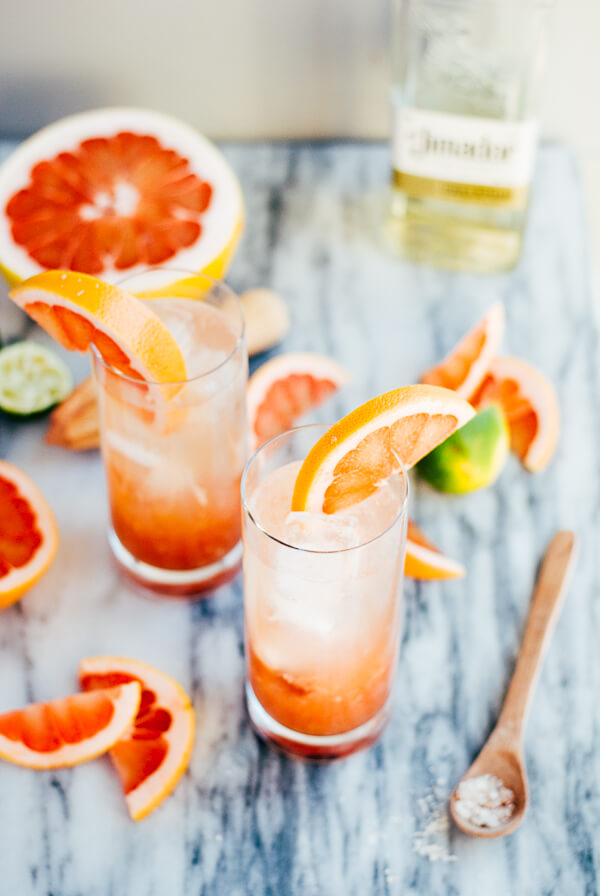 The second reason for pomelo polomas is the undeniable poetry of the name. Pomelo paloma. Pomelo paloma. You're with me on this, right?
To make these, you'll need a pomelo or two, which should be available at specialty grocers right about now, though you can absolutely sub in a sweeter grapefruit like Ruby Red. Since they're huge, juicing the pomelos was a bit messy – I used my citrus juicer and finished the job with a reamer. Besides the juiced citrus, you'll want to have good salt – I'm still enjoying a jar of Icelandic birch-smoked sea salt – as well as sugar, a high-quality chili powder, and a bottle of decent tequila.
I go back and forth on the salted rim – feel free to do as you see fit.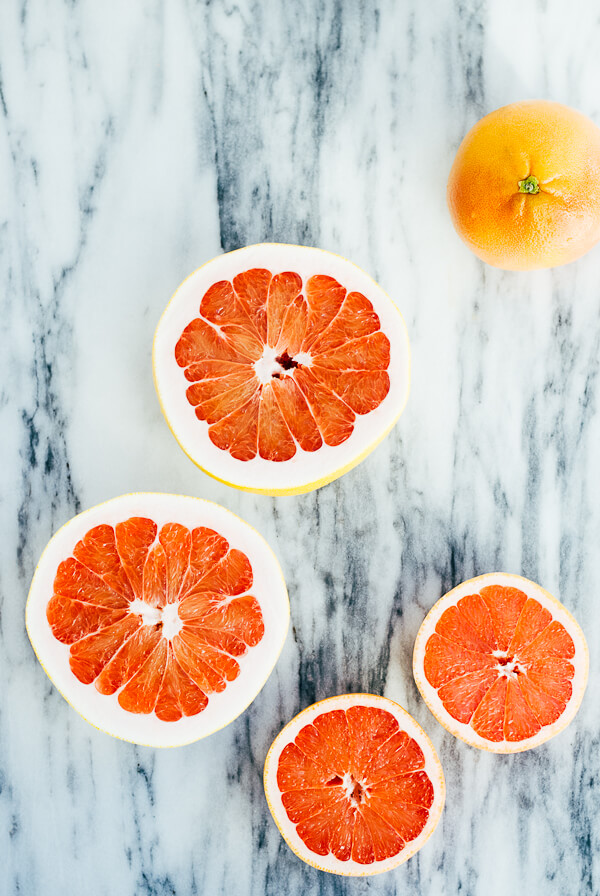 Before we get to the recipe, a bit of exciting news! Brooklyn Supper is the blog of the week over on Yahoo Food. Things are kicking off with a brief interview and eight things you may not have known about us. Thanks for checking it out!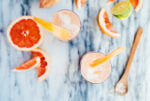 Pomelo Chili Paloma Cocktails
Classic paloma cocktails with a kick of chili powder, smoked sea salt, and pomelo citrus.
Ingredients
sea salt

, kosher salt, or margarita salt to taste

1/8

teaspoon

chili powder

3

ounces

freshly squeezed pomelo or pink grapefruit juice

(about a quarter of a pomelo or half a grapefruit), plus a pomelo or grapefruit wedge for garnish

1

tablespoon

freshly squeezed lime juice

1

teaspoon

granulated sugar

2

ounces

tequila

2

ounces

soda water
Instructions
For a salted rim, mix 1- 2 tablespoons salt with 1/8 teaspoon chili powder, and spread out in a small, shallow dish. Rub the rim of a highball glass with reserved pomelo or grapefruit wedge. Dip one side of the rim in the salt. If not using salted rims, stir a pinch each salt and chili powder into the cocktail.

Carefully fill glass with ice. Add pomelo or grapefruit juice, lime juice, and sugar. Stir until sugar has dissolved. Pour in tequila and top off with soda. Finish with a pinch of chili salt and garnish with reserved citrus wedge.