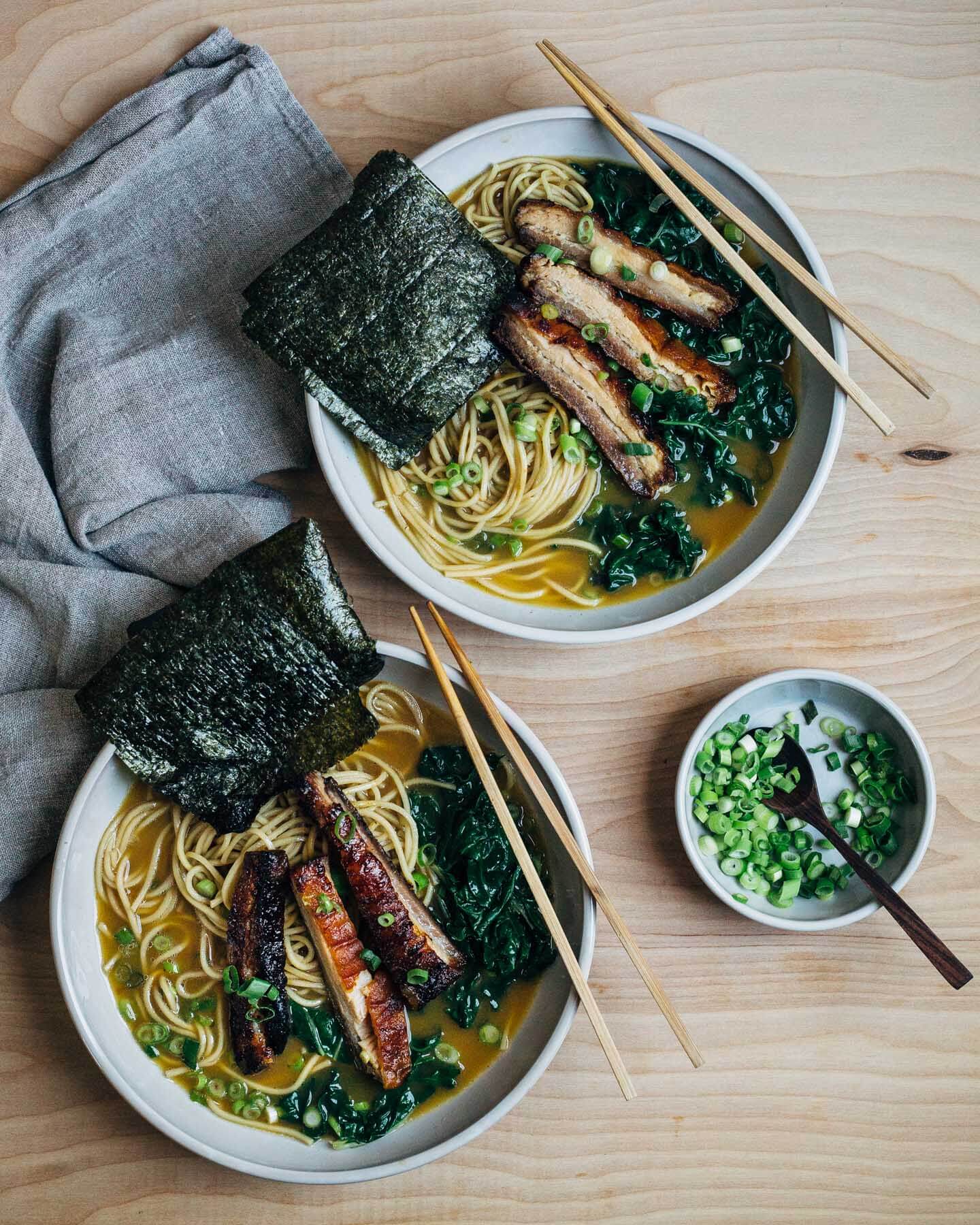 A recipe for crispy pork belly ramen with vibrant chard and green onions, in partnership with Imagine®. Jump to recipe!
I don't begrudge winter cooking its complexity. The warmth of the oven and the creativity that the familiar lineup of roots and brassicas demand are both pleasures I relish. By March, though, my winter cooking rituals are hardly inspiring.
So as soon as the produce allows, I like to keep my spring cooking uncomplicated and let the new leaves and vibrant shoots speak for themselves. The delicate flavors of the season seem to arrive on our plates so tenuously – having faced March's bluster. These vegetables have been through enough.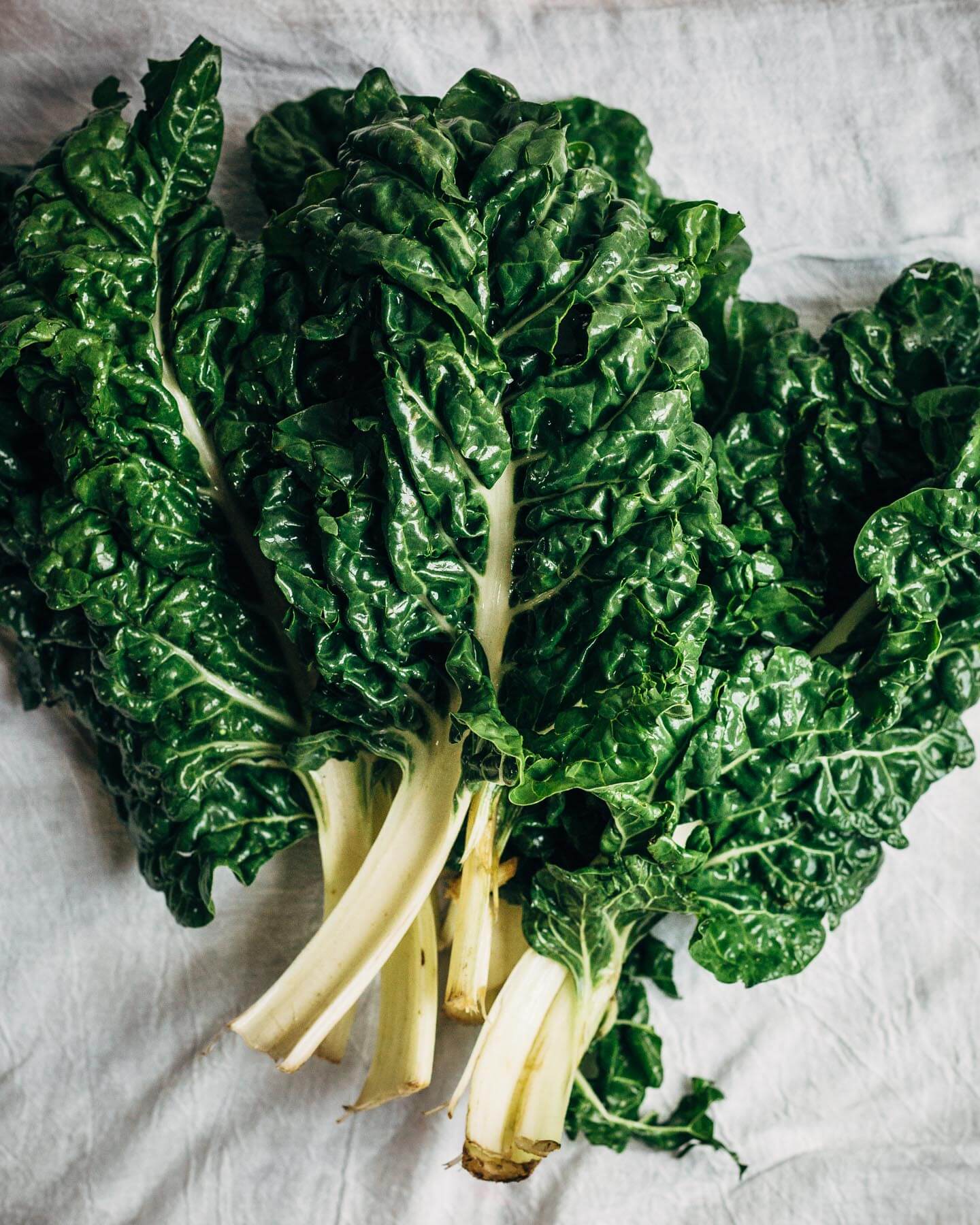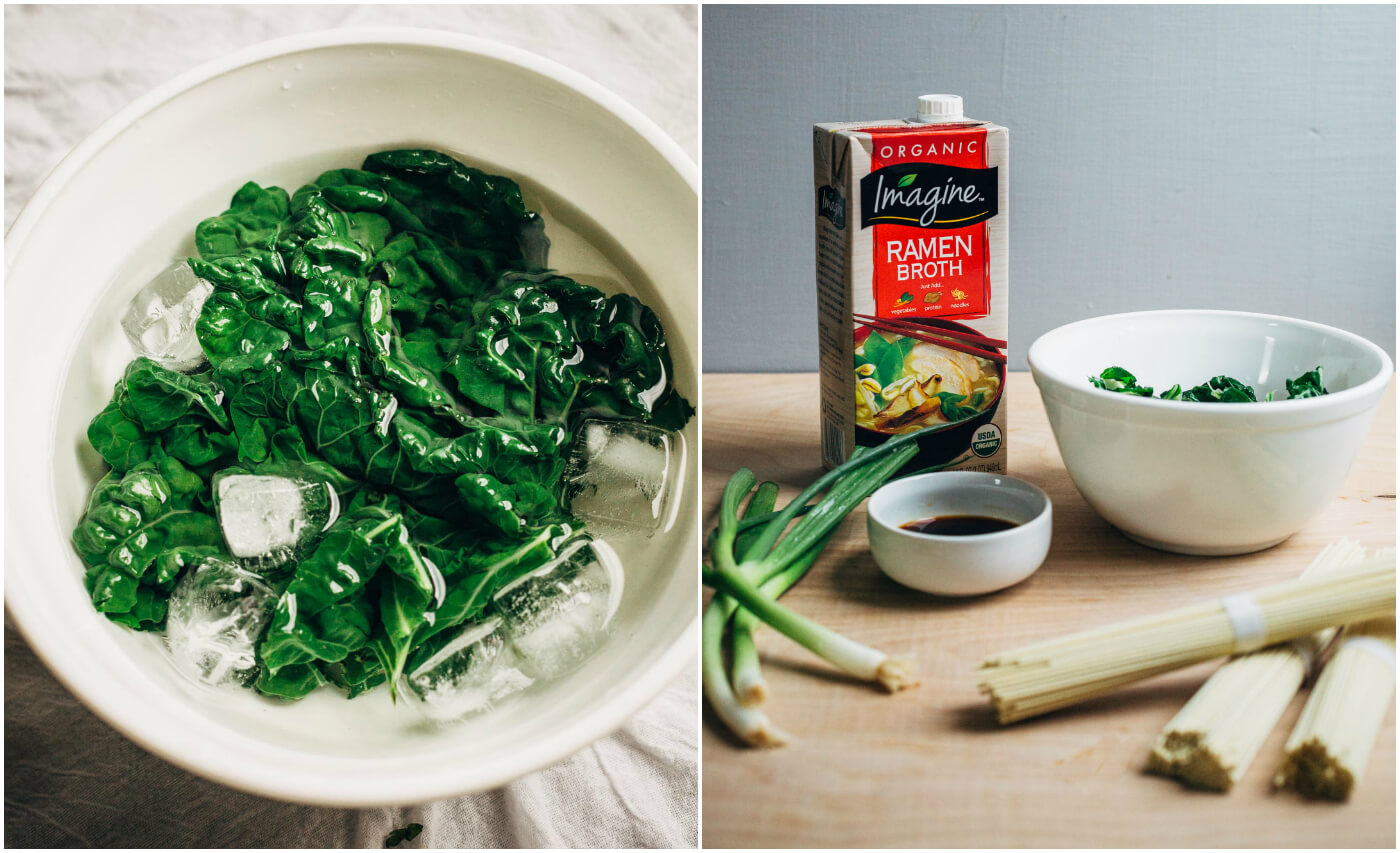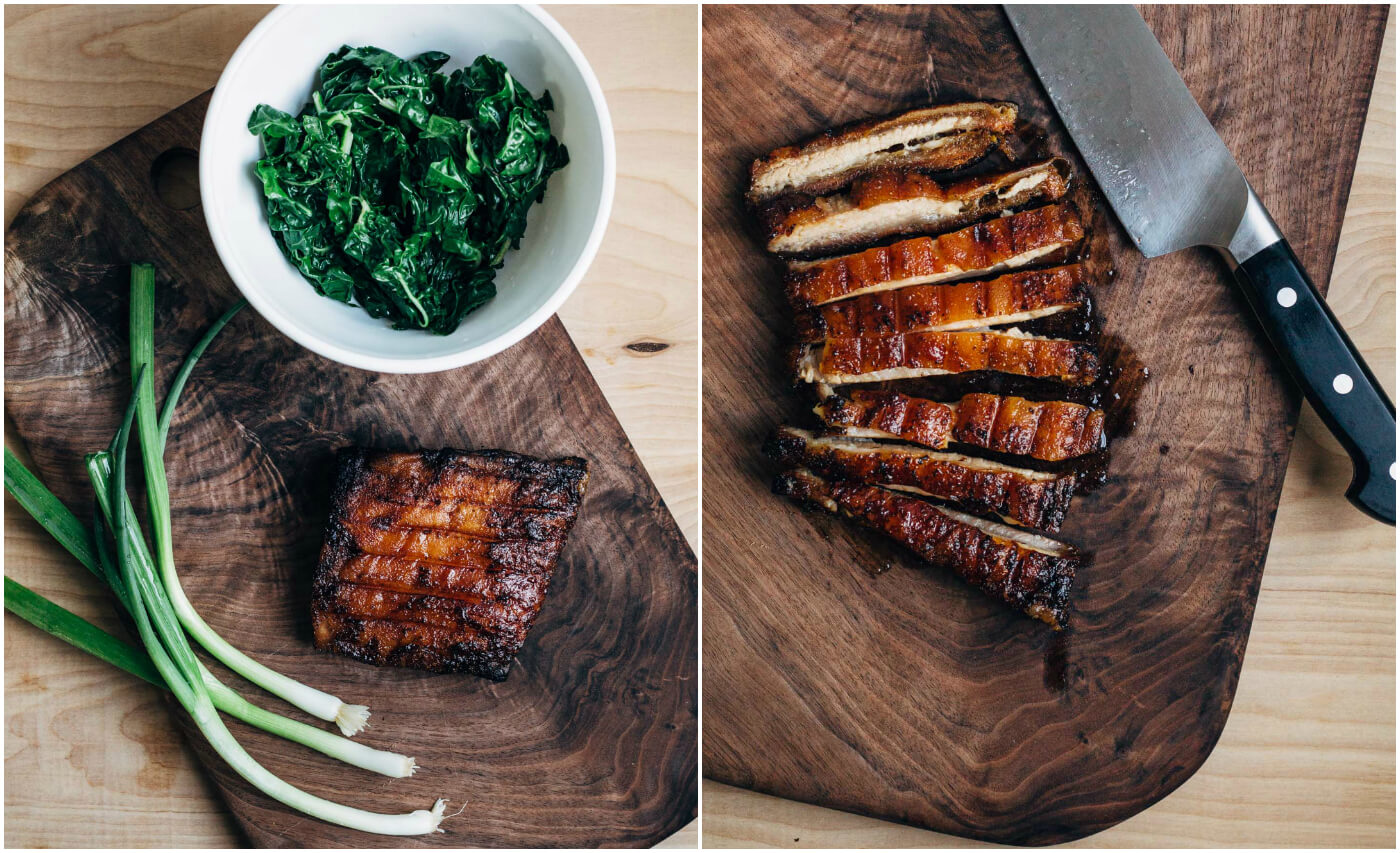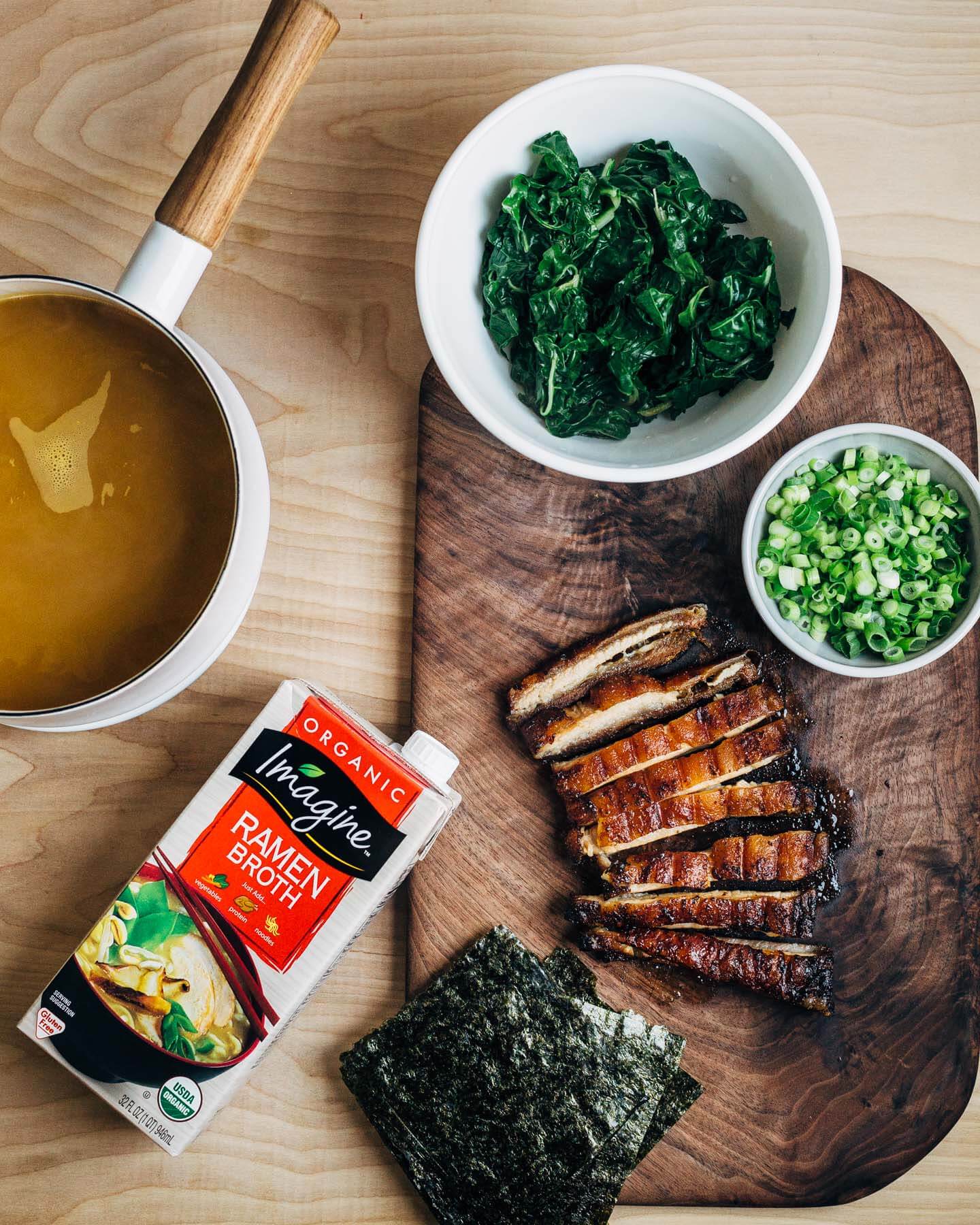 To celebrate spring's arrival, I cooked up a batch of pork belly and green chard ramen. This ramen is all about the play between green chard and strips of meltingly tender oven-crisped pork belly. The pork belly comes together in two steps, first, it gets an overnight spice rub, and then it's roasted up in the oven for about 2 hours, rendering its fat and crisping the outside beautifully. In the ramen itself, a shock of blanched chard is a nice counterpoint to all that richness, and both ingredients elevate an otherwise simple dish.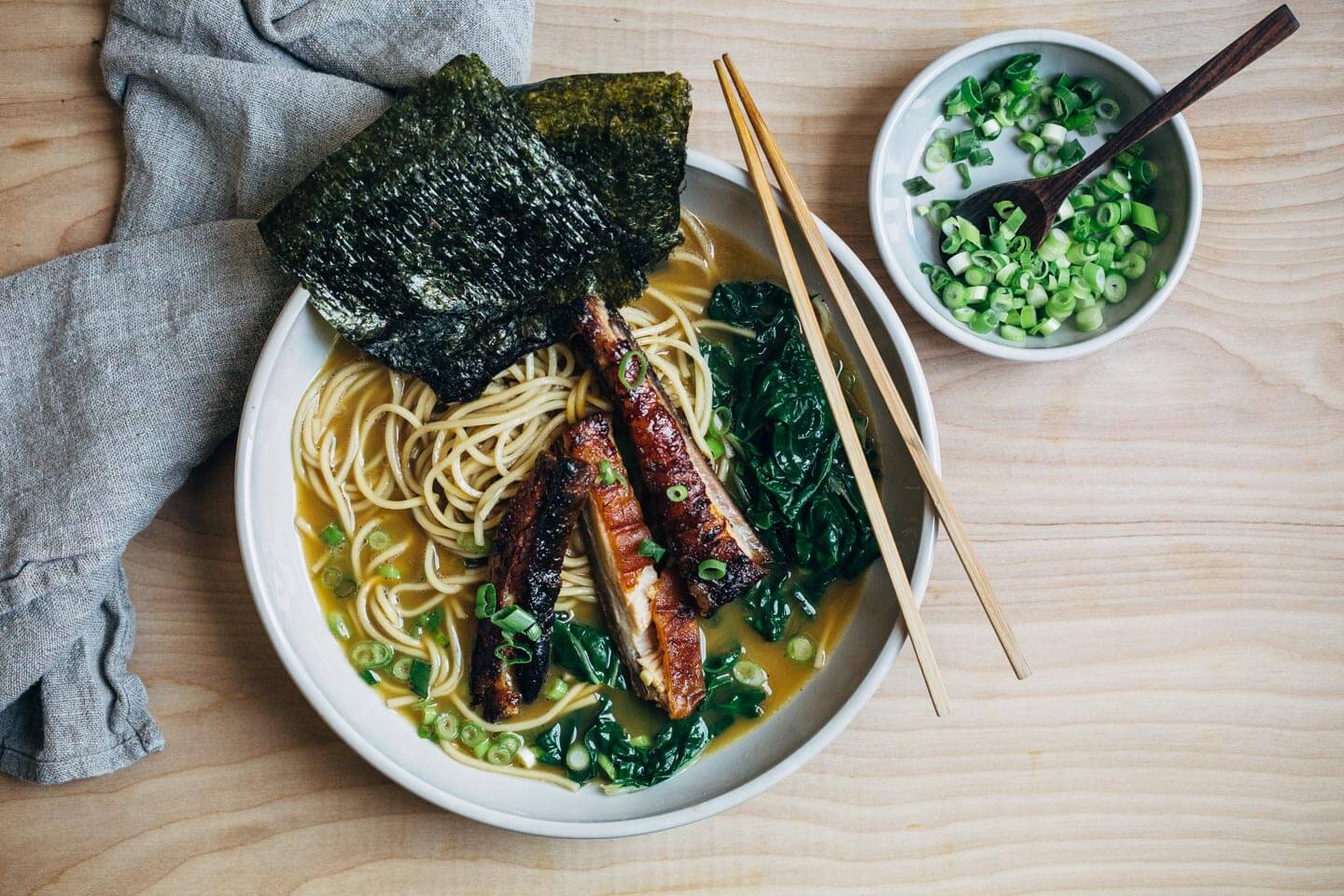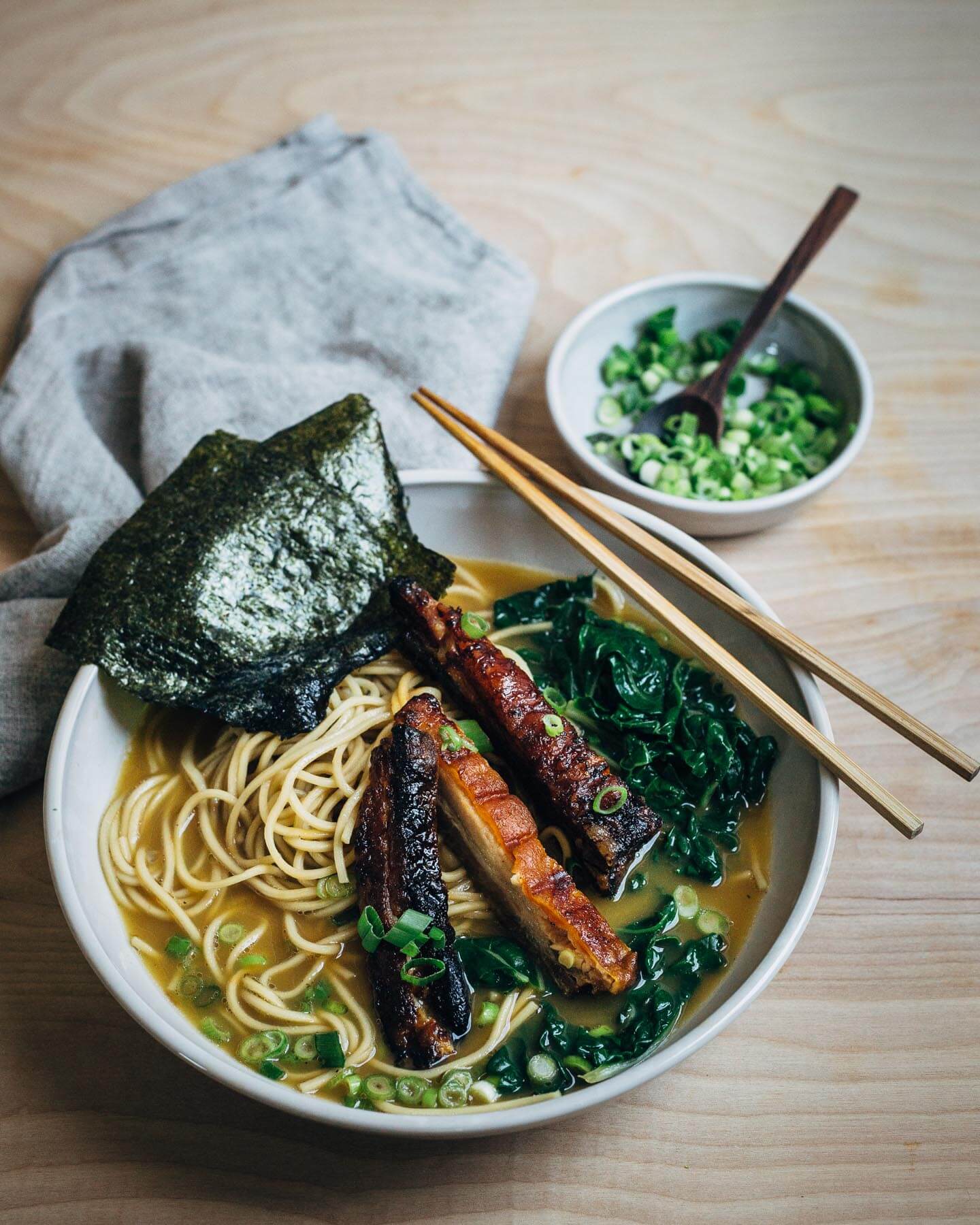 Like every great ramen, the backbone of my dish is great broth – Imagine® Organic Ramen Broth. Right out of the carton, it has a wonderful richness and plenty of umami punch, but is also versatile enough to easily accommodate additions. Make it yours with additions like garlic, ginger, soy sauce, chili paste, shiitake, rice wine vinegar, or miso. Imagine® Organic Ramen Broth is also vegetarian, relying on ingredients like mirin, tamari, and ginger for depth, so if pork belly isn't your thing, you can still make a bowl of ramen pretty simply.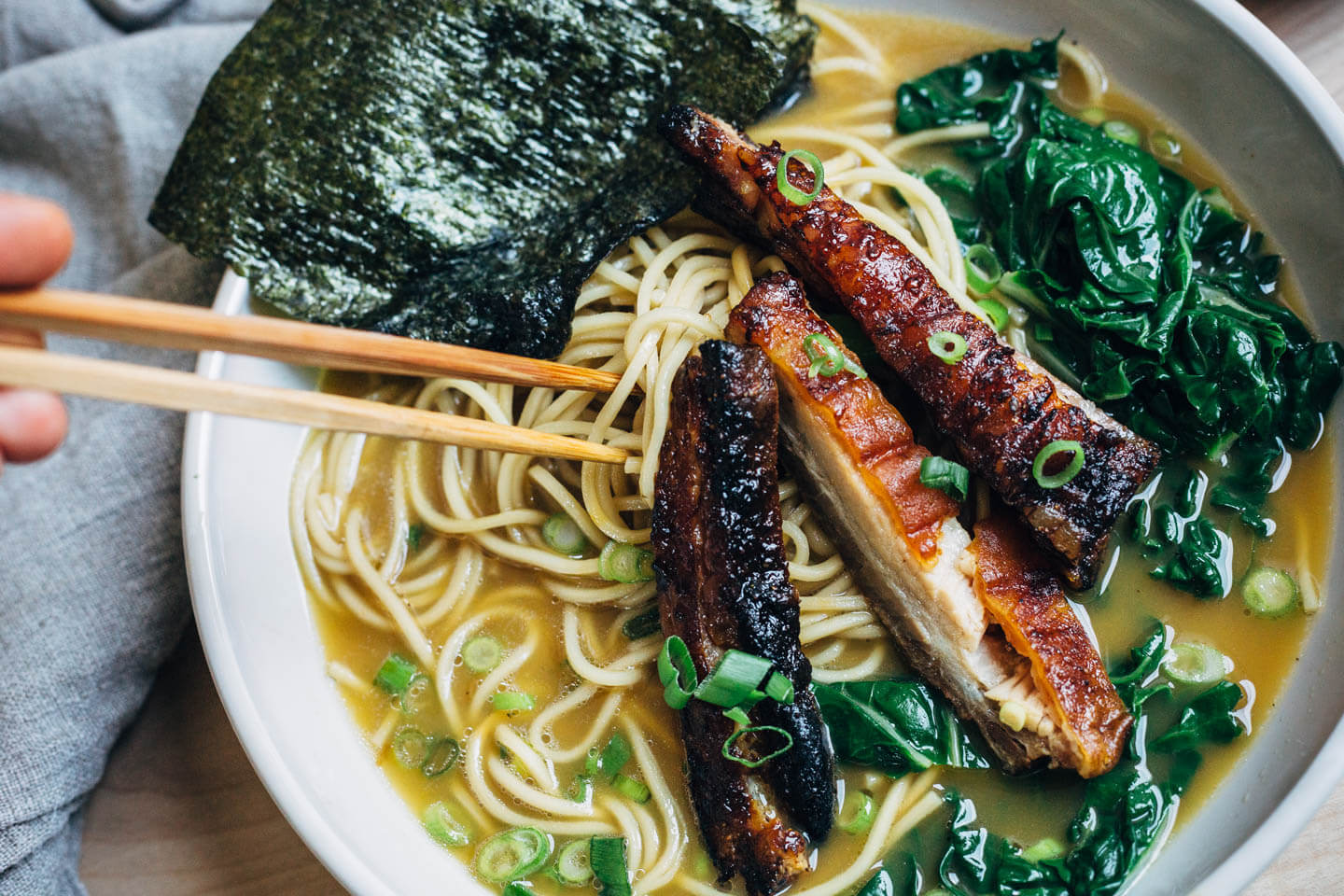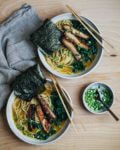 Pork Belly Ramen with Spring Greens
Pork belly suffuses this ramen with depth and richness, while blanched green chard lends vibrancy. Store bought Imagine® Organic Ramen Broth is punched up with soy sauce and green onions, for a knockout bowl of pork belly ramen at home. For best flavor, pork should be rubbed with the spice mixture and chilled overnight (if you're short on time, even an hour will do wonders). Give the pork time to come to room temperature and then roast on a rack 1 - 2 hours, or until pork belly is crisp on the outside and meltingly tender on the inside.
Ingredients
1

pound

pork belly,

(1 - 2-inches thick)

1

tablespoon

sea salt, plus more to taste

1

tablespoon

brown sugar

1

teaspoon

freshly ground white pepper

(or sub 1/2 teaspoon black pepper)

1/2

bunch chard, stems removed, rough chopped

1

quart

Imagine® Organic Ramen Broth

(32 ounces)

3

tablespoons

soy sauce, or to taste

1

(9.5 ounce) package flat Japanese ramen noodles

(or ramen noodles of choice)

4

sheets nori, cut into quarters

4

green onions, thinly sliced
Instructions
The night before, mix to combine sea salt, sugar, and pepper in a small bowl. Rub mixture onto pork belly on both sides. Set in a small tray, cover, and refrigerate overnight.

A half hour before you're ready start cooking, set pork belly on counter to come to room temperature. Preheat oven to 450 degrees F. Set a small oven-proof wire rack in a small roasting pan or 2-inch deep tray – this will allow fat to render off as pork belly cooks.

Set pork belly on rack, skin side down, and slide into oven. Cook until belly is a deep golden hue and edges begin to crisp, 35 - 45 minutes for a 1-inch thick cut and 50 - 60 minutes for a 2-inch thick one. Turn heat down to 250 and continue to cook until pork is really, really tender, 45 minutes to an hour. Rest 5 minutes and then slice with the grain into 1/2-inch strips. Collect and strain any rendered fat, and set aside.

During the last hour of cook time, bring a large pot of salted water to a boil. Immerse chard in water for 1 minute, then immediately plunge into ice water. Drain water and ice and set aside. Cook ramen noodles in same water according to package instructions. Drain and toss with a drizzle of oil or reserved pork fat.

In a small saucepan, gently heat the ramen broth; when steamy, stir in soy sauce. Taste, and adjust seasoning as needed.

Arrange noodles in wide bowls. place greens on one side and top with 3 strips pork belly. Just before eating, pour ramen broth over top, garnish with green onions and nori, and enjoy.
Disclosure: This post was created in partnership with Imagine®. Thanks for supporting the brands we love!