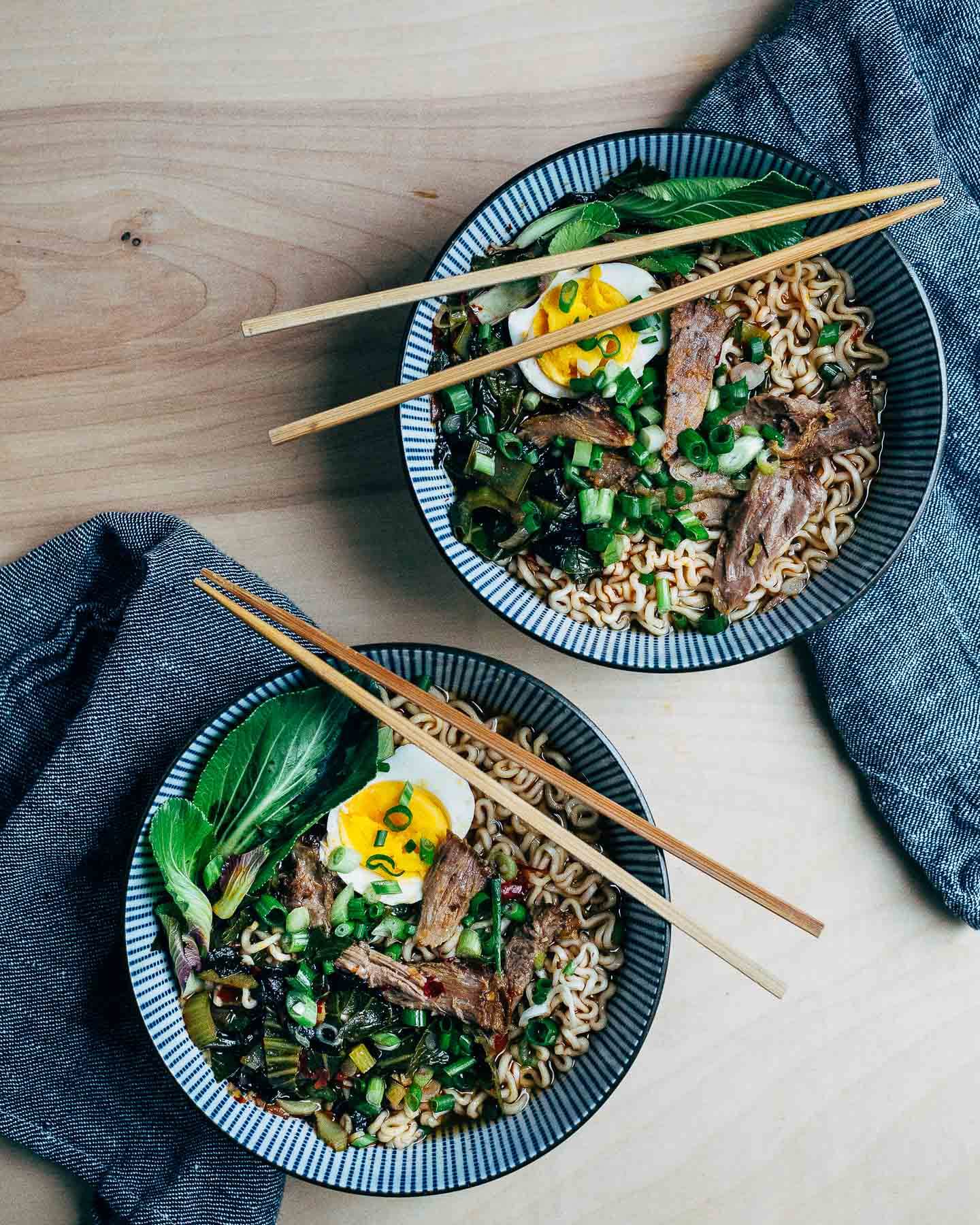 A simplified, completely delicious pork ramen recipe made with braised pork and seasonal vegetables, created in partnership with Progresso Foods. 
The world of ramen is one of extremes. At one end, there are the styrofoam cups and flavor packets that I grew up with. At the other end are the closely guarded secret recipes of the ramen shops that have, in the past few years, reclaimed ramen as a dish to be made carefully and from scratch. Between these extremes, though, there's room for home cooks to make a seriously excellent bowl of ramen. These particular bowls feature spicy, incredibly tender braised pork shoulder, a rich broth layered with vegetables and aromatics, and a pile of highly slurpable ramen noodles.
This recipe happens in two sessions. First up, you'll want to braise a pork shoulder until it melts in your mouth. It takes four or five hours but is WORTH IT.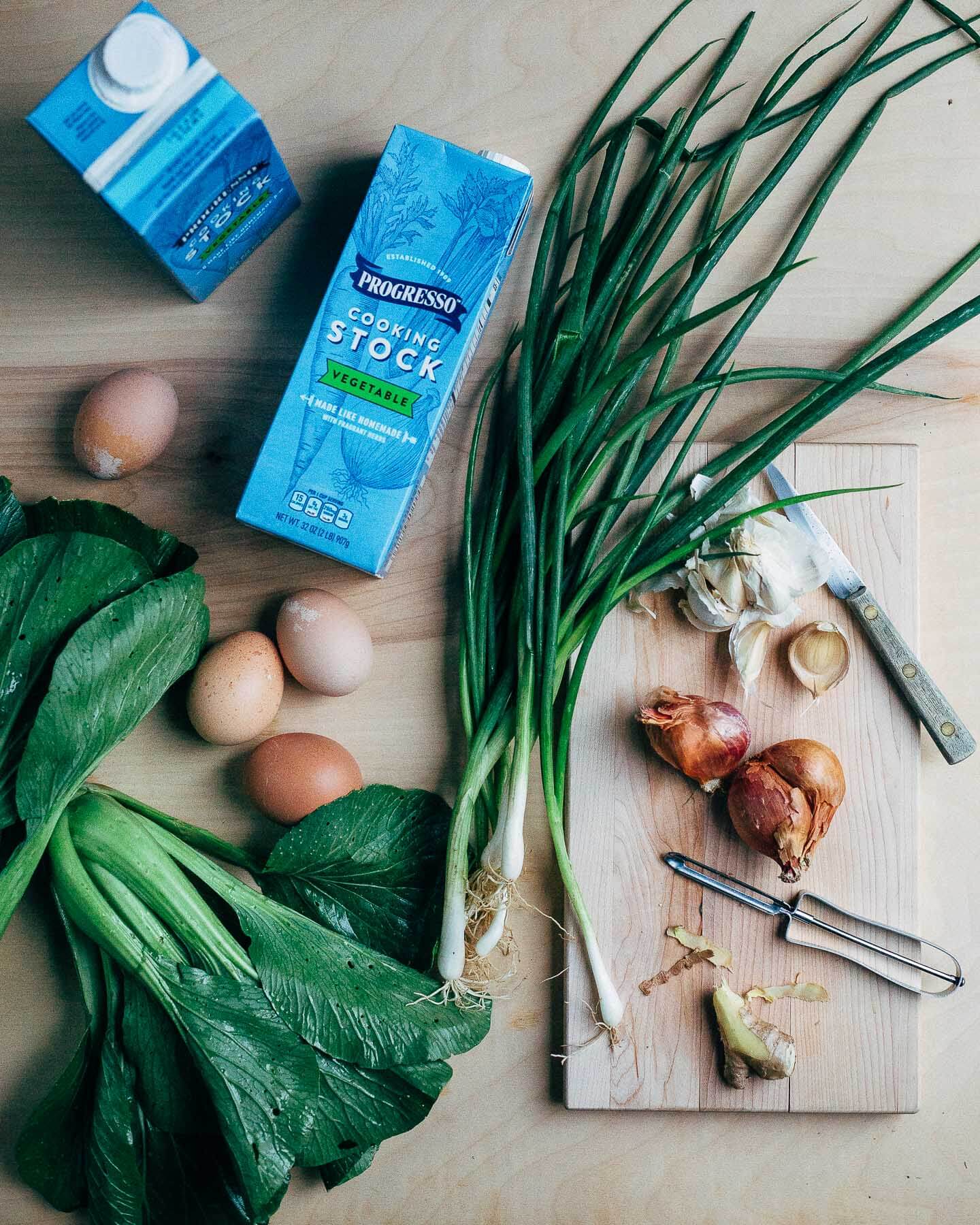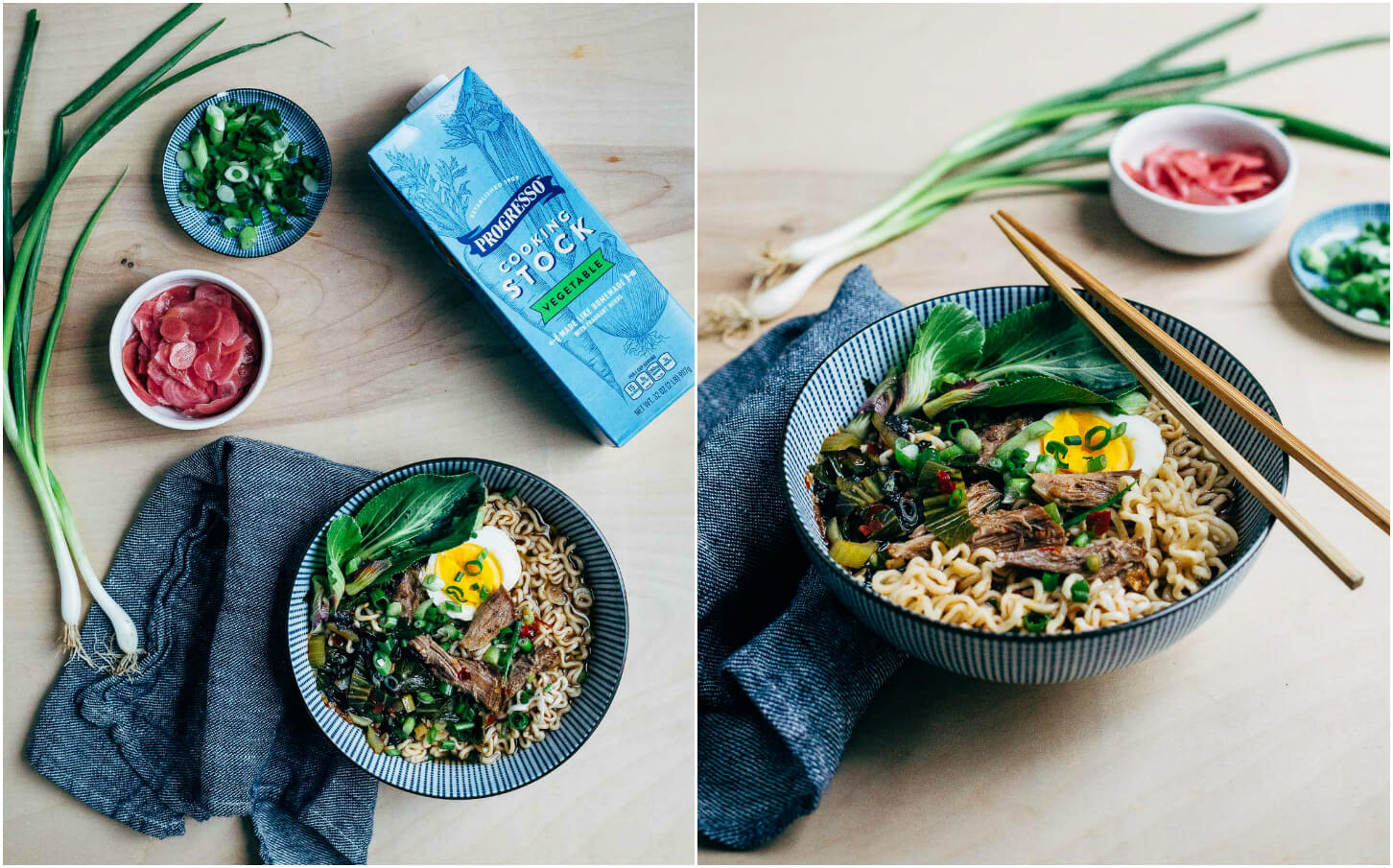 Next, you'll need to prep the broth, noodles, and soft-boiled eggs. This part comes together pretty simply (unless your eggs are hard to peel, in which case you may lose your mind. I speak from experience here.)
Because I wanted to highlight the flavors of the pork, I used Progresso Vegetable Cooking Stock as the base for my ramen broth. Progresso's short list of ingredients and great flavor are wonderful as the star of a dish but also play the supporting role to other ingredients beautifully. To build the flavor for my ramen, I sautéed a mix of shallot, garlic, ginger, and chili paste, then added soy sauce, a splash of rice wine vinegar, and Progresso's Vegetable Cooking Stock. Finally, I added chopped bok choy and nori ribbons, and simmered briefly. I filled bowls with broth and noodles, placed the pork on top, and finished with sliced green onions.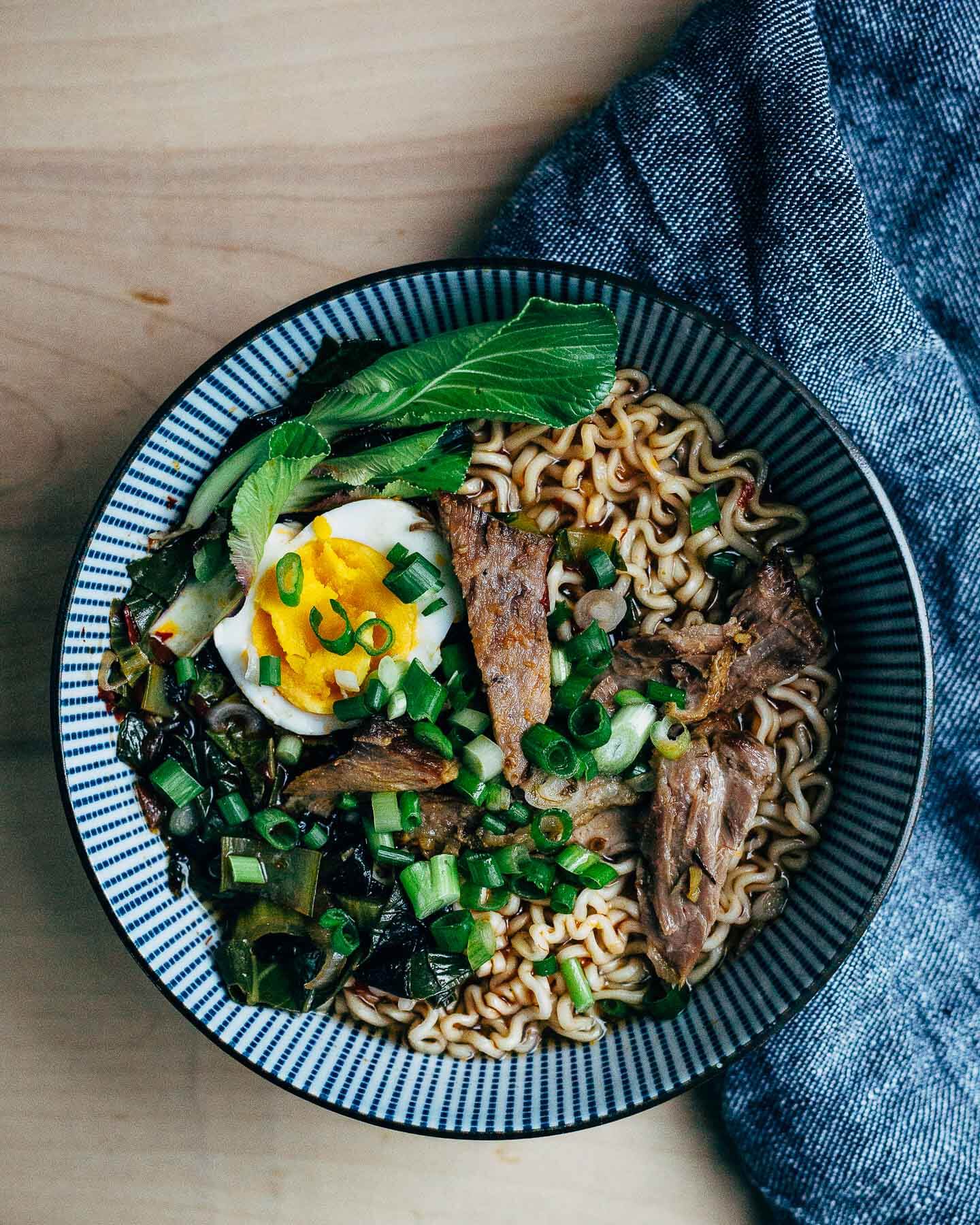 Of course, homemade ramen can take on all kinds of ingredients and is perfect for experimentation – feel free to work with whatever vegetables you have at hand as the summer progresses.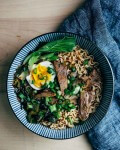 Pork Ramen
A simplified, completely delicious pork ramen recipe made with braised pork and seasonal vegetables. The recipe comes together in two sessions – first, you'll need to braise the pork 4 - 5 hours, let it cool, and then put ramen together. Braising the pork is very hands off, so plan ahead and reap the delicious rewards.
Ingredients
For the Pork Braise
2

pounds

boneless pork shoulder

sea salt

1

teaspoon

grapeseed oil

4

large cloves garlic,

smashed and peeled

1

large shallot,

chopped

1

tablespoon

chopped ginger

1/4

cup

mirin

1

tablespoon

chili paste

1

tablespoon

soy sauce

1/2

tablespoon

toasted sesame oil

1

cup

water
For the Ramen
12

ounces

dried ramen noodles

2

eggs

1/4

cup

pork fat,

reserved from braised pork

2

tablespoon

minced shallot

2

tablespoons

minced garlic

2

tablespoons

minced ginger

2

tablespoons

soy sauce

1

tablespoon

chili paste

1

tablespoon

rice wine vinegar

1 32-

ounce

box Progresso Vegetable Cooking Stock

1

head bok choy,

chopped

2

sheets nori,

sliced into ribbons

4

green onions,

ends trimmed and chopped
Instructions
Preheat oven to 300 degrees F.

Set a Dutch oven or other large, heavy-bottomed pot with a tight fitting lid over medium high heat. Add the grapeseed oil, and then sear pork shoulder until it's a rich brown hue on all sides, about 4 minutes a side. Take extra care the sear and render the fat layer. Remove seared pork to a plate and turn heat down to medium.

Pour off all but 2 tablespoons fat, reserving any excess for later use. Add shallot, garlic, and ginger, and sauté until golden, about 3 minutes. Add mirin, chili paste, soy sauce, and sesame oil, stir briefly to deglaze, then add water. Set pork back in pot and bring liquid to a boil. Off heat, cover, and slide pork into oven. Cook for 2 hours, check, flip pork, and cook 2 - 3 hours more or until pork is very tender. Set aside to cool, then carefully set in the fridge overnight.

Once braise is chilled completely, skim accumulated fat from the surface. Set aside 1/4 cup pork fat for the broth.

To prepare ramen, set 2 eggs in a saucepan filled with cold, generously salted water. Bring water to a boil, cover, remove from heat, and set a timer for 4 minutes for runny yolks and 5 minutes for set ones. Drain hot water, fill pan with ice and cold water, and set aside.

Reheat braised pork over medium-low heat. Once warm, slice into large chunks or pull apart with 2 forks.

To make the broth, set a deep-sided, wide saucepan over medium heat. Add pork fat, shallot, garlic, and ginger; sauté until golden, about 3 minutes. Stir in soy sauce, chili paste, and rice wine vinegar. Deglaze briefly, and then stir in Progresso Vegetable Cooking Stock. Bring broth to a boil, and add bok choy and nori. Turn heat to medium-low; simmer 10 minutes. Taste and adjust flavors as needed.

Meanwhile, bring a large pot of salted water to a boil for ramen noodles and cook to al dente according to package instructions. Peel the eggs.

Set noodles in wide bowls, ladle in broth, and top with several pieces pork. Working quickly, halve eggs, tucking a half into each bowl. Top with green onions. Serve immediately.

Note that you'll have leftover pork. Reserve for another use (like pulled pork sandwiches) or make a second batch of ramen the following night.
This post is sponsored by Progresso Foods. Thanks for supporting Brooklyn Supper's sponsors!