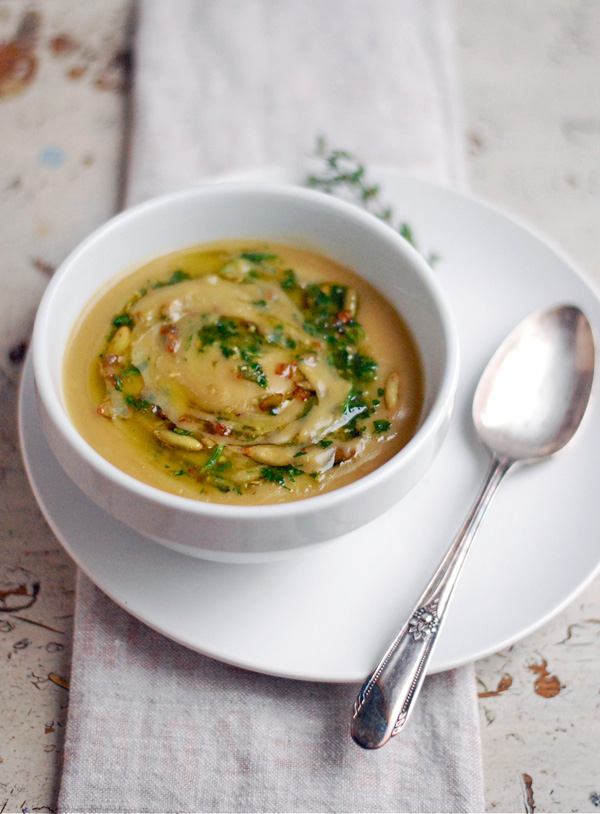 Antoine-Auguste Parmentier, for whom potage Parmentier and a host of other potato dishes are named, is the rare agronomist whose life makes for an interesting read (George Washington Carver is another and after that I've got nothing.) While we now think of the potato as central to European peasant cuisine, that wasn't the case in Parmentier's time, prior to the French Revolution. An import from South America where it was a staple for the Indians of the Andes, the potato hadn't caught on as human food in Europe and was thought to only to be edible only for animals. Parmentier was introduced to them involuntarily, after he was fed them as a prisoner of war; he later became their greatest advocate, holding public demonstrations of their edibility, publishing books on their nutritional value, and throwing lavish dinners for royalty and visiting emissaries that featured potatoes. The potato did eventually gain widespread acceptance and in France, and Parmentier's name was inextricably tied to it.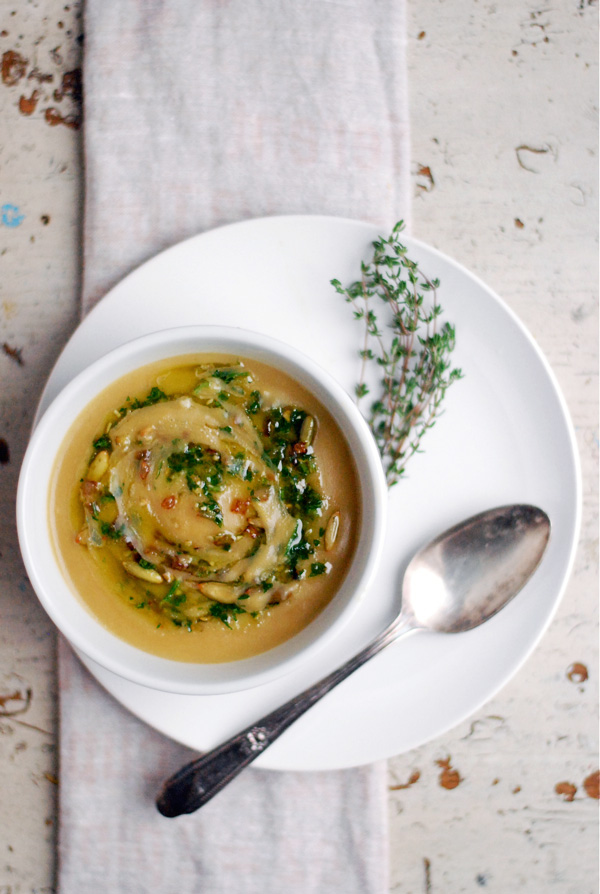 Frankly, velvety soups like this French classic make us glad for Parmentier and his efforts. The traditional French recipe for potage Parmentier, popularized here in the States by Julia Child, may be rather homely in appearance, but the flavor is outstanding––buttery, rich, understated, and elegant. Truth be told, this soup is rather perfect all by itself, without the herbs and shallots, but since they add a nice pop of salty crunch and a bit of color to an undeniably beige soup, I thought I'd give you the option.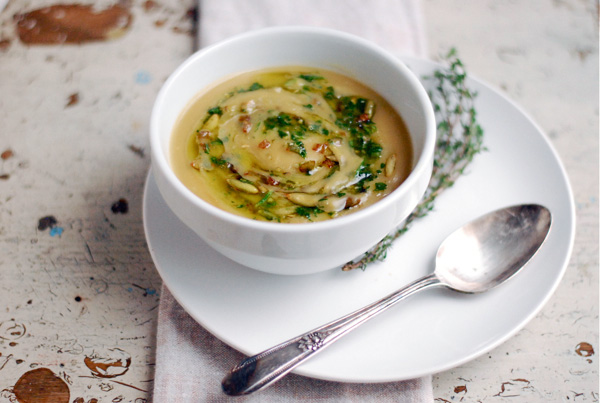 Potage Parmentier or Potato Leek Soup with Toasted Pepitas and Herbs
serves six
You'll need a blender to puree the soup. For optimal texture, use something powerful. I'm terribly lazy and didn't peel my potatoes, but you can if you'd like to. As for the leeks, they are impossibly sandy, so I recommend you rinse them well.
3 tablespoons butter
1 large or 2 small leeks, rinsed
2 shallots, divided
5 small Yukon Gold potatoes, peeled or not, cut into a 1 inch cubes
2 1/2 teaspoons sea salt, divided
1 quart chicken stock
1 bay leave
5 sprigs thyme, divided
1/4 cup parsley leaves, minced
2 – 3 tablespoons olive oil
2 tablespoons raw pepitas, rough chopped
Trim the dark green and root from the leek(s), chop, place in a colander, and rinse again. Chop the shallots, reserving 2 tablespoons for the topping.
Heat a large stock pot over medium-high heat. Add 2 tablespoons butter, and, once it's melted, the leeks. Sauté until leeks are pale, limp, and fragrant, about 5 minutes. Remove leeks to a bowl, add the remaining tablespoon of butter, and then add half the potatoes. Sauté, until edges have browned, another 5 minutes. Remove cooked potatoes to a bowl, add the second batch, and sauté another 5 minutes. Pour in a bit of stock and use a wooden spoon to scrape up any brown bits. Return the cooked leeks and potatoes to the pot and add the remaining stock, 2 teaspoons sea salt, bay leaf, and 2 sprigs thyme. Bring mixture to a boil, and then turn down to a simmer. Cook 20 – 30 minutes, or until the potatoes are tender.
Remove thyme and bay leaf, and puree soup thoroughly; then return to the stock pot to warm.
Place the minced parsley and the leaves from the remaining thyme sprigs in a small bowl. Heat a small skillet over medium heat. Add the olive oil. Next, add the shallots and pepitas, and sauté for about 2 minutes, or until the pepitas begin to pop. Scrape the shallots, pepitas, and olive oil into the bowl of herbs and stir.
Ladle the soup into warm bowls and garnish with a swirl of the pepita and herb mixture.