A simple red potato salad recipe with fresh parsley and tangy lime.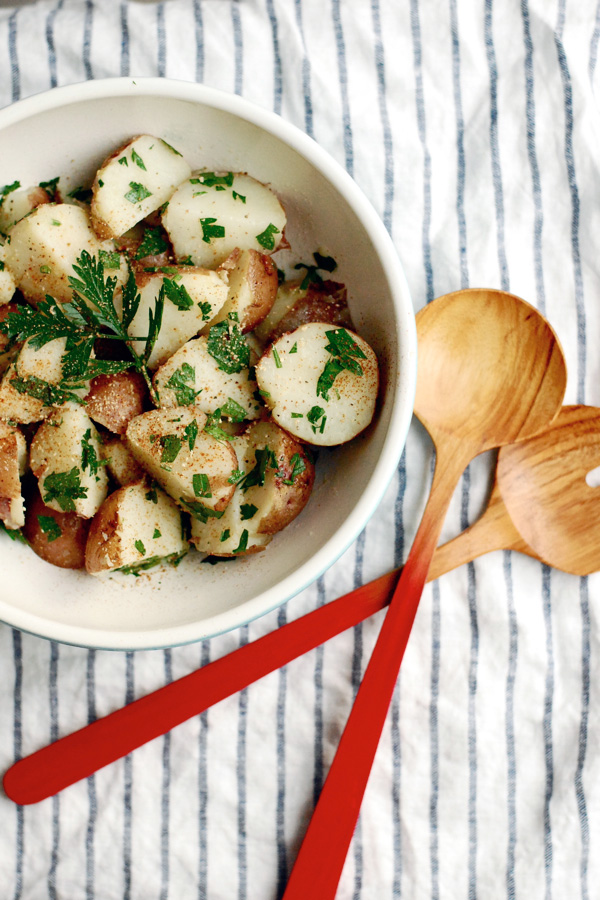 Jump to recipe.
We got some sad news this week and that's why things have been quieter than usual around here. I wasn't planning to post at all this week, but last night, this simple potato salad was so easy and comforting, it felt like the right thing to share, even with a heavy heart.
I find that potatoes are such a nice counterpoint to all the sandwiches and quick meals that happen in the warmer months and I've been experimenting with various flavors recently. I like this particular recipe for featuring perfectly cooked red potatoes tossed with a bit of olive oil, lime, and parsley. These potatoes are wonderful barely warm, having just mingled with the oil and lime, but they're also kind of amazing just out of the fridge. I may have had potato salad for breakfast (on multiple occasions).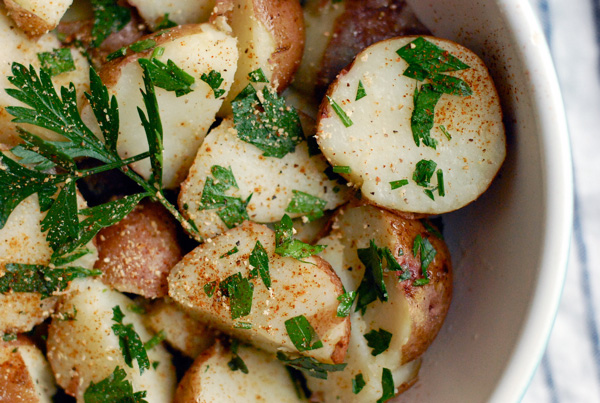 A note on the recipe – try to source organic potatoes when you can. Because they grow underground and are relatively thin-skinned, potatoes are especially susceptible to pesticide contamination. Look for more or less same-sized potatoes with robust flesh and vibrant skin.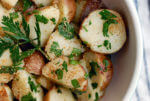 Red Potato Salad with Parsley and Lime
A simple red potato salad recipe with fresh parsley and tangy lime.
Ingredients
7

or so small red potatoes,

scrubbed

juice of 1 lime

2

tablespoons

olive oil

2

tablespoons,

plus 1/2 - 1 teaspoon or more, sea salt

1

teaspoon

fresh ground white pepper,

use less if going with black pepper

1/4

teaspoon

paprika

1/3

cup

parsley,

minced
Instructions
Place scrubbed potatoes in a large pot. Add cold water so that it's 2-inches above the potatoes. Bring water to a boil and add 2 tablespoons sea salt. Once water is bubbling vigorously, cook potatoes until they are easily pierced with a knife, about 10 - 12 minutes. Drain and rinse with cold water. Allow potatoes to cool.

Cut potatoes into quarters, cutting out any bad spots. Toss with olive oil and lime juice, as well as 1/2 - 1 teaspoon sea salt. Give mixture 5 minutes to absorb flavors, then toss in parsley, pepper, and paprika. Check salt levels (I find potatoes continue to absorb salt, so I tend to add a bit just before serving.).

This salad will keep well in the fridge for up to 3 days.
SaveSave