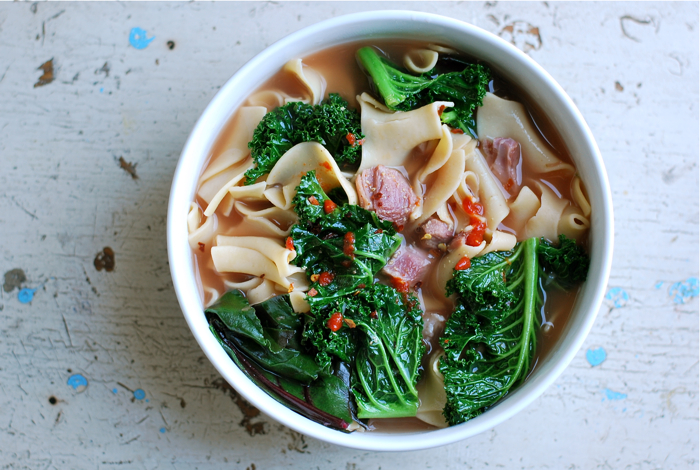 One of my lesser New Year's resolutions was to eat more cooked greens. For whatever reason (somewhere between an aversion to extra dishes and a hatred of soggy greens), I've never really cooked my greens. Until now. So far, I've blanched and sauteed, and without a soggy green in sight, I'm loving the results.
Besides, if you never cook your greens, you'll never get potlikker. Potlikker is the water leftover from cooking the greens, and doubles as a restorative and flavorful broth that gives chicken soup a run for its money. Here, potlikker is made with the stems of the greens, and then the sauteed greens are added later.
This stew was inspired by the Bon Appetit southern food issue. It was my first foray into potlikker, though definitely not my last. A smoky ham hock, tender greens (thanks to a very warm winter), and a touch of sriracha made for an awesome mid-winter meal.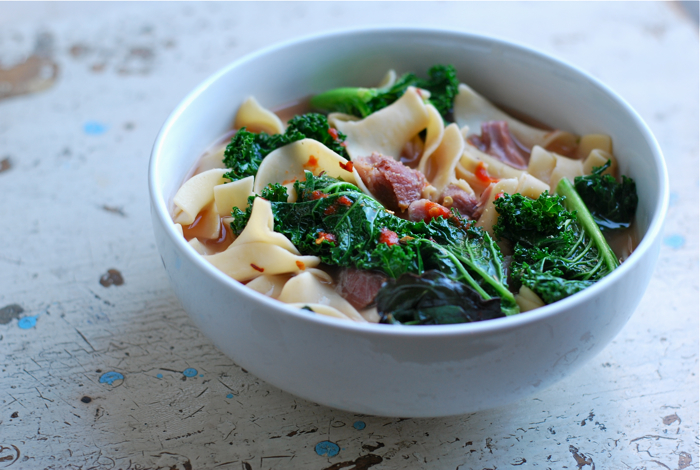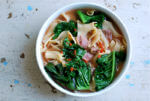 Potlikker Soup with Ham Hock and Egg Noodles
A mostly traditional potlikker soup recipe with ham hock, egg noodles, and a drizzle of sriracha.
Ingredients
1

tablespoon

olive oil

plus 2 more

1

large ham hock

1

yellow onion

chopped

10

cloves

garlic

smashed, peeled, and rough chopped

4

bay leaves

1/4

cup

red wine vinegar

plus 2 tablespoons

2

tablespoons

sriracha

6

cups

cold water

2

bunches dark leafy greens

kale and beet greens used here

2

cups

dry egg noodles

sea salt to taste

2

tablespoons

olive oil

1

shallot

minced

1/2

teaspoon

red pepper flakes

1/4

teaspoon

fresh ground white pepper

salt to taste

sriracha to taste
Instructions
In a large stock pot or dutch oven, heat the olive oil over medium-high heat. Add the ham hock and sear on all sides, cooking for about 10 minutes.

Meanwhile, wash your greens, and remove the stems (but don't throw them away!).

Add onions, garlic, and bay, and cook 5 minutes. Add 1/4 cup vinegar and scrape up any bits from the bottom of the pot, and then add reserved stems. Pour in 6 cups cold water and bring mixture to a boil. Turn heat to low; simmer broth for 1 - 2 hours (the longer the better). Broth can be made ahead up to this point. Sealed tight, it will keep in the refrigerator for 3 days.

Remove ham hock from broth and pick off all the meat. Set aside. Strain potlikker and set aside.

Bring a large pot of salted water to a boil. Add egg noodles and cook until al dente.

In soup pot or dutch oven, heat 2 tablespoons olive oil over medium-high heat. Saute the shallot for 4 minutes. Add reserved ham hock meat, greens, red pepper flakes, and ground pepper. Sauté 4 minutes. Stir in potlikker, cooked noodles, and 2 tablespoons vinegar, and bring to a simmer. Adjust salt and acid levels as needed.

Ladle into bowls, garnish with sriracha and ground pepper, and serve immediately.