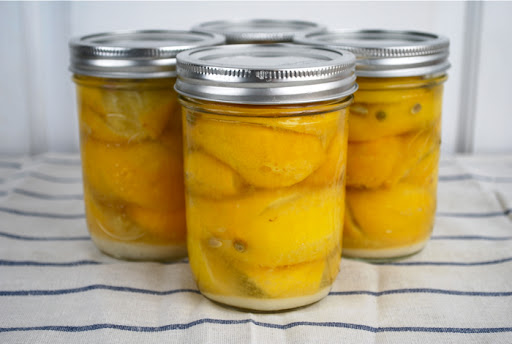 You may not be ready to think about this yet, but things can get a little gloomy after the holidays. After the celebrating is done, the tree is gone, and the new year welcomed, we're faced with the chilly, gray reality of January. And February. Which is why this is a perfect time to have preserved lemons on hands. From winter braises and stews, to everyday pasta, hummus, dip, or even ice cream, they brighten things up and add a surprising kick of distinctive flavor.
This year, I made a mess of preserves to give out as holiday gifts. Not just delicious, I feel like the small jars are a little pocket of brightness and warmth to help us all make it through the winter months to come.
I have been making preserved lemons for a while now, and with this batch, and especially because they are Meyer lemons, I decided to cut back on the salt. Considerably. I didn't want the salt to overwhelm the delicate flavor of the Meyer lemons. Also note that jars with locking glass tops and rubber seals are the ideal jar for this, though I used Balls jars with threaded tops.
Before we get to the recipe, I want to wish you all very happy holidays. May they be filled with warmth, friends and family, and, of course, plenty of cookies.
Preserved Meyer Lemons
4-5 Meyer lemons per pint jar, plus more for juicing
1/2 cup kosher salt
Thoroughly wash and dry your jars, lids, and rings. Quarter each lemon, leaving one end in tact. Pour 3 tablespoons of salt into the bottom of the jar. Then pour salt over the flesh of each lemon and press it down, so it releases most of its juices, into the jar. Keep doing this until the jar is full. Finish with any remaining salt, and make sure there is enough lemon juice to cover the fruit. Clean the rim and seal the jar. Store in a cool, dark place for three weeks. Turn the jars upside down occasionally while they cure.
Once the rinds have turned translucent, they are ready to use. Pull out a section of lemon, push off the flesh with your thumb, and rinse the rind under cold water. Then dice or slice and use in any dish that needs a little lemon lift. Once opened, keep the lemons in your refrigerator.
Update 5/26/12: Though I've made these and not refrigerated them, it's best to keep them chilled while curing and once you've started using them.
I've used preserved lemon in these recipes, among others:
Homemade pizza
Shaved Brussels sprouts salad
Preserved Meyer lemon ice cream