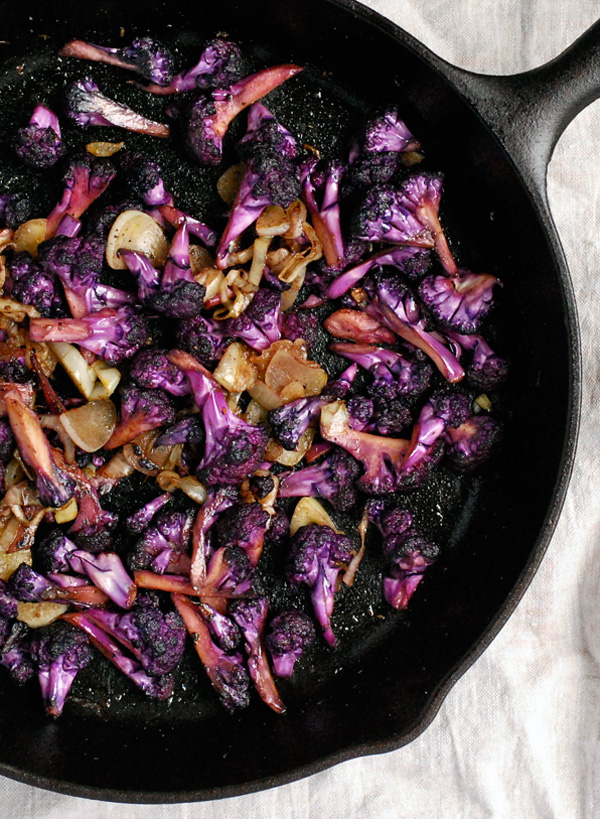 I think I have writer's block? I've been staring at this screen for two days now trying to write about purple cauliflower, the most psychedelic of the cruciferous vegetables (Ok, except for Romanesco broccoli). To break through the block, I decided to listen to Foxygen, but then just cut to the chase and went straight to Donovan. "There is a Mountain" seems to have cleared things up for me nicely. I mean, the mountains, Juanita, the caterpillar, what else is there? Purple cauliflower.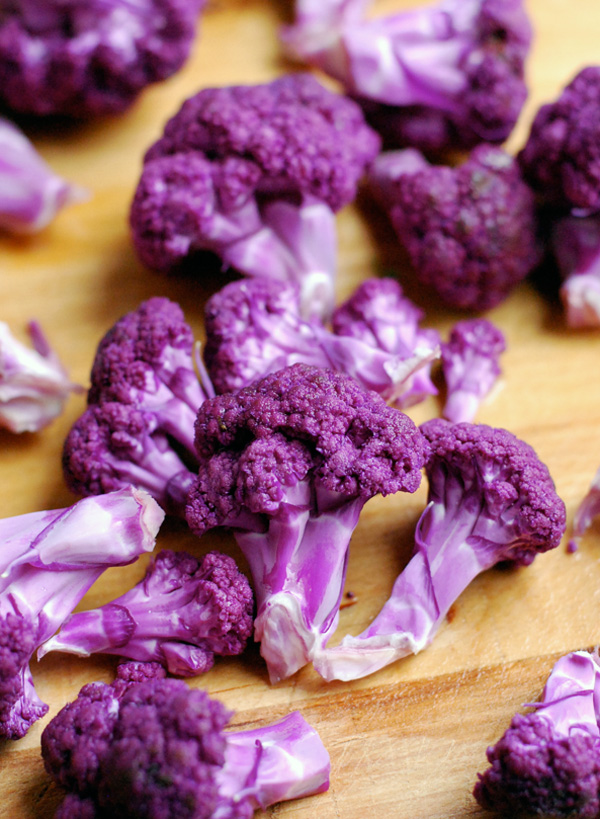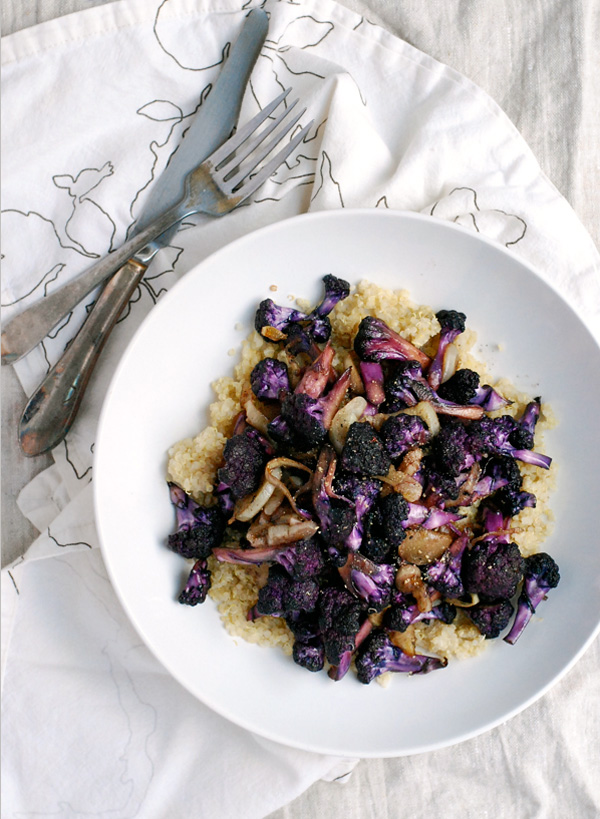 I can't really say that it's much different in flavor or texture than the plain old white kind, but you know, it's purple, and that's cool. I decided to saute it in my newly broken in cast iron skillet, along with a few enormous cloves from a monstrous stalk of hardneck garlic. And since this meal seemed special, and perhaps also because Donovan might be the answer to everything, I realized that I, too, am just mad about saffron, so I threw it in along with some paprika. Aside from loving the deep purple and scarlet hues (so 60s!), the quietly spiced dish is intense and smoky. Perfect lunch, amazing side. The caterpillar sheds its skin to find the butterfly within.
Sautéed Purple Cauliflower with Garlic and Saffron
serves two as a meal, four as a side
1 head purple cauliflower, washed, trimmed, and cut or broken into small 1 inch florets
1/4 cup olive oil, divided
1 medium head fresh hardneck garlic, or about 1/3 cup, sliced (reduce by half if using regular garlic)
pinch saffron threads
1/2 – 1 teaspoon sea salt
1/2 teaspoon spicy Hungarian paprika
1/2 teaspoon fresh ground white pepper
2 tablespoons rice wine vinegar
1 cup quinoa, cooked
Heat all but one tablespoon of the olive oil in a large cast iron, or otherwise heavy-bottomed, skillet over medium heat. Add the sliced garlic and saffron threads, turn the slices to coat with olive oil, and turn heat to low. Add a pinch of sea salt. Cook, nudging occasionally, for 20 – 25 minutes. Remove garlic from the skillet and set aside.
Turn heat up to medium-high, add the remaining olive oil, the florets, paprika, pepper, and a good-sized pinch or two of salt. Turn to coat the cauliflower, and cook until the edges have browned, and then flip. Cook for a total of about 10 minutes, until cauliflower is nicely browned and tender. When you approach the end of the cook time, add the rice wine vinegar and the cooked garlic. Toss gently, cook for a couple minutes longer, plate, and serve over quinoa.