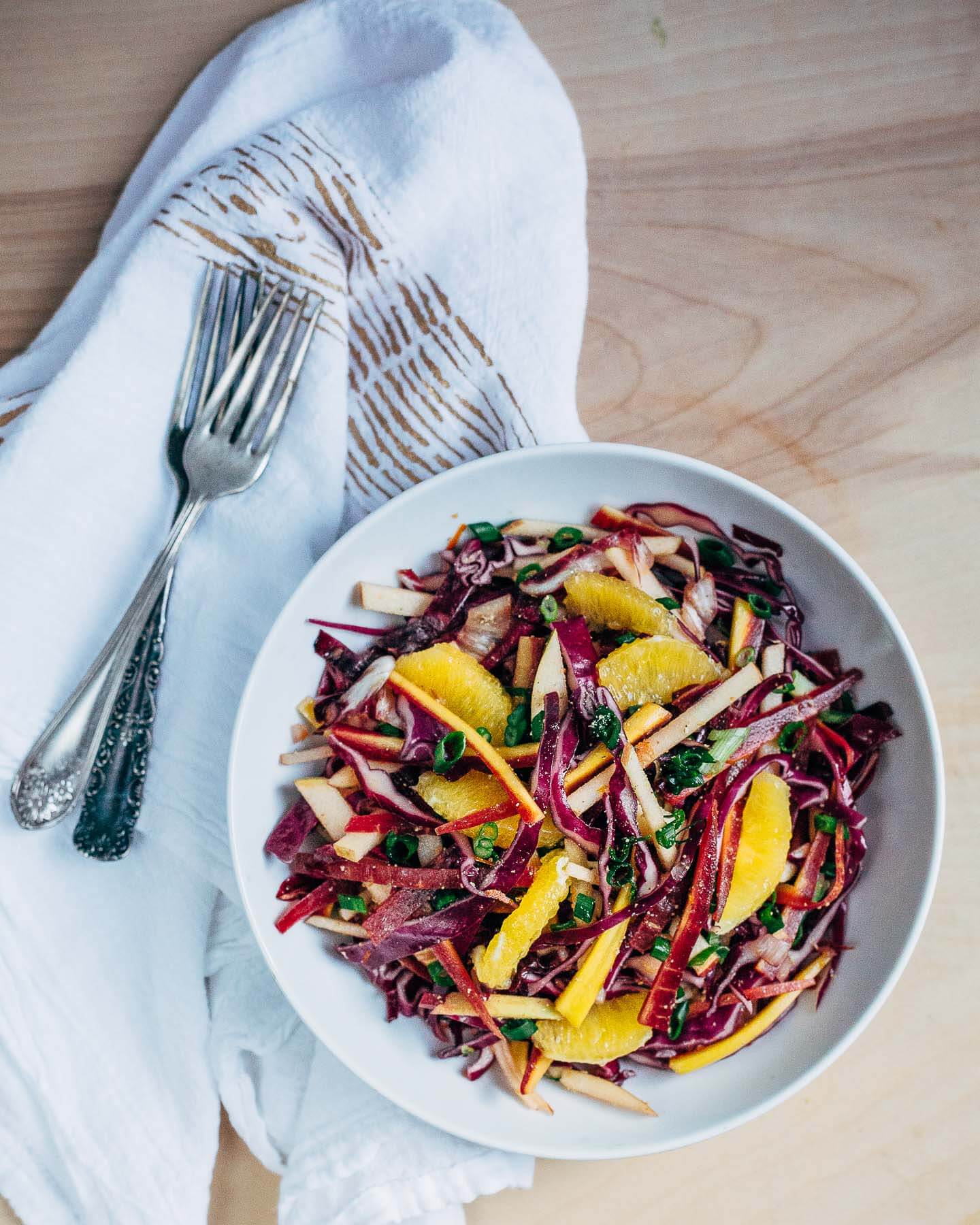 A vivid late winter purple slaw made with red cabbage, radicchio, and purple carrots and tossed with a fresh turmeric and orange vinaigrette. Jump to recipe.  
When we lived in Brooklyn, February was my time of discontent. Like clockwork, I'd corner Brian, list all the things I hated (basically everything), and suggest that we should leave New York immediately. He'd hear me out and kindly remind me that it was February and I went through this every year. Now, in Charlottesville, my February mood manifests as a more general darkness, a sort of dissatisfaction and gloominess that doesn't reach the level of inspiring major life changes.
And as usual, the longer days and kinder weather of March have improved my outlook. In fact, it was an almost magical weekend. The children, stormy and argumentative just a week ago, were delightful. Last night at dusk, they frolicked in the yard collecting flowers and leaves, pretending to be witches and making fairy houses. I looked on from the window as I harnessed the evening glow for photos of purple vegetables while also roasting a Sunday chicken and a bunch of asparagus (not in season here, but I couldn't resist). As I worked, the girls breezed in and out the door with rosy cheeks and smelling vaguely of wood smoke from a neighbor's chimney. Later, Brian, the girls, and I all sat down to dinner, and the girls ate the chicken and vegetables gladly and didn't even ask about dessert.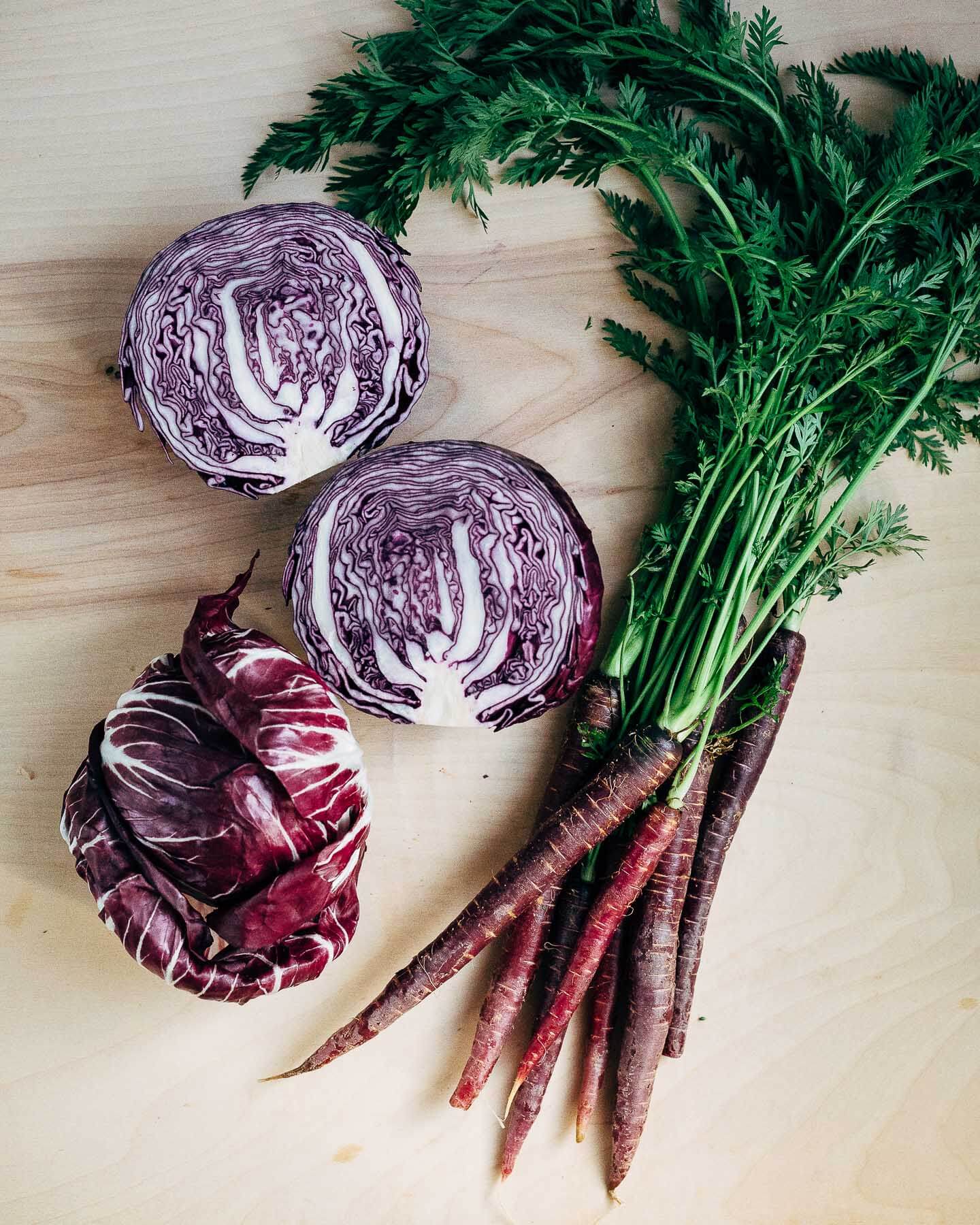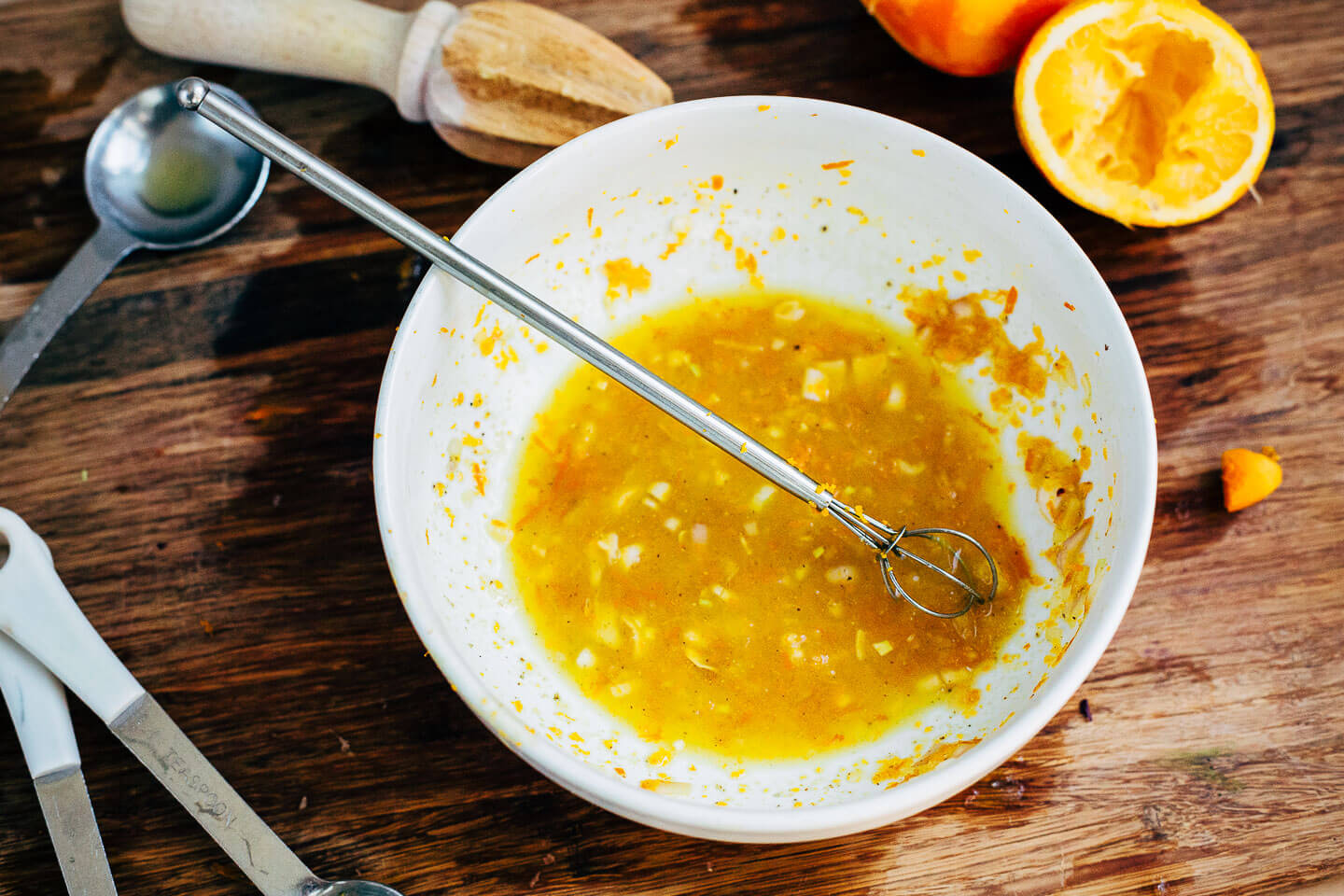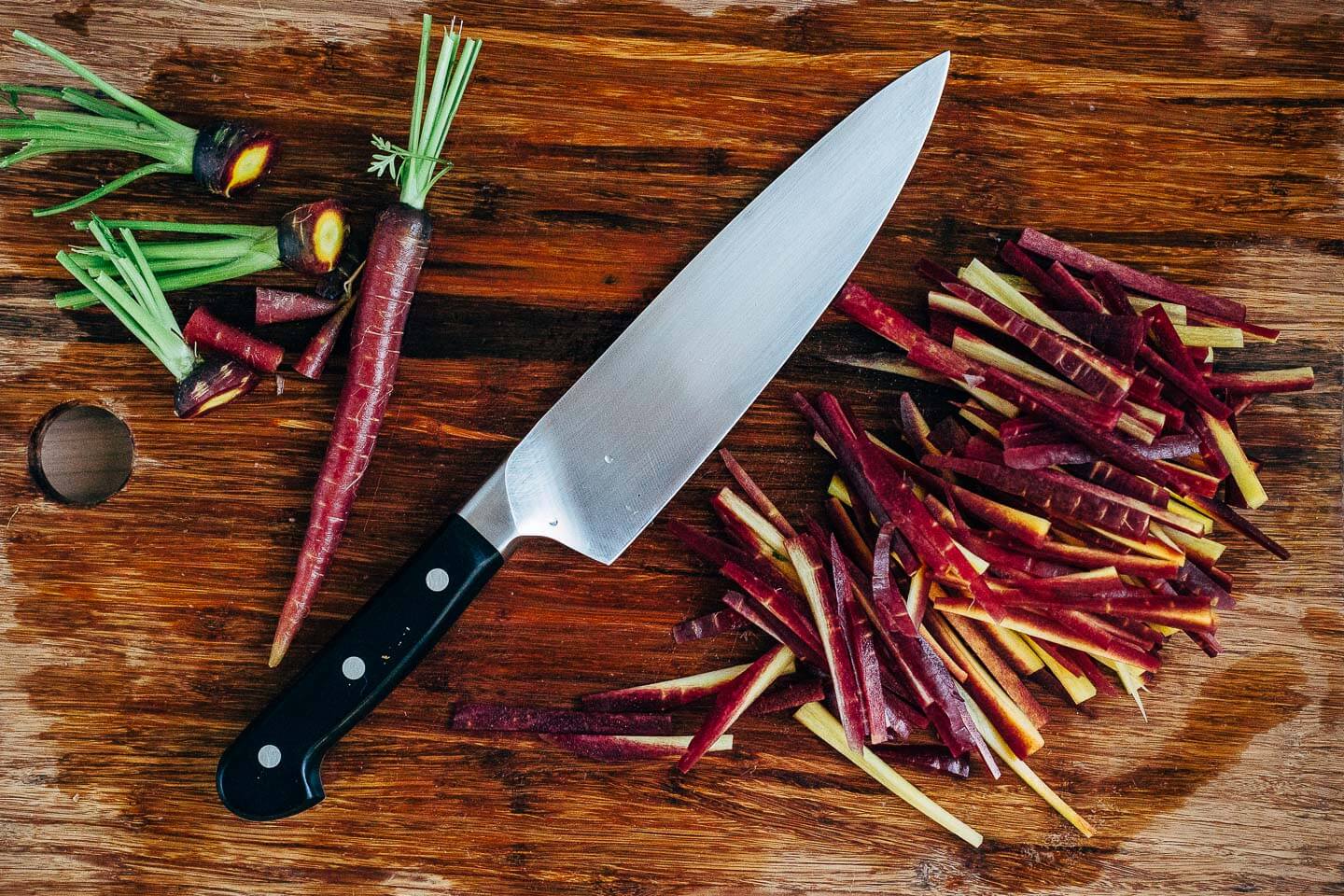 Family life, or maybe just life, is about imperfection. It's about trying to get through the bumps and hiccups and spills and tumbles with grace, and remembering that a mild evening filled with laughter and the warmth of togetherness is about as close to perfect as it gets.
This recipe feels like a fitting way to bridge winter and spring. A selection of deep purple winter vegetables – bitter radicchio, sweet purple cabbage, and buttery purple carrots – are tossed with a vivid, robust turmeric, orange, and cider vinaigrette. A drizzle of maple and smattering of apple matchsticks bring just the right amount of sweetness to contrast with the radicchio. There's a hint of heat from pepper and cayenne, plus a pop of green from minced green onions. An in-between salad, at once fortifying and pretty, that reminds us all that soon we'll be swimming in sunshine and fields of green.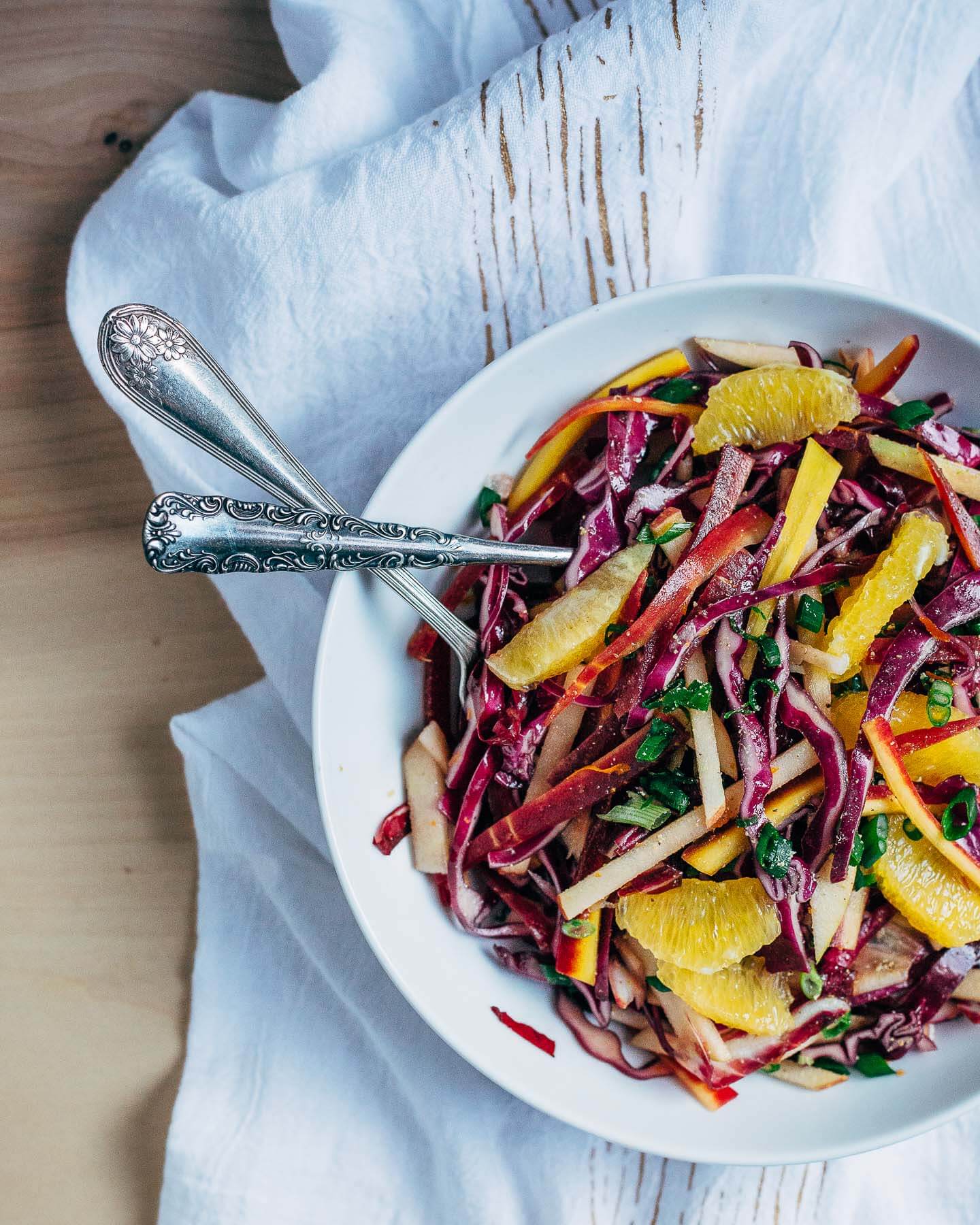 Like most slaws, this one improves overnight, though the turmeric renders the once pale apple matchsticks orange. If presentation is important, add the apples just before serving. In this slaw, radicchio lends an undertone of complexity and serves as a counterpoint to the sweetness of the other vegetables. If radicchio feels too complex, feel free to omit and reduce maple syrup by half.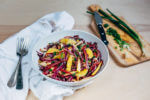 Purple Slaw with Turmeric Orange Vinaigrette
A vivid late winter purple slaw made with purple cabbage, radicchio, and purple carrots and tossed with a fresh turmeric and orange vinaigrette.
Ingredients
For the Vinaigrette
2

tablespoons

minced shallot

1

teaspoon

orange zest plus 2 tablespoons juice

2

tablespoons

apple cider vinegar

2

tablespoons

maple syrup

2-

inch

section fresh turmeric,

peeled and finely grated

1/4

teaspoon

sea salt,

plus more to taste

1/4

teaspoon

ground cayenne pepper

1/4

teaspoon

freshly ground black pepper

3

tablespoons

extra virgin olive oil
For the Purple Slaw
3

cups

red cabbage ribbons

(about 1/3 a head)

2

cups

radicchio ribbons

(about 1/2 a medium head)

2

cups

purple carrot matchsticks

(about 3 medium carrots)

sea salt

2

cups

apple matchsticks

(1 large apple)

1

orange,

peeled and cut into segments

1/4

cup

minced green onion
Instructions
To make vinaigrette, whisk to combine shallot, orange zest and juice, apple cider vinegar, maple syrup, grated turmeric, sea salt, and spices. Whisking constantly, slowly add olive oil until mixture is pale and emulsified.

To assemble slaw, toss to combine cabbage, radicchio, and carrots with vinaigrette. Add sea salt to taste. Slaw will keep well sealed in the fridge for 3 days.

Before serving, add sea salt to taste, and toss in apple matchsticks, orange segments, and green onions.