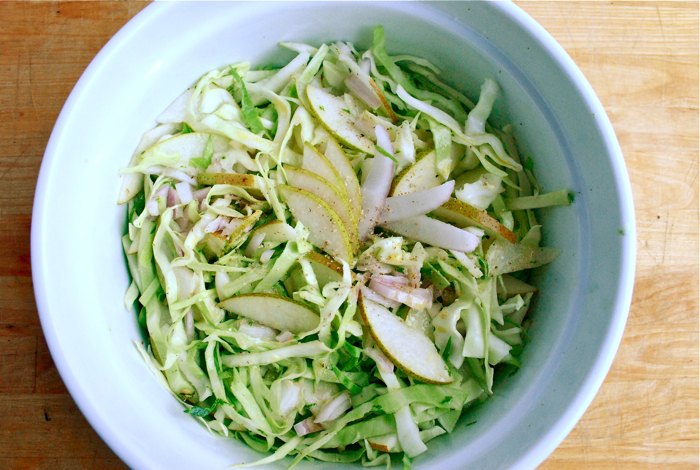 Recently, I admitted that I really, really love potato salad. It's time for another bourgeois confession: I love coleslaw. My ardent admiration for potato salad and coleslaw comes with a few caveats, though–I want fresh, slightly crisp ingredients, a light touch with the dressing, and a hint of raw onion.
It was with these thoughts in mind that I whipped up this tasty pear and cabbage slaw the other night. The firm Bartlett pears meshed beautifully with the cabbage. The pale green color was enchanting (and a nice break from the typical colors of the season). And, since this coleslaw is homemade (and easy on the mayo), you can have a big, heaping, healthy plateful, which you'll want to, trust me.
Pear and Cabbage Slaw
serves 6
1/2 head of cabbage, sliced into very thin strips (about 5 cups)
3 firm Bartlett pears, cored
3 tablespoons red onion, minced
zest of 1 lime
2 tablespoons fresh squeezed lime juice
2 tablespoons olive oil
1 tablespoon mayonnaise (we like Duke's)
1/2 teaspoon Dijon mustard
1 teaspoon salt, plus a pinch more
1 teaspoon fresh-ground pepper
Place the prepared cabbage in a large bowl, sprinkle with the salt and minced onion, and turn with your fingers. Slice the pears lengthwise, and then slice in half (I make this cut on the diagonal so that it looks nice).
Next, prepare the dressing. Whisk the lime juice into the olive oil, whisk in the mayo, mustard, salt, and zest.
Drizzle dressing over the cabbage, and turn with your hands. Fold in the pears and fresh-ground pepper. Slaw tastes great after 10 minutes, but will keep nicely covered in the fridge for a day or more. If making ahead for an event, hold out the pears until the day-of. They won't brown too badly, but you want them to look nice right?