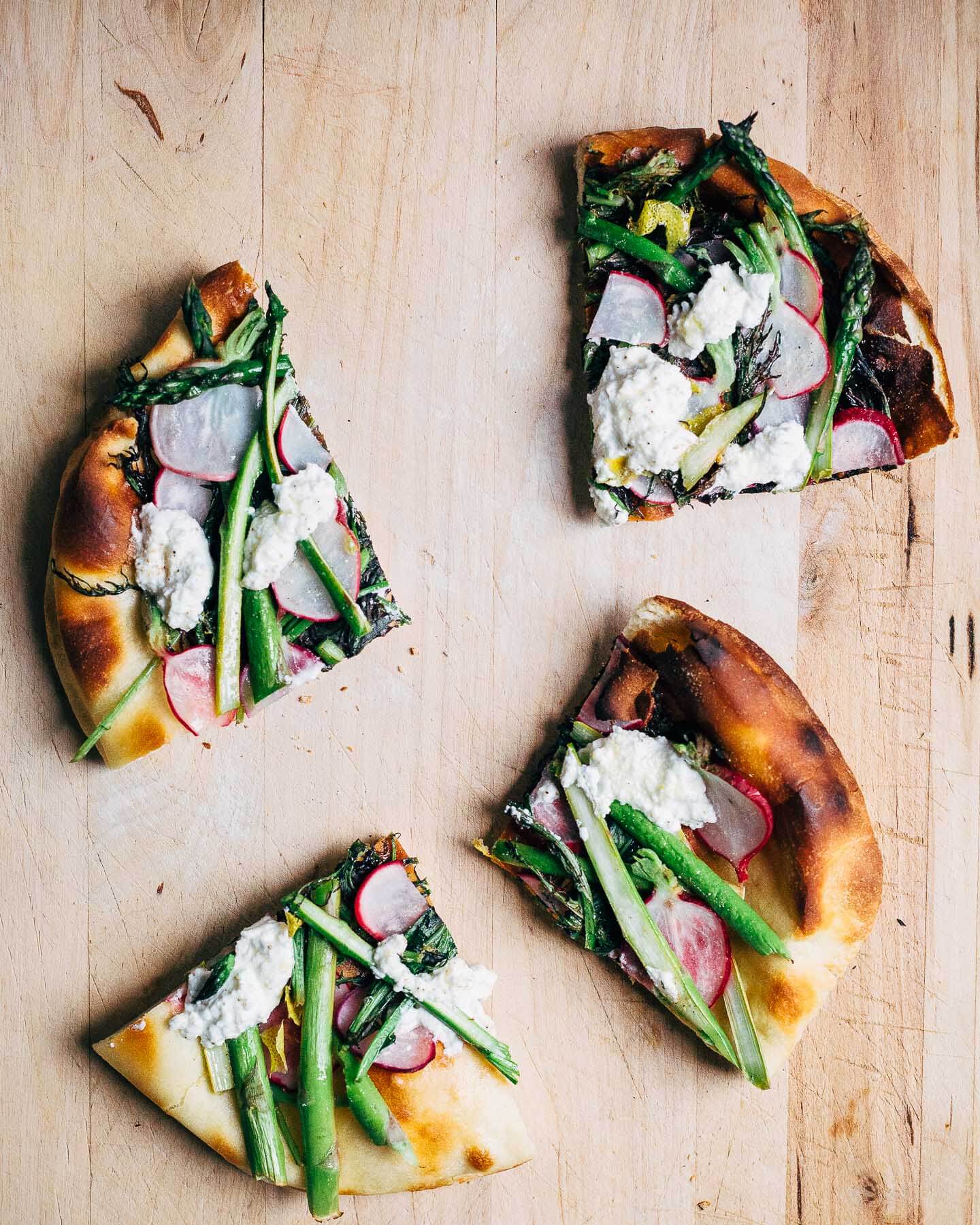 A recipe for easy radish and asparagus flatbread pizzas with mizuna, ricotta, and lemon zest, created in partnership with Sub-Zero. 
In Brooklyn, Brian and I had a pretty impressive container garden. When we moved to Virginia we thought that freed from the constraints imposed by planting in pickle buckets on a small third floor balcony prevented from getting full sunlight by the hulking condos next door, we'd have a dream garden in no time. But as a wet June gave way to a humid summer, blight hit our overcrowded tomatoes which comprised the bulk of our garden, deer struck, and we learned that gardening in Virginia called for a host of skills our container garden hadn't taught us.
Since then, I've learned to diversify by planting a range of hardy crops like kale, collards, radishes, and lettuce; to protect our crops from wildlife; and to use wildflowers to attract bees and marigolds to repel pests. I still have tomatoes, but limit myself to four plants and give them plenty of space to grow.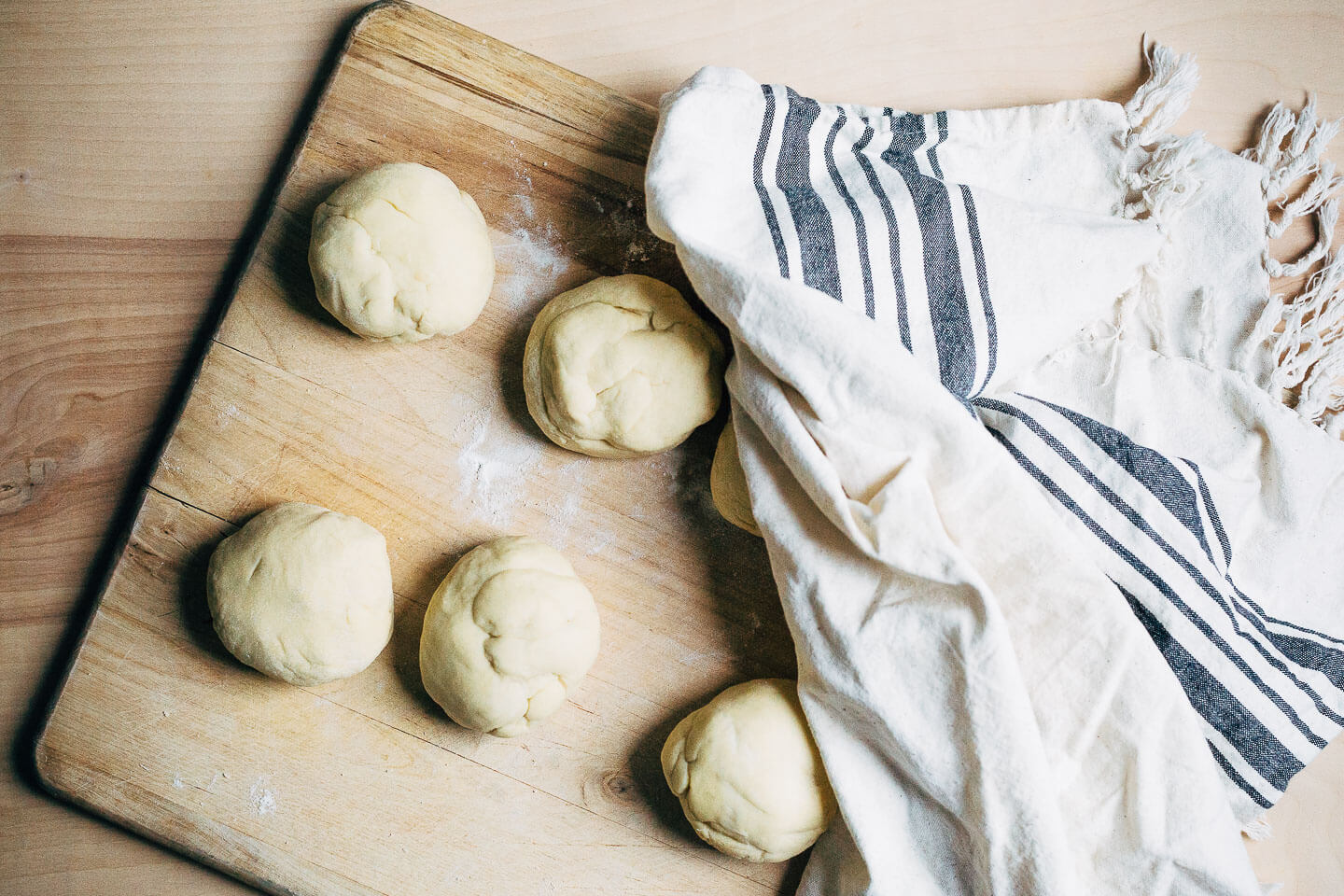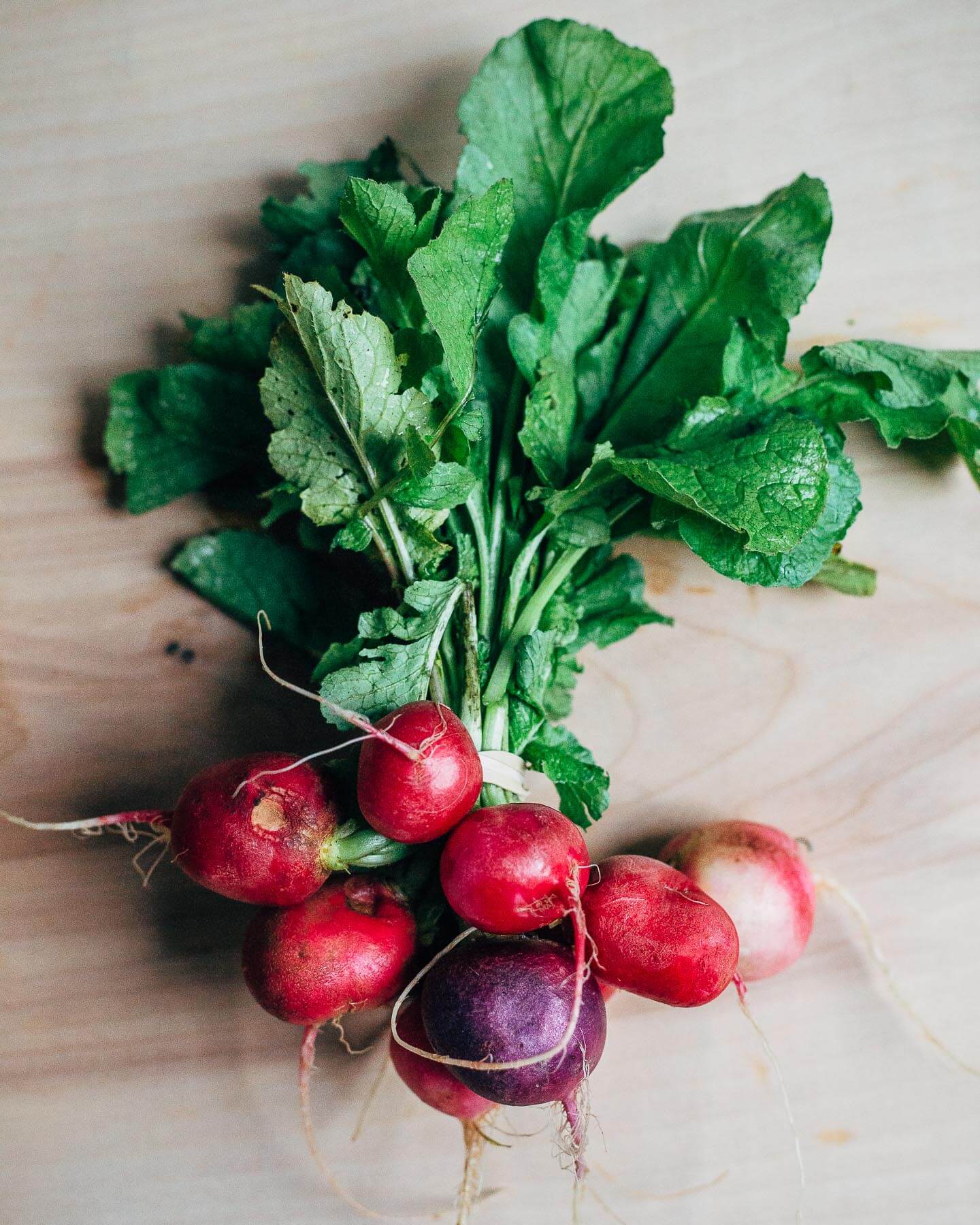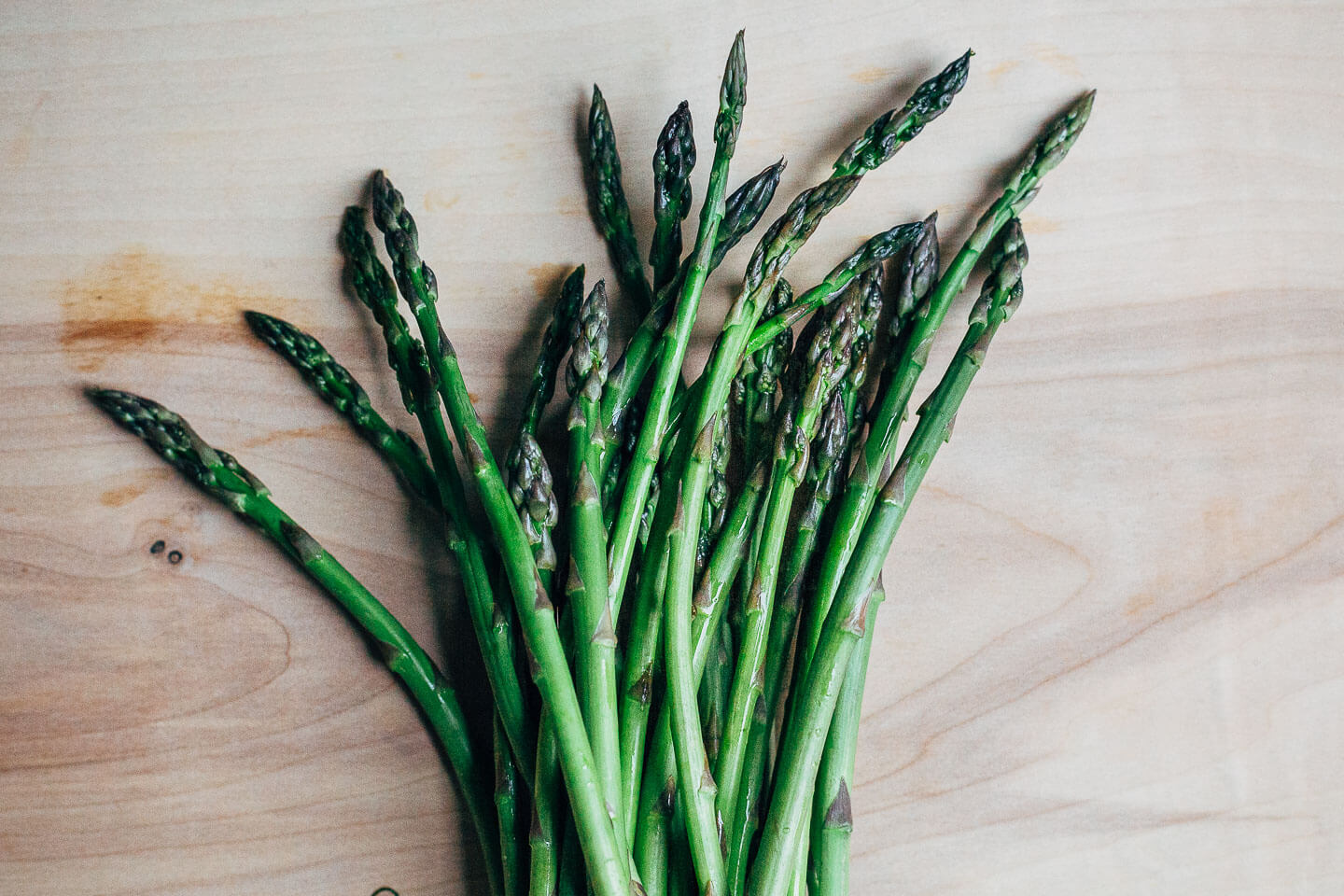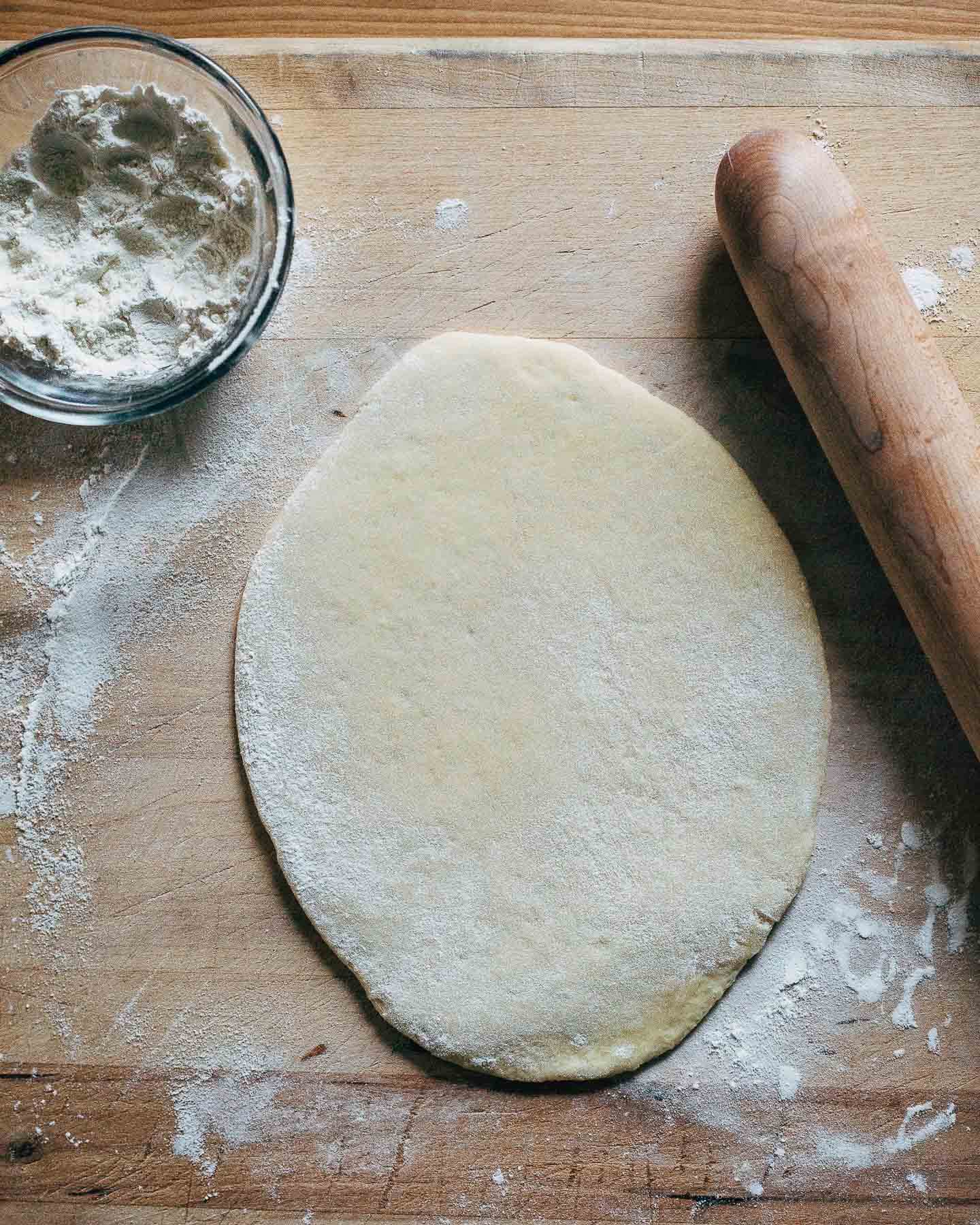 As we hammered wood and hauled in dirt that first year, our neighbor, an older gentleman who'd lived in the neighborhood his whole life, told us over the fence that everyone in the neighborhood used to have a garden like ours. "Now we're all too old," he said. That's the story with backyard gardens everywhere. We used to have them, and then we didn't. So in NYC and later in Virginia, I've learned gardening from scratch – learning the hard way from each new pest and disease. But I've kept at it because watching a tiny seed transform into real, nourishing food is an everyday magic that always amazes me.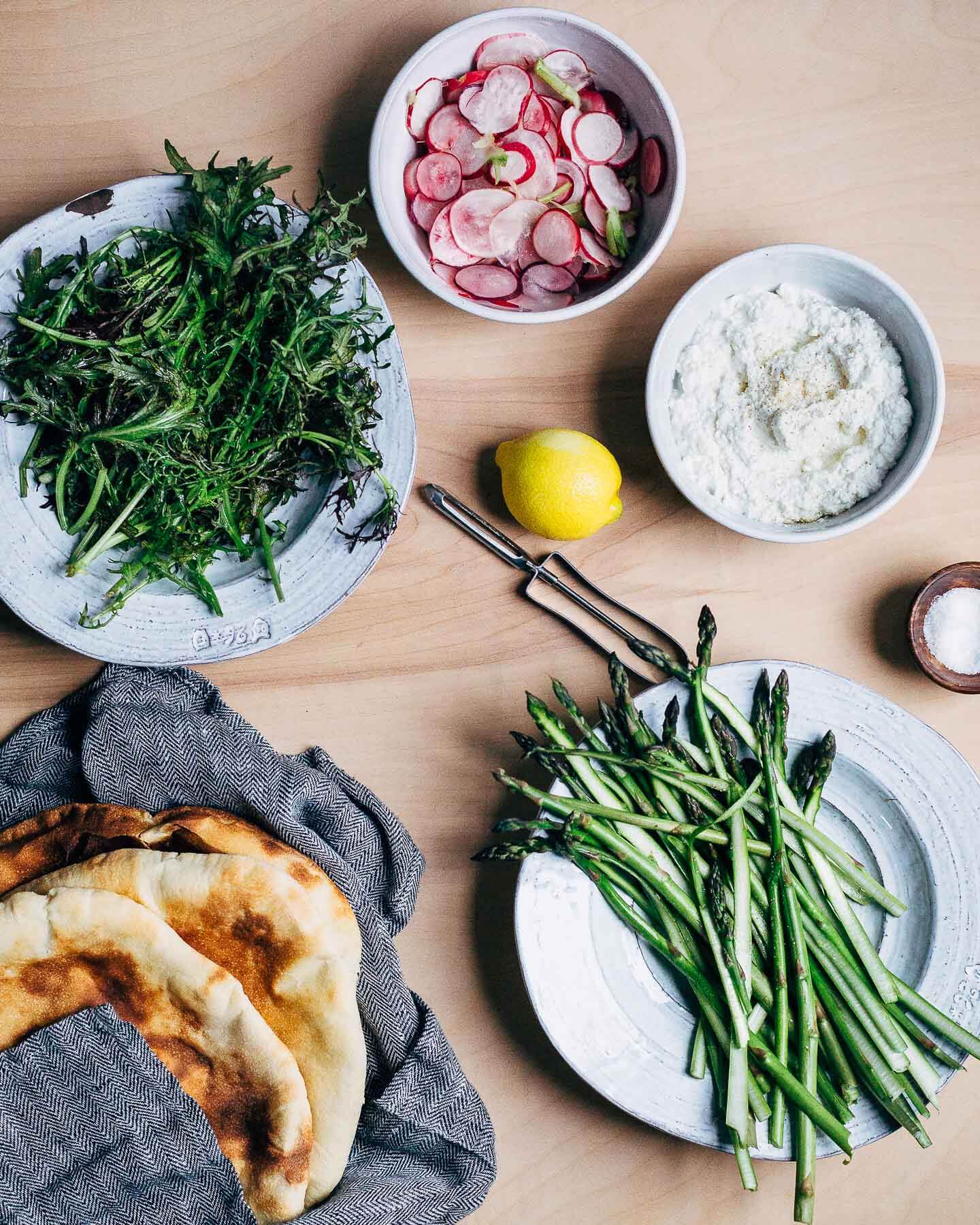 Because good food is important and because I want my kids, and kids everywhere, to know where food comes from, I'm proud to partner with Sub-Zero on the Fresh Food Matters initiative which demystifies fresh food with engaging videos of notable producers and food visionaries. The initiative's charitable partner, Katie's Krops, is an organization founded by Katie Stagliano a 17-year-old girl who saw a need for garden grown food in her own hometown in South Carolina. Katie's Krops now operates 100 youth-run gardens throughout the U.S. and donates garden fresh produce to food pantries, soup kitchens, and directly to those in need.
Get involved in the Fresh Food Matters movement by sharing your thoughts on the importance of eating fresh with #FreshFoodMatters on Facebook, Instagram, and Twitter – Sub-Zero will donate $5 to Katie's Krops – up to $25,000 – every time you do!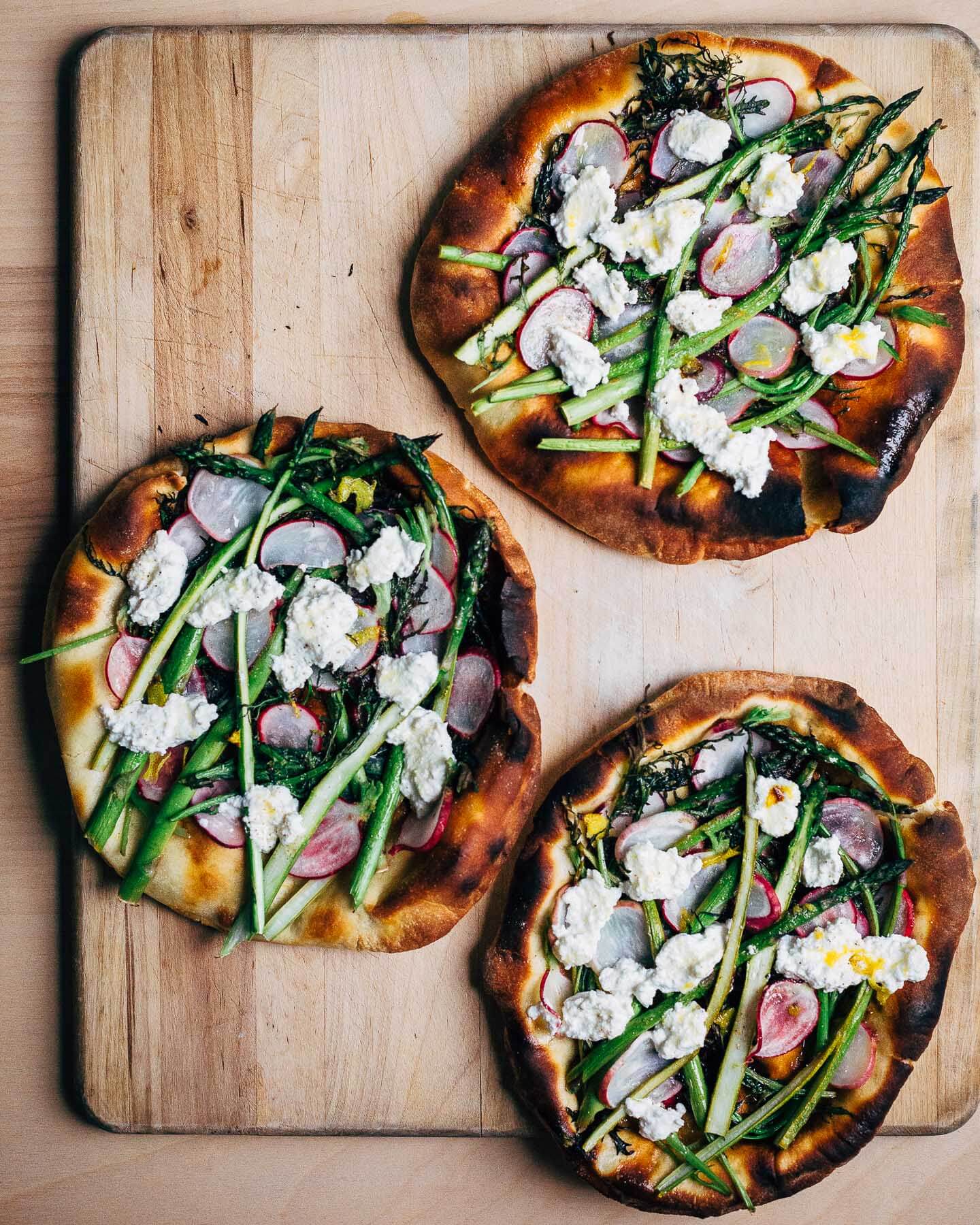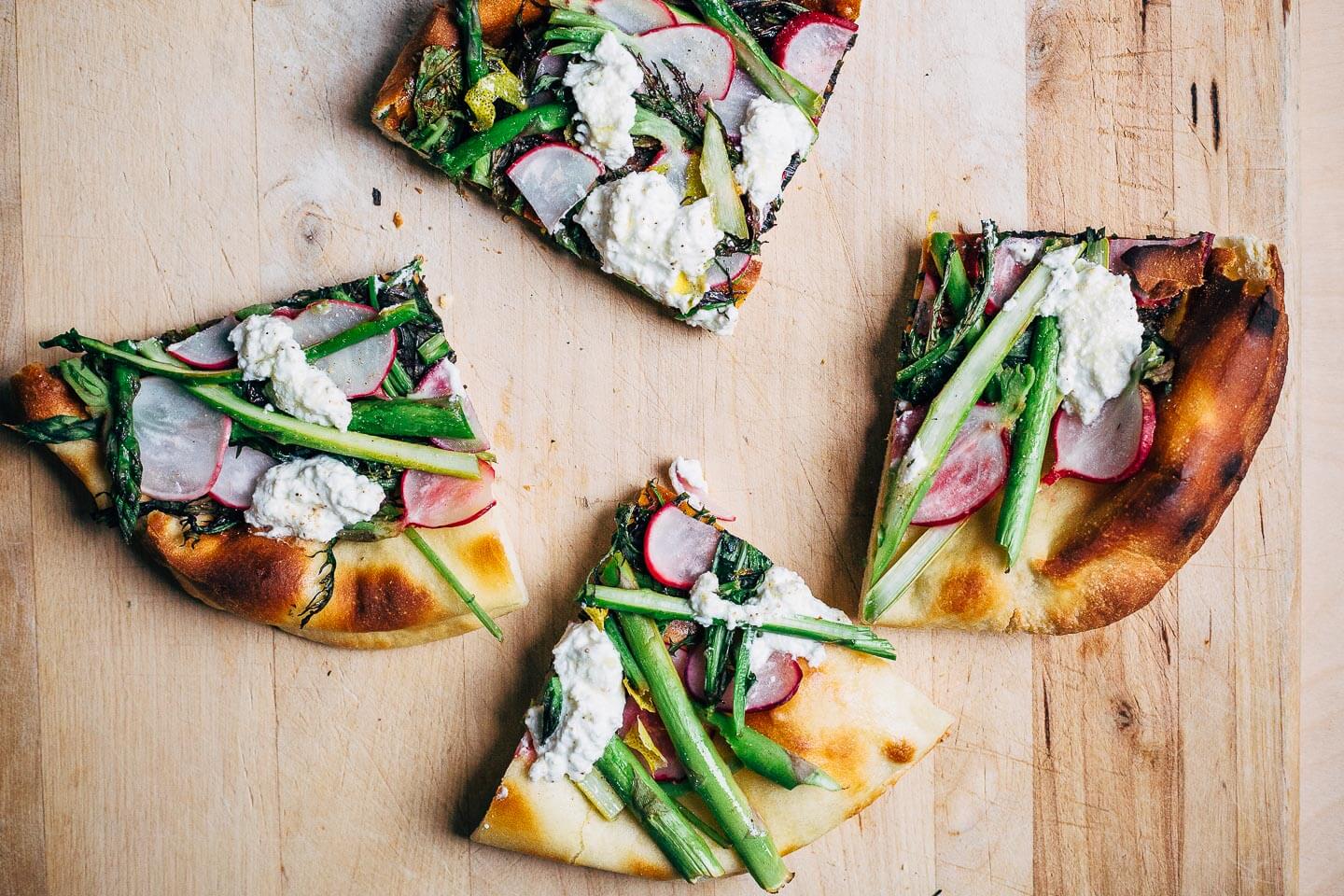 With gardening on my mind, I prepared these flatbreads as an ode to the more reliable, though possibly less familiar, springtime garden crops. They feature a mix of spicy mizuna and thinly sliced radishes (spicy greens and radishes tend to pile up this time of year, so it's nice to find new ways to enjoy them). I also added strips of asparagus, lemon juice and zest, and fresh ricotta. All together, the chewy flatbreads, verdant spring vegetables, and dollops of silky ricotta made for a lovely, fresh spring feast.
A note on the recipe: I made my flatbreads from scratch, only because I've always wanted to try. If you'd like to try too, I liked this recipe. Otherwise, go ahead and buy your favorite variety.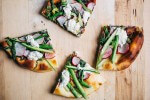 Radish and Asparagus Flatbreads with Ricotta
A recipe for easy spring vegetable flatbread pizza with asparagus spears, radishes, and mizuna, topped off with ricotta and lemon zest.
Ingredients
4

flatbreads

(about 6-inches wide)

1/2

pound

asparagus,

rinsed well with woody ends snapped off

6

small radishes,

greens trimmed to 1/4-inch and scrubbed

zest of 1 lemon

plus 3 tablespoons and 1 teaspoon juice, divided

sea salt

2

tablespoons

plus 1 teaspoon olive oil,

divided

3

cups

mizuna

(about 2 ounces), rinsed and dried

1

cup

fresh ricotta
Instructions
Preheat oven to 425 degrees. Move oven rack to the upper third of your oven.

Use a peeler or zester to remove the zest of one lemon and set aside.

With a sharp paring knife, carefully cut asparagus into long, thin strips (halved or quartered, depending on the thickness). Slice radishes paper-thin. Toss asparagus and radishes with 1 tablespoon freshly squeezed lemon juice and a generous pinch sea salt, and set aside.

In a small bowl, whisk to combine 1 teaspoon lemon juice, 1 teaspoon olive oil, and a pinch sea salt. Toss dressing with mizuna and set aside.

In a small bowl, stir remaining 2 tablespoons lemon juice into ricotta. Add sea salt and pepper to taste.

Place flatbreads on 2 rimmed baking sheets (or just 1 if they'll fit), brush with olive oil, then layer mizuna and asparagus strips, and tuck radishes throughout. Scatter lemon zest over the top.

Slide flatbreads into oven and bake just until vegetables have wilted slightly and breads are golden, 2 - 4 minutes.

Dot ricotta mixture all over hot flatbreads. Drizzle remaining olive oil over the cheese and vegetables. When cool enough to handle, slice into triangles and serve.
Disclosure: This post is sponsored by Sub-Zero. We appreciate the brands that make Brooklyn Supper possible.