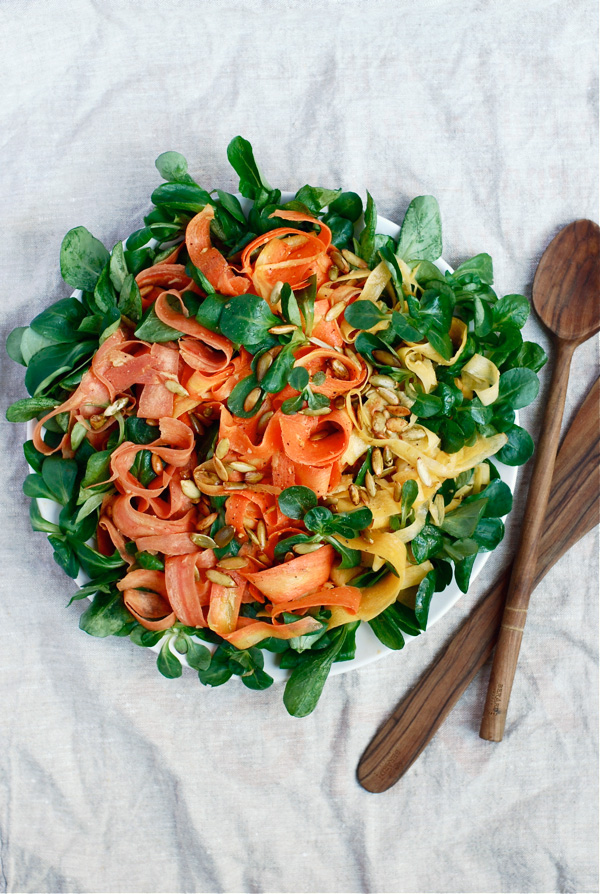 Over on Instagram, I like to share a lot of our family meals that don't make it to the blog. As we've said before, not every meal we eat is picture perfect, but it's real and tasty, and mostly, our girls eat it too. A few weeks ago, I posted this salad with carrots, endive, and lettuce, and people seemed to like it so much, I regretted that I didn't have a recipe to share. So yesterday, I set out to make another version with the same horseradish and mustard dressing (I've been loving horseradish lately) and lovely shaved carrots. The result of my experiment is this rainbow carrot salad with mâche and salty toasted pepitas.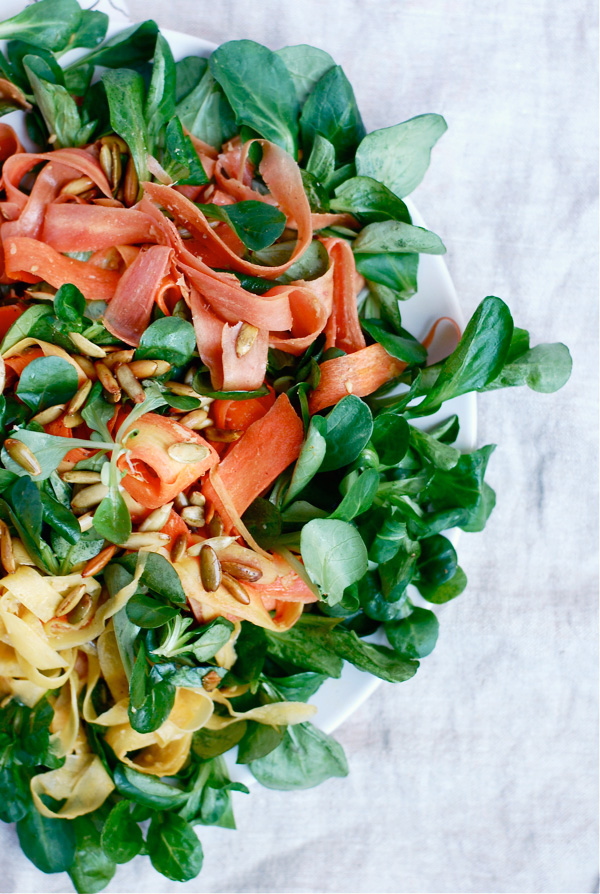 Mâche goes by a lot of names, corn salad and lamb's lettuce being the most common. The fragile leaves have a tender grassiness that's perfect for a spring salad. Here, I paired mâche with shaved purple and yellow carrots and topped it all with lightly toasted, sea salt-sprinkled pepitas. The dressing was simple, just a basic vinaigrette with a touch of horseradish and plenty of mustard, that was the perfect counterpoint to the early season carrots which are somewhere between bland and bitter. And if you miss the endive from the first salad, by all means add it to yours.
Before we head to the recipe, a friendly reminder that we're giving away a $20 Williams-Sonoma giftcard and other goodies! The giveaway ends Saturday, so head over to this post to enter.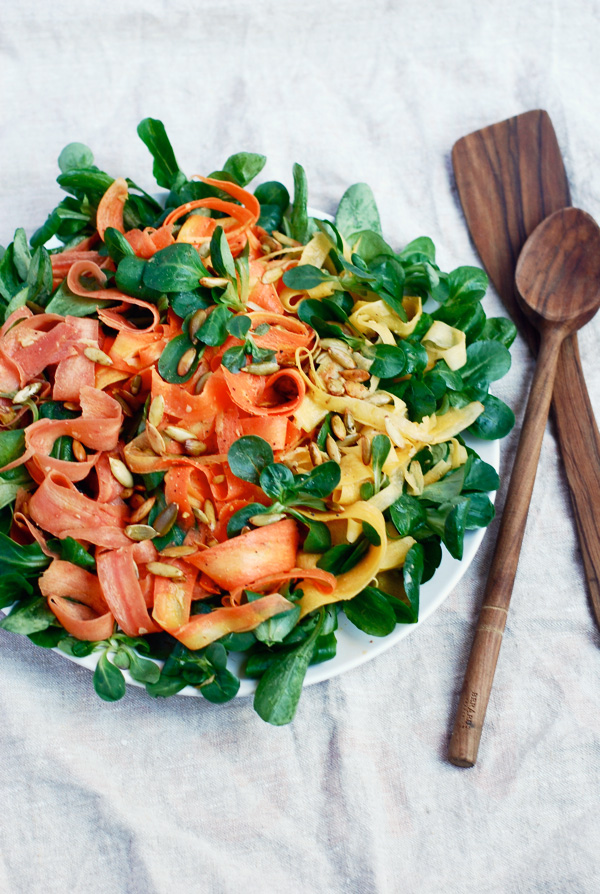 Rainbow Carrot Salad with Mâche and Toasted Pepitas
serves 4 as a generous side
6 carrots of varying hues, washed, peeled, and peeled into shavings.
6 oz. mâche leaves, carefully washed and thoroughly dried
1/2 cup raw hulled pepitas
3 tablespoons plus a drizzle of olive oil
2 tablespoons apple cider vinegar
2 tablespoons horseradish
2 teaspoons Dijon mustard
1 teaspoon honey
2 tablespoons fresh squeezed orange juice
1/4 teaspoon sea salt
Start with the vinaigrette. One at a time, whisk the ACV, horseradish, mustard, honey, orange juice, and sea salt into the olive oil.
Set the carrot shavings in a bowl and drizzle with two-thirds of the dressing. Turn to coat and set aside to marinate for 10 minutes.
Meanwhile, turn a toaster oven or regular oven to 400 degrees. Spread the pepitas on a rimmed baking sheet and drizzle with olive oil (just a bit). Toast for 2 – 3 minutes, or just until the pepitas start to pop. Sprinkle generously with salt, and set aside to cool.
On a platter or in a bowl, add the mâche, and then fold in the dressed carrot shavings. Taste and adjust salt or dressing levels as needed. Scatter the pepitas, and serve.