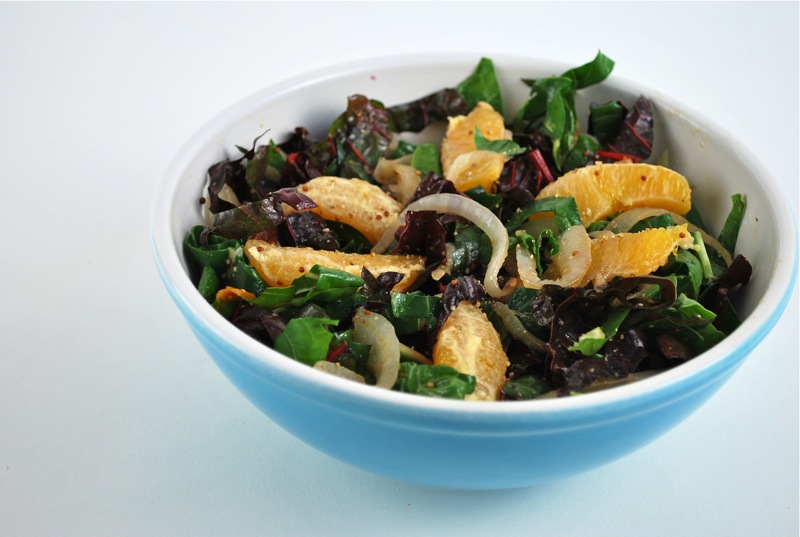 Last week we had the first warm day in a very long time, and I was inspired to wander down to the Union Square Farmers' Market. The weather had only been warm for a day, but I was already hoping for some spring produce. As you might imagine, I was out of luck. Though I didn't find spring produce, I did stumble upon some beautiful winter vegetables. Small and tender rainbow chard and tiny cipollini onions. While it wasn't tomatoes or cherries, at least it was something fresh and with color. Just the thing for a delicious winter salad.
The secret to salads in my family is fruit. Apples, pears, oranges and grapefruits are all great seasonal options right now. This salad pairs the bright flavor of oranges, with the sweet, intense flavor of cipollini onions. The chard is robust and refreshing. It's an easy salad that tastes like it took forever to make.
Grapefruit, Chard and Cipollini Salad
for the salad
1 bunch rainbow chard, sliced into 1/4" ribbons
2 cipollini onions, sliced paper thin
2 oranges, divided into segments
cipollini vinaigrette (adapted from The Frankies Spuntino Kitchen Companion and Cooking Manual)
1/3 cup cipollini onions, minced
1 teaspoon grainy mustard
1 tablespoon red wine vinegar
2 tablespoons lemon juice
1/2 teaspoon honey
1 teaspoon white pepper
pinch of salt
1/2 cup olive oil
Combine the onions, mustard, red wine vinegar, lemon juice, honey, pepper, and salt n a bowl. Whisk in the olive oil.
Toss the chard and onions with plenty of dressing and set aside for 30 minutes. Gently toss in the oranges, check salt levels, and serve.