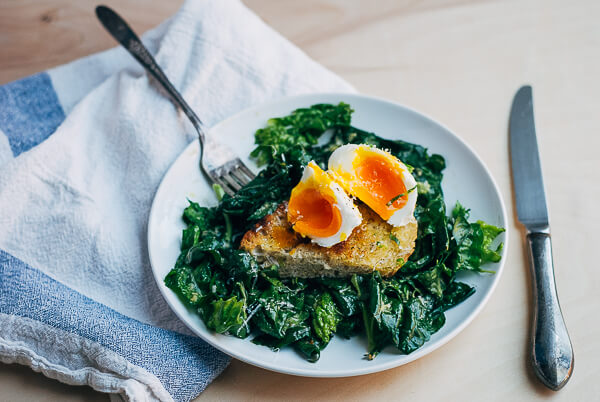 Spring ingredients sing in this spinach Caesar salad made with a ramp-infused Caesar dressing, thick-cut croutons, and perfectly poached farm-fresh eggs. Jump to recipe.
A couple days ago, a deluge churned through Virginia. Big, fat drops fell for hours, filling the day and then the night with the sounds and smells of a soaking spring rain.
Just before the storm moved in, I drove to the store to supplement the sparse offerings at the weekend farmer's market. My white car was faintly yellow from a thin layer of fluffy pollen. The windshield was covered too, but since it's the height of pollen season – a time when huge plumes of pollen billow into the air with each gust of wind – my wipers were out of fluid. I made do with the occasional drops already falling and was thankful to be dealing with such a dirty windshield on a cloudy day. Here in Charlottesville, I head out to the grocery nearly every day. I guess I've just never recovered from my morning walks back in Brooklyn and being able to pop in somewhere on the way home. So now I drive, a list tucked into my pocket, hopeful that the place I've selected will have pretty beets and tapioca, or whatever odds and ends I need on that particular day.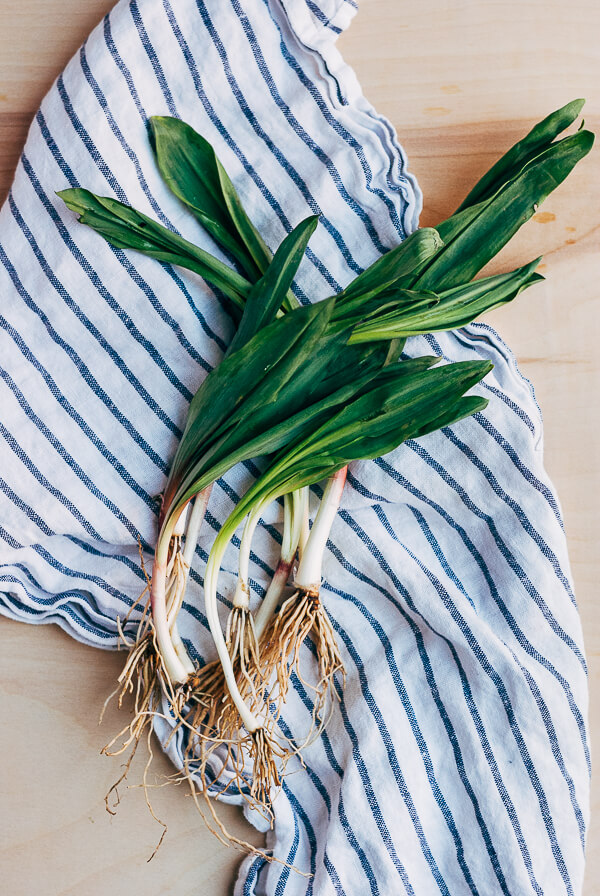 My near-daily drives highlight a truth about living somewhere that's not New York or LA or San Francisco: tracking down local produce can be tough. If you're willing and up for a little trip, there's usually great stuff to be found. But I also couldn't blame the unindoctrinated for wondering just what they're supposed to do with all those spring onions, leafy greens, and radishes anyway.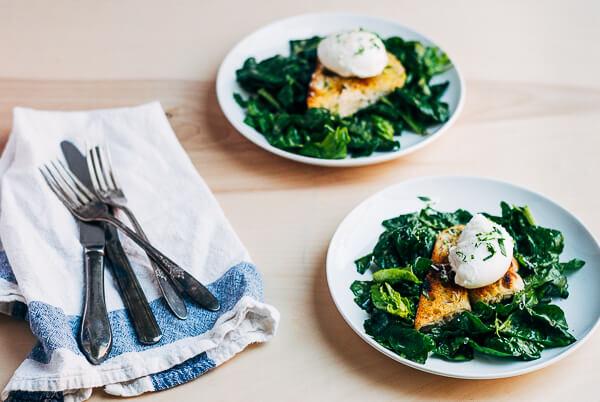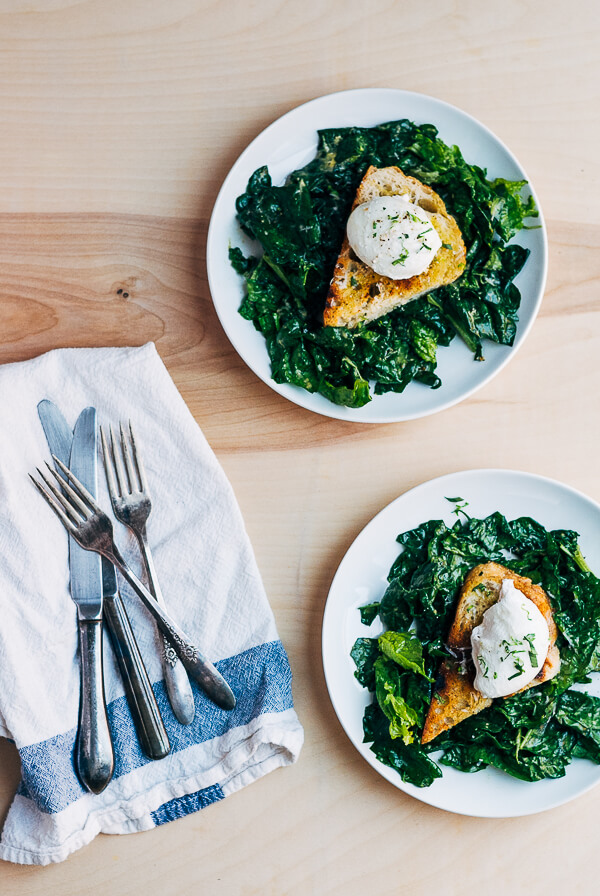 Helping people figure that out – to find their way beyond farmer's market stars like basil and tomatoes – has always been our goal here. This week's market saw the arrival of real spring produce; vibrant, deeply hued spinach and spring eggs with vivid orange yolks were among the highlights. In addition, we were lucky enough to score a couple of bunches of ramps from our butcher, JM Stock. This spinach Caesar salad is a celebration of these pungent spring flavors. Supple spinach leaves tossed with a ramp-infused Caesar dressing, lots of pepper and Parmesan, thick-cut croutons, and a perfectly poached, nearly florescent spring egg all make for a feast well suited to these brisk, beautiful April days.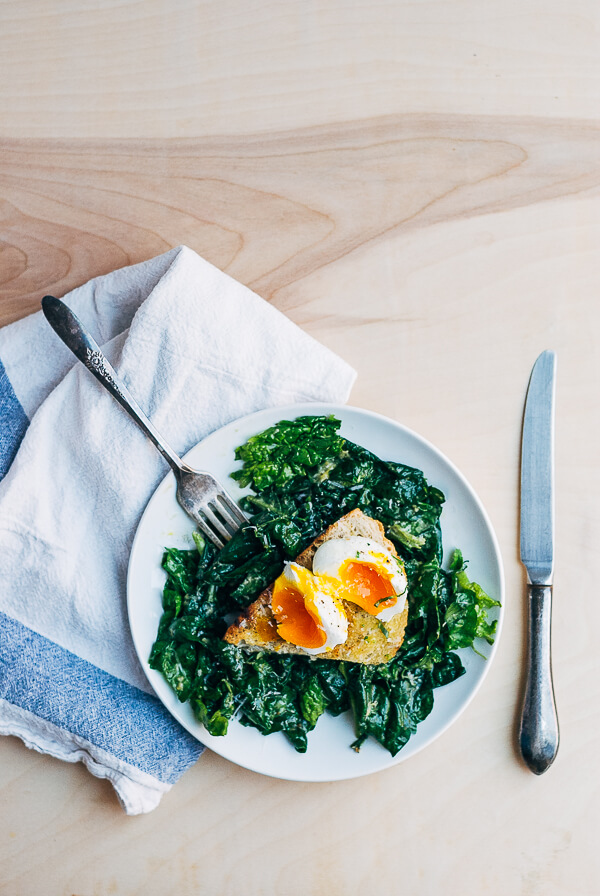 This time around, I've upped my poached egg game by trying out the Julia Child poaching method. Her technique, as explained by The Kitchn, made for perfectly poached round eggs. If you're new to poaching, be generous with the vinegar – it really helps the eggs to set up.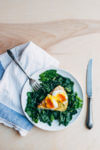 Ramp and Spinach Caesar Salad with Poached Eggs
Spring ingredients sing in this ramp and spinach Caesar salad made with a ramp-infused Caesar dressing, thick-cut croutons, and perfectly poached farm-fresh eggs.
Ingredients
4

ramps

2

large

, 1/2-inch thick slices stale bread

1/2

cup

plus 2 tablespoons extra virgin olive oil

, divided

sea salt

freshly ground black pepper

4

oil-packed anchovy fillets

, rinsed, dried, and finely minced

2

tablespoons

freshly squeezed lemon juice

1

teaspoon

Dijon mustard

2

fresh egg yolks plus 4 eggs

, divided

2

large bunches spinach

, thoroughly rinsed and spun dry

1/3

cup

grated Parmesan

2

tablespoons

apple cider vinegar
Instructions
Trim roots from the ramps and reserve. Finely mince ramps.

Run the reserved root section of the ramps over each side of the stale bread. Cut each slice into 2 large triangles. Heat 2 tablespoons olive oil in a large skillet over medium heat. Press the bread into the hot oil. Sprinkle each slice with sea salt, pepper, and a pinch of minced ramps. Cook each side of the bread for 3 - 4 minutes, or until the croutons are a rich golden brown. Remove from heat and set aside.

In a medium-sized bowl, whisk to combine 1 tablespoon of the white section of minced ramps, minced anchovies, lemon juice, Dijon, and a generous pinch each sea salt and pepper. Whisking vigorously, add 2 egg yolks. Next, adding just a drizzle at a time, whisk in the olive oil; mixture will thicken and become pale as you go. Taste mixture, and add more sea salt as needed.

Spoon 4 - 6 tablespoons of dressing over the spinach, tossing very gently. Add the Parmesan, toss, and then layer more sea salt and pepper to taste.

Fill a wide saucepan with cold water and bring to a boil. Poke the narrow side of each egg with a pin to make a small hole. When water comes to a boil, add the apple cider vinegar and a generous amount of sea salt. Turn heat down so the water bubbles gently. Using a slotted spoon, lower the eggs still in the shell into the water, cook for 10 seconds, and remove. Working quickly, crack the eggs one at a time into a shallow dish and lower into the water. Cook eggs for an additional 4 minutes.

Meanwhile, plate the spinach salad and add a crouton to each plate. Use a slotted spoon to remove poached eggs from the water. Set each egg on a crouton; finish with grated Parm, minced ramps, sea salt, and pepper. Serve immediately.